FairPlay DRM: Remove This Protection for Flexible Playback
To protect the copyright of the streaming media such as music, videos, and audiobooks, Apple Inc. has employed FairPlay DRM to encrypt the content, so that you cannot use them in flexible ways. If you are able to get rid of the DRM encryption, it would be possible for you to save your favorite Apple Music songs, iTunes audiobooks, M4V videos, or Apple Books offline for streaming/reading on any device at any time and any place.
But the question is, is it possible to decrypt DRM encryption? Fortunately, the answer is yes. In this blog, there are 4 powerful software introduced to help to unlock the FairPlay DRM from different media contents, ranging from Apple Music, and iTunes audiobooks to iTunes M4V videos and Apple books. Just based on your requirements and scroll to the part to read now.
What is FairPlay DRM? How Does It Work?
FairPlay DRM is a technology developed by Apple Inc, to protect multimedia files in M4P format as an encrypted AAC audio layer. It was used by the company to protect copyrighted works sold through iTunes Store until April 2009. When the media files are restricted by FairPlay DRM, you will face some limitations. For example, you can only play them on authorized devices that are compatible with such a format, while not on non-Apple or unauthorized devices. That means you can't play such content with FairPlay DRM outside Apple App itself even though you have a subscription.
When we know about the limitations that FairPlay DRM has brought, is it possible for us to
remove the encryption
to enjoy DRM-free Apple Music songs, iTunes audiobooks, videos, and even Apple books? Actually, for a different type of media, you only need to find suitable software to decrypt the encryption. Now, follow the blog to grasp all of them!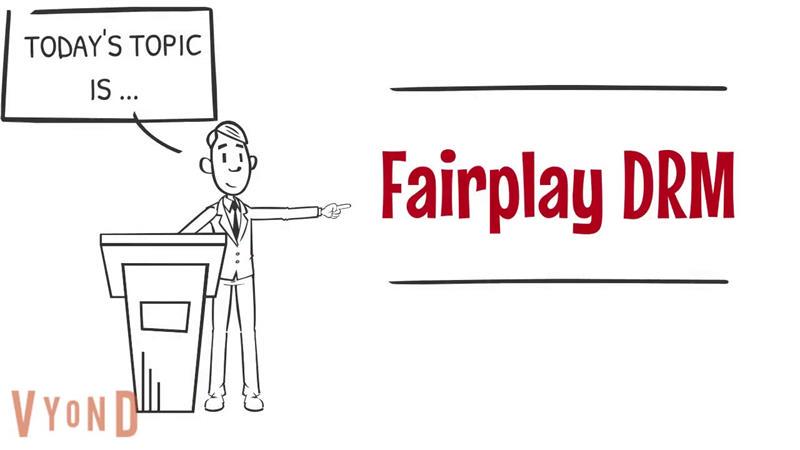 Remove Fairplay DRM Protection from Apple Music
To strip FairPlay DRM from Apple Music,
MuConvert Apple Music Converter
is absolutely the best software on the market to deliver you help. It provides the built-in Apple Music web player to enable you to access Apple's music library within the converter directly, then by selecting the playlists or albums, you are available to process the download directly.
 Moreover, MuConvert Apple Music Converter provides mainstream formats such as MP3, M4A, WAV, and FLAC to output Apple Music songs. When they are saved in the DRM-free status, you are able to preserve the songs everywhere to
stream them offline
on almost every media player that you like.
The latest version of MuConvert Apple Music Converter has upgraded the built-in Apple Music web player to deliver a more convenient music download service. You won't be required to have iTunes installed on your computer when removing the DRM anymore. If you are still using the old one, you can either keep using it or update the software to the new version.
Highlight Features of MuConvert Apple Music Converter
Built-in Apple Music web player to auto-analyze Apple Music songs, playlists, albums, etc. within one click;

Available to output Apple Music songs in DRM-free MP3, M4A, WAV, and FLAC files for flexible playback;

The best 320kbps audio quality is supported to deliver the best music streaming experience;

Freely customize the audio parameters to adjust the streaming quality to personal requirements;

Preservation of the original ID3 info to manage the offline music library with ease;

Embedded acceleration mode available to speed up the conversion to 10X faster at max;

A batch music download is supported to process multiple tasks simultaneously.
Now, grasp the way to learn how to remove FairPlay DRM from Apple Music via MuConvert Apple Music Converter in easy steps.
STEP 1. Once you complete the MuConvert Apple Music Converter installation, launch the software and enter the built-in Apple Music web player to log in via your Apple ID.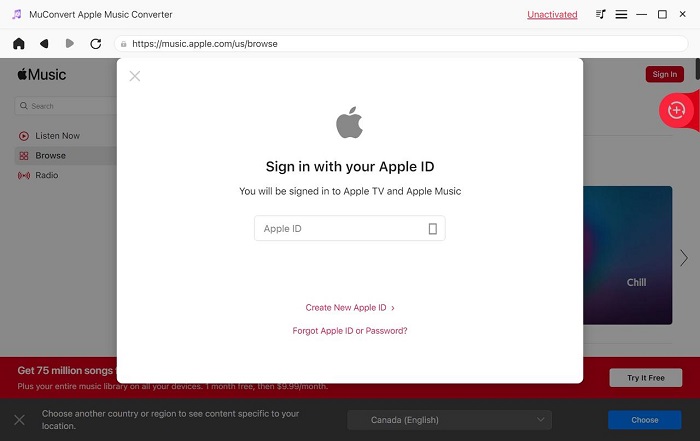 STEP 2. Now, you are able to browse the music library and search for the songs you desire to remove FairPlay DRM and download offline. Simply drag the songs to the "+" icon and they will be added to the conversion queue right away.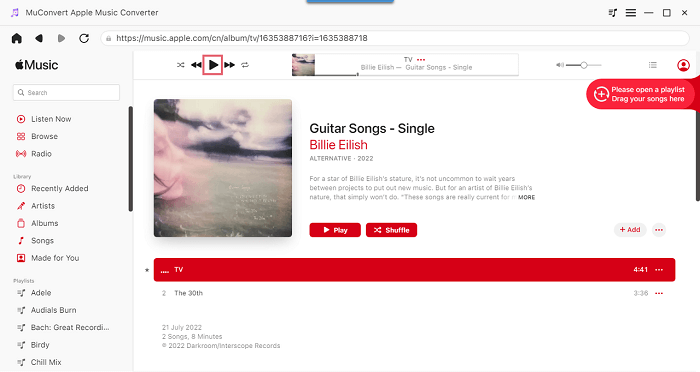 STEP 3. Then, select an output format to convert the Apple Music songs to from the upper-right "Convert all files to" drop-down menu. You are also available to navigate to "Menu" > "Preferences" > "Advanced" to further customize the sample rate or bitrate based on your own requirements.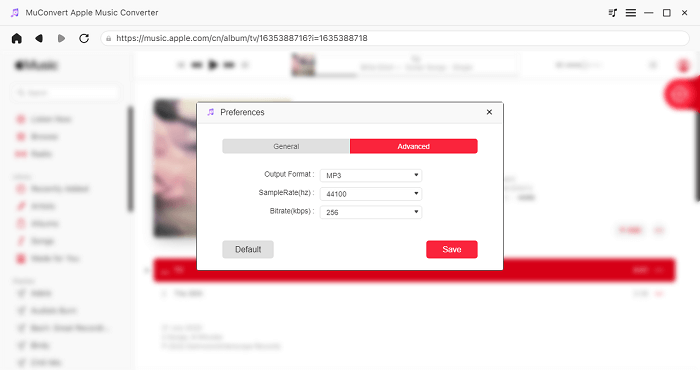 STEP 4. Finally, process the FairPlay DRM removal simply by hitting the "Convert All" icon, then MuConvert Apple Music Converter will start stripping the encryption and download the Apple Music songs in DRM-free local files for you to listen to offline.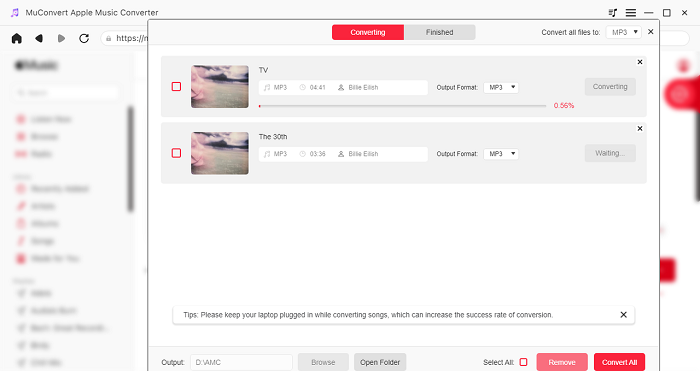 Now, grasp the software to listen to the DRM-free Apple Music songs enjoyably.
Remove FairPlay DRM Protection from iTunes Audiobooks
If you have purchased an audiobook from iTunes Store, you would require to use
TuneFab iTunes Music Converter
to remove the FairPlay DRM protection from it. This software is able to decrypt the protected Apple Music songs, but also the purchased audiobooks from both iTunes and Audible platforms with ease. You are able to convert the purchased audiobooks from iTunes Store to DRM-free MP3, M4A, AAC or other mainstream formats with original quality and ID3 info preserved. TuneFab iTunes Music Converter would be an ideal choice if you have more Apple media content desiring to get rid of the FairPlay DRM.
Likewise, let's go through the process and see how TuneFab iTunes Music Converter helps to decrypt DRM from iTunes audiobooks without hassle.
Before getting started, you are required to install iTunes and preserve the purchased iTunes audiobooks in your iTunes library in advance.
STEP 1. Launch TuneFab iTunes Music Converter and wait for the software to sync with iTunes to load your iTunes library. Then, you are able to select "Audiobook" from the left menu and access the iTunes audiobooks you have purchased and preserved in the library.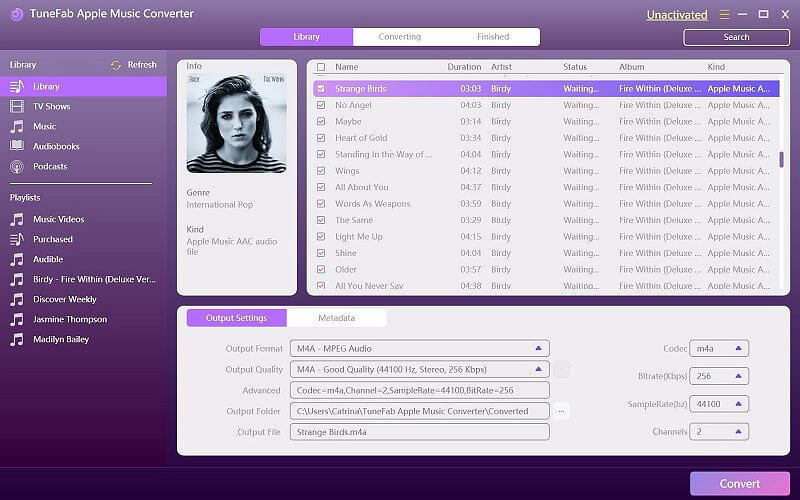 STEP 2. Select the iTunes audiobooks you desire to remove their FairPlay DRM. Also, under the workplace, you are able to customize the "Output Settings" such as the format, quality, codec, bitrate, sample rate, and channels to adjust the audio quality to your requirements.
(Optional) STEP 3. TuneFab iTunes Music Converter enables you to edit the ID3 info of each audiobook before processing the DRM removal. By navigating to the "Metadata" tag, you are available to freely change the title, artist, album, genre, and even cover of it as you desire.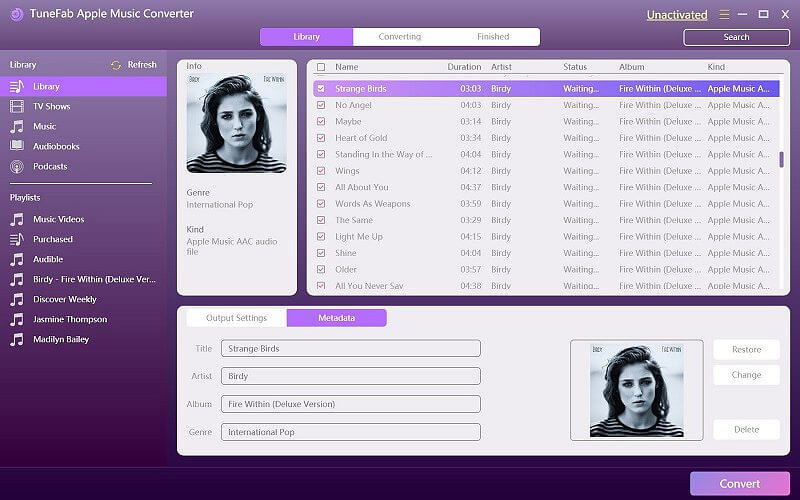 STEP 4. Finally, process the conversion simply by hitting the "Convert" icon, and this program will process the conversion in batch for you. When the conversion completes, you will get the DRM-free iTunes audiobooks offline for listening on any device or using any media player.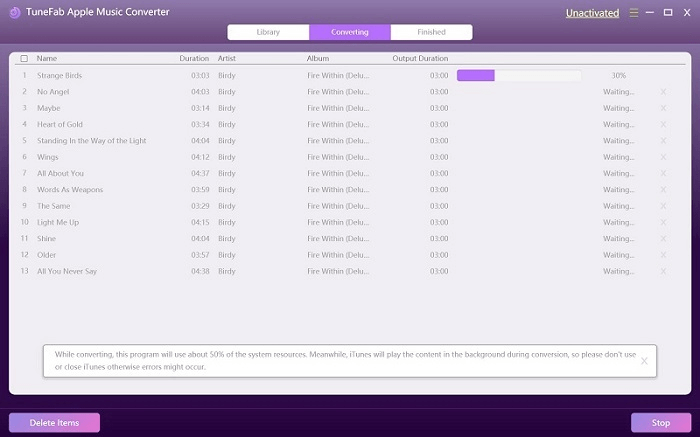 FairPlay DRM Removal for iTunes M4V Videos
For the purchased movies and TV shows in iTunes Store, they are also encrypted with Apple's FairPlay DRM. To get rid of the encryption and get free iTunes M4V videos for having more flexible and enjoyable offline playback, you are able to turn to MuConvert iTunes M4V Converter to help.
MuConvert iTunes M4V Converter
is specially designed to strip FairPlay DRM from the video content purchased from iTunes Store, including the latest movies and TV shows. The software is designed in an intuitive way, which makes it simple for even green hands to get started.
MuConvert iTunes M4V Converter will ensure HD quality to preserve the original visual effects. Meanwhile, it is also able to keep great audio quality, such as the Dolby Digital 5.1 track with original language and subtitles for you. By converting the protected iTunes M4V videos to the mainstream MP4 format, users are able to transfer the files to any device and enjoy the playback more flexibly.
Now, just follow the steps below, and you can convert the DRM-encrypted M4V iTunes videos to free MP4 files without the hassle:
You are also required to purchase the iTunes M4V videos and save them to the iTunes library ahead of all.
STEP 1. On the desktop, open MuConvert iTunes M4V Converter. Meanwhile, iTunes would also be activated. Then you only need to click the "Add Files" icon in the converter to load the iTunes M4V videos in "Library". When you have selected the M4V videos, submit "Add" to import them to the software to process the conversion.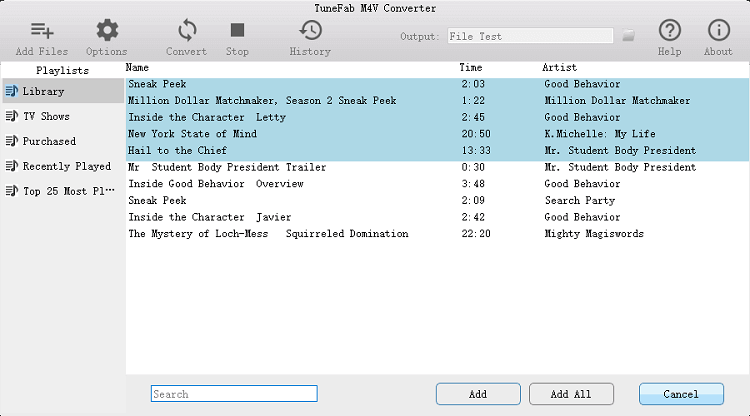 STEP2. When the M4V videos are selected, you are available to select the audio track and subtitles to download the video as you desire.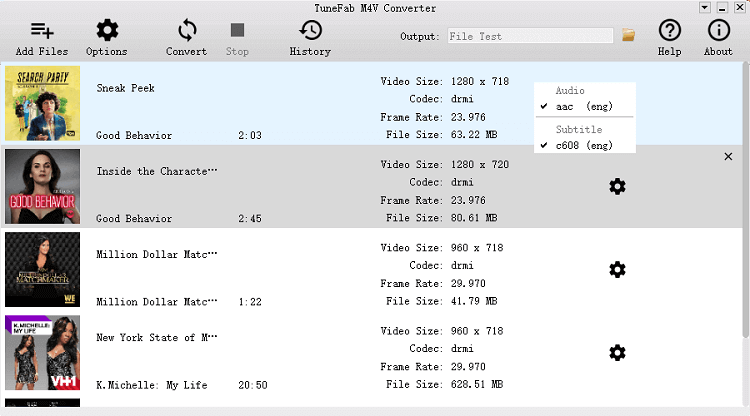 STEP 3. By default, the converted iTunes videos will be preserved in the auto-generated folder. If you desire to select an exact one to save the content, click the "Options" button on the menu bar and select another output folder to store the DRM-free videos on your device.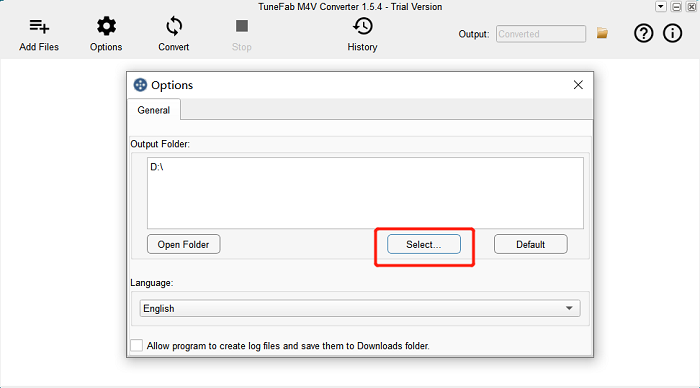 STEP 4. Now, simply give it a go to process the DRM decryption by hitting the "Convert" icon. Just wait for a moment and MuConvert iTunes M4V Converter will complete the FairPlay DRM removal and save the iTunes M4V videos to DRM-free MP4 files offline for you.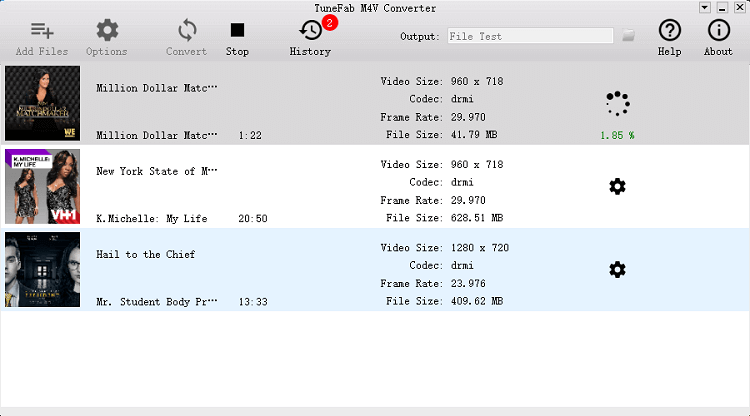 FairPlay DRM Removal for Apple Books
Finally, let's come to the way to remove DRM from Apple books as well. When you make it possible to save Apple books in DRM-free document formats such as Word or PDF, you are able to read the content using any reader instead of navigating to Apple's Books app all the time. To unlock the FairPlay DRM from all Apple books, you need help from
Calibre
, a freeware that offers a powerful DRM decryption service to remove the protection from all ebooks with ease. Now, we will see how to use it.
STEP 1. For the first time you use the software, you are required to select the folder where you preserve your purchased Apple books. Then continue the process and select the device you desire to read your Apple books on.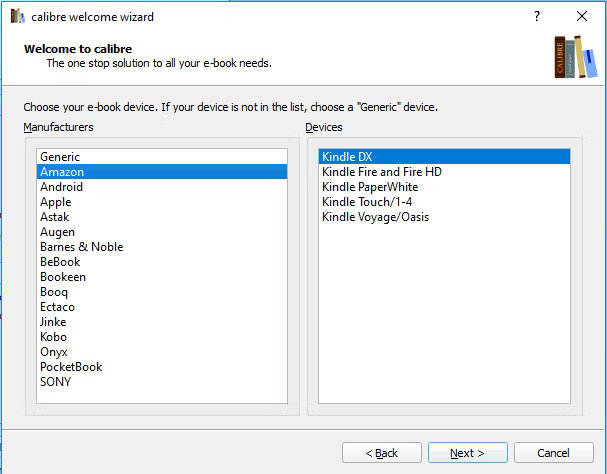 STEP 2. Now, enter the main interface of Calibre and install apprenticealf's DRM Removal Tool for Ebooks and unzip the file once it is downloaded. Then, return back to Calibre and navigate to "Preferences" in the software.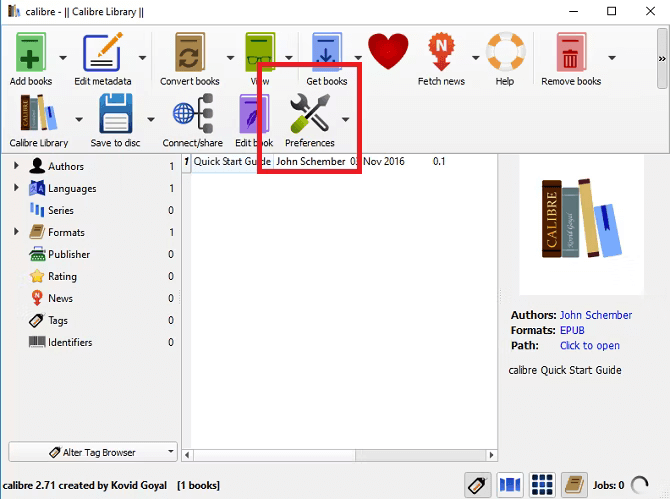 STEP 3. Select Plugins. When you choose the "Load Plugin from File" option, then you would be required to access the unzipped file and follow the path to go to "DeDRM_calibre_pligin" > "DeDRM_calibre_plugin". Then complete the installation.

STEP 4. After that, double-click on the DeDRM list and select the "elk Kind Ebooks" to add the serial numbers of the device. Now, when you import the iBooks to Calibre and the software will directly remove FairPlay DRM from them for you.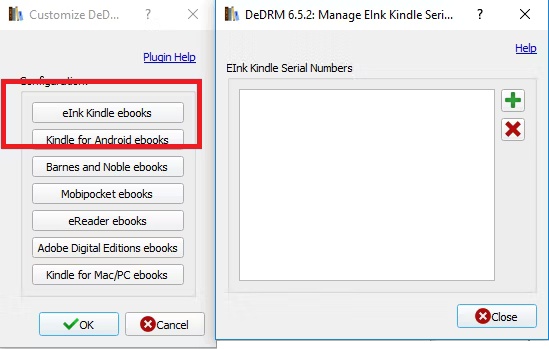 No matter what kind of media files, you now find the correct way to remove Apple FairPlay DRM from them. If you want to enjoy the DRM-free Apple Music songs, then the
MuConvert Apple Music Converter
will be the best option to help.
FAQs About Removing FairPlay DRM for Flexible Playback
Q1 Is it a Crime to Remove iTunes FairPlay DRM?
Generally speaking, you may have a risk of breaking the copyright law if you remove iTunes Fairplay DRM for illegal use. But if you just want to remove the FairPlay DRM from the iTunes content for personal entertainment or collections, then it's not a crime to remove iTunes FairPlay DRM.
Q2 Why Did Apple Remove DRM on Music But Not Movies?
If you are an Apple Music lover, you may know that the Apple Music songs you purchased from the iTunes Store are encrypted with DRM before January 6th, 2009. However, ever since then, Apple has announced to remove such protected DRM from the purchased iTunes Apple Music, which brings Apple Music lovers great convenience.
However, you may wonder
why Apple remove DRM on music but not on movies
. According to this question, many people show their own opinions on Reddit. Some may think that movie files are usually big so that they are not so easily pirated. While some may take the maximization of benefits into consideration, they think the DRM-protected movies can bring more profit to the Appel company. These reasons discussed may be all possible, but you should look at this problem rationally!