How to Remove DRM from iTunes Movies [Solved]
There are hundreds of thousands of movies on iTunes and you certainly find it annoying when you wish to play them on other players, the movies are not supported due to their format of M4V and DRM protection. To solve this problem, you need to remove DRM from the iTunes movie with a powerful DRM removal software and if you are looking for one that can help you achieve that, MuConvert M4V Converter is a fine choice for both Mac and Windows. Is MuConvert a freeware that can help to remove DRM from iTunes movies? Is it legal to remove DRM? Let's learn more about it.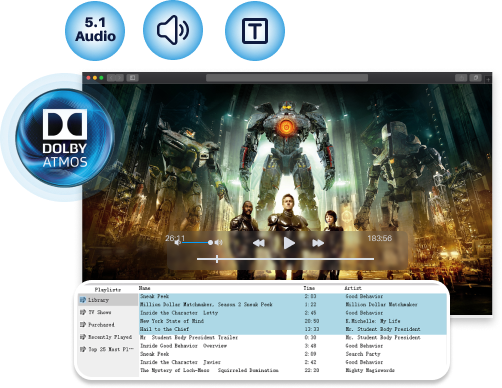 Powerful DRM Removal Tool – MuConvert M4V Converter
With great functions, MuConvert M4V Converter is a powerful DRM removal tool. It's compatible with iTunes 12.2 to 12.9.0 and is able to open iTunes automatically when you wish to import the iTunes movies onto the converter and output as MP4 by default. Meanwhile, this software allows you to remove DRM from iTunes movies free with stable performance. You may check more details by the following:
 

Details

Core Features

Automatically import the video list from iTunes;
Remove DRM from iTunes M4V movies/TV shows/music videos;
Convert M4V videos to MP4;
Batch convert videos with original quality at a high speed;
Select subtitle / audio track.

Paid Version

Single: License for 1 PC; Lifetime free updates; Free support service;
Family: License for 5 PC; Lifetime free updates; Free support service;
30-day money back guarantee;
No converting restrictions.

Free Trial Limitation

30-day free trial;
Convert 5 minutes for each file

Language Selection

English, Simplified Chinese, Traditional Chinese, French, Japanese, German and Spanish

Supported OS

Windows 10/8.1/8/7 and macOS 10.9, 10.10, 10.11 and 10.12

Service

24*7 email support
How to Remove DRM from iTunes Movies/TV Shows
To try all the advantages, make your movies/TV shows prepared on the iTunes lists and download MuConvert M4V Converter on your computer. Easy as it is, let's learn how to remove iTunes DRM from movies on MuConvert M4V Converter:
Step 1. Get the video lists from iTunes onto MuConvert M4V Converter
After you launch the converter, the iTunes on your computer will automatically run at the same time. Click Add Files and you will see the lists from iTunes. Select the movies/TV shows that you wish to convert and hit Add at the bottom. If all the videos in the lists are to be converted, you may just click Add All instead because this software allows to batch remove DRM from iTunes movies.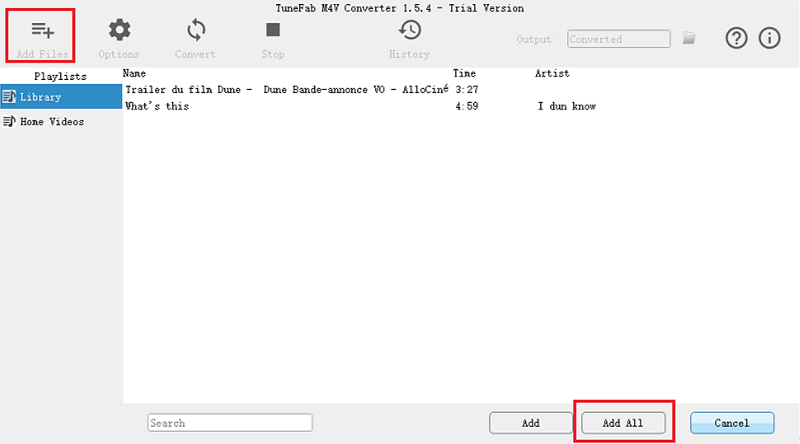 Tip: Do not quit iTunes until the converting is accomplished because the converter is connected to it. But it would still re-run during the converting even though you quit before starting.
Step 2. Select subtitle/audio track for each video or skip this step
You are able to select a desired subtitle/audio track by clicking the gear button if the original video has multi audios and multilingual subtitles. And MuConvert M4V Converter will keep the original quality of the audio.
Step 3. Customize the output folder / choose a language for the software
Click Options on the top left, and you can customize the output format by clicking Select… and choosing the target folder. You can open the output folder or reset the default output folder in this tab too.
In addition, click the language in the dropdown menu of Language, you will get seven options (i.e., English, Simplified Chinese, Traditional Chinese, French, Japanese, German and Spanish).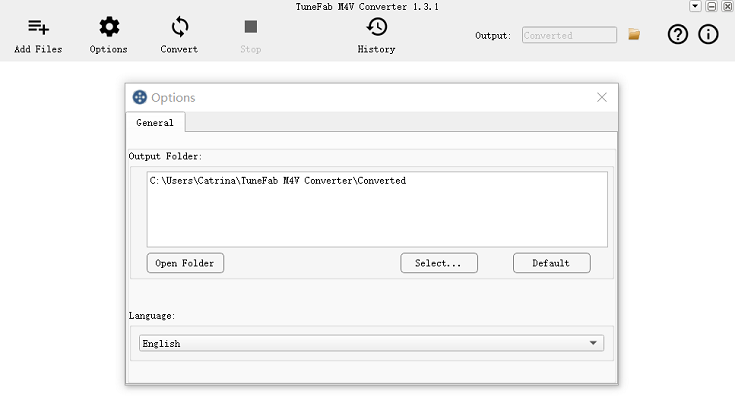 Step 4. Click Convert and remove DRM protection from iTunes movies
Keeping the original high-quality, MuConvert M4V Converter will take a few seconds to remove DRM from your videos. And if you have any confusion or issues when using the program, our technique would be glad to help you via email.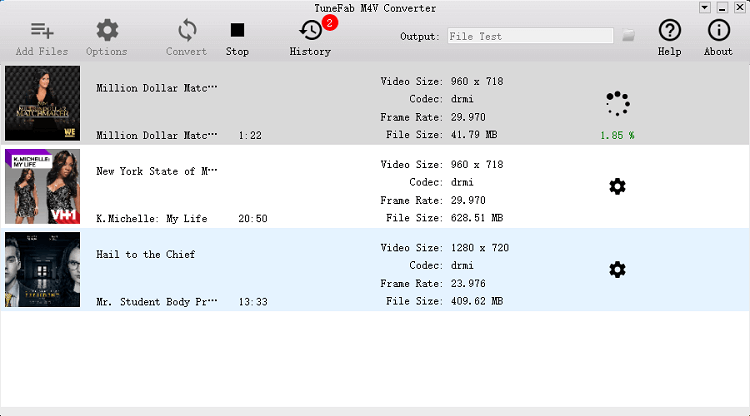 Removing DRM from iTunes Movies with Screen Recorder
To remove DRM from iTunes movies, you can also use
VideoSolo Screen Recorder
. It is very simple and convenient to use. When you are in the process of playing a movie, you can use it to record and stop recording when the playback is over. Then you can output the recorded video in the format you want. During the process of recording, you can
lock the windows
to prevent interference, and you can also
make notes
to record your thoughts about the movie. Next, let's see how it works.
Step1. Open both the VideoSolo Screen Recorder and iTunes and then choose Video Recorder.
Note. You are supposed to make sure the movie is playing successfully and the sound volume is suitable for you.

Step2. Click REC to begin recording. If you want to watch with a wide area, choose Full, but if you want a small area, you can go to Custom > Select region/window to adjust the area.

Step3. After the recording is finished, tap on Save to export the video, then you can watch the iTunes movie with DRM-free.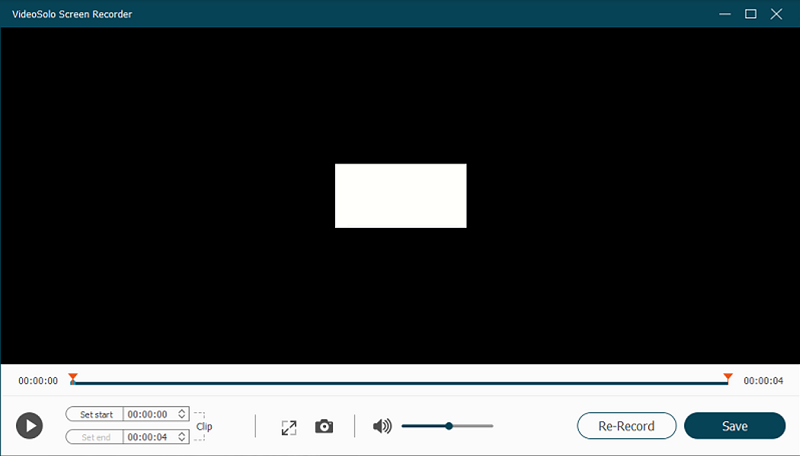 Removing DRM Protection from iTunes Movies with Freeware
Of course, you can use freeware to remove DRM protection from iTunes movies, Requiem is such a tool that can help you. Requiem is an open source, free DRM-removing software developed in Java. You can use it to decrypt movies,songs, videos etc. you've bought and downloaded from iTunes as DRM-free files. But when you use it, you are supposed to downgrade iTunes to 10.7 or a lower version to run Requiem smoothly.
Step1.
Install
iTunes 10.6
and remember to un-check the box next to automatically update iTunes and other Apple software. After the installation is complete, open it and log in with your Apple ID.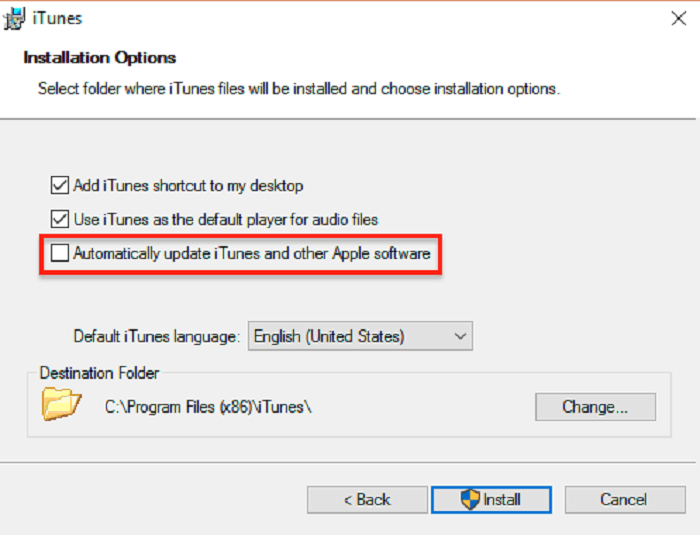 Step2. Before using Requiem, you need to make sure you have an appropriate environment to run it properly. Because Requiem requires Java Runtime environment, you can visit the official download page and look for the JRE download button.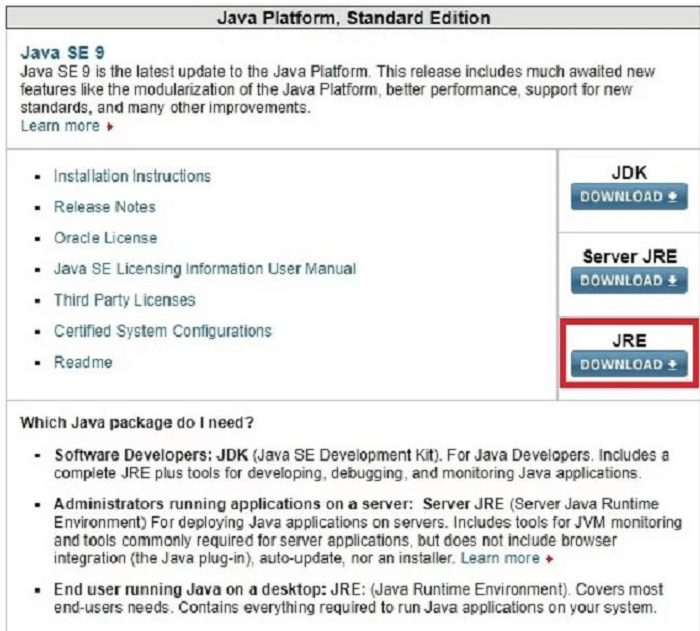 Step3. Download Requiem and open it on your computer. When you run it, Requiem will automatically scan your iTunes account for any DRM protected files. After locating the files, it will automatically strip them of their DRM. When it's finished, you will get a message saying "Successfully Removed DRM" and you can get the DRM-free iTunes movies.
More Information About Removing DRM from iTunes Movies
Being a collection of access control technologies, DRM stands for Digital rights management. It's used to protect digital media files (movies, TV shows, CDs, online music, games, e-book, etc.) from copyright infringement after selling them. So, if you wish to enjoy the movies you bought on iTunes freely, you'll need to remove DRM.
What are the restrictions caused by DRM?
Digital files with DRM protection are usually locked so that users can't copy them arbitrarily, which circumscribes legitimate users' usage of the items they bought. Take iTunes movies as an example, as we all know, they are with DRM protection so that users cannot play them on non-Apple players. When it comes to games or e-books, owners tend to use DRM to restrict the number of the installation system or the reader.
Is it legal to remove DRM?
It depends. If you remove DRM protection just for your own usage, it's legal. For example, you bought a new cellphone, and you wish to watch the movie you have bought on iTunes on this new phone. In this case, it's legal to remove DRM. But if you remove DRM for sharing with benefits, it's illegal.
Can I remove DRM from iTunes M4V with Handbrake?
Handbrake is an open-source and transcoder for digital video files. It could convert audios and videos to any format. It's such software that it's free to users, but unfortunately, it couldn't decode and convert videos files that are protected. That means it can only convert the non-DRM protected M4V videos from iTunes and can't convert those are DRM protected.
It's ok if you remove DRM for personal usage. And MuConvert M4V Converter is definitely one of the best software to remove DRM from iTunes movies on Windows or Mac. It's extremely easy to use and you can try it for free before you decide to purchase it. Meanwhile, the customer service team is ready to help you so that you don't need to be worried if you can't handle the issues when using MuConvert.
Tip: If you have heard of other software or online converters, remember to test if they only work for DRM-free videos. Because some of them cannot remove DRM from iTunes movies such as Handbrake and VLC even though they are freeware.