How to Burn M4V to DVD on Mac/Windows [Solved]
For the purchased iTunes M4V movies, you must have the time when you want to download and save them in a DVD disc, so you are able to display the movies on large 4K TV screen for enjoying the theatre-like movie watching experience at home. However, because of the DRM protection, you would fail in getting M4V movies from iTunes Library for saving in mainstream digital formats like MP4, let alone burning them to DVD.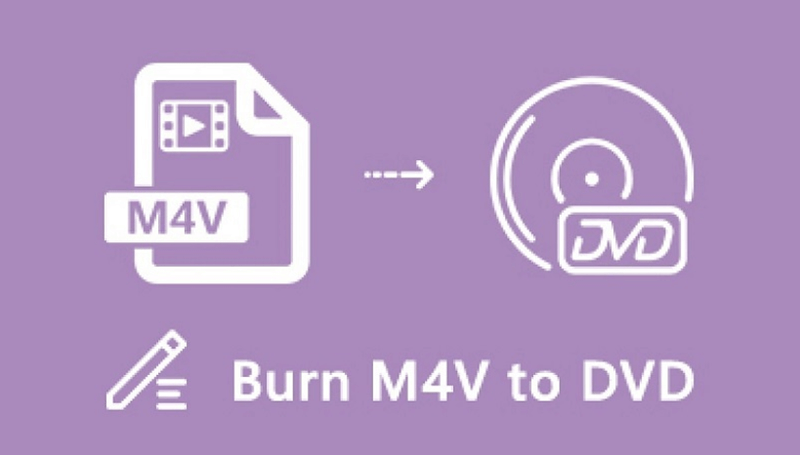 Luckily, there still has way to achieve the target – to remove DRM from the M4V movies at first. In terms of this, MuConvert M4V Converter will be an idea pick. Let's see why.
Best DRM Removal Software - MuConvert M4V Converter
With a 100% clean and intuitive interface, MuConvert M4V Converter is developed to be an easy-to-grasp software for Windows and Mac users to remove DRM from M4V movies without hassle. It doesn't invite any ads to the software for making extra profit, and users are not required to install bundled software to use, hence, adware and malware can be highly prevented, bring an entirely secure in-app platform to all users.
Highlighted Features of MuConvert M4V Converter
1. Easily Decrypt DRM Protection
With an intuitive interface and clear guidance, MuConvert M4V Converter is able to decrypt the DRM protection employed on the purchased iTunes M4V movies, TV shows, and music videos within pretty simple clicks. You only need 3 easy steps to get a DRM-free M4V video with the help of this powerful software.
2. Original Sound Quality Preservation
During the M4V conversion, MuConvert M4V Converter works to preserve the original Dolby Digital 5.1 track (AC-3 audio track), multilingual subtitles, closed captions (CC) and audio descriptions (AD) for ensuring you the same movie playback experience after the conversion.
3. Full HD Output Quality
In most cases, the iTunes M4V movies would be released in HD 1080p and 720p. To ensure a quality-guaranteed offline watching, MuConvert M4V Converter will enable users to convert iTunes M4V movies to the same HD 1080p or 720p digital files for local preservation.
4. Auto-sync with iTunes
MuConvert M4V Converter is able to connect to your iTunes Library for detecting the downloaded purchased iTunes M4V videos without manually importing, which boosts higher efficiency in converting iTunes M4V videos.
Additionally, MuConvert M4V Converter also supports batch conversion and multi-language, which highly considers the convenience of its dear users. That's also why MuConvert M4V Converter has grasped likes from so many people and becomes a brand-leading software in the market.
Method to Remove DRM from M4V Files
As mentioned, MuConvert M4V Converter only takes simple steps to get iTunes M4V videos converted to DRM-free MP4 video files. So here, you will be guided to the step-by-step tutorial to learn how to remove DRM from M4V files via MuConvert M4V Converter.
STEP 1. Install MuConvert M4V Converter and iTunes
In the first place, you should install MuConvert M4V Converter and also iTunes app on your desktop. Also notice that the iTunes M4V files should be downloaded in iTunes Library in advanced, or MuConvert M4V Converter would fail to detect them.
NOTE: Make sure you are using the iTunes that is newer than V12.2.
STEP 2. Launch MuConvert M4V Converter and Add M4V Files
Now launch MuConvert M4V Converter. On the main screen, you should hit the "Add Files" icon and the software will automatically detect the downloaded M4V videos from your iTunes Library and list them in the workplace. Simply select the M4V videos you desire to remove their DRM protection.
NOTE: Thanks to the batch conversion feature, you are able to add over one M4V file for conversion at once.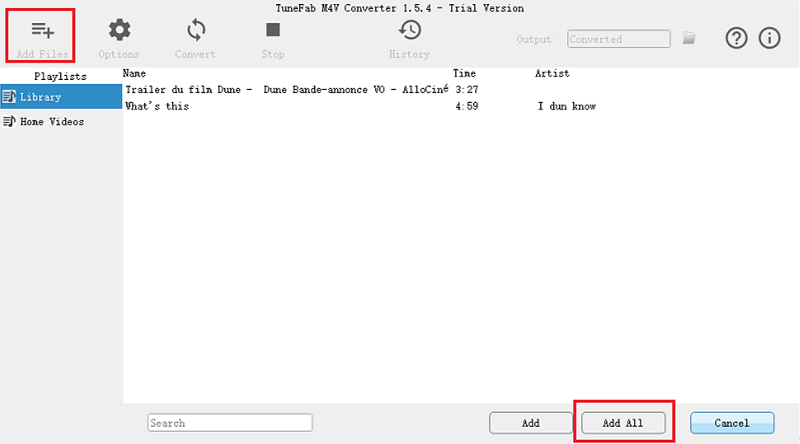 STEP 3. Select Audio Track and Subtitle
After adding the M4V videos, you can click the gear icon provided on each video and select the exact audio track as well as subtitle to convert together. You are also available to skip this selection for keeping all of them at once.
STEP 4. Select Output Folder
By hitting the provided "Options" icon on the toolbar, you are allowed to select an exact output folder for saving the converted M4V files. This step can also be skipped, and MuConvert M4V Converter will save them in its created folder by default.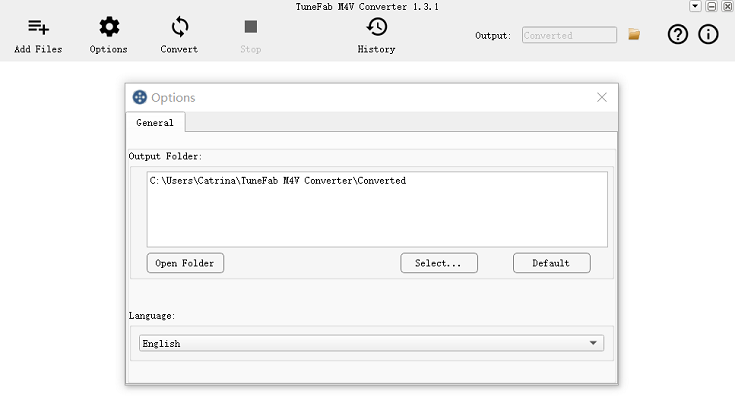 STEP 5. Remove DRM from M4V Files
Congratulations! Now we come to the final step. You just need to hit the "Convert" icon next to "Options", then MuConvert M4V Converter will do the rest things for you within a moment. You only have to wait for the conversion done and get the DRM-free M4V files in the output folder.
While getting the DRM-free M4V videos, you can freely burn them to DVD discs as they are not protected anymore!
M4V to DVD Burner Mac/Windows Recommended
Instead of removing DRM from iTunes M4V videos, or you have got the DRM-free M4V videos but just want an M4V to DVD burner to complete the burning process for you, these 3 helpful software could be nice options. Now, let's have a look.
Wondershare iTunes DVD Burner
Wondershare iTunes DVD Burner is an out-performing DVD creator empowering comprehensive DVD toolbox but easy-to-grasp in-app functionality. Supporting over 150 formats, it also runs smoothly for both Windows and Mac users to burn M4V videos of mainstream formats to DVD/DVD folder/Blu-ray DVD folder/ISO/Blu-ray disc without hassle.
Features of Wondershare iTunes DVD Burner
Highly compatible with 150+ formats and all disc types;
Easy-to-grasp functionality provided;
Powerful built-in video editor available;
Empowered CD Burner for Windows 10, 8, 7, and XP to create CD personally;
Full DVD/CD customization supported.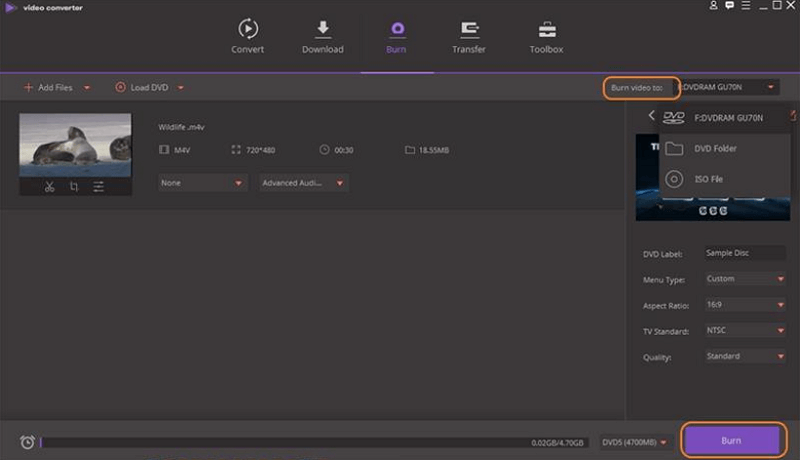 With an intuitive user interface, Vidmore DVD Creator targets at bringing the simplest but powerful way for people to burn M4V videos to DVD with ease. It takes super easy operations to control the software. Also with a lightweight body, Vidmore DVD Creator is able to run smoothly on desktops and functions with the quick speed. It will be a reliable helper if you are seeking a M4V to DVD burner.
Features of Vidmore DVD Creator
Clear and intuitive interface design;
All video formats supported;
Built-in editor to customize DVD videos;
DVD menu creator provided;
Accelerated burning speed.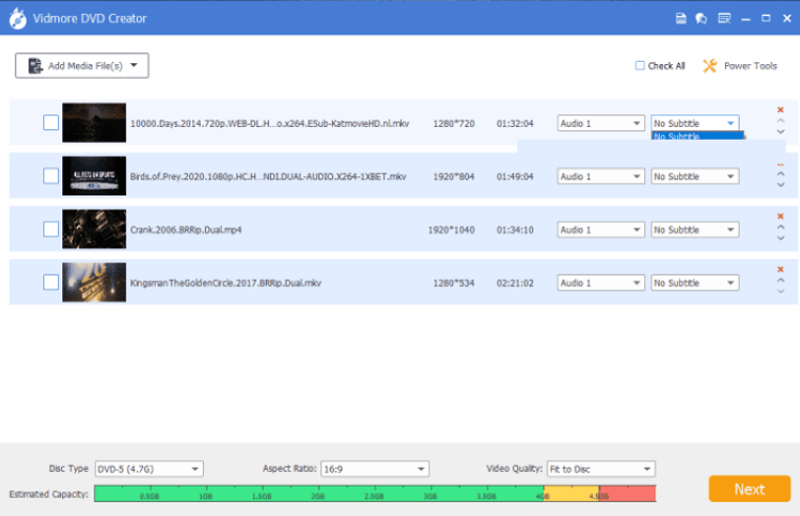 Handbrake is an open-source freeware, which is highly compatible with Windows, Mac, and Linux to burn videos to DVD. It provides a classic interface but comprehensive functions for fulfilling users' demands in DVD burning. It can be a reliable software that you can rely on.
Features of Handbrake
Free of charge;
Comprehensive DVD burning functionality;
Cross-platform supported;
Various video formats supported.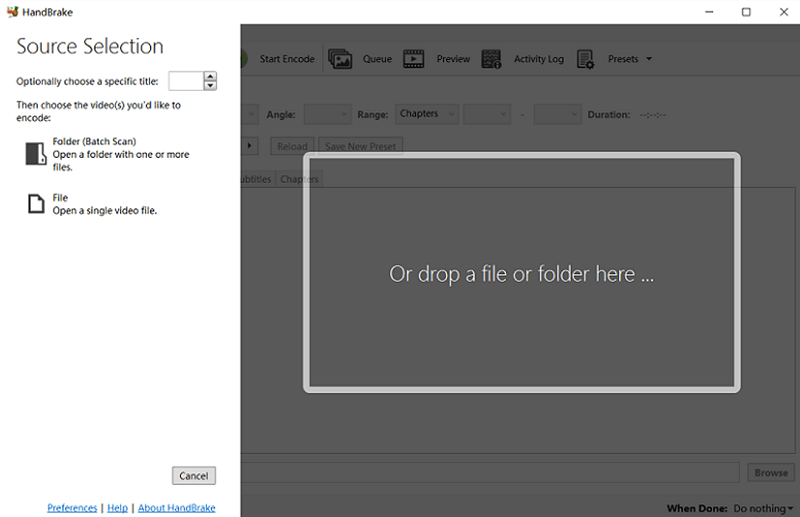 FAQs about Burning M4V to DVD
The following two frequently-asked-questions may also be your confusion when considering burning M4V to DVD.
What is M4V? Will M4V play on DVD player?
M4V format is used for encoding the videos purchased from iTunes Store. Normally, the M4V videos would be protected by the DRM encryption from preventing them to be copied or transferred illegally. To play M4V videos, users can only use iTunes Player. Hence, it is unavailable for you to play M4V using a DVD player, unless you remove the DRM protection from the videos and save them in a common digital video file.
Can I burn M4V file to DVD online?
Currently, there have no online M4V to DVD burners available to use. This is due to the fact that DVD burner would always require stabler performance and advanced programming methods to process the burning process. It would be difficult for the web-based service to run because it highly relies on the network condition and also the performance of the browser. But we could still look forward to the future of its appearance.
Burning M4V to DVD is not a difficult task, but the first thing you need to handle is to process the DRM removal for getting the DRM-free M4V videos. Accordingly, MuConvert M4V Converter is an ideal choice. Why not give it a try?