In today's digital age, music lovers are graced with an abundance of songs at their fingertips. In this article, we'll take a journey through the best Amazon Music playlists, exploring how they can elevate your listening experience in different scenarios. Whether you're hosting a lively get-together, embarking on a solo road trip, or simply unwinding at home, we've got the perfect playlists to accompany you. So, let's dive in and discover the ultimate soundtrack for every moment in life.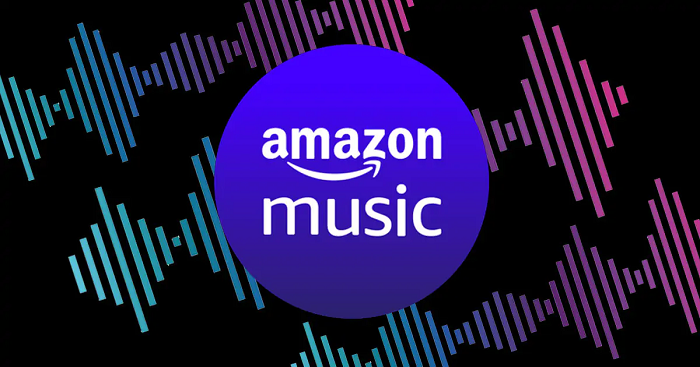 10 Best Playlists on Amazon Music Recommended for Different Needs
We've collected a selection of 10 Amazon Music playlists to complement a multitude of activities. Whether you need a motivating boost during your workouts, a calming backdrop for focused study sessions, or lively beats for your next party, you can pick one to enjoy or download the Amazon Music playlists for free.
Best Amazon Music Playlists for Parties
If you are going to have fun with your friends at a party, I guess you will love the collection of upbeat tunes: Dance Party. This Amazon Music playlist is your go-to source for high-energy beats that'll keep the party vibes soaring all night long.
If you find yourself at a delightful family dinner gathering, you might just fall in love with the soothing and mellifluous melodies of our best Amazon Music playlist for Christmas. It's the perfect musical backdrop to create a warm and harmonious atmosphere, complementing the joyous togetherness of the occasion. For even greater convenience and a seamless listening experience, why not burn your favorite Amazon Music playlists onto a CD?
Best Amazon Music Playlists for Work
Lofi Work Groove: Rhythmic Melodies for Productivity
When you're having a tough morning and need a revitalizing boost to stay productive at work, this specially curated playlist is your go-to source of motivation and energy. With a collection of upbeat tunes, it's designed to uplift your spirits and keep you focused throughout your tasks.
Chill Music Office: Mindful Workscapes
When you find your workplace is so noisy that it disrupts your focus or, conversely, falls into silence so profound that it's almost stifling, this Amazon Music playlist brings soothing background music as well as perfect equilibrium to relax your mind and elevate your concentration.
Best Amazon Music Playlists for Alexa
Alexa's Most Requested of 2022 & Alexa's Most Requested of 2021
The above two Amazon Music playlists are collections featuring the most requested songs on Alexa. Now that you've explored these playlists, have you discovered any particular songs that resonate with your music taste and preferences To free up your hands, you can try these playlists and play Amazon Music on Alexa by simply issuing voice commands.
Best Sleep Amazon Music Playlist
Crafted with care by Amazon's team of music experts, this Amazon Music playlist offers a tranquil auditory journey, featuring an exquisite blend of soothing ambient tracks. Immerse yourself in this handpicked selection and let the music guide you into a peaceful and restful slumber.
Best Studying Amazon Music Playlist
Find a comfortable spot, settle in, and enhance your study session with the soothing melodies of a guitar. Enjoy a peaceful and productive study experience as you explore the harmonious tunes on this specially curated playlist. If you have specific songs to listen to, you can also create a playlist of your own on a computer or phone.
Best Workout Amazon Music Playlist
Blast your workout with the thumping rhythms of heavy hip-hop beats. Let the powerful Amazon Music playlist infuse your body with renewed vigor, pushing you to achieve your fitness goals. Elevate your exercise routine and reach new heights of performance with this energetic playlist!
Best Amazon Music Playlist for Trip
Road trips are a delightful adventure, and what's better than belting out classic pop hits as you cruise along? Unleash your inner superstar with this Amazon Music playlist! Make unforgettable memories on the open road by enjoying Amazon Music tracks in your car.
Bonus: How to Download These Best Amazon Music Playlists to Local MP3
If you want to enjoy these fantastic playlists anytime on any device, the ideal way is to download and listen to Amazon Prime Music offline whenever you like.
Here we recommend using MuConvert Amazon Music Converter. This user-friendly app offers an array of features, allowing you to download and convert songs, even entire playlists, from Amazon Music hassle-free. With the capability to batch download at speeds up to 10X faster, the app enables you to swiftly build up your offline playlist collection while preserving the original quality of each track.
Playlist Downloads: The app empowers you to download individual songs and entire playlists from Amazon Music easily. Whether you're on a long road trip or a cozy evening at home, you can grab your favorite playlists in one go.
Speed and Efficiency: With its advanced acceleration technology, this app allows for batch downloads up to 10 times faster than regular speed. No more endless waiting.
Original Audio Quality: MuConvert takes pride in maintaining the original quality of your favorite songs. Enjoy your downloaded playlists with the same audio excellence you've come to expect from Amazon Music.
ID3 Tags Preservation: The app also saves original metadata, such as song titles, artists, and album information to help manage your downloaded playlists with ease and organize them the way you prefer.
The following is a quick guide on how to download Amazon Music playlists for free. If you're an Amazon Prime member with your favorite Amazon Prime Music playlists, MuConvert Amazon Music Converter also empowers you to download and enjoy them permanently.
Step 1. Launch MuConvert Amazon Music Converter on your computer and log in to your Amazon Music account.
Step 2. Select the playlists you want to convert. Drag and drop them onto the blue '+' button on the side.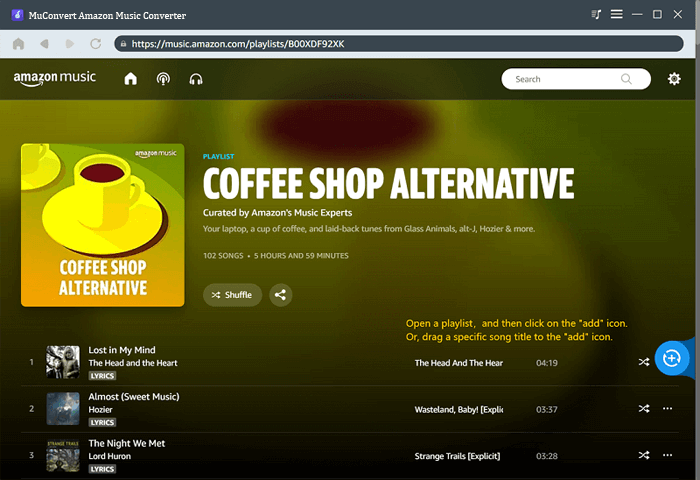 Step 3. Select the output format for your playlist. Then click "Convert All" to start the process. Once the converting and downloading process is done, check your converted music files in the "Finished" section.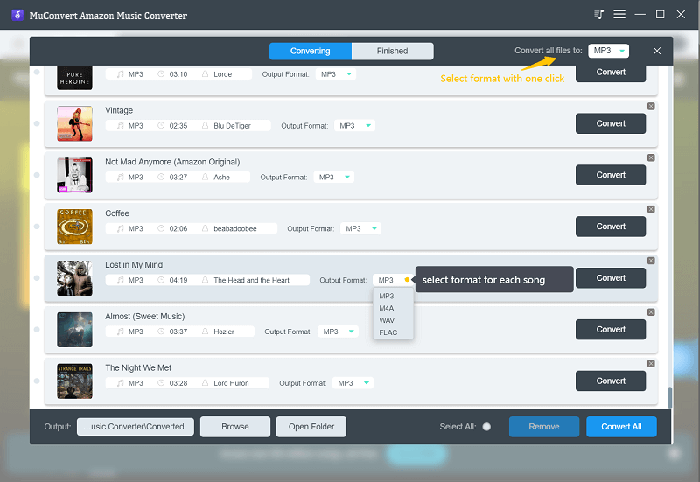 Conclusion
In this article, we've explored an array of the best Amazon Music playlists, catering to various moods and occasions. From road trips to workouts, and relaxing evenings to pumping parties, we've got you covered. If any of these fantastic playlists piqued your interest, consider using MuConvert Amazon Music Converter.
With this versatile tool, you can swiftly and easily download your chosen playlists and tracks for offline listening across your devices. Embrace the convenience and flexibility of Amazon music listening, enhancing your music experience and making every moment even more enjoyable. Try it today and never miss a chance!
Convert Amazon Prime Music to MP3
Easily convert music from Amazon Prime/Unlimited/HD/Free to MP3 without losing quality.