How to Create A Playlist on Amazon Music for Desktop and Mobile
On Amazon Music, you can easily find many well-created playlists and just start playing them directly. However, not all songs contained in these playlists are your favorite ones. So instead of keeping skipping these songs by streaming the existing Amazon playlists, you can surely get a more enjoyable experience by creating your own!
So in today's article, a complete will be offered to guide you on how to create a playlist on Amazon Music. If you are new to this streaming music platform, keep reading and learn how to operate it on different devices now.
How to Create A Playlist on Amazon Music for Windows/Mac
On your computers, no matter if you are using the software or Amazon Web Player, simply by signing in to your Amazon Music account and you can start creating your own Amazon Music playlists. When they are created, once you sign in to the same account on what devices, you can access them and start the playback directly!
Step 1. After opening Amazon Web Player or the software version designed for Windows/Mac, sign in to your music account first.
Step 2. Click the "Amazon Music menu" and then choose "My Playlists" from the menu, there will be a "+ Create new" option provided. Click it to create a new playlist now.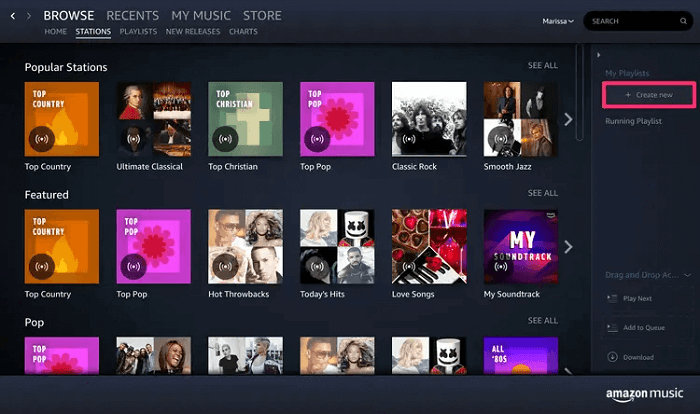 Step 3. There will be a window popping up to let you enter a name for the playlist. Finish editing it and then click "Save".
Step 4. Now you can begin adding songs to the created new playlist. Simply select the "Explore & Add" option and you will be turned to the Amazon Music library to search for any song and add to your new playlist.
Step 5. Once finding the songs you like, click the "More Options" button beside it, and choose "Add to playlist" to add them to the new Amazon Music playlist you just created.
Note:
Pay attention that you can only add up to 2500 songs to one Amazon Music playlist.
The operations between "Online Music" and "Offline Music" will not carry out with each other. So make sure that you have selected the right mode before creating or managing the playlists in the Amazon Music library.
How to Create an Amazon Music Playlist on Android
If you are an Android user, then follow the tutorial here and get to know how to a playlist on Amazon Prime Music / Amazon Unlimited / Amazon Music Free in its Android app.
Step 1. Open the installed Amazon Music app on your Android device. Then you can directly go to the overflow menu of the "Now Playing" song.
Step 2. Tap "…" to open the overflow menu. You will see the "Add to Playlist" option.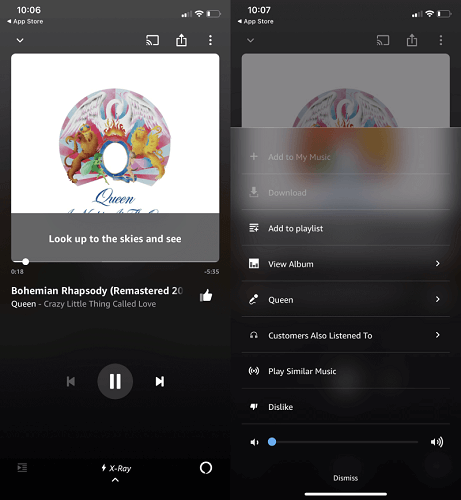 Step 3. To create a new playlist, you need to choose "Create New Playlist" instead of adding the song to an existing one.
Step 4. Once finishing entering the playlist name, click "Save" to create it, then you will get a new playlist created in your Amazon Music library on Android!
You can add all Amazon streaming songs to the newly-created playlists even the songs of Amazon Prime Music or Unlimited titles (but you have to subscribe to them first).
Tips:
You can set your playlist to be private or public in the overflow menu as you want.
The created new playlists can only be played online.
If you make any changes to the playlist under "Offline Music Mode", they won't be saved at all.
How to Create a Playlist on Amazon Music for iOS
Now, you can also check the way to create a playlist on Amazon Music if you are using an iOS device. You would find it is quite similar as how to process it on Android.
Step 1. Open the installed Amazon Music app on your iOS device and then sign in your account first.
Step 2. Then go to any song's overflow menu and choose "…" to select "Add to Playlist".
Step 3. Instead of choosing an existing playlist, you need to select "Create New Playlist" and enter a name for it.
Step 4. Once the playlist is created, you can add any song to it and enjoy a convenient playback without skipping now!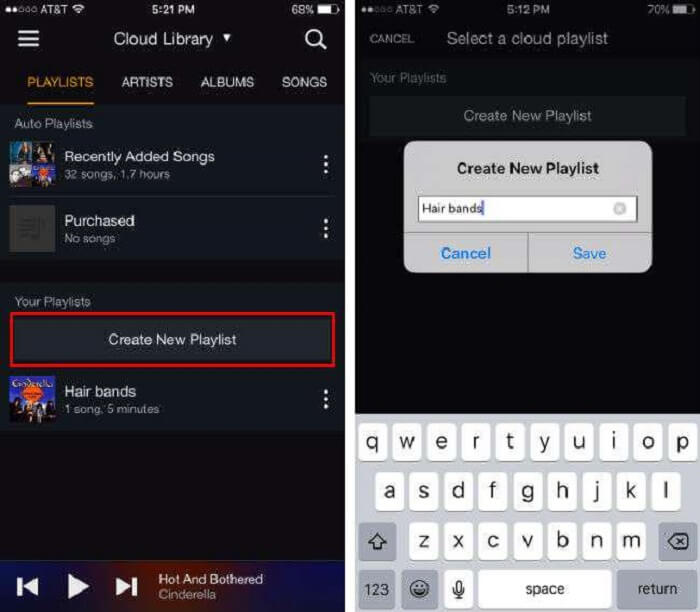 Tip: You can drag and drop to order the added songs in the playlist at any time you want.
Extension: How to Download an Entire Playlist as MP3 for Flexible Playback
When you have created a new Amazon Music playlist and want to save it as an offline one to enjoy without a network connection, you need to subscribe to Amazon Music Prime or Amazon Music Unlimited to use the download function. However, these Amazon downloads will not be kept as MP3 files and you can only play them within the Amazon Music app. Therefore, here offers another tool, MuConvert Amazon Music Converter, if you still want to
download an entire playlist
as local MP3 files to enjoy offline outside Amazon platforms.
MuConvert Amazon Music Converter directly adds the Amazon Music Web Player inside the software, so you can directly sign in with your Amazon Music account to select your created playlists and download them immediately. The software has offered different quality options to select from, which can reach up to 320Kbps. With MuConvert Amazon Music Converter, you can get the downloaded Amazon MP3 files to enjoy offline with the best quality as in the official online platform.
Key Features:
Supports downloading any Amazon Music playlists and podcasts from Amazon Prime/Unlimited/HD
Offers common formats such as MP3, M4A, WAV, and FLAC to select
Provides up to 320Kbps output quality to offer the best music playback experience offline
Keeps all ID3 tags and metadata information by default for easier music library managing in local folders
Offers up to 5X faster speed to make your Amazon Music playlists download much quicker
Now, you can also check how easy it would be to download Amazon Music playlists entirely as MP3 files using MuConvert Amazon Music Converter.
Step 1. Sign in Amazon Music Web Player
Firstly, you need to install MuConvert Amazon Music Converter and then open the in-built Amazon Music Web Player. By signing in it, you can use it to access your created playlists or search for other ones as you want.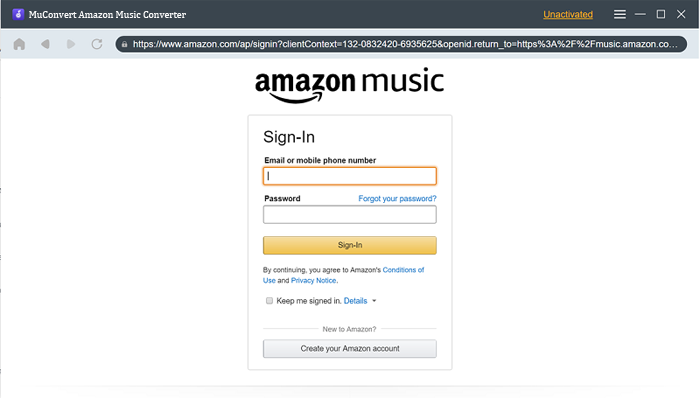 Step 2. Add Amazon Music Playlists to Download
When you have found any Amazon Music playlist you want to download offline, drag them to the "+" button.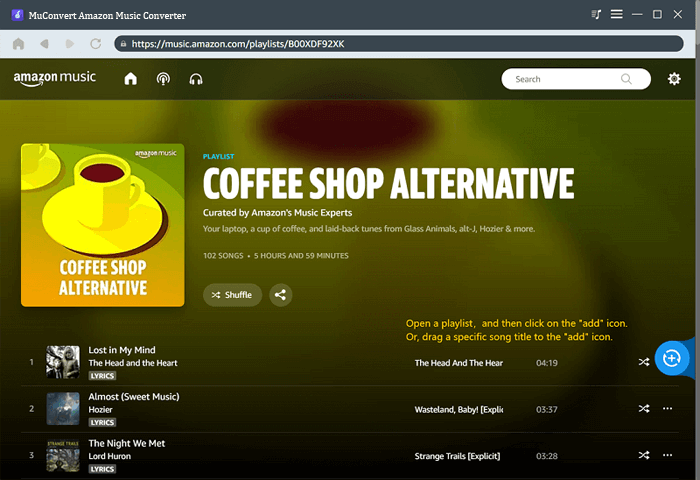 Step 3. Set MP3 and Quality to Download Amazon Playlists
After adding all Amazon Music playlists you want to download, go to "Convert all files to" in the top-right corner to select MP3 as the output format.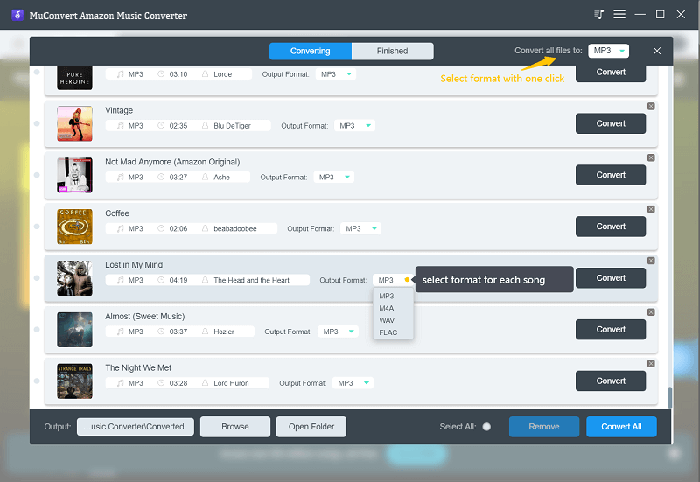 If you need to set the quality to download them as you want, just go to the "Preferences" setting window. Under the "Advanced" tab, you can change "SampleRate" and "Bitrate" as you need.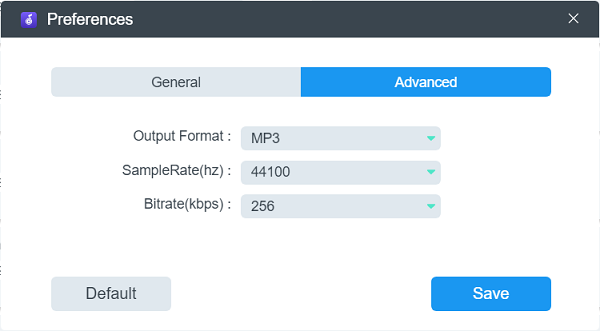 Step 4. Download Amazon Music Playlists As MP3 Files
Finally, when all the settings have been made, just click "Convert All" to begin the playlist downloading process. Just a moment, you can get all Amazon Music songs saved as MP3s offline.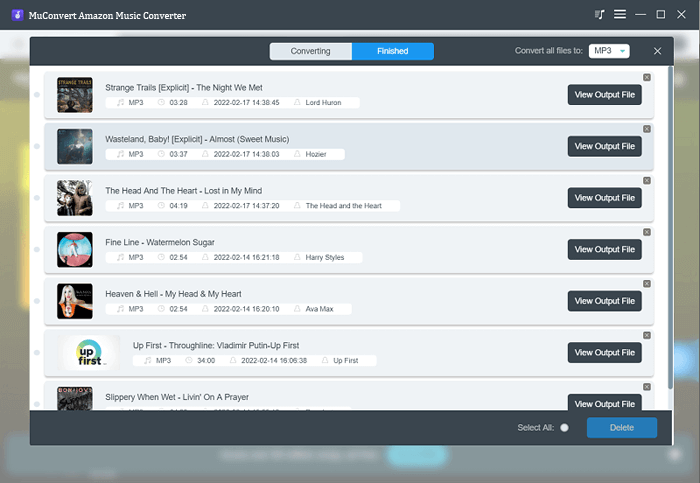 Now you know how to create a playlist on Amazon Music on different devices in Amazon Music app. If you want to download them as MP3 files, although the official app doesn't offer the service, you can still do it with the help of MuConvert Amazon Music Converter! Now, enjoy a more convenient and flexible Amazon Music playlist streaming, no matter online or offline!