What Is Amazon Music? How Does It Work?
As a music lover, you undoubtedly have a lot to crave from various online music platforms. So Amazon Music came into being. It lets you listen to a library of songs and albums, as well as create and share playlists, like Spotify and Youtube Music. As one of Amazon's services, it also offers add-ons like Amazon Prime, which has gained popularity among online shopaholics. Read on for more on this story.
1. What Is Amazon Music? Is It Available in Your Country?
​Amazon Music is an online music streaming service that offers its users access to millions of songs, playlists, and albums. It's a platform that allows music lovers to access their favorite tunes from anywhere in the world, using any device with an Internet connection. It is available in various countries, including the United States, United Kingdom, Germany, France, Italy, Spain, Japan, and Canada.
However, its availability may vary depending on the region and Amazon's licensing agreements with different music labels. You can check out the map below, where yellow is Amazon Music Unlimited, red-orange is Amazon Music Prime, and orange is both Amazon Music Prime and Amazon Music Unlimited.​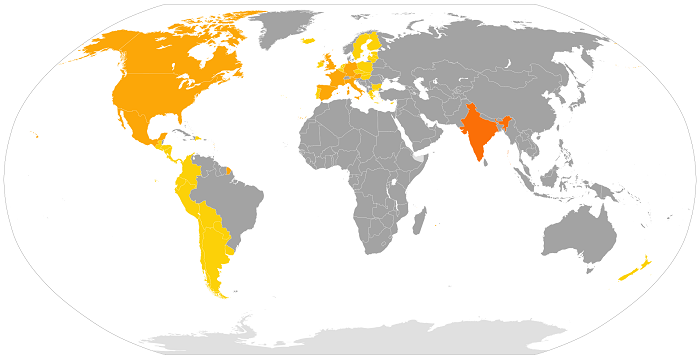 2. Where Can You Play Amazon Music?
Another way to play Amazon music is through the Amazon Music app, which is available for Android, iOS, and desktop devices. The app lets you access your music library and stream your favorite songs, albums, and playlists on your smartphone, tablet, or computer. You can also download songs and playlists for offline listening, ideal for when you are traveling or in an area with poor internet connectivity.
If you don't have an Amazon device or smartphone, you can still access Amazon music through the web player. This browser-based player allows you to stream your music library from any computer with an Internet connection. The web player offers a simple, user-friendly interface and allows you to access all the features of the Amazon Music app.
3. Amazon Music Web Player VS Music App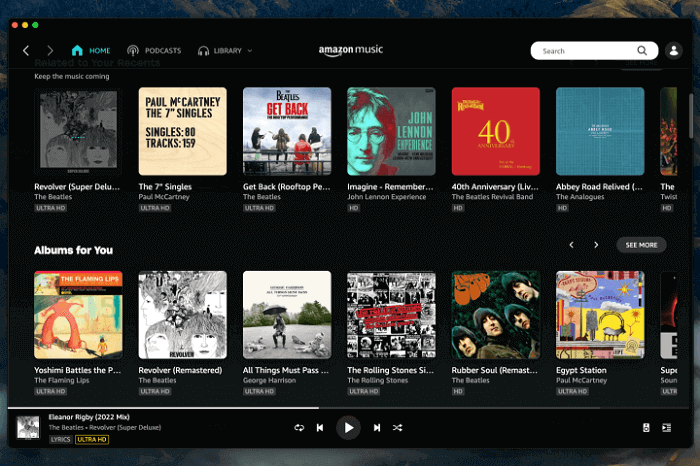 | | | |
| --- | --- | --- |
| Amazon Music Web Player | VS | Amazon Music App |
| Only PC | Compatibility | PC and Mobile Phone |
| None | Offline Playback | Yes |
| None | Voice Control | Yes |
| Larger and Richer | Interface Design | Compact but Easy to Operate |
4. What Are Amazon Music Subscriptions? How Much Do They Cost?
Music subscription is becoming increasingly popular among music lovers. And Amazon offers a range of music subscription plans to cater to different needs and budgets. However, it's important to choose the plan that suits your requirements and fits your budget.
Let's look at Amazon Music Free plan. This plan is free of cost and offers access to a limited selection of songs and playlists. Then, we have Amazon Music Unlimited, the premium subscription plan that offers unlimited access to over 70 million songs, ad-free streaming, and offline playback. There are two plans available – individual and family. The individual plan costs $7.99 per month for Amazon Prime members and $9.99 per month for non-Prime members, while the Family plan costs $14.99 per month and allows up to six family members to use the service simultaneously.
In addition, there is Amazon Music HD, a high-quality audio streaming service that offers lossless audio quality (also available in individual and family plans). The individual plan costs $12.99 per month for Prime members and $14.99 per month for non-Prime members, while the Family plan costs $19.99 per month.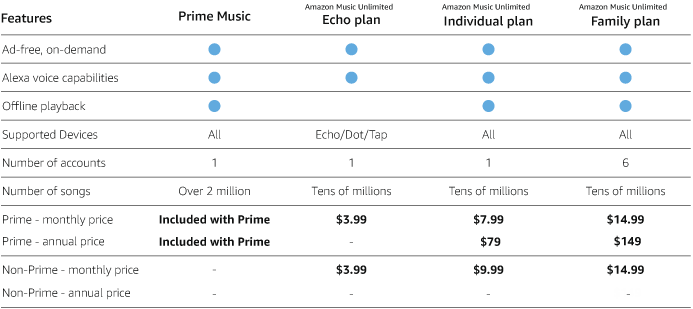 5. Can You Download Amazon Music Songs? Are the Downloads MP3 Files?
Yes, you can download Amazon Music songs, but only if you are a Prime/Unlimited subscriber in the Amazon Music app. By the way, all the songs you downloaded are strictly protected. That means you can not play music wherever you want. If you are looking for a program that transfers the downloaded music to any device that supports MP3 files. Why not think about MuConvert Amazon Music Converter? With the help of it, you can listen to your music on any device you choose, without worrying about compatibility issues.
Let's check how to download Amazon Music Songs via your Phone.
Step 1. Open the Amazon Music app on your devices
Step 2. Search for your target songs
Step 3. Press the 3-dot button and begin downloading by clicking on the Download option
Step 4. When the download is complete, you can go to the library where you can find it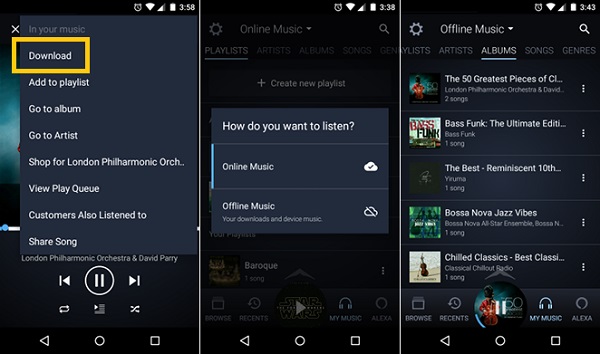 6. Tip: How to Download Amazon Prime Music to MP3?
Amazon Music is one of the most popular streaming services, but it has one major drawback – the music cannot be downloaded and saved as MP3 files. This is where Muconvert Amazon Music Converter comes in. It is a powerful tool that allows users to download songs from Amazon Music and convert them to MP3 files.
Highlights
Bypass Amazon Music protection to DRM-free MP3, M4A, WAV, FLAC, and other formats
Perserve original audio quality and ID3 tags after conversion
Download and convert Amazon songs at a speed of up to 10 times faster
Built-in Amazon Music web player & flexible parameter settings
Compatible with both Windows and Mac operating systems.
Now let's move on to the steps of downloading songs from Amazon Music to MP3.
Step 1: Install and Launch the Converter
The first step is to download and install the muconvert Amazon music converter on your computer. Once the converter is installed, launch it on your computer.
Step 2: Log in to Amazon Music Account
Log in to your Amazon Music account on the converter. This will allow the converter to access your music library.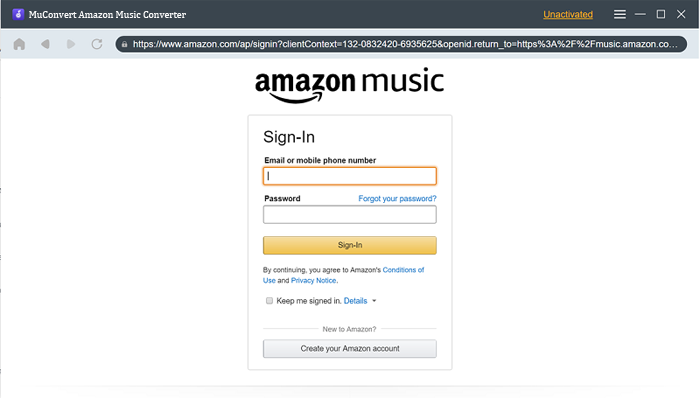 Step 3: Select the Songs You Want to Download
Select the songs, albums, or playlists that you want to download from Amazon Music. You can either select them one by one or use the "Select All" option to download all the songs in your library.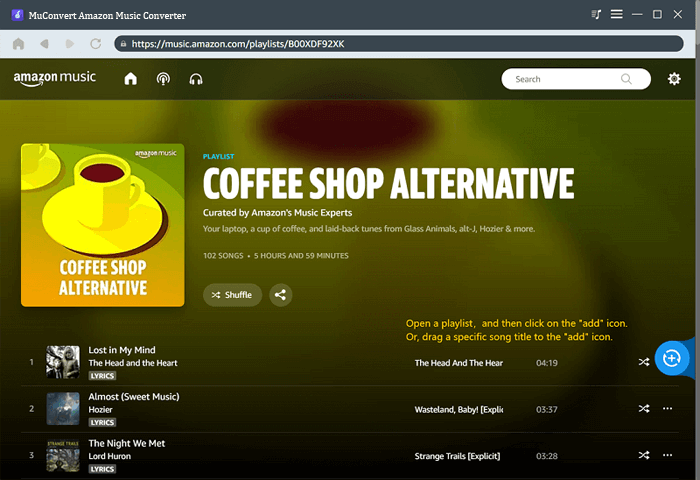 Step 4: Choose the Output Format
Choose the output format for your downloaded songs. You can choose from MP3, M4A, WAV, FLAC, and other formats.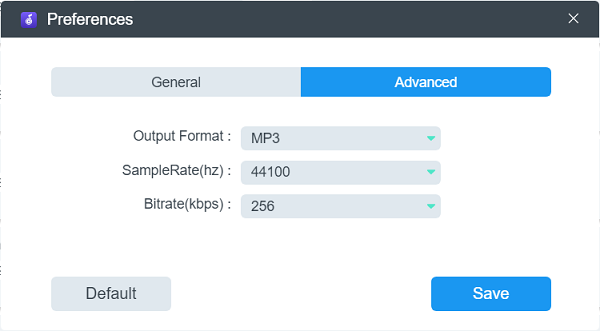 Step 5: Start the Conversion process
Click on the "Convert" button to start the conversion process. The converter will download and convert the songs to the chosen format.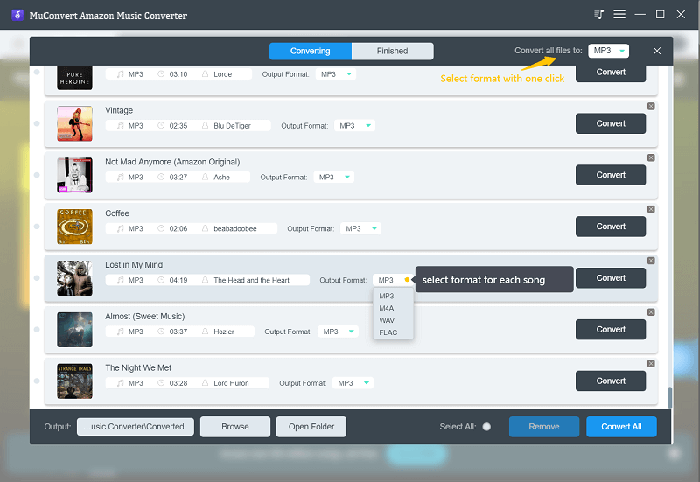 With a vast collection of songs and albums, Amazon music provides a great platform for music lovers to enjoy their favorite tunes. However, Amazon Music doesn't allow you to download songs for offline playback easily. This is where MuConvert Amazon Music Converter comes into play.
It is easy to use, and comes with a range of features that make it a must-have for any Amazon Music user. By following the steps outlined in this article, you can easily download and convert songs from Amazon Music to MP3. So if you're a music lover, be sure to check out MuConvert Amazon Music Converter and start downloading your favorite songs today!