Bored of hearing the default ringtones on your phone when someone calls you? Want to personalize your phone with your favorite songs? Creating special ringtones for your smartphone is actually quite easy. With over 90 million enjoyable songs available on Amazon Music, it is a good idea to set an Amazon Music song as your ringtone.
But things get a little tricky when you try to use a song from Amazon Music as your ringtone. Don't worry, here we will show you a detailed guide to setting an Amazon Music song as a ringtone on Android and iPhone.
Can You Use An Amazon Music Song as Your Ringtone
Amazon Music requires paid subscription plans like Amazon Music Prime or Unlimited to enjoy and download millions of songs in its catalog. However, this does not mean that you can set any song downloaded from Amazon Music Prime/Unlimited as ringtones.
All your Amazon downloads are DRM-encrypted, not regular audio files. As a result, downloaded Amazon Music songs can't be set as ringtone easily, unless you remove the DRM from Amazon Music and convert the song to MP3/M4A. That's why special Amazon music converters are needed. Here we recommend the most powerful one – MuConvert Amazon Music Converter.
Download Amazon Music as a DRM-free Song Before Setting Ringtones
MuConvert Amazon Music Converter is a one-stop downloader and converter for Amazon Music songs. It downloads HD songs from Amazon Music Unlimited/Prime/Free offline easily. What's more, it can convert Amazon Music songs and playlists to DRM-free files with lossless sound quality.
Empowered with 10X faster speed, the Amazon Music downloader works incredibly fast to save multiple songs in batches. It is also easy to use and enables you to download any track you like from Amazon Music. Using this powerful tool, you can easily save Amazon Music songs as local MP3/M4A files and then set them on your Android or iPhone as ringtones, sleep timers, alarms.
Main Features of MuConvert Amazon Music Converter
Remove DRM from Amazon Music songs.
Convert Amazon Music to MP3, FLAC, M4A, and WAV.
Batch conversion & 10x faster conversion speed.
Preserve the original audio quality and keep ID3 tags for easy management.
Built-in Amazon Music web player for easy and direct downloads.
Before setting Amazon Music as ringtones, let's convert Amazon Music songs to MP3 DRM-free files first. This whole process is easy. Follow the detailed steps below.
Step 1. Lanch MuConvert Amazon Music Converter
Install and run MuConvert Amazon Music Converter on your PC or Mac. Follow the instructions to log in to your Amazon Music account.
🏆 Note:
Even if you are an Amazon Music Free user, you can rely on this converter to save your favorite song from Amazon Music to a DRM-free file.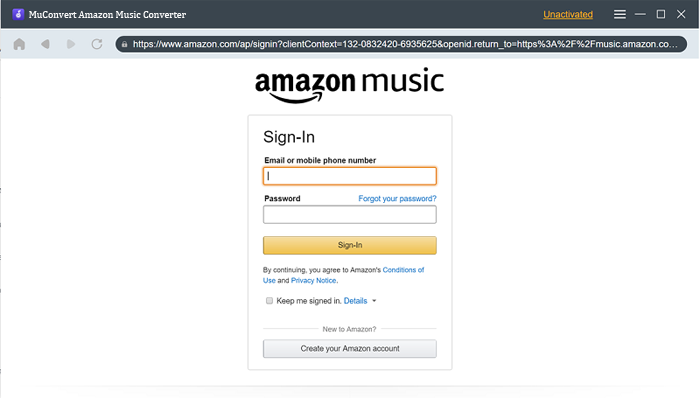 Step 2. Add An Amazon Music Song for Conversion
Open an Amazon Music playlist, then click on the blue Add icon to convert the playlist/single song to MP3 or directly drag the song or playlist title to the blue Add button.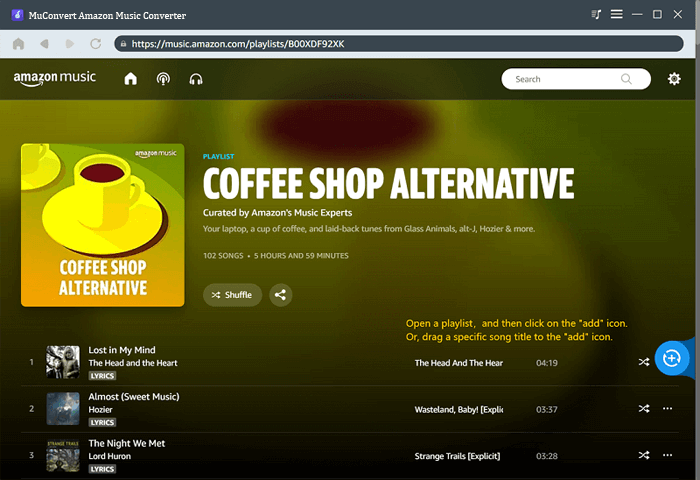 Step 3. Choose MP3/M4A as output format
Choose an exact format for the song by clicking the Output Format option next to the music info. To use Amazon Music as a ringtone on your iPhone or Android phone, please choose M4A or MP3 format. You can also set the output quality to 320 kbps.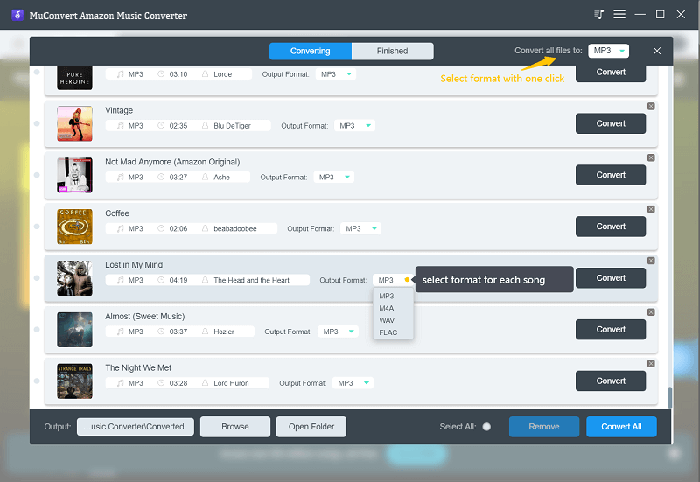 Step 4. Convert Amazon Songs to MP3/M4A
Click the Convert All button to let the converter start converting the Amazon song to an MP3 or M4A DRM-free music file. After the conversion is completed, you can find the converted Amazon songs by clicking Finished > View Output File.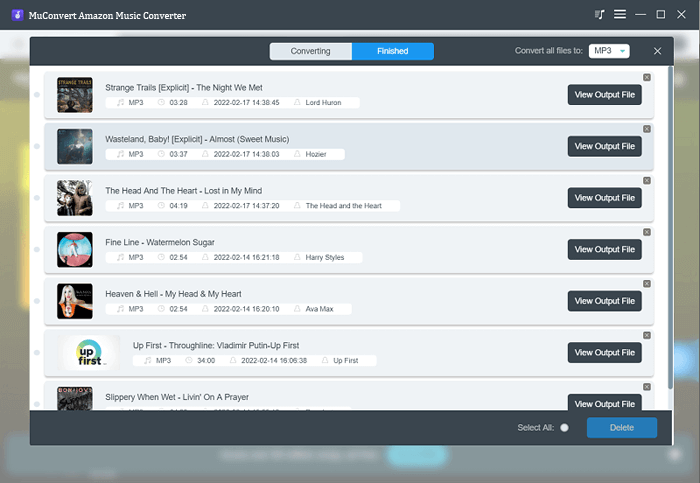 How to Set Amazon Music as Ringtone on Android
Once your music file is downloaded, if you are an Android user, you can follow the steps below to transfer the downloaded song to an Android device and set the Amazon Music song as a ringtone.
Step 1. Connect your Android phone to your PC using an Android USB cable.
Step 2. Simply drag the converted Amazon Music audio files from your computer to your Android device.
Step 3. Finally, open the Settings on your Android phone, tap Sounds & Vibration > Ringtone, and select the Amazon song you want to set as your ringtone. In this way, the Android ringtone is successfully set.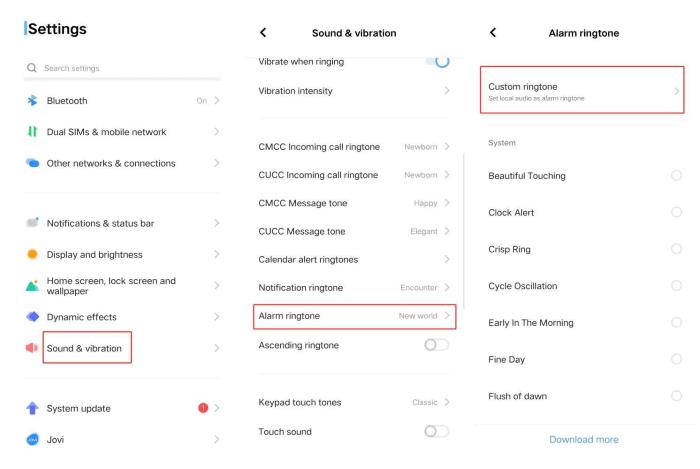 How to Set Amazon Music as Ringtone on iPhone
For iPhone users, setting up a ringtone from Amazon Music on iPhone can be a little more tricky. Don't worry. In this part, we will two methods: one is the common iTunes method, and another will use a simple tool.
Method 1: Set Ringtone from Amazon Music via iTunes
To set Amazon Music as your iPhone ringtone, you need to transfer the converted Amazon files to iTunes before setting it as your new iPhone ringtone. Follow the steps below to start creating an Amazon Music song as your iPhone ringtone.
Step 1. Launch iTunes and upload the converted Amazon songs to the iTunes library. Select the song you want to use as your new iPhone ringtone, then right-click the song and select Song Info from the drop-down list that appears.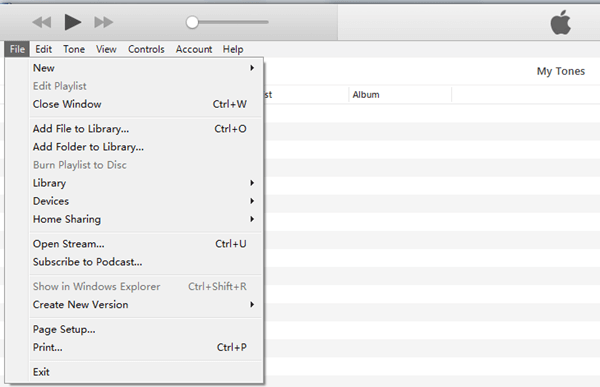 Step 2. Then click the Options tab at the top of the window and enter the desired start and stop times. Do note that ringtones set on the iPhone can not exceed 30 seconds.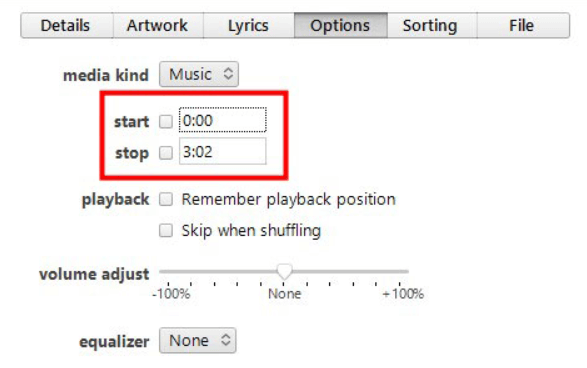 Step 3. Once done, click OK at the bottom and go to File > Convert > Convert to AAC Version. Once created, click and drag the AAC version of the song to your desktop.
Step 4. Next, click on the file name and change the extension from .m4a to .m4r.
Step 5. Connect your device to your computer using a USB cable and add the .m4r ringtone file to your iPhone.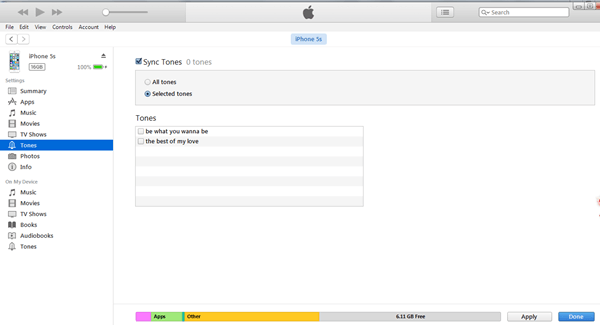 Step 6. Go to Settings > Sound & Haptics and tap Ringtone to select your ringtone at the top of the results list.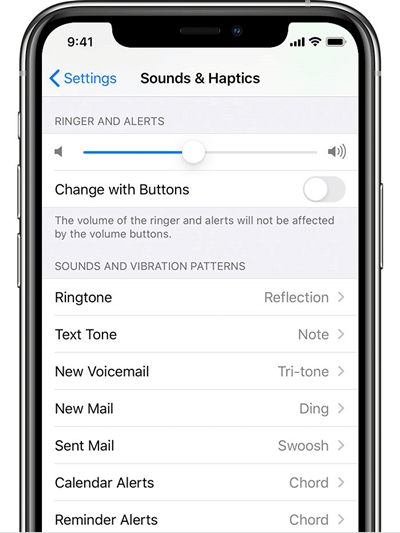 Method 2: Set Ringtone from Amazon Music via Syncios Ringtone Maker
If you find setting ringtones through iTunes complicated, especially the process of transferring a song to iPhone, here we have an easier method: using Syncios Mobile Manager. It also allows you to transfer audio files from Mac to iPhone.
Here's how to set songs from Amazon Music as ringtones through Syncios Mobile Manager.
Step 1. Install and open Syncios Mobile Manager. Select the Mobile Manager tab on the main interface.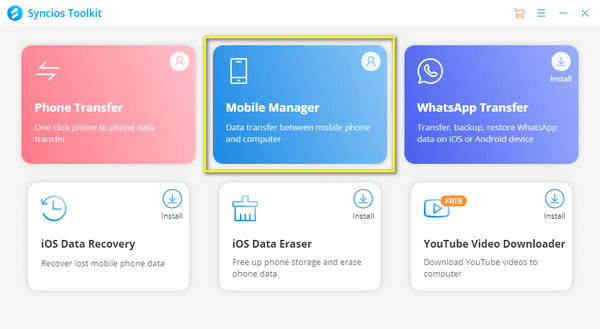 Step 2. Connect your iPhone to your computer using a USB cable. Click on Music at the top and you will see all the audio files there.
Step 3. Click Ringtones on the left navigation bar and click Add. Select the Amazon Music track you want to set as your phone ringtone and import it to your phone.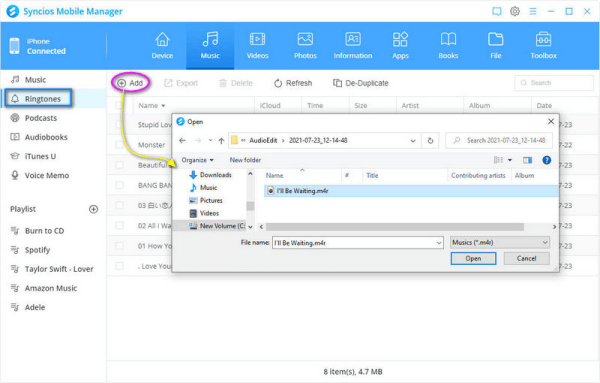 Step 4. On your phone, go to the Settings app and set the imported Amazon Music ringtone as your phone ringtone.
Conclusion
The key to setting an Amazon Music song as a ringtone is converting it to a DRM-free music file. With the help of MuConvert Amazon Music Converter, you can download and convert any song from Amazon Music to a DRM-free music file. After conversion, you can move them to your phone to use it as a ringtone. Now you don't need to hear those regular ringtones on your phone. Change them to your favorite tunes right now!
Convert Amazon Prime Music to MP3
Easily convert music from Amazon Prime/Unlimited/HD/Free to MP3 without losing quality.