10 Ways to Fix Apple Music Won't Download Easily in 2022
Apple Music does offer the download function to let subscribers to save the songs for offline playback on the go. Nevertheless, some Apple Music users have complained about the error message notified by Apple Music, telling them "Unable to Download Songs" while trying to keep the tracks offline.
Therefore, this post will help you to tackle the Apple Music won't download issue without spending any bucks. Now, please scroll down and learn these 10 easy ways to get the error fixed.
Solution 1. Download Apple Music Songs with Alternative Software
When Apple Music app fails to download the songs properly, and you even don't know why, finding an alternative method to continue the downloading process would be more rational than getting stuck with the issue. Here, a professional program can help, which is MuConvert Apple Music Converter.
MuConvert Apple Music Converter runs for providing stable function for Windows and Mac users to download Apple Music songs with very easy manipulation steps. It provides popular formats, including MP3, M4A, WAV and FLAC to output the songs in lossless quality. Despite this, MuConvert will retain the original ID3 tags for the songs, which facilitates more convenient offline songs management.
At present, MuConvert Apple Music Converter has brought a great update that you can listen to Apple music in the embedded Apple Web Player, which means you don't need to install iTunes when listening to Apple Music anymore.  Therefore, if you want to try this feature, you can re-download the new version without uninstalling the old one.
The following steps guide you the correct way to manipulate MuConvert Apple Music Converter and download Apple Music songs to popular audio formats:
Step 1. First, launch MuConvert Apple Music Converter after installing the program. Then sign in your Apple ID to enter the Apple Web Player.
Step 2. After entering to the Apple Music Web Player, you can select those you need to download and drag them directly to the red "+" button.
Step 3. Go to "Preferences" which is on the right corner above, then choose the output format, birate and sample rate under "Advanced". 
Step 4. Subsequently, click on Convert and the Apple Music songs can be downloaded in batch with original quality.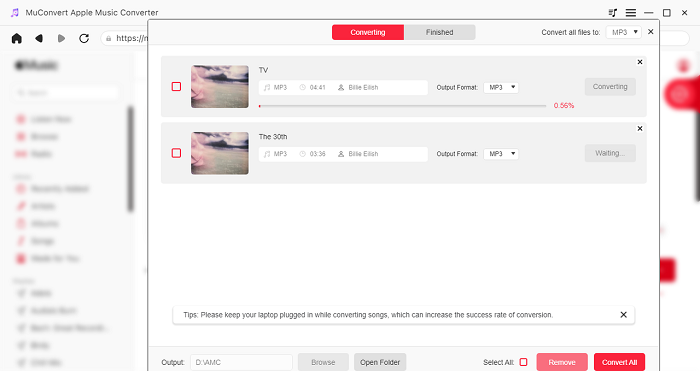 When the downloading process is over, move to Finished and click on View Output File, you can open the output folder and access the downloaded songs right away!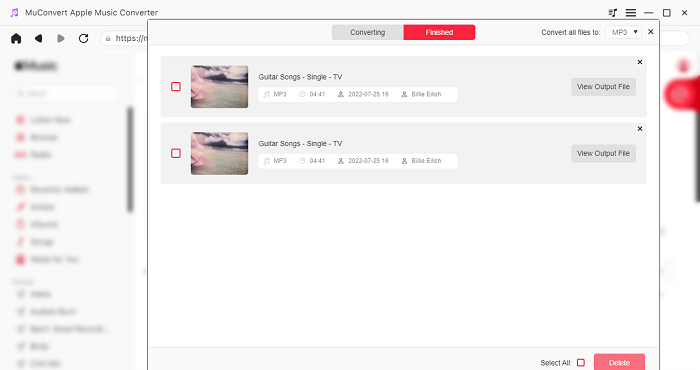 Solution 2. Check Your Network and WiFi Connection
Actually, sometimes Apple Music won't download issue occurs because of the poor network condition. Therefore, when the error pops up, also check whether your Wi-Fi connection is stable or your mobile data is toggled on for downloading Apple Music songs.
You can manually check and enable the mobile data for downloading Apple Music songs if you haven't noticed such setting before:
Go to Settings > Cellular.
Scroll the application list to find the Musicapp.
Select WLAN & Cellular Dataoption.
Please notice that if you select WLAN option, unless your device is connected to a Wi-Fi, otherwise, Apple Music will not function properly for streaming or downloading music.
Solution 3. Restart Your Apple Music App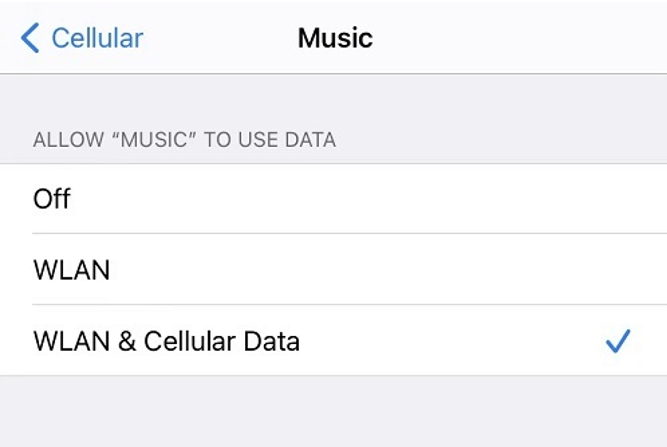 Restarting Apple Music app is another quickest path to fix the Apple Music won't download issue. The manipulation would be pretty easy:
Swipe up from the bottom of the home screen on your phone to check the background apps.
Scroll to Music app.
Swipe it up to shut down the app from the background.
Open the app again to see if the problem is resolved.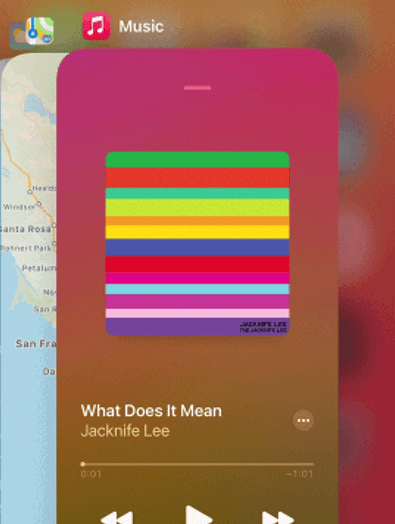 Solution 4. Sign Out Your Apple ID and Login Again
Apple Music requires people to use an Apple ID to access the streaming music. When you suffer from the Apple Music not downloading problem, trying to sign out and log in the Apple ID again is a considerable way to resolve the issue sometimes. This is how to manipulate:
Go to Settings.
Tap on your profile and scroll to the bottom to click on Sign Out.
Wait for seconds and sign in with the same Apple ID again.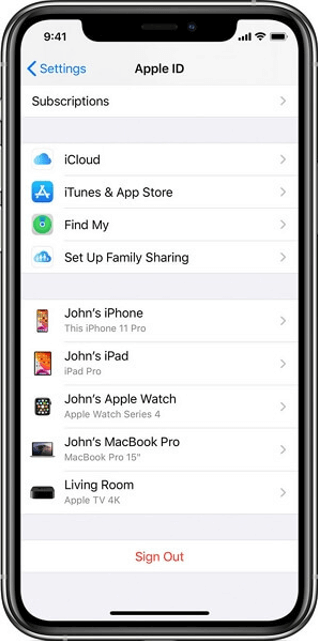 As you complete the process, reopen Apple Music app and try to download a song for seeing if it works again.
Solution 5. Update Your Apple Music App
When Apple would continuously enhance the Music app for providing better music streaming services to people, regularly updating the app to the latest version can automatically fix the errors happened in the older version. Therefore, why not try to update Apple Music app when meeting the Apple Music won't download issue?
Launch App Store app and tap your profile on the top-right corner.
Scroll down to find Music app. (It would appear in the list if it has launched a new version.)
Tap UPDATEto install the latest app.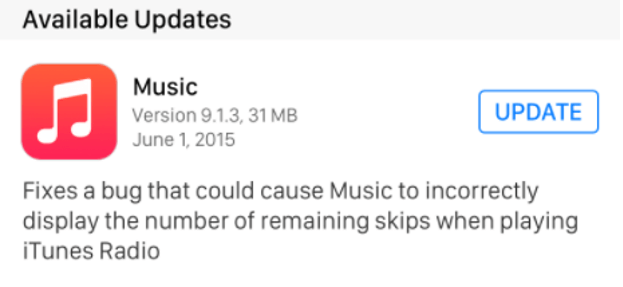 Open Google Play Store on your Android device.
Tap the profile icon.
Turn to Manage apps & device > Apple Musicand confirm to update the app.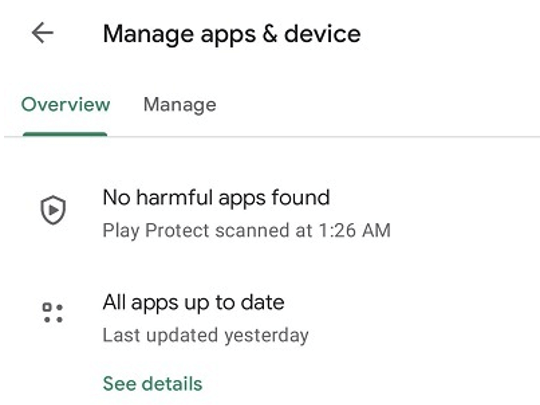 Solution 6. Delete and Reinstall Your Apple Music App
Another solution you can try to resolve the Apple Music won't download issue is to delete the Music app and reinstall it again. This can assist to resolve some sudden bugs occurred to interrupt the proper function of Apple Music. And the latest iOS 15 also supports to delete the built-in apps. This is how to do it:
Long press on the Music app till the Xicon shows up.
Tap it to uninstall Music app from your iPhone.
Reinstall Music app in App Store again.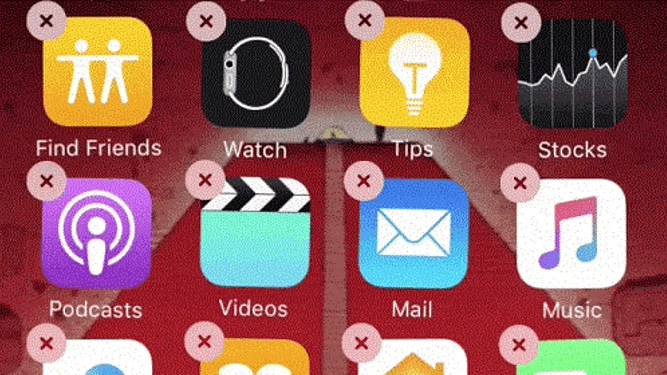 Then launch the application for seeing if the issue has been fixed.
Solution 7. Disable and Enable Again "Show Apple Music"
This solution is a niche one that many people may not know. Apple Music app can be hidden through enabling the Show Apple Music option on, and when the Apple Music won't download problem occurs, utilizing this feature and relaunch the app may get the problem solved. Here is how to do it:
Go toSettings on your iPhone.
Scroll down to find Musicapp and click on it.
Toggle off the Show Apple Musicoption.
Wait for a minute, then reopen the option and launch Music app for seeing if the issue is fixed.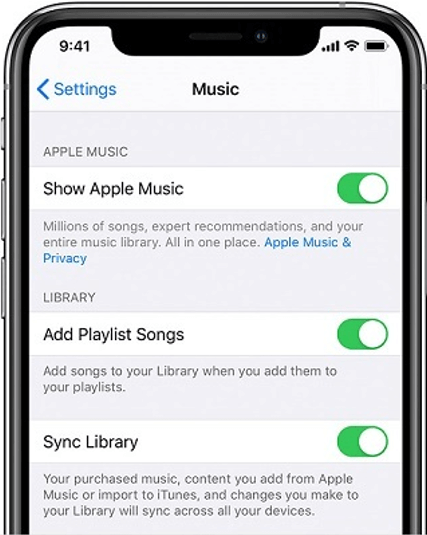 Solution 8. Restart Your iOS Device
For years, the simplest way for many people to resolve some application bugs can always be restarting the devices - and it actually works! Shutting down the device gives the opportunities for it to close the corrupted programs. Therefore, when the device is restarted, the bugs can automatically be resolved. So, when you meet Apple Music won't download error, try to restart your iOS device by long holding the side button as well as a volume button together to turn it off, then long press the shutdown button again for restarting it. When your phone is opened again, launch Apple Music and try to download the song again.
Solution 9. Update Your iOS System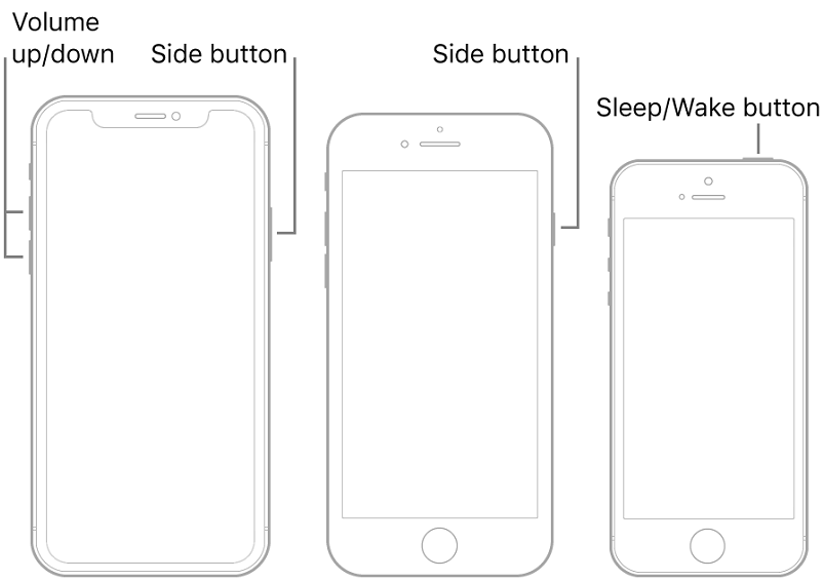 If you are using an outdated iOS system, the incompatibility between the iOS system and the Music app may also cause the Apple Music won't download error. Therefore, you can try to update the iOS system to the latest one following the steps below:
Go to Settingson iPhone.
In General, tap Software Updateto continue.
Select Download and Install option to confirm updating the iOS system to the latest version.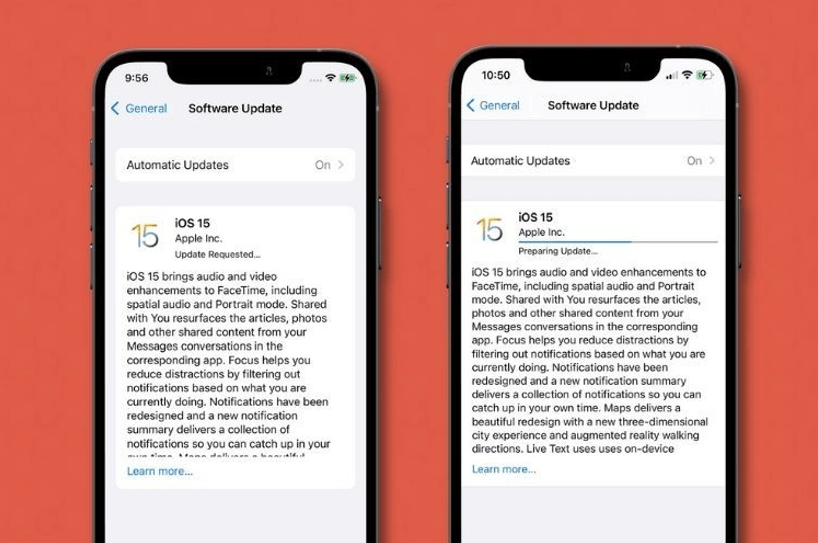 Solution 10. Repair Your iOS System
If you have installed the latest iOS system but the Apple Music won't download error still happens, consider whether your iOS system is getting stuck. To fix this issue, the professional FonePaw iOS System Recovery is able to help. This program can be fully compatible with Windows and Mac, and it is supported to recover the latest iOS 15 system. Now, you can see how FonePaw iOS System Recovery works to bring your iOS device back to normal and get the Apple Music won't download issue resolved:
Install and launch the program. Then select iOS System Recovery.
Connect your iPhone to PC and hit the Startto continue.
Install the firmware and continue to Repair.
Wait for FonePaw iOS System Recovery to recover the iOS system for you.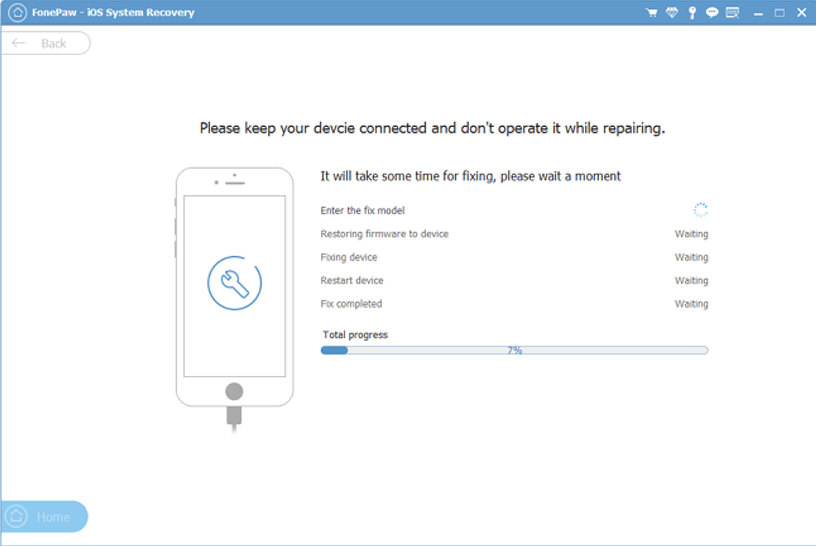 When your iOS system is back to normal again, try to download songs in Music app for seeing if the issue has been fixed.
That's all for today's post! These 10 easy ways have been introduced to help you resolve the Apple Music won't download issue. If you also meet such error unexpectedly, try any of these methods for seeing if the problem can be solved. Think this post helpful? Share it with your friends in need!