How to Fix Apple Music Not Available in Your Region?
Some of you may have received a notification from Apple Music, telling you that "this song is currently not available in this country or region" when you try to enjoy it. This happens because Apple Music service is not supported for use in all regions. But there are still some causes leading to this error even though you are in a place where can access the music resources for streaming.
In this article, 10 different methods are provided to help you solve the unexpected Apple Music not available in your region error. If you are also facing this trouble and don't know what to do, follow the article and find out the best method to solve it.
10 Ways to Fix Apple Music Not Available in Your Region?
When you get the notification telling you that Apple Music or the songs are not available in your region, try these 10 common ways to get it solved quickly.
If you have used a VPN while streaming Apple Music, it should be the most possible reason causing "this song is not currently available in your country or region". Because by turning on the VPN, your network IP will be changed to the location of the wire you select to connect with, letting Apple Music recognize a fake address instead of the real one. So, when the Apple Music songs are not provided in the region to which your VPN is connected, the error will occur. Simply disabling the VPN can get the problem solved.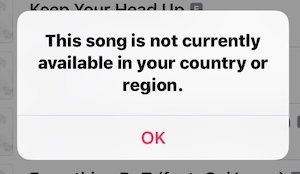 Fix 2. Force Close Apple Music and Restart
Another possible reason causing Apple Music not working probably may be the fact the app has stored too much cache, making it fail to connect with the music database and play the song for you. To make the Apple Music app work properly again without notifying you that you are not playing the songs available in your region, try force-closing the app and then reopening it again.
For iPhone X and Later Models
On iPhone X or later devices, you should wipe up from the bottom of the screen to list all the apps running in the background. Then scroll to the Apple Music app and swipe it up to force close it directly.
For Older iPhones with Home Button
If your iPhone is equipped with the home button, double-tap on it and select Apple Music from the recently used apps. By swiping it up and you can close the app.
Fix 3. Delete and Re-Add the Song
You can also try removing the songs and then adding them back again to see if the Apple Music song not available issue can be fixed. Although not all the songs are suitable for using this method, you can still try it by following the steps below:
Step 1. From your Apple Music playlist, find out the grey-out Apple Music songs.
Step 2. Click the setting icon and then choose to "Delete from library".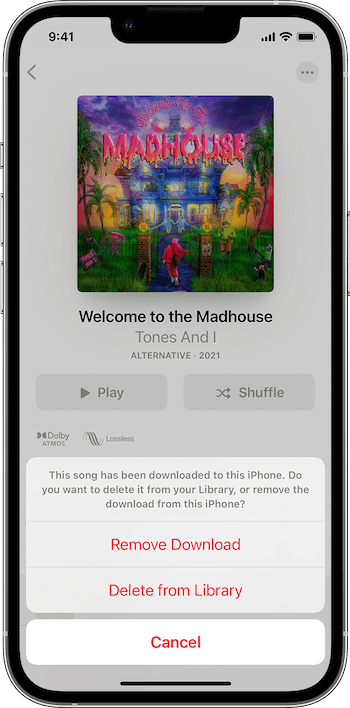 Step 3. Search for the same song and add it back to your library again.
Now, try playing the song to see if the playback unavailable notification still occurs.
Fix 4. Change Your Apple ID Country or Region
If you are moving from one region to another one for life, work, or study, remember to switch the country setting to make Apple Music songs playable (but you need to make sure the region you are staying in supports using the Apple Music service). Simply by doing several clicks to change your region, the Apple Music not available in your region error can be easily solved.
Step 1. Go to "Setting" on your iPhone device and tap your name to select "Media & Purchases".
Step 2. Scroll down and select "View Account".
Step 3. After signing in with your Apple ID, choose "Country/Region" and change it to the one you are staying in.
If you are using a computer, use Music or iTunes app. Click the "Account" option on the menu bar and select "View My Account", then you can continue to process the region change.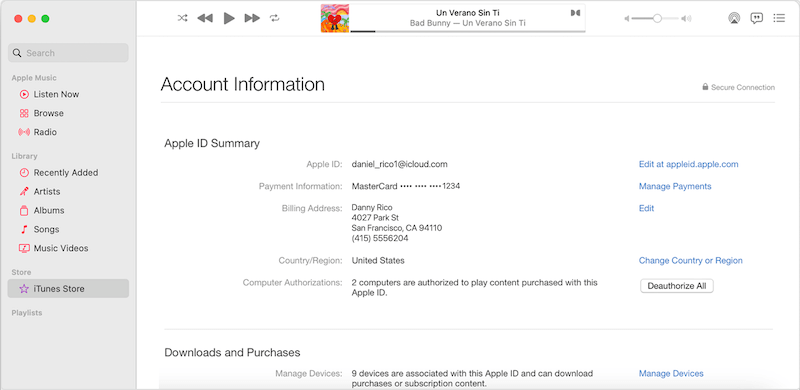 After completing this process, go back to Apple Music and see if the songs are available to be played now.
Fix 5. Enable Automatic Download of Your Purchase
When the latest iOS and iPadOS systems have provided the feature letting you automatically download all the purchases to the devices. Enabling this function has the chance for you to solve the Apple Music not available in your country error according to some users. To turn it on, just follow these steps now.
Step 1. Open "Settings" on your iPhone and scroll down to find "Music".
Step 2. Click on it and turn on the "Automatic Downloads" option.
Step 3. Now, simply restart the Music app and see if the songs you fail to play before now are available for streaming successfully.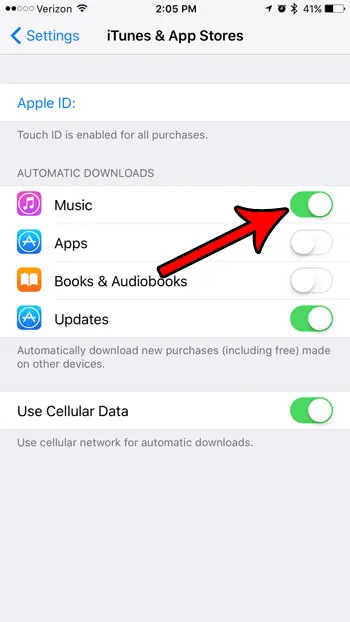 Fix 6. Turn Sync Music Library Off and On
Sometimes when the music syncing function fails to work properly, it could also lead to some music playback errors in the app, including showing you Apple Music is not available in your region error. As a result, you can try to re-open this function again to make the songs syncing feature normal again, then the error can be easily fixed.
Step 1. Go to "Settings" and scroll down to select the "Music" app.
Step 2. Turn off the "Sync Library" option, then Apple Music will remove all the saved songs from your device.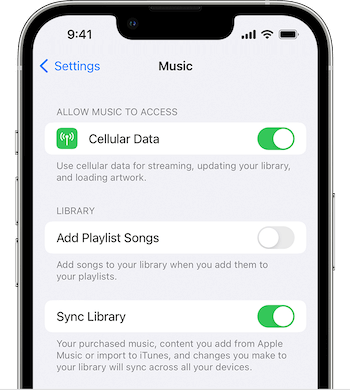 Step 3. Then turn the option on again. When the Apple Music songs are back in the list, select "Keep Music" and play them in the Apple Music app to see if the error still occurs.
Fix 7. Sign Out and Sign in Apple ID Again
If Apple Music fails to recognize your Apple ID, it may not play the songs for you as well. As a result, one of the most efficient ways for you to try making Apple Music songs available for playing again is to try signing out your Apple ID and then signing in once again. When Apple Music detects your account as usual, it will play the songs for you.
Fix 8. Update the Apple Music App
If you have used an outdated Apple Music for a long while, as the latest versions have been enhanced with more advanced and user-friendly features, some bugs and unknown errors would easily occur in the old versions.
Therefore, consider whether the outdated app with bugs occurred has been the reason stopping you from playing some Apple Music songs as usual. Under such a situation, try updating the app to the latest version and the Apple Music not available error will be fixed.
Fix 9. Remove and Reinstall Apple Music
We know that Apple Music would store cache and cookies while running to provide the fastest performance to users. But when there is too much data saved, the app would easily go wrong and occurs some playback errors.
So one way to fix such issues, including Apple Music songs not available for playing in your region is by uninstalling the app and getting it installed once again. This way can help it to work properly again and reduces the possibility of some streaming issues.
The improvement of the Apple Music app will surely fit the latest versions of your device systems, in order to provide the best music streaming services to users. Therefore, when you are installing the latest app on an outdated device system, incompatibility may happen and it will easily cause some errors in using the application such as the Apple Music playback error like the songs are not available for playing in your region.
So to solve it, the simplest way is by updating your device system to the latest version to support running the latest Apple Music app. Many users find this method quite useful to fix the issue.
Make Apple Music Songs Available in Any Region Forever
If you are getting tired of receiving the "this song is not currently available in your country or region" warning and want to enjoy all Apple Music songs no matter in what region, downloading the songs to DRM-free music files offline first should be the best method to help. To do it, you will need help from MuConvert Apple Music Converter.
MuConvert Apple Music Converter
has added Apple Music Web Player inside the software, so you can directly access all the Apple Music albums to remove DRM and
convert Apple Music to MP3
, M4A, WAV, and FLAC as you need. The output quality can be selected at up to 320Kbps, which makes sure you have the best experience in playing the songs offline.
Also, MuConvert Apple Music Converter will keep the ID3 metadata for better managing the offline library. With the 10X faster speed, you will find it just a short moment to download several Apple Music playlists at once.
Now, see the tutorial and learn the way to use MuConvert Apple Music Converter to download Apple Music songs offline without meeting the regional playback limitation again.
Step 1. Sign in to Apple Music Web Player
When you have installed MuConvert Apple Music Converter, open it on your computer and enter the Home Screen of the in-built Apple Music Web Player to sign in to your Apple ID. Then you can search for the songs and playlists you want to save offline to enjoy without regional limitations.
Step 2. Add Apple Music Songs to Download
After finding those songs you want to keep playing without any limitation no matter where you are, drag them to the "+" button to prepare to rip DRM and convert as common music files offline.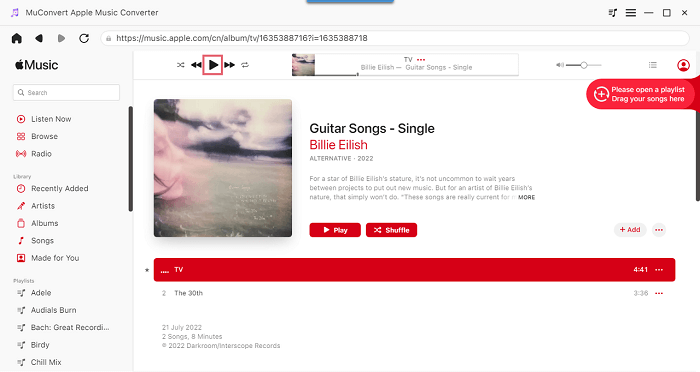 Step 3. Choose Output Format and Quality
Then open the "Preferences" setting in the top-right "Menu" list. Here, you can adjust the "Output Format", "SampleRate", and "Bitrate" based on your needs.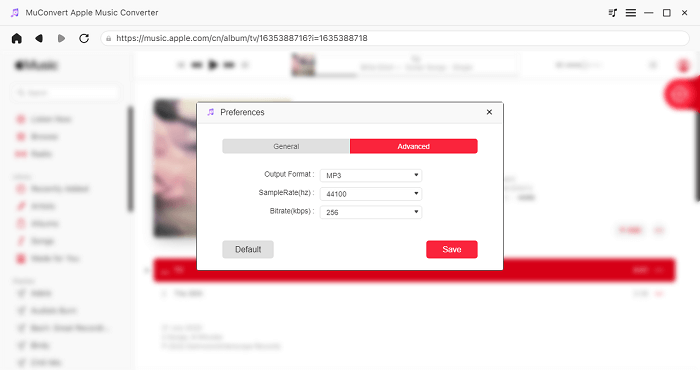 Step 4. Download Apple Music Songs Without Regional Limitations
Finally, just press the "Convert All" button to start downloading all Apple Music songs. Once they are saved as DRM-free files offline, you can save them for playing on any media player without being limited by the regional rules set by Apple Music.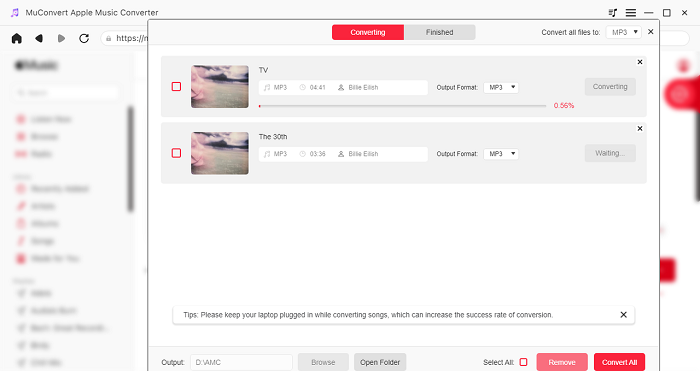 To solve the Apple Music not playing in your region, here lists the 10 possible ways to help you solve the error. But if you want to completely remove this limitation and enjoy Apple Music playback freely, using
MuConvert Apple Music Converter
to download them as DRM-free music files and using other media players to listen is also a good choice. Now you can install it and have a try.