How to Download Amazon Music to FLAC (Best Way)
No matter what kind of music apps or platforms you are using, FLAC will definitely improve your listening experience. FLAC has been a popular music format in recent years; it keeps the high lossless quality of music and has won the hearts of most music lovers. However, some apps and platforms don't provide downloaded FLAC music, or they provide it with limitations, such as Amazon. If you want to download music from Amazon, you will finally have an mp3 file on your device.
To keep high-quality music in FLAC format, you need some instructions and tools to help you. In this article, we are going to show you how to download Amazon Music to FLAC. There will be simple and convenient steps for you to follow. With the instructions, you will own lossless FLAC music and keep it on your device for entertainment.
Does Amazon Music Provide FLAC Music?
Actually, Amazon Music does provide FLAC music. As we mentioned above, the FLAC music provided by Amazon Music has limitations for users. From Amazon Music Unlimited, you will get HD and UHD FLAC music. However, these music files are protected by DRM, and can only be played on Amazon Music or other cooperated apps. And if you download music from Amazon, you will find that the music files can only be kept in mp3 format.
For most of the music lovers, they want the normal FLAC for them to enjoy music in all kinds of apps and devices. Compared with Amazon FLAC music, normal FLAC music is half the size of Amazon FLAC music, but it matches most of the apps on smartphones or computers. You don't have to worry about not having the right device to play it.
So, is there a way to keep Amazon music in normal FLAC music and make it matched with all kinds of devices? The answer is, yes.
How to Download Amazon Music to FLAC via MuConvert?
To download music from Amazon and make it available on various devices, you will need a third-party tool to help you. This tool should have the function of converting Amazon FLAC music into normal FLAC music, to make it compatible with any device. And MuConvert Amazon Music Converter will be such a perfect tool to satisfy this requirement.
MuConvert Amazon Music Converter is a mighty tool that downloads and converts Amazon music to your targeted formats. It supports converting music downloaded from Amazon Music HD, Prime & Unlimited, into FLAC that is compatible with different devices. Besides this, it has many powerful functions and characters. It has:
5X faster speed to download music and media files in batch.

Kept original high-quality lossless file.
Saved ID3 metadata and customizable output settings.
When you want to download music from Amazon music, you can use MuConvert Amazon Music Converter to help you to download the FLAC format, and play it on your devices. Here are the instructions of how to download FLAC music from Amazon via MuConvert:
Step 1. Log into the Amazon Music Account
After downloading MuConvert Amazon Music Converter, find the Amazon Music entrance and log into your account. You will see all your playlists and albums.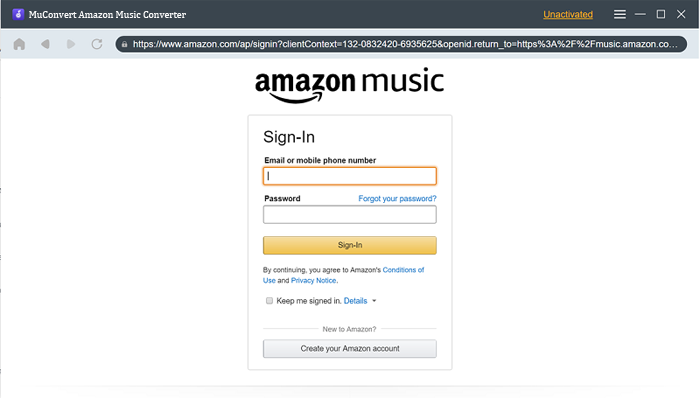 Step 2. Select the Music You Want to Download
You can select the albums or playlists you want to download from the interface and drag the music to MuConvert to download.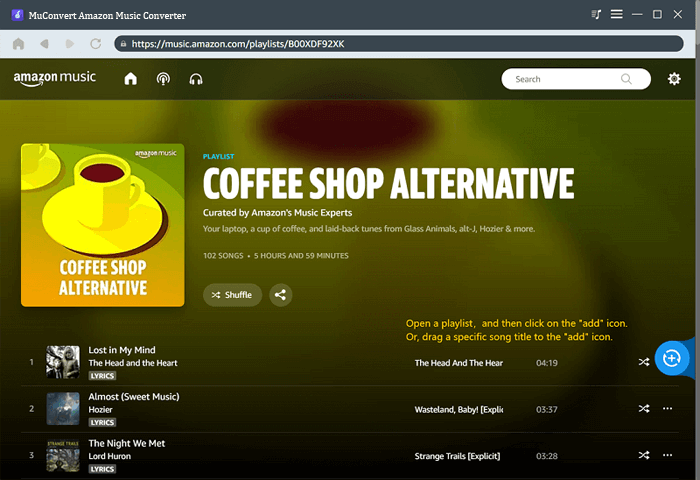 Step 3. Convert Amazon Music Playlists to FLAC
There will be an output format option in each bar. You can select the targeted format from the format list and then click "Convert." If you want to convert all the Amazon music at one time, you can find the "Convert all the files to" words from the upper right side of the interface, and select the formats from the list nearby. And then click "Convert All" to make all your music downloaded and converted.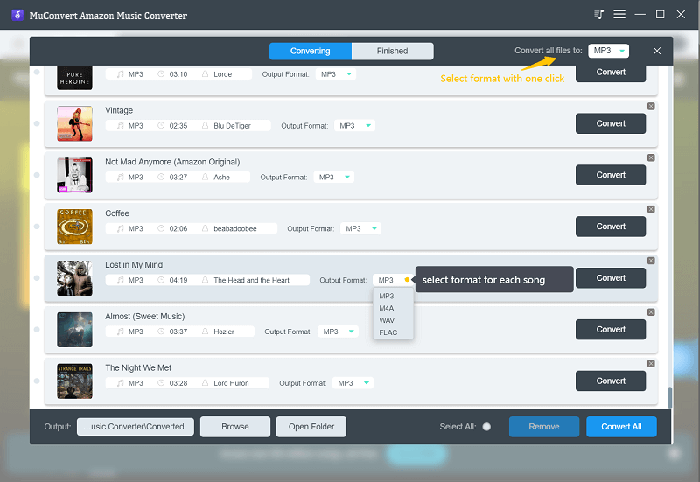 Step 4. Customize the Parameters
If you want adjust the sample rates and bitrate, you can find "Preference" and from "Advanced" you can set up the parameters for your music. Remember to click "Save" to save your settings.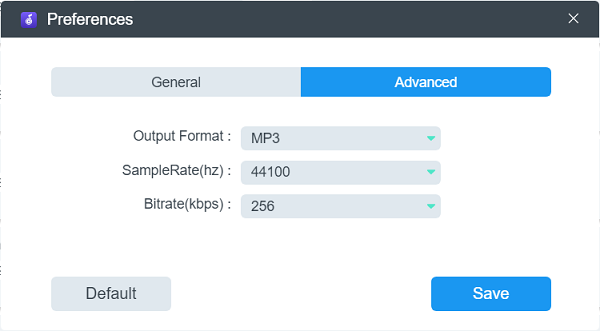 Step 5. Finish the Download
With the 5x fast speed, all the music will be downloaded after a few minutes. Now you can see from the interface that, all the Amazon music has been downloaded into your device locally in FLAC or other formats. Click "View Output File" to find your music and enjoy it.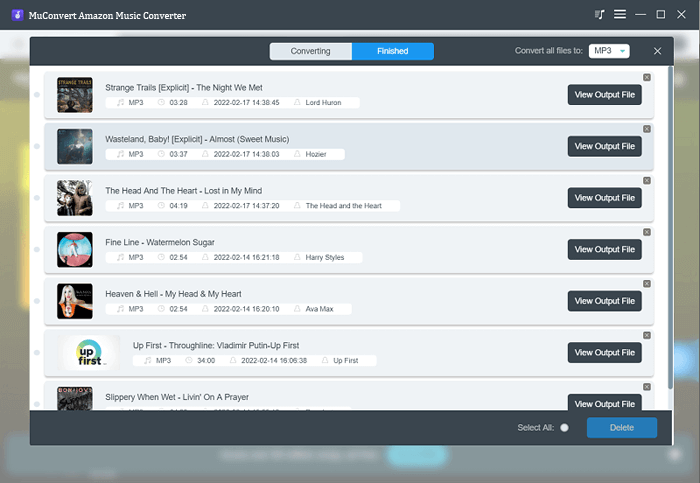 FAQ about Amazon Music to FLAC
How to download FLAC Music from Amazon Music Unlimited?
If you are already a user of Amazon Music Unlimited. You can follow the instructions below to download Amazon Music to FLAC. Open the Amazon Music homepage to find your favorite music from Amazon Music first. Then, click "Preferences," and choose the "Advanced" option. When you see the title "Audio Quality", click "HD/Ultra HD". You can find the "Download Settings" and choose "Best Available (HD/ Ultra HD)". All the music will be downloaded to FLAC.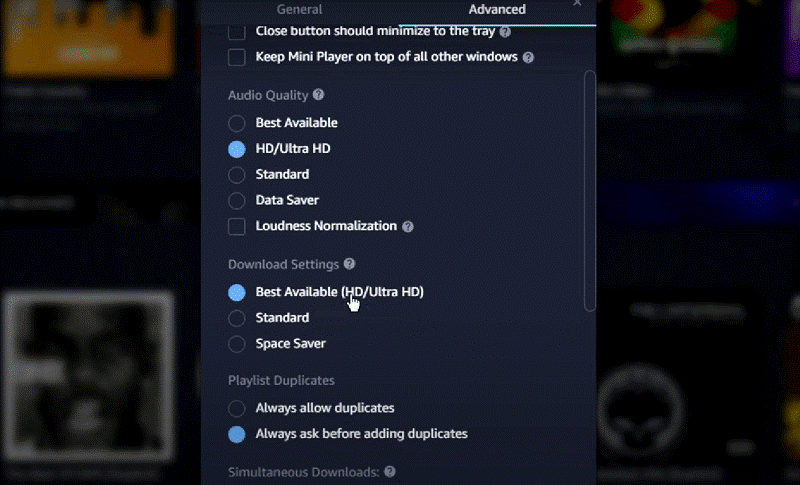 How do I convert Amazon Music to FLAC?
If you are not an Amazon Music Unlimited user, it is impossible for you to download FLAC from Amazon directly. In this situation, you need MuConvert Amazon Music Converter to help you. You can open the tool, drag your Amazon music to the interface, and then choose "FLAC" as the output format, and click "Convert All" to make all the songs convert into FLAC. These FLAC will be saved on your device locally. You can enjoy them in any music app you have.
Can I purchase Amazon lossless FLAC music?
You can purchase music from Amazon, but only in MP3 format. Notably, Amazon also has an online music store that provide digital singles and albums for purchase. However, these digital purchases are all encoded in MP3 format. The lossless FLAC quality option is only available for Amazon Music subscription service.
Therefore, the most ideal way to have FLAC music from Amazon, is to use MuConvert Amazon Music Converter, to download Amazon Music to FLAC. With this helpful tool, you don't have to pay for the Amazon Music Unlimited and adjust the complex settings. MuConvert Amazon Music Converter provides you with a user-friendly interface and simple usage, which enables you to own FLAC music easily. It will be one of your must-have tools. It is the wonderful gate to enter the best music journey.