MuConvert Spotify Music Converter is an amazing application designed for removing DRM from Spotify music and downloading Spotify music, including albums, playlists, and podcasts. It can extract and convert any Spotify music to MP3, M4A, WAV, AIFF, ALAC, and FLAC with lossless audio quality for offline playback. With it, you don't need to suffer from shuffle play and interrupted ads during listening.
All these features make it the best Spotify downloader and converter. For those who have never tried MuConvert Spotify Music Converter, this article is for you. After doing a lot of research, we've prepared this review of MuConvert Spotify Music Converter to help you know how the software excels in downloading Spotify music.
Benefits: The built-in Spotify web player of MuConvert Spotify Music Converter delivers high efficiency in browsing and downloading Spotify songs, playlists, and podcasts in a hassle-free way.
Shortcomings: The free trial only enables us to convert the first 3-minute of each song, which means that I have to register for the premium version to download full music from Spotify.
Overall Rating: 4.9/5
Features of MuConvert Spotify Music Converter
MuConvert Spotify Music Converter is a feasible Spotify Downloader that helps you convert Spotify songs, albums, and playlists into high-quality MP3 music files. In general, its users give it an overall high score of 4.9 out of 5 for its superior quality, blazing-fast download speed, and downloads of various Spotify music, which are listed in detail below.
Support Spotify Music & Podcast Downloads
As one of the best Spotify to MP3 converters, MuConvert Spotify Music Converter can download all types of music from Spotify, including songs, albums, playlists, and podcasts. Moreover, both Spotify Free and Spotify Premium users can use this converter to download and convert Spotify songs to MP3 easily.
Original Music Quality (5/5)
Downloading your favorite songs offline, MuConvert Spotify Music Converter maintains lossless quality. The software preserves the best audio quality while downloading and converting Spotify songs to WAV, AIFF, ALAC, or other lossless quality for offline listening.
In addition, it also allows you to customize other parameters such as the sample rate (best at 48000hz) and bitrate (best at 320kbps), which enables you to save Spotify songs offline to your desired quality.
35X Conversion Speed & Batch Download (5/5)
The latest MuConvert Spotify Music Converter has upgraded its conversion speed and thus can download Spotify songs at up to 35X fast speed. Moreover, its batch-downloading function can let you download Spotify playlists at once at a fast speed. For those who want to download long podcasts from Spotify, these two features are particularly helpful.
6 Popular Output Formats (4.5/5)
This versatile Spotify Music Converter supports 6 popular output formats, including MP3, M4A, WAV, AIFF, ALAC, and FLAC. All of them are highly compatible with common devices and DRM-free, enabling you to freely convert Spotify music to USB and other devices like mobile phones, computers, Bluetooth speakers, and so on for offline listening anywhere and anytime.
Easy Management of Downloads (5/5)
For convenient music management, MuConvert Spotify Music Converter will also preserve the full ID3 information (such as the artist, album, cover, etc.) of each Spotify song, making it easy for users to manage their library after downloading songs offline. So after the app downloads batches of Spotify songs, you are still able to distinguish each of them with the preserved ID3 info.
Ease of Use (5/5)
Not requiring links, MuConvert Spotify Music Converter provides an in-built Spotify web player, allowing you to directly drag and drop songs to download. Whether you want to download Spotify songs, playlists, albums, or podcasts, you can easily download them with one click. During the downloading process, you can also stop it at any time. Besides, it also offers a built-in player so you can listen to downloads directly after the download process is over.
Download Spotify Songs to MP3 with MuConvert Spotify Music Converter
In addition to its fast speed and original audio quality, MuConvert Spotify Music Converter is also easy to use. Let's take a look at how it works.
Step 1. Install MuConvert Spotify Music Converter
Install and launch MuConvert Spotify Music Converter on your desktop, then you will see the welcome page where you can hit "Open the Spotify web player". Now you can log into the Spotify web player with your Spotify account, whether you have a free or premium account.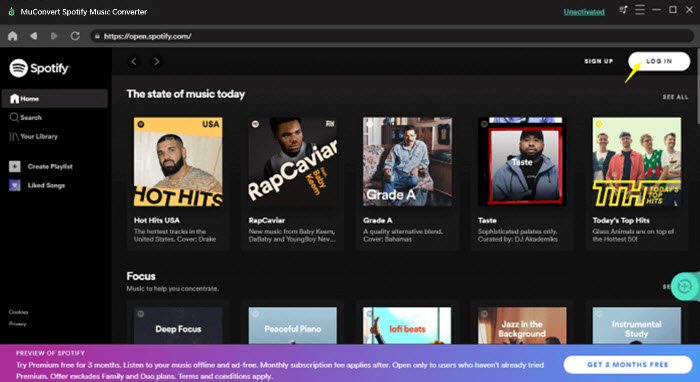 Step 2. Select Spotify Songs You Want to Download
Next, you can search for any music, playlists, or artists, or access your own music library to select the songs, playlists, and podcasts you want to save. Simply drag them to the floating "+" icon, and they will be added to the conversion list.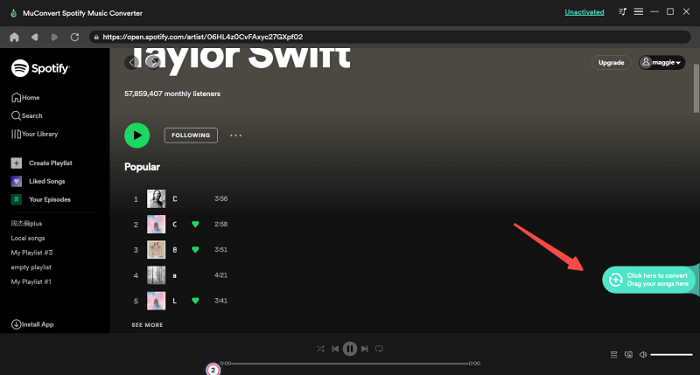 Step 3. Choose Output format
Move to the upper-right "Convert all files to" format menu, then select the format for the songs to be downloaded. Also, you can customize the output format for each of them separately as needed.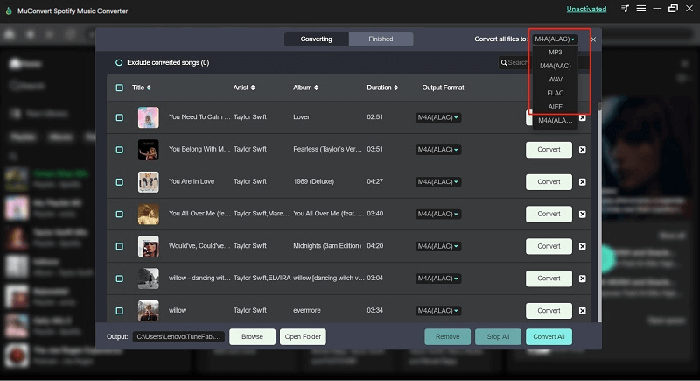 In addition, this Spotify Music Converter also helps you manage downloads by selecting ID3 tags on Preferences. Go to "Menu" > "Preferences". Move to the "General" tab. Then, you can rename the output file based on the settings you select.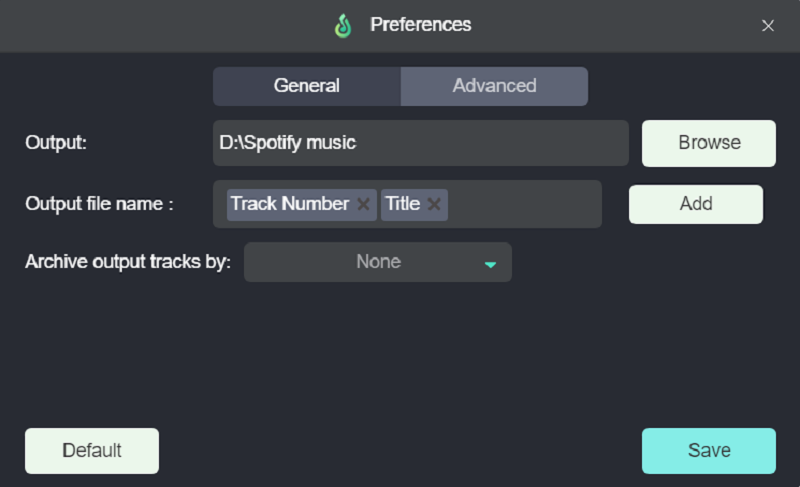 Step 4. Start Downloading Spotify Songs
Finally, you can click the "Convert All" icon to start the music conversion in batches with 35X faster speed, and you can pause the download process by clicking "Stop All".
When it is finished, go to the "Finished" tab to locate the downloads by hitting "View Output File" or directly streaming after clicking the play button.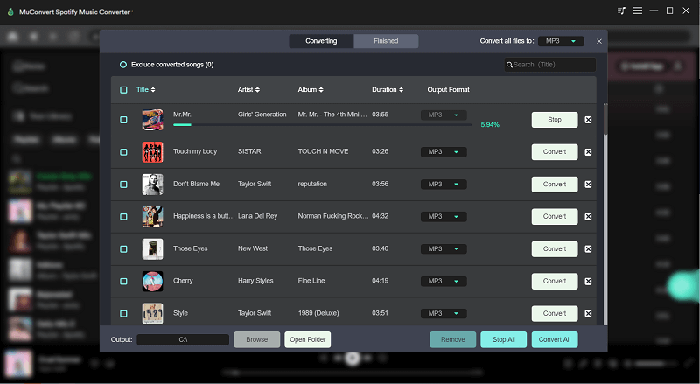 Is MuConvert Spotify Music Converter Safe?
Yes, MuConvert Spotify Music Converter is 100% safe and reliable.
MuConvert Spotify Music Converter is designed with an ads-free interface and also won't install bundled software on your computer. Hence, the security of MuConvert can be highly guaranteed. In addition, MuConvert Spotify Music Converter is also equipped with a skillful technical team to help resolve any problem users encounter while using this converter to download Spotify music download.
For data security, MuConvert Spotify Music Converter respects your privacy and will not collect your data. It strictly follows the privacy policy rules to protect users' rights and their data. All of the user data the software would access such as cookies, third-party links, emails, IP addresses, billing info, etc. will not be disclosed as MuConvert Spotify Music Converter highly values user privacy and it will not leak them.
Is This Software Free?
MuConvert Spotify Music Converter provides users with 3 minutes of free conversion to try. If you find it useful, you can subscribe to its paid plans for unlimited downloads of Spotify songs. To meet different user needs, it offers 3 subscription plans.
To upgrade to the registered version, you can go to MuConvert's online store to select a plan based on your needs. Here are the available options:
1-Month Subscription: US$14.95
1-Year Subscription: US$49.95
Single Lifetime: US$79.95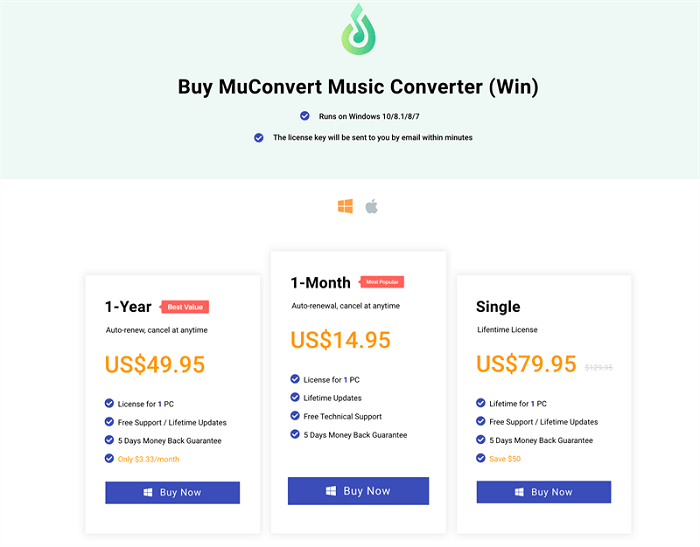 After you have purchased the registered plan, you are able to receive an email via the license key attached. Simply register to activate the software with your email and license code, and then you can access the full features of MuConvert Spotify Music Converter.
Final Verdict
From all aspects, MuConvert Spotify Music Converter can fulfill your demands for a music downloader – one with up to 35X fast speed, great audio quality, and 6 popular output formats to help you save any Spotify music on your devices forever. Through this review, hope you have a comprehensive understanding of the software and also help you make up your mind on whether to choose it.