How to Convert Spotify to WAV with Lossless Quality [2 Ways]
As a lossless audio format, WAV has an uncompressed quality to keep the audio files in the original condition. It is widely used when people want to burn Spotify songs to a CD or just download them to listen to for the best audio playback experience. Therefore, no matter if you want to download Spotify songs in WAV for original-quality offline playback or plan to burn the songs to CD, this article will show you 2 ways to do it. Now, let's have a look.
How to Convert Spotify Music to WAV Losslessly
There are multiple Spotify converters provided to help you convert Spotify songs to WAV on your Windows or Mac computer. Among them, MuConvert Spotify Music Converter can be an outstanding and professional one that we highly recommend.
MuConvert Spotify Music Converter
provides stable performance for people to connect to the Spotify music library, and only one click is needed to convert a whole Spotify playlist. It also provides all commonly used formats such as MP3, M4A, WAV, and FLAC for converting Spotify songs to. So, with MuConvert Spotify Music Converter, you can download Spotify songs in common audio files and get them played on almost all devices.
Main Features of MuConvert Spotify Music Converter
Lossless conversion quality – The output quality of the converted Spotify songs can be kept at the highest 320kbps.
Inbuilt Spotify web player – By adding the Spotify web player to the software, users no longer need to download Spotify app and can convert Spotify songs by directly dragging and dropping them.
5X faster speed – The converting and downloading speed can be sped up to 5X faster, and batch convert feature is also available.
Offers customization settings – Users can freely adjust the parameters of the Spotify songs such as the SampleRate and Bitrate during the conversion process.
You can follow the step-by-step guide to convert Spotify music to WAV using this program:
Step 1. Install MuConvert Spotify Music Converter
At present, MuConvert Spotify Music Converter is supported on Windows and Mac computers. Simply install it to your device by clicking the download buttons provided here.
Step 2. Open MuConvert Spotify Music Converter and Log in Spotify Web Player
After installing MuConvert Spotify Music Converter, open the software and you will be guided to enter the homepage of the Spotify web player inside it. You should click the "LOG IN" button on the top right and log in the player with your Spotify account. You don't need a premium account because MuConvert Spotify Music Converter also allows free users to convert and download Spotify songs.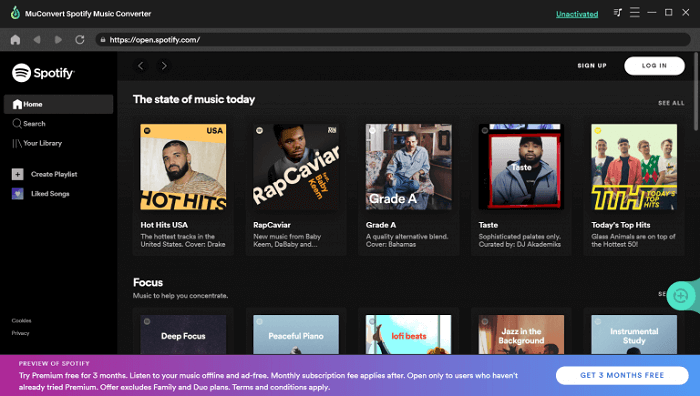 Step 3. Select Songs to Convert
After logging in the Spotify web player, now you only need to open a Spotify playlist or album. Then by pressing the "+" button floating on the right side of the screen and the whole playlist will be converted. After the songs selection window shows up, you can choose the Spotify songs to convert.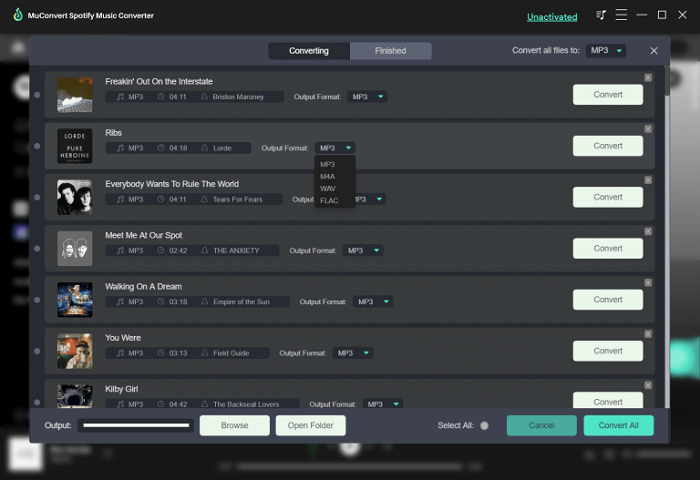 Step 4. Select WAV Format
Now, go to the "Convert all files to" menu on the top right corner, the format menu will offer the four options for you to select, including MP3, WAV, M4A, and FLAC. You can select WAV as the output format here.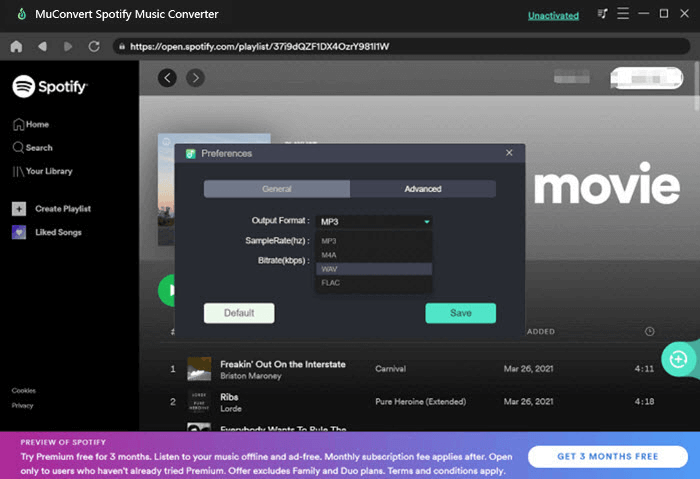 Step 5. Convert Spotify Songs to WAV
When the output format is selected as WAV, you just need the final click to convert the songs. Press the "Convert" button, then all your selected Spotify songs will directly be converted to WAV format on your computer.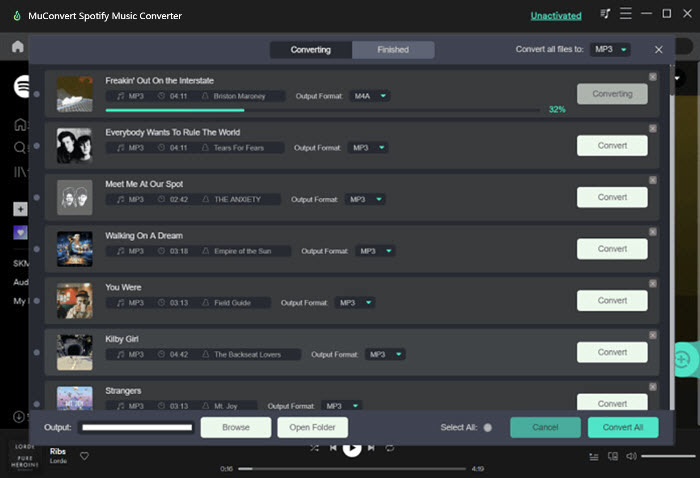 You can click the download buttons here to check whether it's helpful.
How to Convert Music from Spotify Online
Apart from using a Spotify converter to convert songs from Spotify to WAV, you can also convert Spotify music to WAV with the help of an online audio recorder, like Apowersoft Free Audio Recorder Online. It's a streaming music recorder that allows you to capture any sound online free. With it, you can get Spotify songs in WAV format by having a record.
After you use this tool to record Spotify songs, you also need an audio online converter to help you convert the recorded songs to WAV. Though they are both online tools, the operating process is quite time-consuming and troublesome. Therefore, using a Spotify converter – MuConvert Spotify Music Converter
, may be a better choice. You can directly convert songs from Spotify with only one click, which will save you a lot of time.

Step 2. Click the "Start Recording" button, then you can select the "System Sound" tab as the target source.
Step 3. Now start playing the Spotify song you want to convert to WAV online. At the same time, you need to click the "Start" button to start recording the song. Only press the stop button when you finish recording it.
Step 4.
The recorded file will be saved as MP3 file. To convert it as WAV, you also need an online converter to help you. Go to
the website of Audio Online Converter
, then add the MP3 file to convert it to WAV.
FAQs About Converting Spotify Songs to WAV
The full name of WAV is Waveform Audio File format. This is an audio encoder that uses a lossless method to save audio files without any compression. Today, many people and companies would use WAV to save high-quality audio to provide the best music streaming experience.
Why choose to convert Spotify music to WAV instead of MP3?
When WAV keeps higher quality in saving Spotify music, it means that it will take more storage than MP3 does. However, to ensure a high-quality music playback experience, people would prefer to use lossless quality in converting Spotify songs, so WAV becomes the best option for downloading Spotify music. Also, by saving Spotify music in WAV, people can also
burn the songs to CDs
to collect offline forever.
How to add the converted WAV files to Spotify?
You may wonder: can Spotify play WAV? Sure, the answer is positive. Once you've successfully converted Spotify Music to a WAV file using the above methods, you can add your local WAV file to the Spotify software on your computer or mobile and listen to it anytime, anywhere. Follow these steps to upload your WAV audio to Spotify.
On PC:
Step 1. Launch Spotify on your PC and go to "Settings".
Step 2. Look for "Local Files" and turn on "Show Local Files".
Step 3. Tap on "Add a Source" to add the WAV files from your PC, then you can play them on your computer.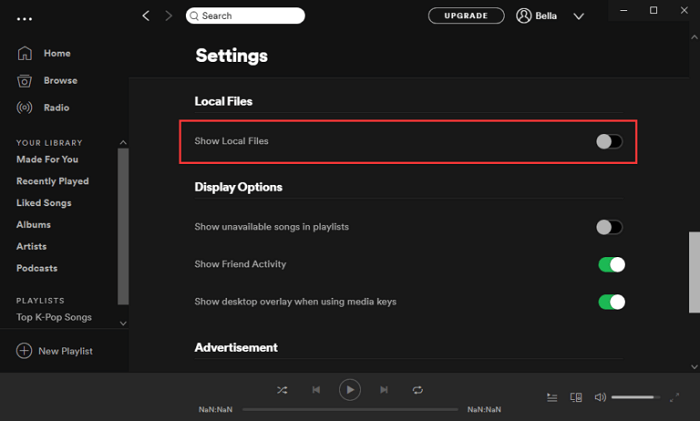 On Mobile:
Step 1. Open Spotify on your mobile phone and tap on "Settings".
Step 2. Choose "Local Files" from "Settings" and turn on "Local audio files".
Step 3. Go back to "Your Library", and choose the WAV files that you want add to.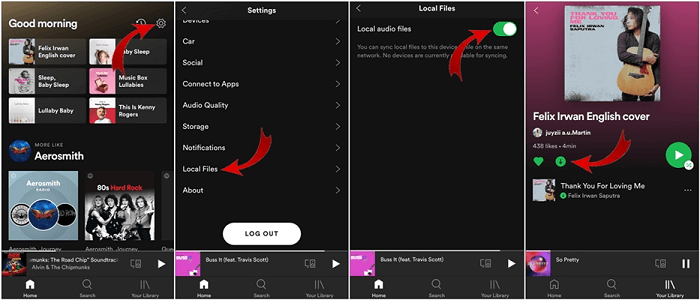 Where can you play WAV audio?
Because of the large size of uncompressed WAV files, sharing WAV files over the Internet is generally rare. However, as a common file type, you can get WAV files from streaming services like Bandcamp, Beatport, Juno Download, and Traxsource. WAV files are supported on media players such as Windows Media Player, iTunes, VLC Media Player, and Winamp and so on.
Converting Spotify to WAV is not difficult to work when there are different ways to help. Based on the amount of Spotify songs you want to convert,
MuConvert Spotify Music Converter
and the recording tools are all reliable to bring you help. Just try!