HitPaw Spotify Music Converter Review: Is It Worthy?
HitPaw, a professional brand of third-party utilities, offers users a desktop application called HitPaw Video Converter for quickly grabbing videos from some audio and video sites. Despite being called a video converter, this software has a mix of functions and can be used as a Spotify Music converter. Hence, another software – HitPaw Spotify Music Converter – is created that can only run on Windows.
Can HitPaw Spotify Music Converter really work well at all times with multiple audio and video download functions in one place, or is it worth a try? Read this HitPaw Spotify Music Converter review, and you should have a judgment of your own.
Features of HitPaw Spotify Music Converter
HitPaw Spotify Music Converter is workable when you want to keep Spotify music locally and try to transfer songs onto various MP3 players. As long as you retrieve the URLs of songs you like to download, then you can copy them into the program and have them downloaded on your computers in MP3 and other mainstream audio formats. It sounds great, right? But the features below can really impress you.
With a simple interface, HitPaw Spotify Music Converter is as uncomplicated as described above. But a note you have to know that this converter is not equipped with a built-in Spotify web player. That is to say, you have to pre-install a Spotify application on your Windows computer. Only in this way can you log in to your account and get the URLs of tracks, playlists, albums, or artists you want to save or stream. But if you pick songs that aren't all in the same playlist, it can be time-consuming and maddening to drag and drop to HitPaw one after another. What's worse, does your computer feel OK when two platforms run simultaneously?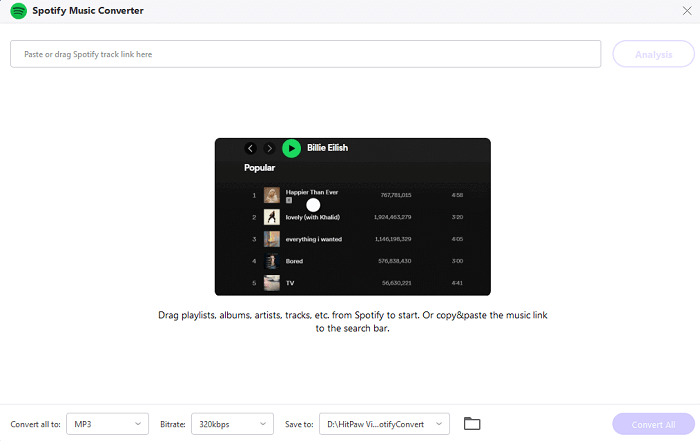 Have you noticed that HitPaw bills its Spotify Music Converter as a tool with 120X download speed on its official web page? But as a matter of fact, HitPaw Spotify Music Converter can not reach the goal. Usually, even with a good network, the download can only be accelerated to 3X or 4X faster than the original music duration. Once your network is not well-connected, it may take you half an hour or longer to download an entire playlist.
As for output quality, HitPaw Spotify Music Converter has provided three options for your selection – 256kbps, 320kbps, and the original quality. But HitPaw is incapable of downloading Spotify with original quality even if you've clicked the option. And the original sound quality is only 128kbps, which is not in line with the highest sound quality of Spotify Premium. You can imagine how bad the listening experience is.
HitPaw Spotify Music Converter lets you convert Spotify music to MP3, M4A, and WAV. But in contrast to other specialized Spotify Music converters with more than four download formats, HitPaw clearly does not meet the diverse needs of users. For some users with top-level players, FLAC, ACC, and other formats are the only way to meet their needs for clearer vocals and backing tracks.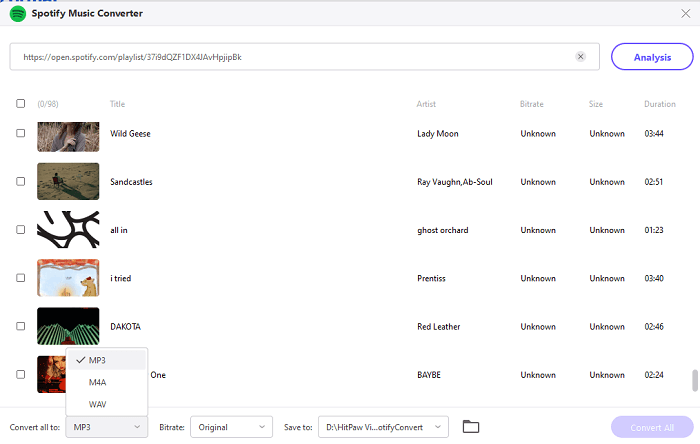 Is HitPaw Spotify Music Converter Free?
It is sorry to tell you that HitPaw Spotify Music Converter is not completely free. Although the software offers a free trial, it's better to say that the free trial is just a slick marketing method. This is because it only allows you to convert two Spotify songs. And the converted song is not complete, just the first third of the song. In this case, you won't be able to fully know if the software is working well and if it can always convert Spotify music with a high success rate.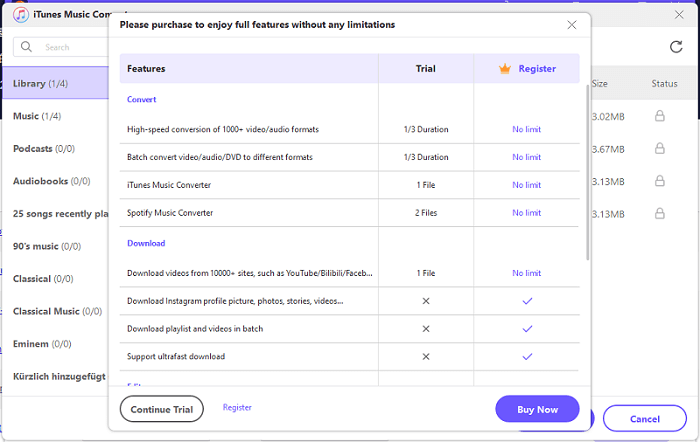 Also, compared to other Spotify converters' subscription prices of around $15 per month, HitPaw's subscription plan is expensive, with a minimum price of $19.95 per month. For more specific reference, you can check the table below.
One-Month Service

One-Year Service

Lifetime Service

Price

$19.95

$39.95

$74.95

Benefits

1 Month Full-featured License
1 License for 1 PC
Lifetime Free Upgrades

1 Year Full-featured License
1 License for 1 PC
Lifetime Free Upgrades

Lifetime Full-featured License
1 License for 1 PC
Lifetime free upgrades for all big version update
Our Verdict on HitPaw Spotify Music Converter Review
Only available on Windows, HitPaw Spotify Music Converter does help you download Spotify music to a common music format, which makes it easy to collect and transfer music. But this all-in-one converter doesn't always work as well as you expected. In terms of service, refunds and customer service are provided, but they are not as prompt as they would like to be advertised, and it is for these reasons that many users have given the software one star. In short, HitPaw Spotify Music Converter is usable, but has obvious drawbacks. For details, you can refer to the following pros and cons.
Pros:
Offers simple interfaces.
Downloads Spotify music to MP3, M4A, and WAV audio files.
Allows you to retain ID3 tag information.
Billed as an all-in-one application used on audiobooks, Apple Music, and iTunes Music.
Cons:
Only workable on Windows computers.
Free trial works for marketing.
Requires a high premium price to get the full function.
Runs in bad performance with a slow download speed.
Customer service is useless.
Refuses to give a refund.
Best Alternative to HitPaw Spotify Music Converter
As previously discussed, HitPaw Spotify Music Converter is just a branch of HitPaw Video Converter, which does not specialize in downloading Spotify music. But MuConvert Spotify Music Converter, the best alternative, is a professional and powerful Spotify downloader, which allows you get Spotify music downloaded in some universally used formats with lossless quality in a flash. And here are some great features of MuConvert Spotify Music Converter.
Compatible with both Windows and MacOS computers.
Requires no Spotify premium plans.
Embedded with a built-in Spotify web player that can make the operation much easier.
Provides unlimited music downloads during the free trial period.
Supports downloading Spotify music to MP3, M4A, WAV, and FLAC audio files for saving and streaming.
Boasts batch music download at 5X and even higher speed.
Supports extremely high quality output up to 320kps.
Provides you some preference settings, like customizing sample rate and bitrate.
Allows you to preserve ID3 tag information for sorting and managing music library easily.
Offers you an affordable subscription price, reliable customer service, and instant technical support.
All these features make MuConvert Spotify Music Converter dependable and practical. And you can follow the tutorials below to download music from Spotify with a few clicks.
Step 1. Log into Spotify Web Player
After you install MuConvert on your computer, you can launch it then. And the built-in web player will be displayed on the screen. All you need is to log in to your Spotify account.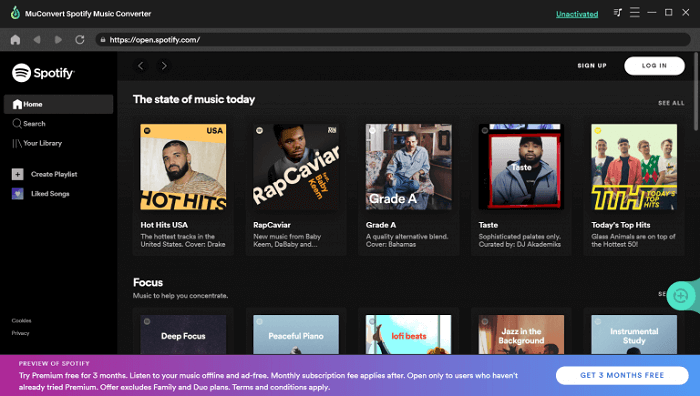 Step 2. Select Songs You Want to Save
If you have some desirable songs, playlists, or albums you want to download, you can directly drag and drop them to the Green Plus button. After that, the converter will parse the songs automatically in a minute.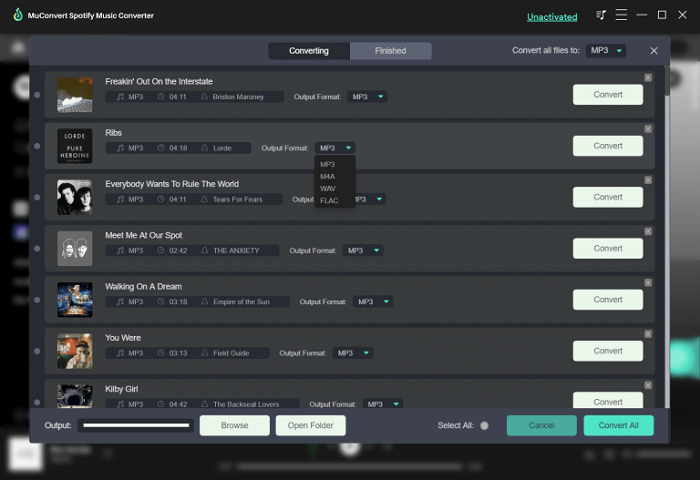 Step 3. Set Up before Conversion
Before you start to download Spotify songs, you can click on the top-right dropdown menu to choose the output format. Or you can also go to the Three-line menu >> Preferences >> Advanced to adjust the formats, Sample Rate, and Bitrate.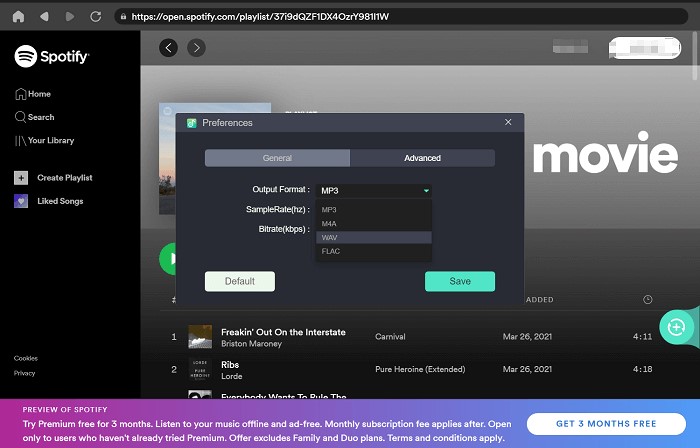 Step 4. Start to Download Music from Spotify
When all settings are done, you can click the Convert All button to download Spotify music in bulk. And under the Finished section, you can view the download history and you can hit the View Output File button to locate downloaded music.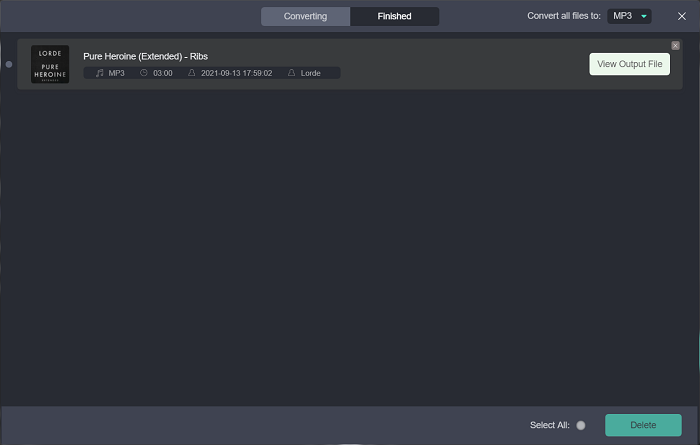 In sum,
HitPaw
Spotify Music Converter is useful but not technical. If you don't mind cluttered functions and cumbersome operations, you can choose
HitPaw
Spotify Music Converter. But if you want a specialized Spotify converter,
MuConvert Spotify Music Converter
will live up to you. Give it a try and you can find it pretty easy to catch Spotify music on multiple MP3 players at home or on the go.