Using an MP3 player with Spotify ensures you a more flexible Spotify music streaming experience, especially when you are doing outdoor sports and don't want to take heavy mobile phones. We all know that the Spotify app is not compatible with all devices, but can we actually find MP3 players compatible with Spotify?
Actually, there are more and more MP3 players compatible with Spotify installation today. So today, the article is going to introduce the top 9 MP3 players that support Spotify.
Top 9 MP3 Players Compatible with Spotify Overview
As mentioned, more and more MP3 players are compatible with Spotify. With so many options on the market, we picked the top 9 MP3 players that are compatible with the Spotify app to stream Spotify music directly. Each of them has different features, like small sizes, large storage space, and flexibility.
Top 1: Might Vibe
The best small MP3 player with Spotify is Mighty Vibe. It has been designed in a tiny size, with only a few buttons on the device, making it convenient to use and easy to operate while playing songs. This smallest mp3 player with Spotify can be clamped on your clothes because it has a clip on the back, making it convenient for taking it for outdoor activities such as running, jogging, and so on.
Despite its small size, this MP3 player can install the two most popular music streaming apps - Spotify and Amazon Music - to let you access more online music resources. Designed with 8GB of internal memory, Might Vibe can keep more than 1000 high-quality Spotify songs for offline playback. You can also use its Bluetooth or Wifi function to transfer and save any downloaded songs in it for playing later. With Mighty Vibe, you don't need to hold heavy mobile phones for playing music all the time.
Pros
Tiny size convenient for taking everywhere;
Sufficient storage to preserve thousands of Spotify songs;
Equipped with both Bluetooth and WiFi functions to transfer media files flexibly.
Cons
The pricing is a bit expensive;
The functions can be complicated to get familiar with;
Top 2: iPod Touch
Apple's iPod Touch is another MP3 player compatible with Spotify. Just like how you use Spotify on your iPhone and iPod, you can directly install the app from the App Store, and then sign in to your Spotify account to stream the songs with a network connection. If you are a Spotify Premium subscriber, you can download Spotify Music on iPod Touch to enjoy offline with your iPod Touch.
But it should be noted that not all iPod Touch supports Spotify installation. Only for iPod Touch 5th generation and later supports directly getting Spotify installed. For anyone looking for high-quality Spotify music streaming, large storage space, light weight, iPod Touch would be the top pick with all these key features equipped, including WiFi and Bluetooth connection functions.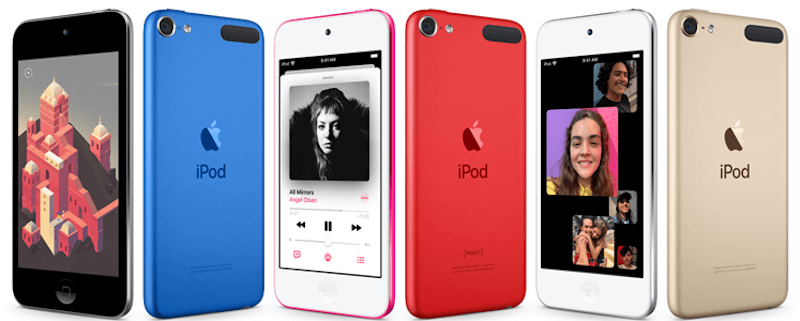 Pros
Perform similarly as mobile devices with more functions and apps compatible;
Superior sound quality to stream Spotify songs losslessly;
Equipped with Bluetooth, WiFi connection, and AirDrop features for easier music file transfer.
Cons
Can't transfer data with non-Apple devices;
Not all iPod generation support Spotify installation.
Top 3: Apple Watch
In recent days, many people choose to buy an Apple Watch. But do you know that it is actually a multifunctional device and can be used as an MP3 player with Spotify installed? Apart from checking the time, the devices can also be used to play music. Just install the Spotify app on it, connect your Apple Watch to iPhone, and install Spotify from the "Watch" app. Make sure your Apple Watch is connected with Wifi or cellular data before starting to play Spotify songs.
If you are a Spotify Premium user, you can also download Spotify music on your iPhone after connecting it to the Apple Watch. Once Spotify songs or playlists are downloaded, you don't need to keep the phone nearby. Instead, you can directly play the downloaded Spotify Music on the watch conveniently!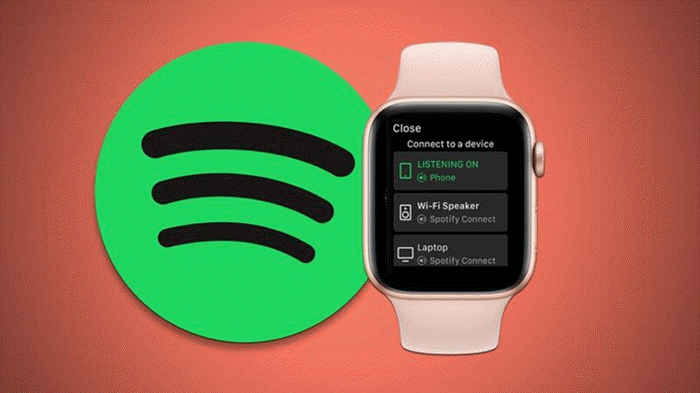 Pros
Wearable devices for taking everywhere to use;
Multi-functions provided;
Both cellular and WiFi versions are available;
Connect with wireless headphones to stream Spotify through Bluetooth.
Cons
Required connecting with iPhone to download Spotify playlists first (for WiFi version);
Unable to browse Spotify songs to stream directly.
Top 4. Sony Walkman
With very good music quality provided, Sony Walkman is also one of the most popular MP3 players that work with Spotify and support WiFi connection, which would be preferred by many people as it lets you take the music for playing everywhere. Just like iPods, not all Sony Walkman models are compatible with the Spotify app. At present, you can only get it installed on the NWZ-A and NW-ZX specific series for playing Spotify music directly. You would need to connect with a Wifi network if you get the Spotify app installed and want to enjoy Spotify songs online.
The general cost of buying a Sony Walkman of NWZ-A or NW-ZX series would exceed $200 based on the device you select. If you want the most professional and best music streaming quality, you can choose the luxury versions of Song Walkman.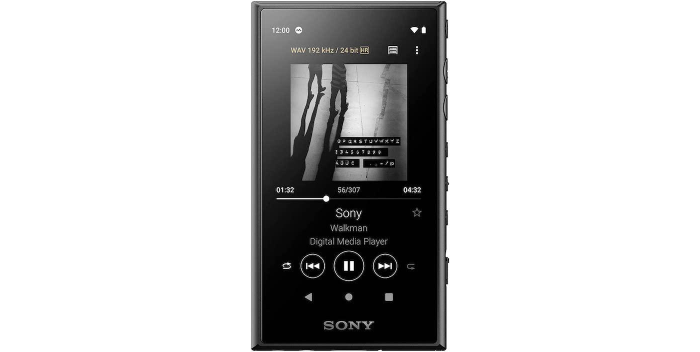 Pros
Lossless music quality to enjoy Spotify songs;
Pocket sizes for conveniently taking the MP3 player everywhere;
Being Water-resistant.
Cons
Expensive to get one;
Low storage space and is not expandable.
Top 5: Samsung Gear S3
As one of the partners of Spotify, Samsung also started to provide the Spotify Music playback experience to Samsung users via wearable devices, one of which is the Samsung Gear S3. With this MP3 player compatible with Spotify, you can stream download songs or even creat playlists as you need.
The default internal memory of the Samsung Gear S3 starts at 4GB, which is enough for you to download over 500 Spotify songs. Of course, to access the offline service, you will need to subscribe to Spotify Premium in advance. In addition to Samsung Gear S3, there are actually more Samsung wearable devices that work with Spotify, including Gear Sport, Gear Fit 2, Gear Fit 2 Pro, and also Galaxy Watch. You can use any of them as an MP3 player to play Spotify songs!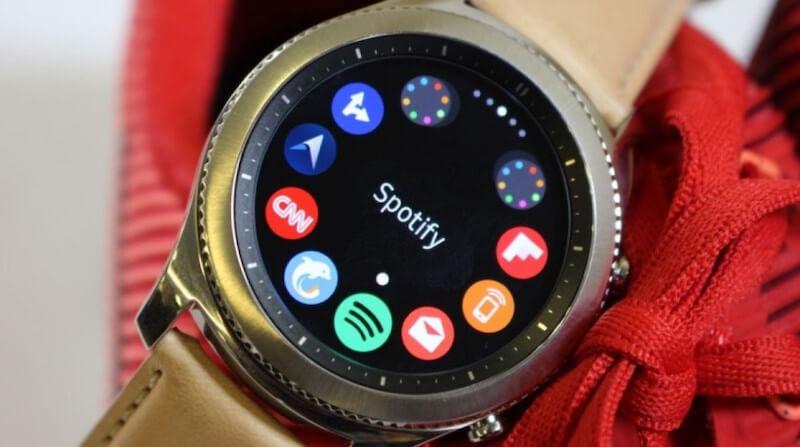 Pros
Lightweight design.
Bluetooth and WiFi connections equipped;
Pack with a long-lasting battery;
Water, dust, and shock resistant;
Cons
Relatively limited storage space compared with other MP3 players compatible with Spotify.
Top 6: Fitbit Versa
Other than Apple and Samsung watches, a less well-known smartwatch brand should be Fitbit Versa. Since its announcement of compatibility with Spotify, the devices are also an ideal MP3 player with Spotify selected by many users. Many Fitbit Versa models, including Fitbit Versa, Versa Lite, Versa 2, Versa 3, and Fitbit Sense, support Spotify installation and offers a high-quality Spotify song streaming experience to you. To install the software, you need to connect it to an iOS or Android device.
However, a pity is that Fitbit Versa doesn't provide an offline feature at present. Besides FitBit Versa is not equipped with Bluetooth, it would be a bit inconvenient to transfer music files with other devices. But the pricing of Fitbit Versa is affordable for many of you, whose latest model FitBit Versa 4 only costs US$229 to purchase. You can even get Fitbit Versa at a cheaper price by selecting the older versions. Hence, for users who get limited budgets but want to get a wearable MP3 player with Spotify, Fitbit Versa is an ideal brand you shall not miss.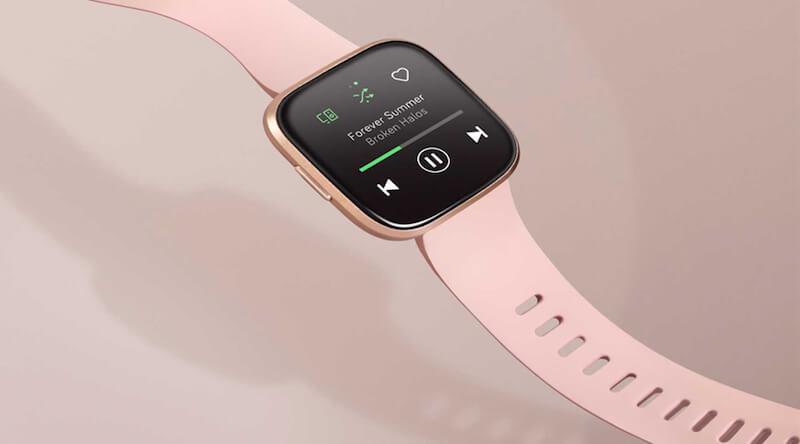 Pros
Affordable pricing.
Long-lasting battery to extend the usage up to 4 days;
Super comfortable for wearing;
Nice quality to stream Spotify songs;
Cons
Not developed with the Bluetooth feature ;
Very limited apps to install;
Unavailable to access Spotify offline mode even you are a Spotify premium subscriber.
Top 7: FiiO M6
Another recommended MP3 player with Spotify is FiiO M6. This device can well support Spotify, with the ability to provide a high-quality playback experience both online and offline. It provides different sampling rates, making it possible for you to adjust the audio quality based on different needs. FiiO M6 can help you enjoy free music playback conveniently.
In addition to Spotify, FiiO M6 is actually compatible with other streaming music platforms such as Tidal, Qobuz, and so on. Also, FiiO M6 comes with more basic features, making it possible for everyone to use. Not only adults but also children can use it in daily life except for a simple MP3 player with Spotify.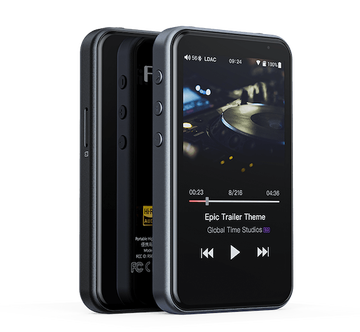 Pros
Economical pricing to get the devices;
Lightweight size and the functions are easy to control;
Equipped with WiFi and Bluetooth features.
Cons
Only 2GB of internal memory is provided;
Lacking in balanced and a coaxial output.
Top 8: MYMAHDI 80GB MP3 Player
Equipped with both Bluetooth and WiFi features. MYMAHDI 80GB MP3 Player is also regarded as one of the best MP3 players compatible with Spotify, Pandora, Audible, and more streaming platforms. Its HiFi player ensures the best streaming quality. Meanwhile, with up to 1TB of storage space, it can store thousands of songs in lossless quality for offline playback.
Besides audio streaming, its 4-inch HD 1080p resolution screen can also deliver you a nice video streaming experience with smooth and no-lag performance. The long battery life also enables the MP3 player to continuously play music as well as videos for up to 20 hours. For any of you desiring the best streaming experience to play Spotify and more streaming music as well as videos, MYMAHDI 80GB MP3 Player shall be your best option.
Pros
WiFi connection and the latest Bluetooth 5.0 supported;
Compatible with Spotify and other music streaming platforms;
HiFi quality to ensure the best streaming experience;
Available to play HD 1080p videos with its 4-inch HD screen.
Cons
The user interface is not intuitive at all;
Bluetooth connection doesn't work properly sometimes;
A sudden application shut down occurs.
Top 9: innioasis G1 Mp3&Streaming Music Player
innioasis G1 Mp3&Streaming Music Player is another 4-inch MP3 player that works with Spotify and provides more streaming music services. Its HiFi sound quality surely enables you an enjoyable Spotify streaming experience. Despite the online music streaming, this MP3 player with Spotify is also equipped with a powerful built-in media player. So you also can transfer and preserve other music files on it to play offline.
In addition, innioasis G1 Mp3&Streaming Music Player is also equipped with Bluetooth and can be connected to headphones, speakers, car stereos, and more to stream Spotify music no matter where you are. All of these features make innioasis G1 Mp3&Streaming Music Player a nice MP3 player with Spotify you can trust.
Pros
Well compatible with Spotify and more streaming music services;
Local music app with great format compatibility;
Up to 1TB expandable storage to save more downloaded songs.
Cons
A bit pricey;
The music quality is not lossless.
Bonus Tip: How to Play Spotify on Any MP3 Player Offline
If you already have a MP3 player yet it is not compatible with Spotify, you have no need to buy another MP3 player that supports Spotify. You can convert Spotify songs to MP3 via music converters and transfer them to your MP3 player. Here we would like to introduce an efficient music converter - MuConvert Spotify Music Converter.
MuConvert Spotify Music Converter is a powerful application that converts and downloads all Spotify songs, playlists, and podcasts you like. While processing the music download, the software can decrypt DRM encryption, and convert Spotify music to MP3 in lossless quality. Once getting the MP3 Spotify downloads, you can then transfer them to your MP3 player even if it is not compatible with Spotify!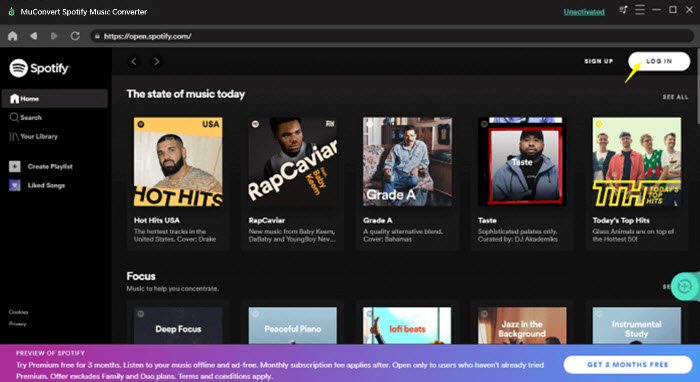 Powerful Features of MuConvert Spotify Music Converter
MuConvert Spotify Music Converter can download multiple Spotify songs, playlists, albums, and podcasts quickly and easily. Here are how its powerful features help you download Spotify songs to your MP3 player:
35X Faster Speed & Batch Download - The tool speeds up the music conversion performance with a download speed of up to 35X! With the batch download feature, it can also download multiple Spotify songs simultaneously.
Remove DRM and Download Spotify Music As MP3 - The software converts Spotify songs to DRM-free MP3 files so that they can be played on all MP3 players even without the Spotify app.
Lossless Quality Ensured - MuConvert Spotify Music Converter downloads Spotify music with lossless audio quality and enjoys them offline.
Easy Music Management - Automatically process music classification for you. ID3 editing and preservation feature to enable you a more convenient music management experience offline;
Ease of use - Drag-and-drop to download Spotify songs; Stop at any time to control Spotify song download.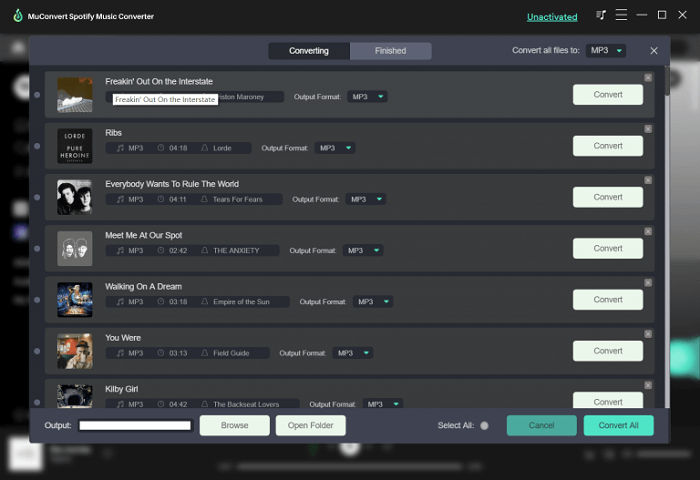 Conclusion
All these best 9 MP3 players with Spotify deliver lightweight sizes and great audio quality to provide you with a nice Spotify streaming experience. In addition, most of them are equipped with both WiFi and Bluetooth functions to enable convenient media file transfer among devices.
However, if you get an MP3 player without compatibility with Spotify, you can still use Spotify to MP3 converters to download Spotify songs before transferring them on it. Among these music converters, MuConvert Spotify Music Converter is the best one that can help you get MP3 files from Spotify in original quality. If you need help with the software, freely install it here!