7 Best MP3 Players with Spotify Recommended [2023 Full Guide]
For many of you who want to enjoy a more flexible Spotify Music streaming experience, if you can install it on an MP3 player, it would certainly bring you great help in reaching this aim. But is it possible to install Spotify on MP3 players?
Actually, we all know that the Spotify app is not compatible with all devices. But there are still some MP3 models on the supported installation list of Spotify. If you are using any of these models, you can install Spotify on an MP3 player and enjoy the music playback without using your mobile phone. So today, the article is going to introduce the 7 best MP3 players with Spotify to you. You can see if your devices are on the list now.
Top 7 MP3 Players Compatible with Spotify Overview
Among all the MP3 players, here are the 7 most popular models that can install the Spotify app to stream Spotify Music directly without connecting with other devices.
The first popular MP3 player with Spotify is Mighty Vibe. It has been designed in a tiny size, with only a few buttons on the device, making it convenient to take and easy to operate while playing songs on it. This MP3 player can install the two most popular music streaming apps, which are Spotify and Amazon Music, to let you access online music resources and enjoy them directly even without a phone.
The device can be clamped on your clothes because it has a clip on the back, making it convenient for you to take it for doing some outdoor activities such as running, jogging, and so on. Mighty Vibe provides at least 8GB of internal memory, which can keep more than 1000 high-quality Spotify Premium songs for offline playback. You can also use its Bluetooth or Wifi function to transfer and save any downloaded songs in it for playing later. With Mighty Vibe, you don't need to hold heavy mobile phones for playing music all the time.
Apple's iPod Touch is another MP3 player taking a large market share and is supported by Spotify. Just like how you use Spotify on your iPhone and iPod, you can directly install the app from the App Store, and then sign in your Spotify account to stream the songs with a network connection or download Spotify Music on iPod Touch to enjoy offline if you are a Spotify Premium subscriber.
But you should know that not all iPod Touch supports installing Spotify. According to the official announcement, only for iPod Touch 5th generation and later supports directly getting Spotify installed. So if you are using the older versions, it is a pity that you are still not possible to stream Spotify songs within the official app on your iPod Touch.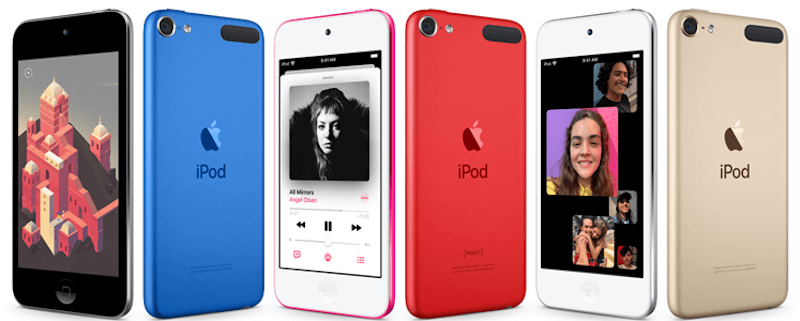 In recent days, many people would choose to buy an Apple Watch. Instead of watching the time, the devices can also be used to play music, and sure Spotify app can be directly installed on it for you to enjoy Spotify on Apple Watch. You only need to connect your Apple Watch to iPhone, and operate the app installation from the "Watch" app. You can get Spotify on it and directly play songs with your Apple Watch connected with Wifi or cellular data (this is based on what Apple Watch version you have bought).
If you are a Spotify Premium user, you can also control the music download on your iPhone after connecting it with the Apple Watch. Once the playlists are downloaded, you don't need to bring the phone nearby but directly play the downloaded Spotify Music in the watch conveniently!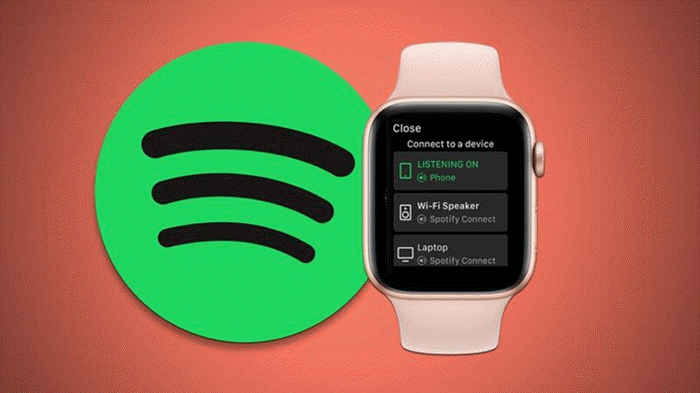 With very good music quality provided, Sony Walkman is also one of the most popular MP3 players with Spotify that would select by many people to take the music for playing everywhere. Just like iPods, not all Sony Walkman models support directly installing the Spotify app to play songs within the playlist. At present, you can only get it installed on the NWZ-A and NW-ZX specific series for playing Spotify Music like how you do on your mobile devices. You would need to connect with a Wifi network if you get the Spotify app installed and want to enjoy it online.
The general cost of buying a Sony Walkman of NWZ-A or NW-ZX series would range from USD 200 to USD 3100 based on the device requirements you select. If you want the most professional and best music streaming quality, you can choose the luxury versions of Song Walkman.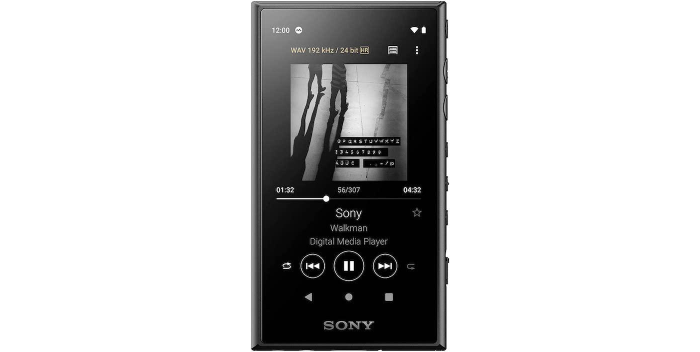 As one of the partners of Spotify, Samsung also started bringing the Spotify Music playback experience for Samsung users on wearable devices. Actually, on Samsung Gear S2, you are already available to install the Spotify app directly for remotely controlling the music playback on a connected device such as your mobile phone. But on the newer Samsung Gear S3, Samsung added better compatibility of Spotify, which made it possible for you to use it just like on mobile devices, including streaming, downloading songs or even creating playlists as you need.
The default internal memory of the Samsung Gear S3 starts at 4GB, which is enough for you to download a fair amount of Spotify songs to enjoy offline. Of course, to access the offline service, you will need to subscribe to Spotify Premium in advance.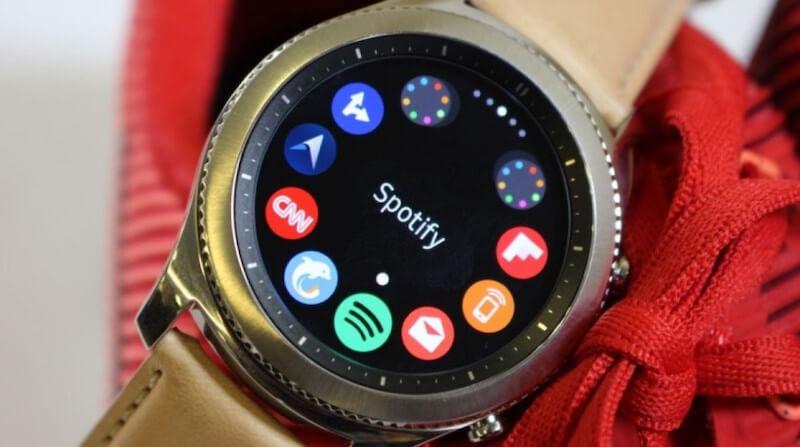 Other than Apple and Samsung watches, a less well-known smartwatch brand should be Fitbit Versa. In 2020, Fitbit Versa announced its compatibility with Spotify, making it more convenient for people to enjoy high-quality music playback services without a phone.
For different Fitbit Versa models, including Fitbit Versa, Versa Lite, Versa 2, Versa 3, and Fitbit Sense, Spotify can be installed successfully and offers a high-quality Spotify song streaming experience to you. But to install the software, you will need to connect with an iOS or Android device. However, a pity is that Fitbit Versa doesn't provide an offline feature at present.
In other words, you have to keep the MP3 player with your phone nearby, only then can you control the music playback and enjoy the streaming on it. But still, as one of the best MP3 players with Spotify, many people would still choose Fitbit Versa to enjoy Spotify Music playback with phones connected.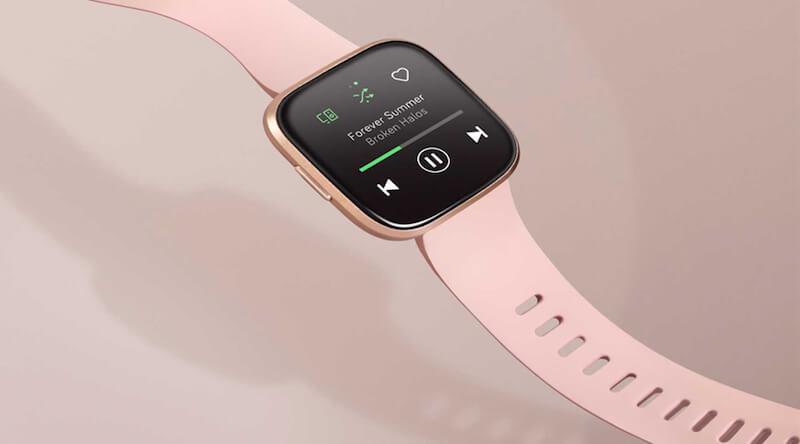 The final recommended MP3 player with Spotify should be FiiO M6. This device can well support Spotify, with the ability to provide a high-quality playback experience both online and offline. It provides different sampling rates, making it possible for you to adjust the audio quality based on different needs. FiiO M6 can help you enjoy free music playback conveniently.
More than Spotify, FiiO M6 is actually compatible with more streaming music platforms such as Tidal, Qobuz, and so on. Also, FiiO M6 comes with more basic features, making it possible for everyone to use. Not only adults but also children can use it in daily life except for a simple MP3 player with Spotify.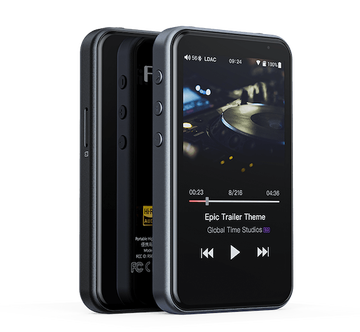 Bonus Tip: How to Play Spotify Music on Any MP3 Player Offline
Using an MP3 player with Spotify should be the best choice if you want to enjoy Spotify Music everywhere instead of on your heavy mobile phones only. But the fact is that not all MP3 players support installing Spotify apps. Therefore, if you are using an MP3 player which can't directly install the Spotify app, you can use a third-party Spotify music downloader to convert Spotify to MP3 first, then transfer the downloaded songs to your MP3 player.
To download Spotify songs, MuConvert Spotify Music Converter can be a really good tool you should not miss. The software has added the Spotify Web Player inside, so you can directly browse any music, playlists, or podcasts you want to transfer to MP3 players in it, then simply use the download function to get them offline.
MuConvert Spotify Music Converter also offers the most commonly-used formats such as MP3, M4A, WAV, and FLAC to save the downloaded songs. By converting online music to such common audio files, you can save them everywhere, including your MP3 players, to enjoy music playback offline without Spotify app installed.
In the following, you can also see how you can use MuConvert Spotify Music Converter to download Spotify playlists and transfer them to your MP3 players to enjoy the music playback without installing the Spotify app.
Step 1. Sign in In-built Spotify Web Player
When you have installed MuConvert Spotify Music Converter on your computer, open it and choose to enter the in-built Spotify Web Player. Then you can sign in it with your own Spotify account.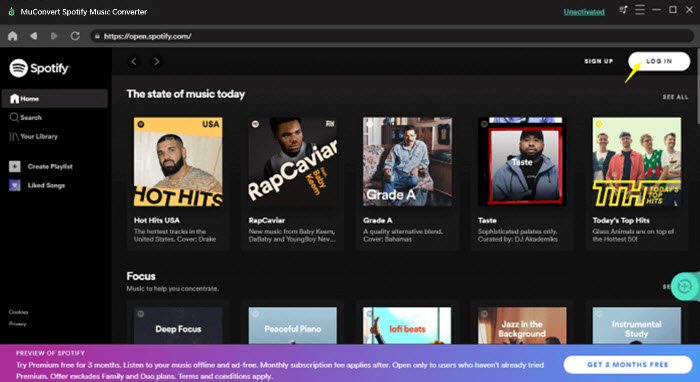 Step 2. Select Spotify Playlists to Download
After signing in, you can use the search function to find the playlists you want to download and transfer to MP3 players for listening everywhere. Then drag the songs to the "+" button and the software will begin to analyze them.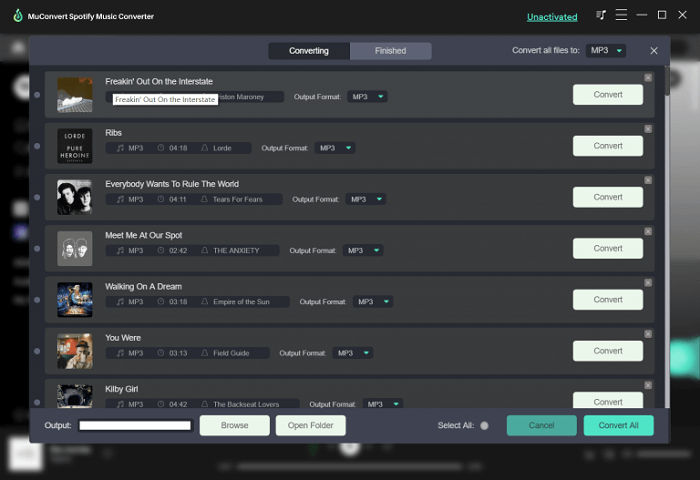 Step 3. Choose Format and Quality to Download Spotify Songs
Now you can go to the "Preferences" setting window under the "Menu" list. By changing to the "Advanced" tab and you can select "Format" as MP3, then also adjust both "SampleRate" and "Bitrate" to save Spotify songs in the quality you like freely.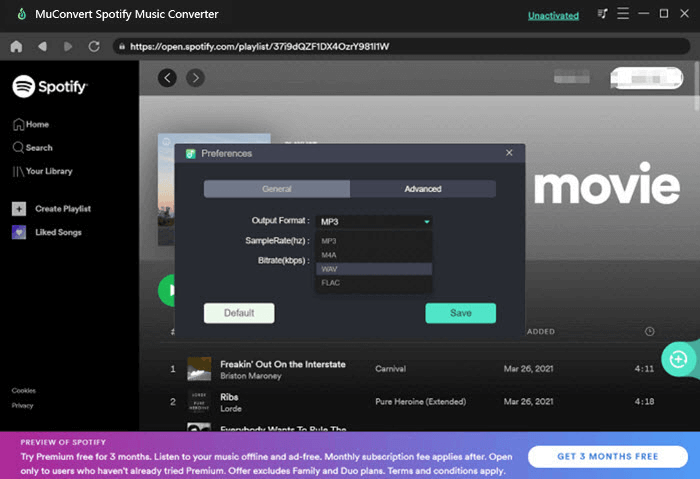 Step 4. Download Spotify Songs and Transfer to MP3 player
Finally, just click the "Convert All" button, then MuConvert Spotify Music Converter will begin to download all selected Spotify playlists offline for you. When you get the downloaded songs, just connect your MP3 player to the computer and drag them to import them to the device. After this, you can enjoy Spotify Music playback offline on any MP3 player even without the Spotify app installed.
These MP3 players with Spotify have helped to bring a more convenient music streaming experience to you. But if you are still using an MP3 player which is not supported by Spotify, try MuConvert Spotify Music Converter and download Spotify playlists for listening to them without the Spotify app. It is also convenient and easy to use!