[Fixed] Spotify Playing Random Songs and Skipping Songs
Spotify is the most popular music streaming platform with millions of users to use. However, there are many people reporting that Spotify would have problems in playing songs. For example, here are some most frequently reported problems in Spotify's community or other forums like Reddit:
Spotify always plays the random songs that are not saved to the Spotify playlists before
It keeps skipping the songs after playing just 0.01 seconds, making it impossible for people to enjoy the playback
Spotify keeps popping up the messages such as "Spotify can't play current song or "Spotify can't play this right now" to stop people from playing the current songs successfully


Based on all these happening problems, today's article will show you some helpful ways to solve them. If you are also facing such troubles, read the provided methods below to solve them now.
Fix "Spotify Keeps Playing Songs Not on My Playlist" by Turning off Autoplay on Spotify
Spotify has provided an in-built feature called "Autoplay". It would automatically introduce some songs to users when the playlist stops playing all the listed songs on it. Spotify would recommend the songs based on your listening habits, so that it could be helpful for people to find more similar songs to enjoy.
However, this would cause the problem of "Spotify keeps playing songs not on my playlist" because it would choose some random songs to help you find more songs you may like from its large music library. As a result, the best method to fix this problem is to turn off the Autoplay feature in Spotify.
Step 1. Open the Spotify software on your device. Then click your profile to select the "Settings" option from the menu.
Step 2. When the "Settings" is opened, scroll down to find "Autoplay".
Step 3. Directly turn off Autoplay and Spotify would stop playing random songs for you.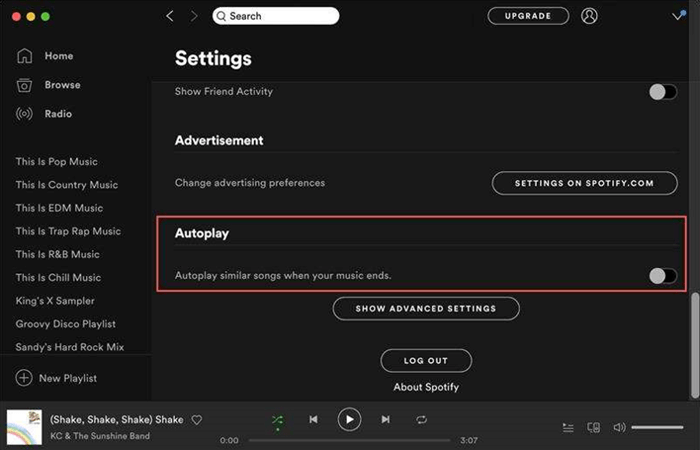 Step 1. After opening the Spotify app on your smartphone, click the "Settings" icon on the top-right corner directly.
Step 2. Select the "Playback" option in "Settings" window.
Step 3. Turn down and you can find the "Autoplay" option. Just directly turn it off.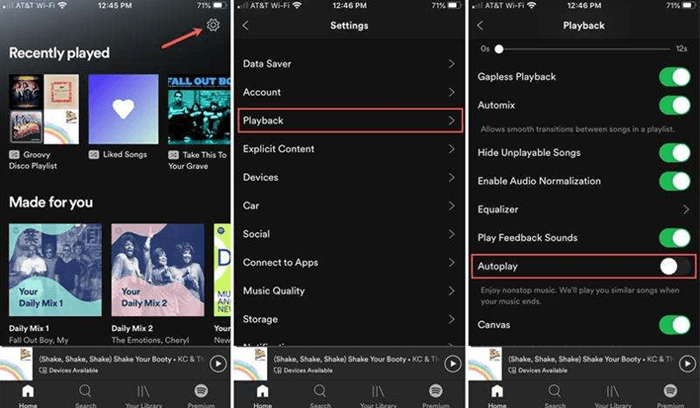 6 Common Solutions to Fix Spotify Skipping Songs or Don't Play the Current Track
Other than the problems like Spotify playing random songs or playing the music that is not saved to Spotify playlists, which can be solved by directly turn off the Autoplay feature, some issues that could not be fixed in this way simply. For the "Spotify skipping songs" or "Spotify can't play the current track" issues, they may happen because of the internal errors of Spotify or your system errors. So, here provide the 6 common solutions you can try to get such problems fixed. Now you can have a look.
Solution 1. Check Internet Connection
It is commonly known that Spotify is the online music streaming service. So, the Internet connection is an important factor to make sure the fluent music playback on Spotify. When Spotify keeps skipping the songs or fails to play the current music for you, you should first consider whether your Internet condition is bad. To connect to better network can directly fix the problem to make Spotify works to play music like usual again.
Solution 2. Restart the Device
Sometimes the Spotify playback errors could happen because the app or your device are not running well. So, the simplest method to solve Spotify keeps skipping songs is to turn off your device and restart it again. In most cases, many app errors can successfully be fixed once the device is restarted. So, try this method to see if Spotify can work well to play songs again.
Solution 3. Reinstall or Update Spotify App
When you have tried restarting your device, but the playback error still exists, it may happen because of Spotify itself. At this time, you can try to uninstall Spotify app and then reinstall its latest version to see if the problem can be solved. When you find there has a new version launched, directly update Spotify app to the latest version may also make Spotify play the songs in usual way for you.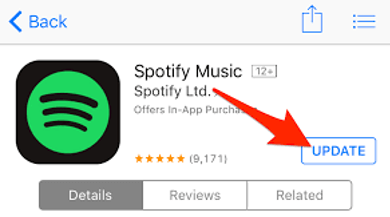 Solution 4. Log out then Sign in Spotify Again
If your Spotify still keeps skipping the songs or fails to play the current tracks after updating to the latest version, you can try to log out your Spotify account in the app, then sign in again. Instead of processing this process inside the app, you can also go to Spotify's official website to select sign out the account everywhere at once.
Step 1. After opening Spotify official site in the browser, log in your Spotify account.
Step 2. Go to your own profile. Then click the "Account Overview" option.
Step 3. On the right side where shows you all your account details, you can find the "SIGN OUT EVERYWHERE" button. Click it and your Spotify account will be logged out on all the devices you have signed in before.

Solution 5. Stream Music with Lower Quality
If you have selected to stream Spotify songs with high quality, the Spotify skipping songs or failing to play current track problems would happen because your network environment is too weak to support streaming music of high quality. So, by lowering down the streaming quality is also a way to get the issue fixed. You just need to go to "Settings" and select the "Music Quality" to be "Normal" or "Low". Then try to play Spotify songs once again, you may find that the problem is fixed now.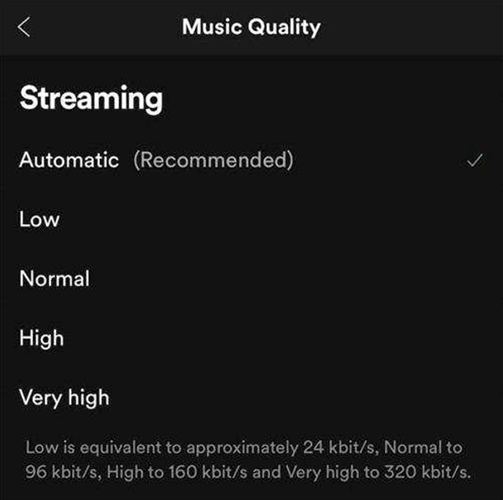 Solution 6. Clean up Spotify Cache
If you have used Spotify to play music all the time, the cache created by Spotify may also make the app runs wrongly, so it causes the Spotify playback errors such as skipping songs. So, it is also a good idea to clean up the Spotify cache to see if the problem can be fixed.
Step 1. Close Spotify app on your device at first.
Step 2. Open the folder where saves the Spotify cache by entering the location path provided below based on the systems you are using:
Windows: C:\Users\USERNAME\AppData\Local\Spotify\Storage
Mac: /Users/USERNAME/Library/Caches/com.spotify.client/Storage/
Linux: ~/.cache/spotify/Storage/


Step 3. Once you reach the folder, you need to rename it. Then try restarting the Spotify software to see if the playback error has been solved.
Download and Play Spotify Music on Your Devices to Avoid Spotify Playing Issues
It is obvious that the Spotify keeps skipping songs or fails to play current track problems would mostly happen while streaming the playlists online. So why not trying to download Spotify playlists for listening offline? Although Spotify users can directly use the download function to move the songs to offline mode for playback to fix the problem, for Spotify Free users, you would need other tools to help, as Spotify doesn't offer the direct download function to you. Here, MuConvert Spotify Music Converter is highly recommended.
MuConvert Spotify Music Converter provides the professional but convenient service for both Spotify Free and Premium users to easily download Spotify playlists for saving as common digital files in MP3, M4A, WAV, or FLAC based on your own needs. Its in-built Spotify Web Player supports to directly choose the playlists for starting the conversion without the need to carry the URLs between different platforms to process. If you have met any problems while playing music in Spotify but want to download them to avoid the errors, MuConvert Spotify Music Converter is the best option for you.
Key Features:
Supports the most commonly used formats such as MP3, M4A, WAV, and FLAC to download both Spotify playlists and podcasts freely
Keeps the original quality to download Spotify songs without affecting offline music playback experience
Supports to save all ID3 information to make sure convenient offline music management
Allows both Spotify Free and Premium users to sign in the Spotify Web Player to enjoy the download function safely
Provides up to 5X faster speed to batch download Spotify songs without waiting for a long time
In the following, let me explicitly show you steps to download Spotify songs to fix Spotify playback errors.
Step 1. Sign in MuConvert Spotify Music Converter In-built Web Player
When the MuConvert Spotify Music Converter is installed on your computer, open it and enter the home screen of the Spotify Web Player inside. Then you can click the "LOG IN" button to sign in the web player with your Spotify Free account.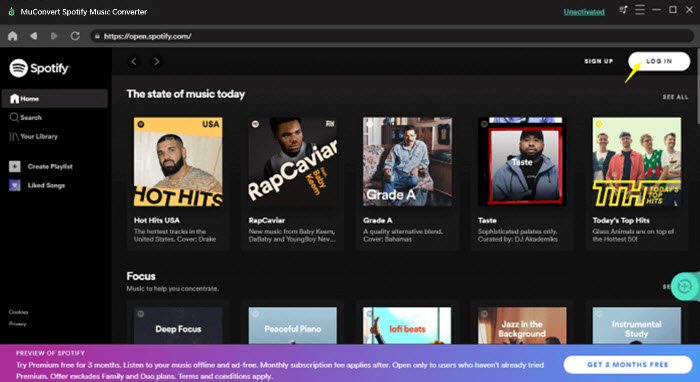 Step 2. Add Spotify Playlists and Choose Format to Download
After you have signed in the Spotify Web Player, you can directly open the Spotify playlist and convert it by clicking the "+" button. When they are adding to the conversion list, you can select the output format from the "Convert all files to" format menu or directly choose for them one-by-one.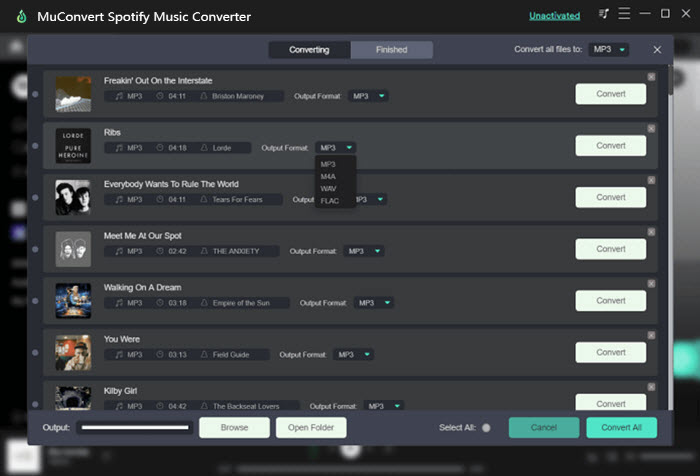 By going to "Preferences" in the setting menu, people can also turn to the "Advanced" tab for selecting "SampleRate" and "Bitrate" to download Spotify songs if you need.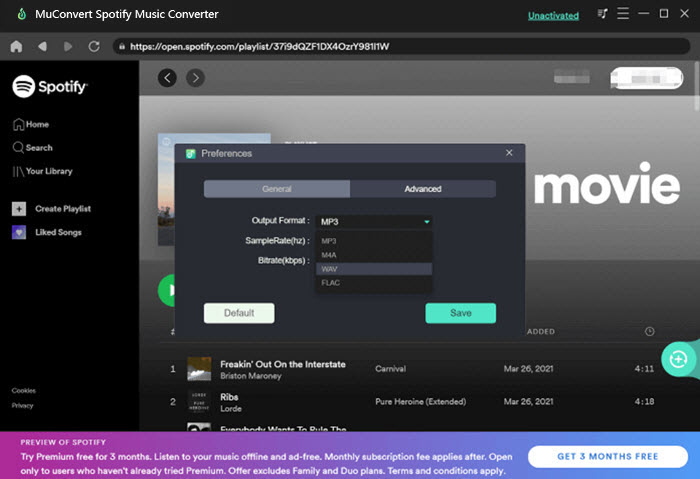 Step 3. Start Downloading Spotify Playlists Offline
When you have finished the settings above, finally, start downloading the Spotify playlists by pressing the "Convert All" button. Now MuConvert Spotify Music Converter will begin to save all the Spotify songs offline with your selected audio format for you.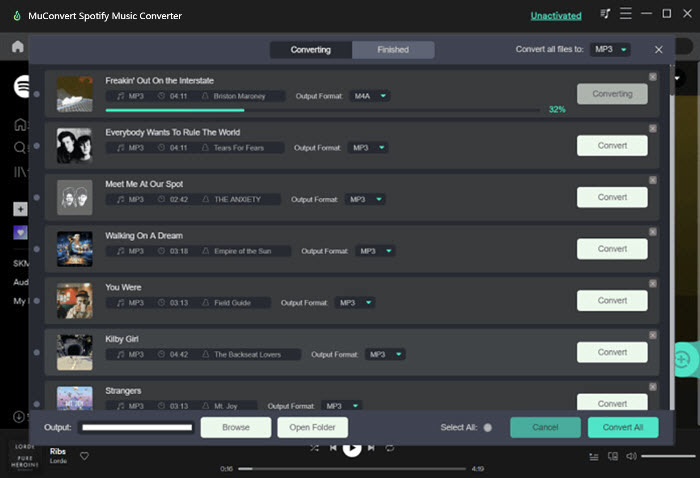 When the Spotify songs are downloaded offline, you can use other media players to stream the songs directly. In this way, you completely avoid the problems brought by Spotify, including both the "Spotify keeps skipping song" and "Spotify can't play current track".
When your Spotify also keeps playing random songs that are not included in your Spotify playlists, directly skip them, or even fails to play the track for you, this article's ways are recommended to try. With any of them, you can easily solve the problem and make Spotify songs playable again. Have a try if you also run into such troubles.