Spotify Says Offline Even I'm Online with WiFi Connected [Fixed]
"I have Spotify Premium mainly due to the fact that I can listen to music on my phone as well, but for the past week it has been telling me that I'm in offline mode, which won't allow me to search for songs on Spotify or transfer my updated playlists off of my computer onto my phone. This is extremely inconvenient as I like to have new music on my phone all of the time."
– Comment from Spotify Community
Have you ever met such situation when your Spotify keeps notifying you that Spotify is offline, in that fails to function properly? The first thing people would try must check the Internet connection. But what if you discover that the error still exists after double-checking the Wi-Fi is well connected? In the following, we recommend several must-try solutions to help resolve this issue, plus a bonus method to downloading Spotify songs offline without premium subscription to enjoy the music playback outside Spotify app. Now, please scroll down and continue reading.
When the unusual Spotify offline phenomenon occurs, simply try out the methods here to if you can figure it out.
1. Check if the offline mode is on
Spotify provides the offline mode for premium subscribers to enjoy music playback offline after downloading the songs utilizing Wi-Fi, in that saving the expensive mobile data. Therefore, when Spotify keeps saying offline and fails to let you access any of its online service, you ought to check whether you have toggled on the offline mode. Simply pick up your device and follow the guidance below to check.
In Spotify app, tap the Homebutton.
Open Settings >> Playback.
Turn off theOfflineoption if it is on.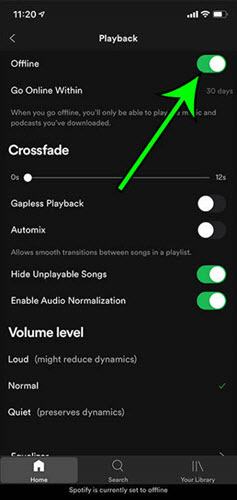 Launch Spotify program.
Click onSpotify from the Apple menu on Mac, while File on the top menu on Windows.
Check whether the Offlinemode is turned on. If yes, switch it off.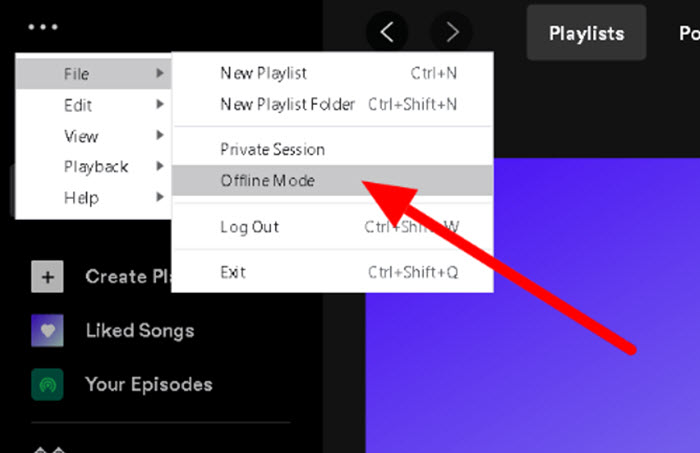 If the Spotify says offline issue happens due to the switched-on offline mode, as you turn it off now, the problem is solved.
2. Fix or enhance Wi-Fi connection
When the Spotify says offline error occurs under a Wi-Fi connection, consider whether it is the reason causing the issue. Here provides some easy help to get rid of the error by fixing or enhancing your Wi-Fi connection. Please check.
Try turning off the Wi-Fi connection on your device, then switch it back on after waiting for 30 seconds or 1 minute. This may help enhance stabler Internet connection again.
When you are connecting to your home Wi-Fi, try restarting the router as the long-running Wi-Fi may get overburdened. After restarting it, the connection could be returned back to the best condition as before.
Restricted Wi-Fi connections
If your device is connecting to a public or shared networks, you may have restricted to access some services like Spotify because of the owner's settings. Under such circumstance, you could only switch to another Wi-Fi or use your own mobile data to resolve the issue.
3. Turn on mobile data allowance for Spotify
If you are using your own mobile data to stream music in Spotify, please check whether your data runs out, in that causing the Spotify connection error. Furthermore, you'd better make sure that you have enabled Spotify app to utilize the mobile data when Wi-Fi connection is not available, because this would also cause the Spotify says offline phenomenon happening.
As Spotify app sometimes would fail to function properly, people begin to wonder if there a way available to download Spotify songs offline and stream outside Spotify app. For this purpose, MuConvert Spotify Music Converter can be your reliable helper.
MuConvert Spotify Music Converter, one of the best Spotify to MP3 converter, embeds the Spotify Web Player in the program, which allows people to sign in to access the full music database and select any content to download even without the premium subscription. MuConvert Spotify Music Converter offers the popular encoders such as MP3, M4A, WAV, and FLAC, also with customizable SampleRate as well as Bitrate to export the downloaded Spotify songs.
Moreover, its 5X speedy performance and batch download feature, highly facilitates the productivity in downloading Spotify playlists. MuConvert Spotify Music Converter would also retain the ID3 information accompanying the converted music to better organize your offline music library.
In the following, master the way to manipulate MuConvert Spotify Music Converter to download Spotify songs without Spotify premium subscription.
Step 1. Launch MuConvert Spotify Music Converter and Sign in
First, launch MuConvert Spotify Music Converter on your computer after well installing the program. As you enter the main feed of the web player, please sign in utilizing your Spotify account.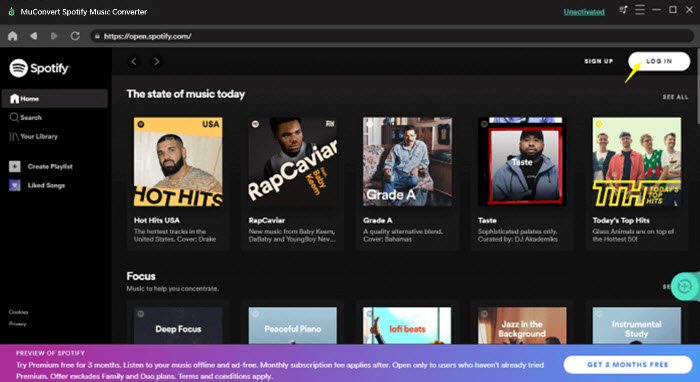 Step 2. Select Spotify Songs or Playlists to Download
In the Spotify music database, you can browse and search for any song or playlist to download. Once you reach them, please drag the song or playlist to the Add button, and MuConvert Spotify Music Converter will resolve to detect the songs.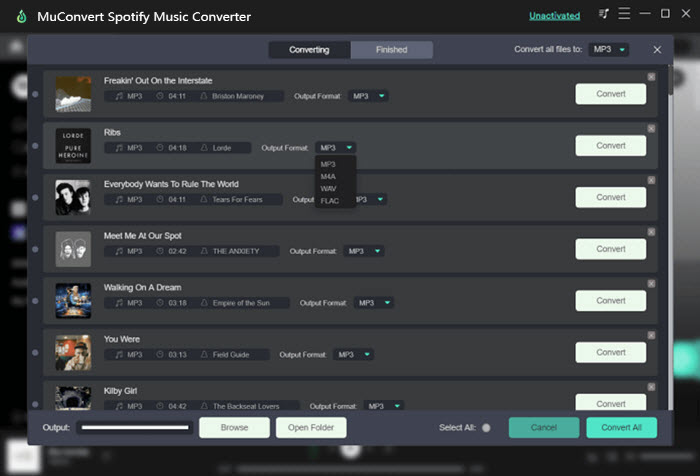 Step 3. Select Encoder to Output Spotify Songs
When the Spotify songs are added to the converter, please move to Convert All Files to and select an output encoder to export them. If you wish to customize the SampleRate and Bitrate as well, please turn to Preferences to personalize the changes.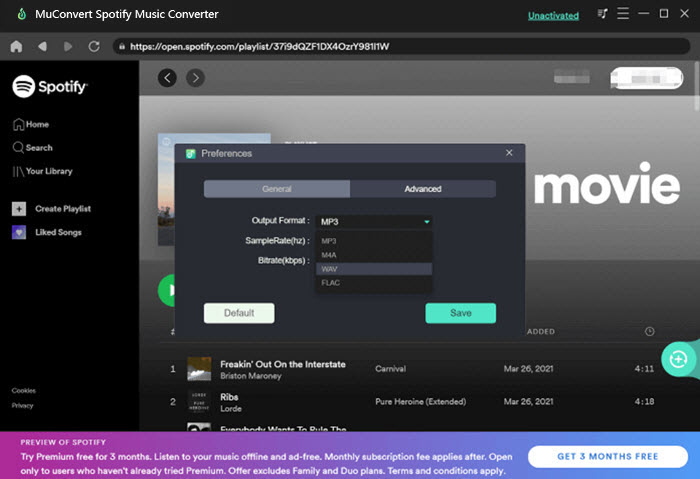 Step 4. Proceed to Download Spotify Songs
It's time for the final step now! When the settings are all completed, you can directly tap the Convert All button to initiate the Spotify songs download process. Subsequently, MuConvert Spotify Music Converter will function to batch download Spotify songs and exports them without quality loss.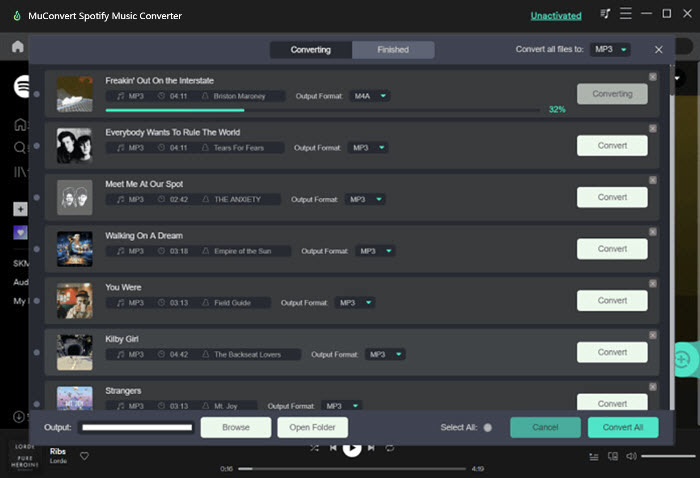 When the download is completed, switch to Finished module and access the downloaded Spotify songs by tapping the View Output File button.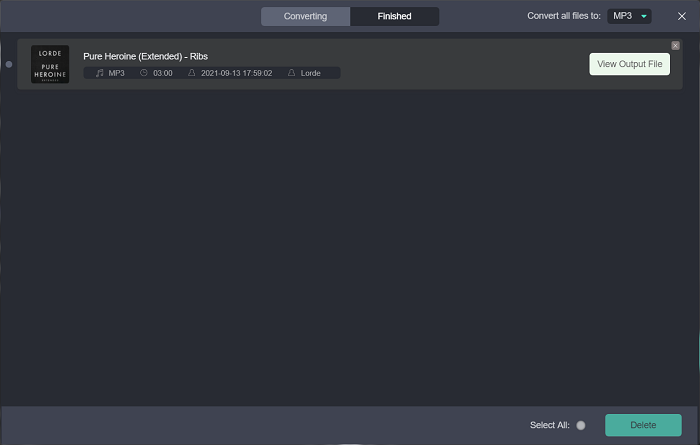 It is easy to resolve the Spotify says offline issue by checking both the app and network conditions. For those wishing to get rid of Spotify restrictions and play Spotify songs offline outside the platform, don't miss MuConvert Spotify Music Converter as it brings the most convenient help. You are sure to enjoy better music journey with it!