To provide a better music streaming experience, Spotify launched Spotify Premium, with the download function equipped to give people the chance to download Spotify songs for playback offline. However, some users have reported that Spotify fails to process the Spotify songs download, which leads to the failure in listening to Spotify songs offline.
So to solve the problem, this article has brought several workable methods you can try to overcome Spotify not downloading songs error. Now just start reading to find the right method to get the problem solved if you are also facing the same difficulty.
Why Are My Songs Not Downloading on Spotify?
Before finding the proper solutions to fix Spotify not downloading songs, you'd better consider what actually causes the error happening first. Actually, this is a commonly-seen problem and it can be caused under several conditions. Here are some of them:
You have reached the download limitation set by Spotify so it won't let you continue downloading songs.
The network condition your device connects to is too bad to process the music download on Spotify.
Your device doesn't have enough storage to save the downloaded songs.
Bugs occur on Spotify, so the download function can't work normally.
The antivirus software or installed firewall on your devices stops Spotify from downloading songs.
Your Spotify Premium subscription turns out to be invalid, so Spotify won't let you continue using the download function.
As you can see, the Spotify downloading rules, network condition, device storage, and some other third-party extensions or software can affect the Spotify download function to run normally. But don't worry! They are all simple to overcome. Next, you can continue reading and find the solutions to fix them.
Corresponding Solutions to Fix Spotify Not Downloading Songs
Based on these possible causes leading to Spotify songs not downloading error, this part mainly provides 6 suitable methods to fix the problems and help Spotify download function workable again. Now, just have a look!
Method 1: Check Spotify Download Limitation
Although Spotify allows users to access its full music library to enjoy the music playback online, it sets Spotify download limit and only allows Spotify Premium subscribers to download up to 10000 songs on 5 different devices. As a result, when you find Spotify not downloading songs for you, you should check whether you have exceeded the limitations set by Spotify.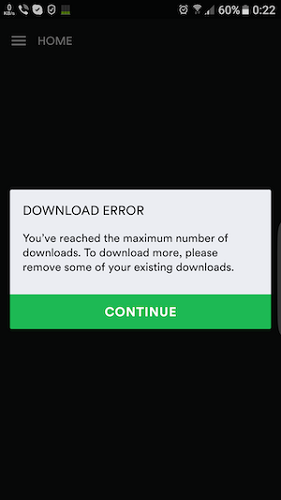 If you find that you have downloaded 10000 songs offline now, for sure the Spotify songs not downloading error would happen. To solve it, you can choose to delete some Spotify downloads from your offline library before continuing to add new songs. Spotify doesn't provide an extra plan to let you improve this limitation at present. You can just open a playlist you want to remove and turn off the "Downloaded" option, then all the songs included in the playlist can be removed from your offline library at once, which saves a lot of time for you to process them one by one.
Method 2: Check Network Connection
Another possible reason causing Spotify not to download songs should be the poor network condition. So when you find Spotify just keeps loading but never starts downloading songs for you, you should test whether the mobile network or the Wi-Fi connection on your device is too weak to let Spotify process the music download. To solve this problem, you need to switch to another faster Wifi, or turn on Airplane mode and then reconnect to your mobile data. Then, try downloading songs on Spotify again and you may find that it works to download Spotify songs for you now.
Method 3: Clean up Storage Space
We know that when we download Spotify songs offline, they will take up certain storage space on our devices. So storage is an important thing we should consider when we are going to download Spotify songs to keep offline for playback. When your device doesn't have enough storage to save the downloaded songs, Spotify will just stop downloading them for you, because no more room available to save them.
As a result, you can check whether your device is running out of storage so that Spotify not downloading songs for you at all. Simply open the Spotify app and go to "Settings". By scrolling down to "Storage" you can check the storage condition of your device. If it does run out of space, simply clean up your device to free up storage, and try downloading songs on Spotify again. I believe that this time the download will work.
Method 4: Reinstall or Update Spotify
Sometimes bugs would occur while we are using Spotify software or app. This happens because Spotify is getting corrupted so some of its functions fail to work normally. As a result, this leads to the Spotify songs not downloading problem. To solve the sudden bugs affecting Spotify's download function, you can uninstall Spotify and reinstall it from the official website or app stores again. If there is a newer version, updating Spotify to it can also help to fix sudden errors.
Method 5: Close Antivirus or Firewall
When your devices have installed any antivirus software or firewall to protect their safety, they may also stop Spotify from downloading songs offline because such action may be considered as a way to bring some hidden dangers to your devices. As a result, turning off the antivirus software or firewall temporarily is definitely a helpful way to fix the Spotify songs not downloading problem.
Windows users can also directly turn off the firewall for Spotify so that the Spotify songs downloaded on your Windows computers will not be stopped by a firewall from then on. You just need to open "Control Panel" and go to "System and Security". Then select "Windows Defender Firewall" and open the "Allow an app or feature" window, find Spotify from the list, and uncheck it, then your firewall will not limit its actions such as downloading Spotify songs on the computers.
Method 6: Check Spotify Premium
After trying the above methods but you still fail to make Spotify download songs for you, as usual, you should consider whether your Spotify Premium status turns out to be invalid, so that Spotify doesn't provide the download function for you anymore.
You can go to Spotify's official website and check your account status. Or just go to "Settings" in the Spotify app and open "Account", the subscription status will show up there.
If your Spotify Premium is expired, you will need to pay for it again to solve the Spotify not downloading songs error. If your Spotify Premium is still valid but the offline mode fails to work normally, try logging out and signing in to see if the problem can be fixed. If not, you may need to contact the Spotify support team to check the issue and solve it for you.
Bonus: How to Download Spotify Songs for Free
When Spotify has limited its download function for premium subscribers with certain rules (for example, only 10000 songs can be kept offline, and the library will all be removed once your subscription expires), it would be better for you to download Spotify songs in other ways with less limitations set. Here, MuConvert Spotify Music Converter is highly recommended.
MuConvert Spotify Music Converter provides the in-built Spotify Web Player to let you access the official Spotify Music Library without installing Spotify app at all. Just by signing in the Spotify Free account, you can enjoy the download function to get all Spotify songs, playlists, albums, and podcasts you like offline. Simply drag and drop those you like to the converting list, then process several clicks and the software can help download Spotify Music without premium immediately.
This Spotify downloader provides common formats such as MP3, M4A, and 4 more options for selecting and saving the downloaded songs without DRM protection. When you get DRM-free Spotify downloads, you can keep them forever offline without worrying the subscription expiring. Also, the playback won't be limited by Spotify anymore! You won't meet any other unexpected Spotify streaming errors to cause the Spotify songs not downloading problem too!
Key Features:
Offers common formats and the best 320 Kbps quality to download Ogg Vorbis Spotify songs in DRM-free condition
Supports the fastest 35X speed to download Spotify Music in batch to save a lot of time
Doesn't need a Spotify Premium account to sign in the Spotify Web Player and supports dragging the latest songs to download conveniently
Allows to adjust the parameters such as SampleRate and Bitrate before downloading Spotify songs
Saves the ID3 tags and metadata information with the downloaded Spotify songs so that music management offline can be much easier to process
Allows to tag the music downloads and put them into different folders of the same categories automatically
How to Download Spotify Songs to Fix Spotify Songs Not Download
Now, also see how to download Spotify songs without premium on MuConvert Spotify Music Converter and avoid Spotify not downloading songs easily.
Step 1. Sign in Spotify Web Player in MuConvert Spotify Music Converter
When you have installed MuConvert Spotify Music Converter on your computer, open the software and then enter the in-built Spotify Web Player. You need to click the "LOG IN" button on the top-right corner and use your Spotify Free account to sign in. Or you will not be able to use the Spotify download function.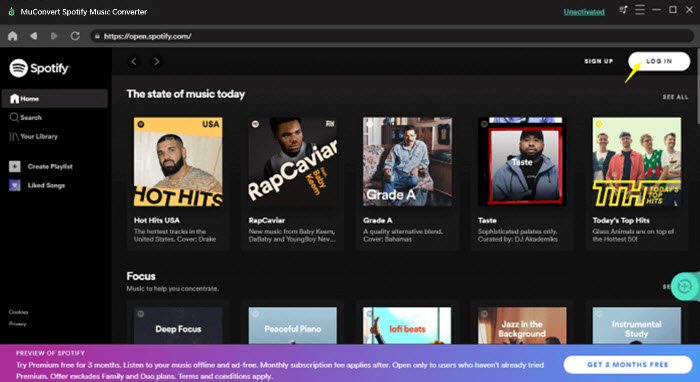 Step 2. Add Spotify Songs to Download Offline
After signing in the Spotify account, you can directly search for any latest or your favorite Spotify songs in the official Spotify Web Player. When you find any of them you want to download offline, just drag to the "+" button and MuConvert Spotify Music Converter will convert them for you.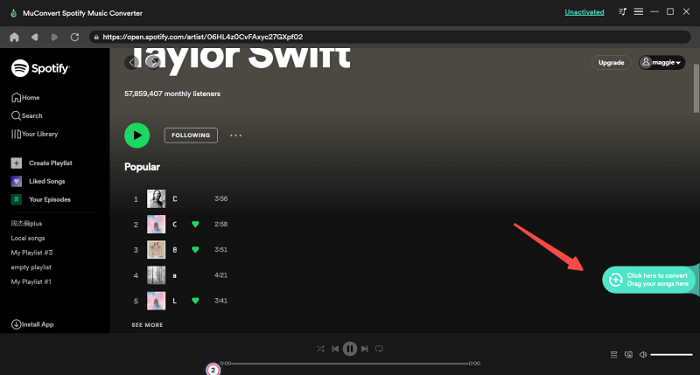 Step 3. Choose Output Settings to Download Spotify Songs
Now you will need to go to "Preferences" and adjust the settings to download Spotify songs. You can select the "Format" to download them here, and also edit the "SampleRate" and "Bitrate" to keep the Spotify songs in the quality you like.
Step 4. Download Spotify Songs Offline Without Premium
Finally, when the settings are finished, just click the "Convert All" button and MuConvert Spotify Music Converter will begin to download the added Spotify songs for you. When the download finishes, you can find them on your computer folder and directly play offline without Spotify app at all!
In Conclusion
Although Spotify songs not downloading error can be a frequently-happening problem that many of you have met before, in this article, there are 6 easy methods provided to help you fix Spotify not downloading songs efficiently.
When you have tried all of them but still find the error exists, the ultimate solution you can try is to download them in another way using MuConvert Spotify Music Converter. This software won't need a Spotify Premium account to process and it will work smoothly with no errors occurred like the official. Now, free install it and have a try!
Convert Spotify Music to MP3 in 320kbps
Drag and drop to convert Spotify songs, albums, playlists, and podcasts to MP3 easily.