Spotify, one of the world's largest streaming music platforms, offers its users over 80 million songs. Such a large song inventory and the fact that it does not force users to subscribe is attractive to many onlookers. However, Spotify has received a lot of complaints when it comes to the Spotify download limit. For example, subscribers are required to access online at least once every 30 days to preserve downloads.
Most importantly, restrictions such as the inability to transfer Spotify music after downloading are a pain in the ass for users. If you want to know more about the Spotify download limit and want to bypass it, you can refer to the following content.
What Is the Spotify Download Limit?
In addition to the well-known inability to play downloaded songs on the Web player, Spotify has some other download limitations.
Spotify Premium Needed
Music download service on Spotify is a privilege for Premium users. So if you want to download your favorite songs from Spotify, you will need to subscribe to Spotify Premium beforehand. As for Spotify free users, you don't have the download feature but can stream Spotify songs, playlists, albums, and podcasts online with ads.
Limited Number of Downloads
According to Spotify Official, Spotify Premium is not unlimited as well. You can only download up to 10,000 tracks from Spotify on your device. Once you exceed the download limit, no more songs can be downloaded from your devices.
Additionally, Spotify allows users to add an unlimited number of songs to both the Library and Liked Songs. Moreover, you can also create as many playlists as you want, but it is important to keep in mind that each playlist has a maximum capacity of 10,000 songs.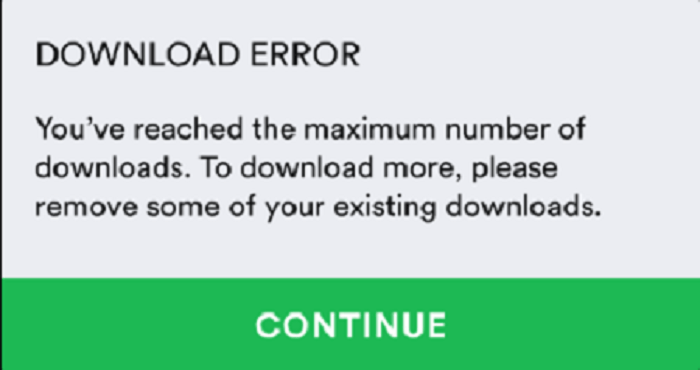 Device Limitation for Downloaded Track
Downloads from Spotify can be played on the Spotify app only. As a professional music provider, Spotify encrypts its music in Ogg Vibs format, making all music sources including downloaded tracks only playable on the Spotify app itself. Moreover, one Premium account can only use 5 different devices that support Spotify and download up to 10,000 tracks per device. Based on this, if you consider transferring your downloaded songs to other devices for playback, you will be met with failure.
Go Online Every 30 Days
Downloads are not permanently saved in the Spotify app. Spotify requires users to access online at least once every 30 days so as to keep the downloads available to play offline. This is so Spotify can collect play data to compensate artists. If you don't log into the Spotify app in 30 days, your downloads will be automatically nullified.
As you can see, even if you are a subscriber to enjoy the privileges such as extreme sound quality and unlimited skipping, you will still be annoyed by the Spotify download limit. In fact, there is a way to bypass download limit restrictions and not degrade your music listening experience.
How to Bypass Spotify Download Restriction?
How to bypass the download limit restriction of Spotify? To solve this problem, you may need to resort to some technically advanced third-party Spotify downloaders, which make offline listening as easy as pie. They will not only help you get Spotify premium cracked and download unlimited songs from Spotify but also can convert Spotify music to universal formats such as MP3, M4A, MAV, and FLAC by removing Spotify music encrypted format. In this way, music can be saved on as many different devices as you want, not to mention music transfer. Moreover, these Spotify downloaders guarantee high-quality output, so you can easily listen to the original songs on Spotify offline.
MuConvert Spotify Music Converter is exactly this kind of software that is highly recommended to you. Not only that, but it supports lossless audio formats like AIFF and M4A(ALAC) that ensure you can enjoy lossless Spotify songs. Also, up to 35X faster conversion speed is provided for you to download Spotify playlists. Moreover, MuConvert Spotify Music Converter has clean interfaces without any ads that are easy to use. Embedded with the original Spotify web player, this Spotify Music Converter helps any of you to download high-quality music from Spotify in a few simple steps.
More highlighted features you will like.
It is available to use on both the latest Windows OS and macOS.
It supports downloading all Spotify songs, playlists, albums, and podcasts without a Spotify Premium account.
Its downloading speed is up to 35X faster speed.
It supports batch music output with the highest 320Kbps audio quality.
It can preserve and edit ID3 tags and metadata information flexibly for better arrangement.
How to Download Songs from Spotify with MuConvert?
Step 1. Download the latest MuConvert Spotify Music Converter by clicking the download button.
Step 2. Log in to your Spotify account by clicking the white icon in the top right corner. Here, a Spotify Premium account is not essential, so you can finish downloading Spotify songs with Spotify Free by using MuConvert Spotify Music Converter.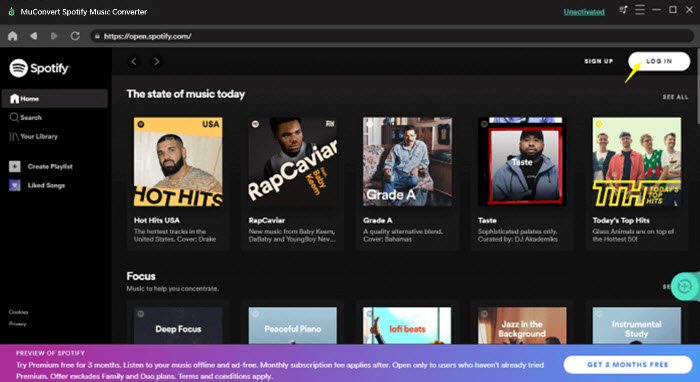 Step 3. Pick on tracks or playlists you want to download from Spotify and drag them to a green Add button. Then, MuConvert will automatically fetch the track information and add them to the converting list.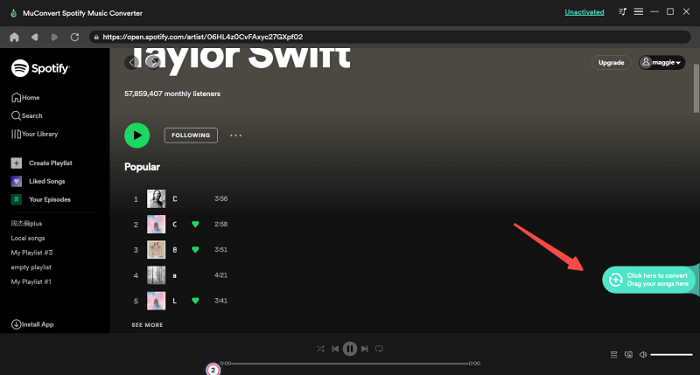 Step 4. When the analysis is done, you can see a pop-up download window. And then you can select the output format by tabbing the dropdown icon next to "Convert all files to" in the top right-hand corner according to your demands. To download lossless songs from Spotify, you can choose AIFF or M4A(ALAC) format.
Step 5. Click the "Convert All" icon to convert all Spotify songs you've selected. And you check downloaded songs in the Finished section. Then, you can play the downloads within the built-in player of MuConvert Spotify Music Converter. Or you can click on "View Output File" to lead you to the saving location. No need to go online to keep downloaded Spotify songs available. You can freely transfer and enjoy them offline on any device.
Conclusion
Until now, users have been complaining about the Spotify limit one after another. As an ordinary user, you may not be able to do anything about it. But with the help of MuConvert Spotify Music Converter, you can get rid of these restrictions to the greatest extent possible, allowing you to use the original Spotify web player and experience unlimited song downloading that Spotify doesn't have. So why not download and try MuConvert Spotify Music Converter first?