Spotify Won't Play Songs? 11 Solutions to Help You Fix It!
When you are in the great mood to enjoy a Spotify song, it turns you down when Spotify fails to work properly. Even though Spotify has been a market leader in the streaming music industry, it is not exempt from playback issues. Sometimes, Spotify won't play songs properly for you. Therefore, today post will focus on the most popular and practical methods to help you resolve the issue to make Spotify songs playable again. If you are also facing the problem, please continue reading to fix it with any provided solution.
Under many circumstances, Spotify fails to play songs while it runs into a glitch or crash, in that leading to many unexpected errors. Therefore, when you suddenly find Spotify won't play songs for you, a simple restart operation may easily get it fixed, as you allow the app to refresh its system and enable the proper programming in the background. If you are utilizing the Spotify Web Player while Spotify songs playback failure occurs, please choose to restart the web browser, and turn to the web player again.
Sometimes, the Spotify not playing songs error could happen when the Spotify app is not fully up to date. The outdated Spotify app could miss the functions in working properly, or with many bugs unfixed. Therefore, you could turn to the app store and check if there has the newer Spotify version available to install. It is encouraged you to toggle on the automatic updates for Spotify to make sure the functions you are enjoying are always up to date, too!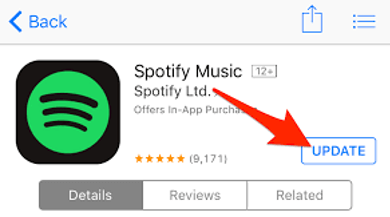 When Spotify update and restart fails to work for you, consider whether your account is corrupted, in that Spotify fails to recognize you and refuse to work for you. Simply try logging out Spotify inside Spotify app or the web player, then log back in again. Once complete this manipulation, play any song to see if Spotify works normally again.
Please notice that your device status could also affect the operation of the installed apps. No matter you are utilizing a mobile device or a desktop when the Spotify won't play songs issue occur, it would be opted to resolve it simply by restarting the device to make all programs run properly again from the start. In many cases, the sudden playback errors of Spotify could be easily fixed by relaunching the device, and this may even lead to better performance!
You may neglect Spotify's notification of the device storage for running the program properly. The official has recommended users to ensure a minimum of 250 MB free storage to ensure the proper running of the service. If your device doesn't have sufficient storage space now, Spotify may fail to run properly, in that leading to the playback error. To fix it, simply check your device storage and clear some unused items. Subsequently, restart Spotify and have another try to see if the Spotify songs playable now.
On desktop, Spotify won't play songs could probably happen as the protection of your firewall. When it has blocked Spotify program, it would fail to perform normally as your desktop has consider its services to be the harmful behaviors. Therefore, please check whether the Spotify program has been added to the blocked list on your computer. If yes, free it to the white-name list and try accessing the service to play Spotify songs for seeing if the Spotify music playback returns normal again.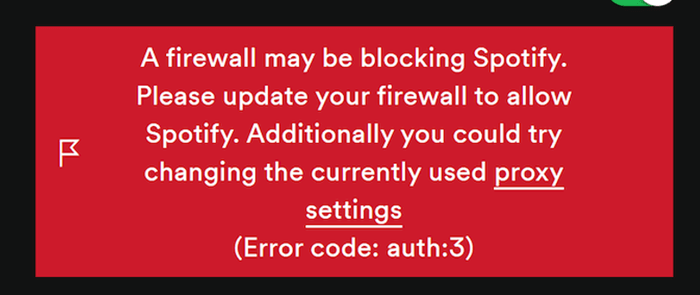 To handle the music transitions between songs to be smoother, in that leading to better music shuffling experience within Spotify, the official has released the Crossfade feature to resolve the transition effects between two songs with very different tone by default. However, this feature may lead to the playback error, stopping users to start playing a new song. Therefore, turn the Crossfade feature off in Spotify >> Preferences >> Playback may fix the playback error effortlessly.

Disable Hardware Acceleration
Similarly, Spotify also provides another feature, Hardware Acceleration to enable fluent music streaming performance within Spotify app. Nevertheless, it could easily lead to the Spotify songs skipping, shuttering, and music unplayable errors unexpectedly. To turn it off and make Spotify music playback normal again, please launch Spotify and turn to File (Spotify on Mac) >> Hardware Acceleration to disable it.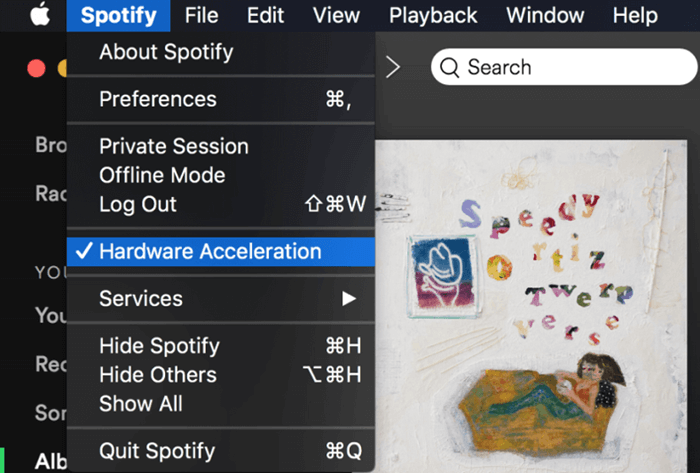 Some Spotify Premium users may discover the offline music won't play even they have checked that the premium status is not expired yet. For these users, you could try resynchronizing the offline library by logging back in the premium account again. Once you get this process done, you can switch to the Offline Mode and play the downloaded songs there to see if they are playable now.
When the above methods are failed to work for you, why not uninstall the Spotify app and reinstall from the app store again? Once you remove the Spotify app, the related files are all deleted. Under such circumstance, the newly installed Spotify app could fix the corruption situation happened before and enable fluent Spotify songs streaming performance again. It is also a simple method to resolve the Spotify won't play songs error.
Download and Play Spotify Music Offline to Avoid Spotify Won't Play Songs
Feel tired of running into all sorts of sudden Spotify playback errors? An ultimate solution to resolve them once-for-all is to download Spotify songs for creating offline playlists, without relying on Spotify app to process the music streaming. To achieve this target, MuConvert Spotify Music Converter is a must-have program.
MuConvert Spotify Music Converter is an excellent program with powerful Spotify songs, playlists, and podcasts download feature, assisting people to easily get any Spotify content offline without Spotify Premium required. With selectable output encoders such as MP3, M4A, WAV, FLAC, and customized parameters to export the songs, people can personalize the music streaming quality as they wish.
Furthermore, to retain the same music playback experience offline, this Spotify song or playlist downloader will keep the full ID3 information for file condition check out. For facilitating higher productivity, the program can also speed up the performance to 5 times faster. Plus the batch convert feature, it would be a time-wasting task to download Spotify songs offline.
In the following, the manipulation of processing the Spotify download within MuConvert Spotify Music Converter will be introduced. Please check.
Step 1. Log in Spotify Web Player in MuConvert Spotify Music Converter
First, complete the installation of MuConvert Spotify Music Converter on desktop. Subsequently, launch it and press the "Open the Spotify web player" to enter the main feed. People are required to log in the web player with the Spotify account before proceeding the music download.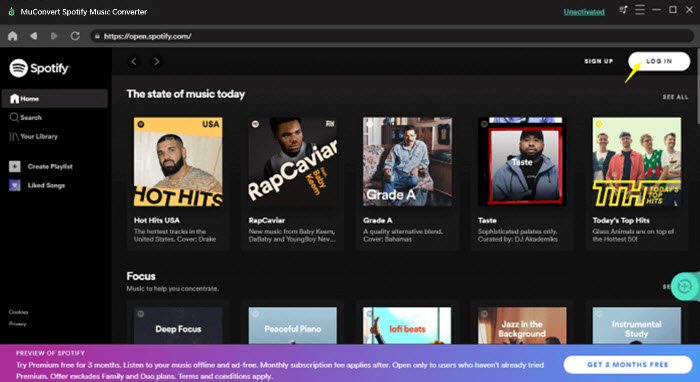 Step 2. Select Spotify Playlist to Download Offline
Once log in the account, you can access the Spotify playlist that you is gonna to play offline to get rid of Spotify won't play songs issue. Simply open the playlist and click the Add button, MuConvert Spotify Music Converter will detect the playlist and convert the songs for you.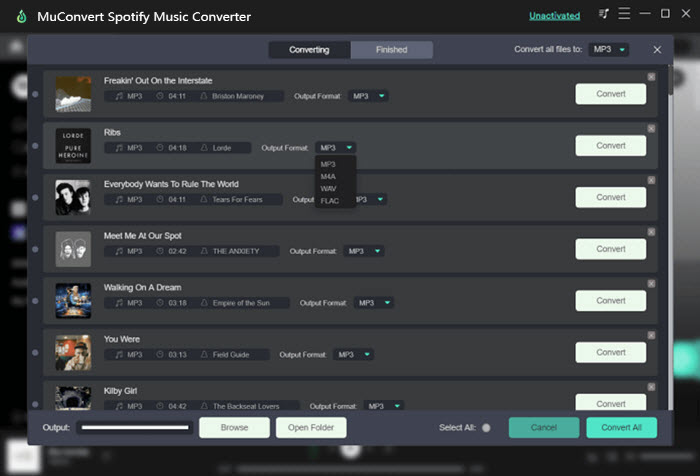 Step 3. Configure Output Parameters
Subsequently, please turn to Menu >> Preferences to configure the output parameters in preferences. The Output Format, SampleRate, and Bitrate are supported to be changed here as you wish.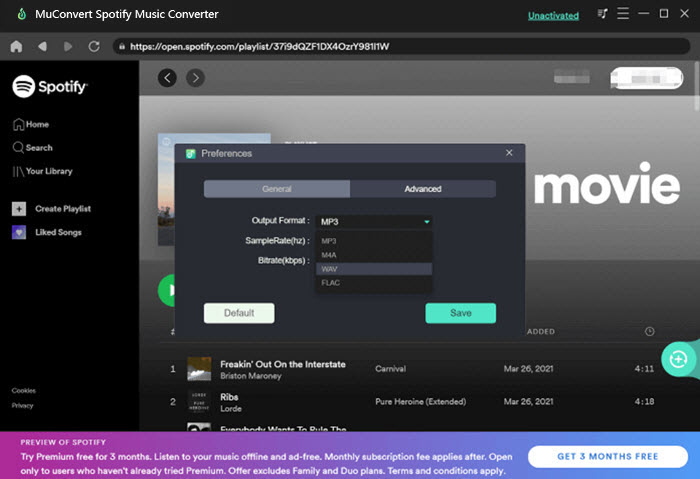 Step 4. Initiate the Conversion to Download Spotify Songs
Eventually, proceed the Spotify songs download by tapping the Convert All button. As MuConvert Spotify Music Converter completes the download, you can access the downloaded songs locally by turning to Finished >> View Output File.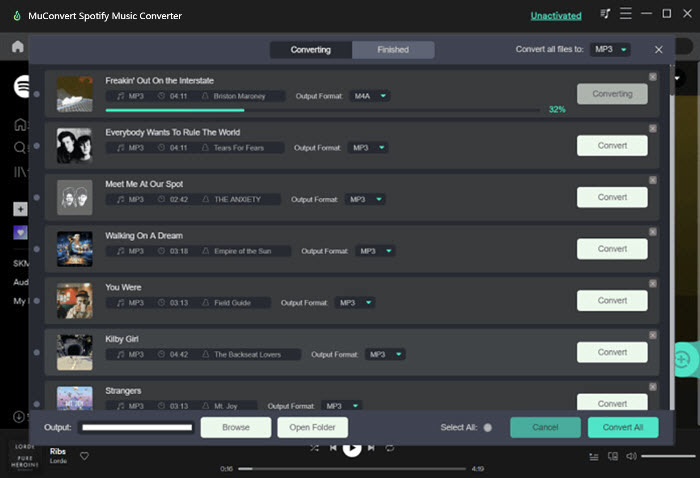 As you find the downloaded Spotify songs, you are free to stream them utilizing any media player outside Spotify. From then on, you would no longer be disturbed by the Spotify won't play songs issue or other playback errors!
It is annoying while running into the situation that Spotify won't play songs for you. But now, you have gotten the 11 solutions to resolve it easily. Since then, you are able to have Spotify songs playback with better experience. Enjoy!