How to Use Amazon Music: Helpful Tips & Tricks in 2023
Since the release of Amazon MP3 in 2008, Amazon Music has gradually gained a firm foothold and an edge in the global streaming music market. With millions of tracks and varieties of stations and podcasts served, people who use Amazon Music can always feel like a million bucks. But it must be said that the Amazon Music ecosystem contains a dizzying array of premium plans, devices, and methods of use. To help you out and make you access Amazon Music one step faster, this article has compiled some practical information on how to use Amazon Music for you. Now, please be prepared and then have a careful browse.
What Is Amazon Music? Is It Free?
Amazon Music is an online music service provider, with which you can listen to up to 90 million songs of all categories. And some music stations and podcasts containing various audio sources and programs are also available to you. But considering the operation and development, Amazon Music is not completely free. Aside from the free subscription plan, there are three premium plans provided for you.
Amazon Music Free: It supports playlists and stations with ads and standard quality. No offline listening, and you can only use one Amazon Music device at a time.
Amazon Music Prime: This plan requires a membership, but you can download music and access two million tracks, playlists, stations, and no ads. Also, only one device can play music at a time.
Amazon Music Unlimited: Another membership offered by Amazon Music. With it, you can own offline mode and can get 90 million songs, playlists, and stations heard. No more ads and this plan can support up to 6 devices for playback at the same time.
Amazon Music HD: It requires a subscription outside of Prime. 90 million songs are supported with HD, Ultra HD, and some in 3D studio sound. Likewise, you can listen to Amazon music without a network connection.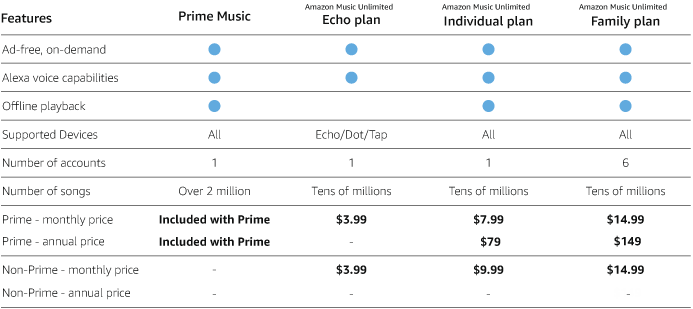 Although Amazon Music is not free, you can stream music among various devices and platforms that have been authorized by Amazon Music once you purchase a premium plan. Such Amazon-supported platforms or devices embrace:
Desktops: Windows, Mac, Web Browsers
Mobile phones: Android, iPhone
Tablets: iPad, Kindle Fire (pre-installed), Android.
TVs: Fire TV (preinstalled), Android TV/Google TV, Roku
Echo Devices: Use commands to ask for music playback
Basic Functions of Amazon Music
As a first-class music streaming platform, the Amazon Music application is designed with uncomplicated interfaces and features, mainly to enable you to get a better music listening experience. Simply speaking, Amazon Music, especially Amazon Music Prime and Unlimited, gives you access to music search, library, recommendation, and music download. With the four functions figured out, you can have songs on Amazon Music your own way.
Search, of course, is the most important function that you can capitalize on Amazon Music fully. Whatever version of Amazon Music you use, the search bar will always stand at the top of all content. With some simple keywords typed in, you can discover the desirable songs, playlists, or podcasts shown on the dropdown menu. Not only that, for more music you can retrieve, Amazon Music has been embedded with an algorithm recommendation. This powerful design can enable you to find some new but familiar tunes on your Amazon Music app.
With these two features together, you can always keep expanding your music library. This is exemplified by the mobile Amazon Music app, where you can add some favorite tracks by hitting the three-dots icon and selecting the Add to My Music or Add to playlist options. After that, the same Amazon Music account you are logged into will save this song on all your devices.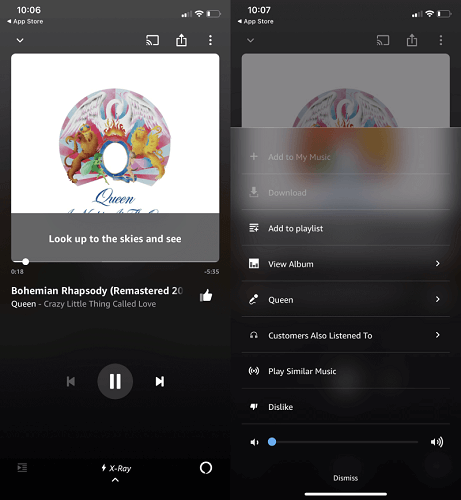 Download Amazon Music Songs for Offline Playback on Phone
As previously discussed, you can
listen to Amazon music offline
as long as you buy one of the three premium plans. It is pretty easy to get done on your smartphone, but there is a difference in terms of offline mode enabled between Android and iOS devices. You can view the guide below and have a try.
Step 1. Open Amazon Music on your Phone and choose the audio sources you want to download.
Step 2. Tap the Three-Dot icon next to the song, album, or playlist, and click the Download button.

If you are an Android user

,

you need to tap the dropdown menu at the top and select Offline Music.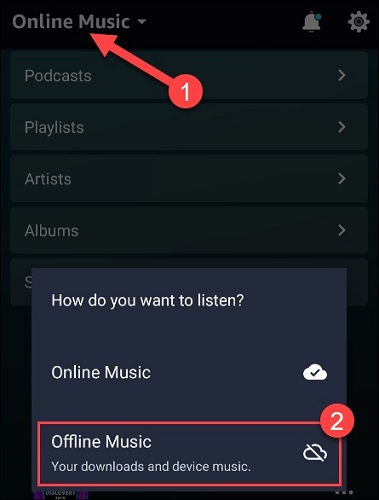 If you are an iOS user

,

you need to tap the Gear icon in the top-right corner and select Offline Mode.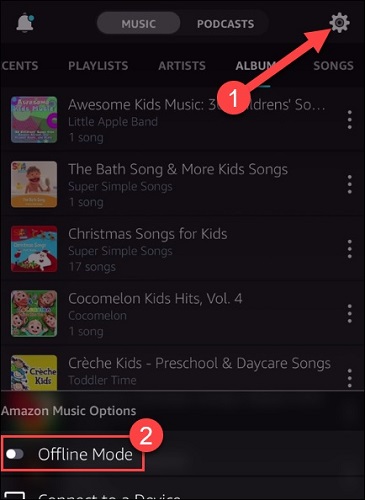 Download Songs from Amazon Music on Computer
Similar to offline playback on a phone, using Amazon Music offline on a computer also requires a subscription. With Amazon Music Prime, Unlimited, or HD purchased, you can easily make it. But in fact, there is a trick that can help you
download songs from Amazon Music on your computer
without a premium plan. In this part, both the official download way and the solution will introduce to you.
Download Songs on Amazon Music App
To make it easier for you to use Amazon Music, the steps to download music with the computer version of Amazon Music software are actually not much different from the mobile version. Once you have selected the music you want to download, tap the ellipsis icon next to the track, then tap download.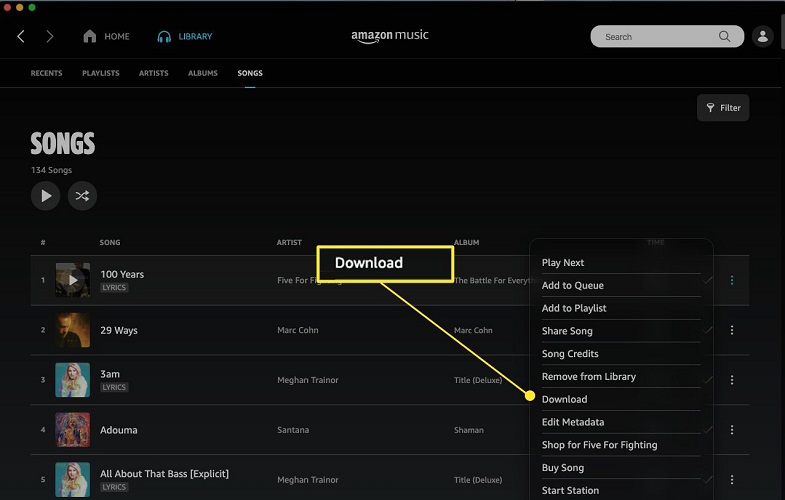 No matter which version of Amazon Music you download songs from, the offline mode is only workable on devices that have been authorized by Amazon Music. You can not stream Amazon tracks to CDs or other MP3 players.
Trick: Download Amazon Music to MP3 on Computer
MuConvert Amazon Music Converter
is the trick that can help you with the problem that you can not copy Amazon songs onto external storage. MuConvert Amazon Music Converter is an all-in-one Amazon Music downloader that is embedded with a built-in web player. In such a context, you can not only consider the software a normal Amazon Music player to play songs, but you can also decode and
download songs from Amazon Music to some mainstream audio formats like MP3
, M4A, WAV, and FLAC. Then you can find it much easier to save and stream Amazon music to multiple MP3 players or CDs.
More than that some other great features have been provided for you as well for example:
Compatible with both Windows and MacOS computers.
Supports output songs with lossless sound quality.
Allows you to download songs in bulk at up to 10X speed.
Saves original ID3 tag information

,

including titles

,

artists

,

albums

,

and more.
Supports customizing sample rate and bitrate.
Can't wait to try? You can follow the steps below to download Amazon music to MP3 for saving and transferring.
Step 1. Log in to your Amazon music account on MuConvert Amazon Music Converter. Don't worry, it is 100% safe.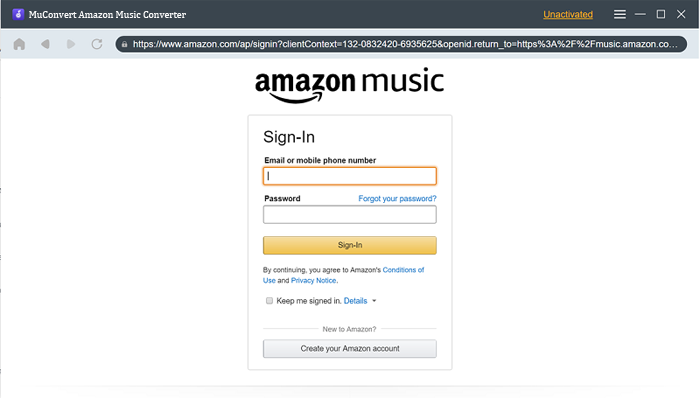 Step 2. Select the tracks you want to save and drag them to the Blue Plus area. The software can parse them automatically.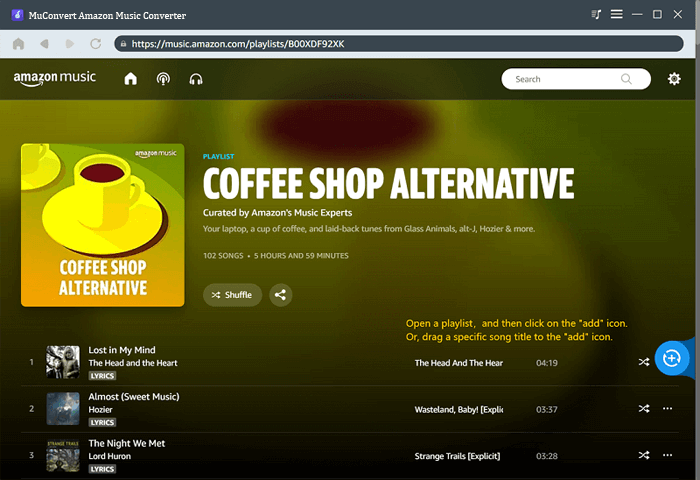 Step 3. Set up the output formats from the top right menu.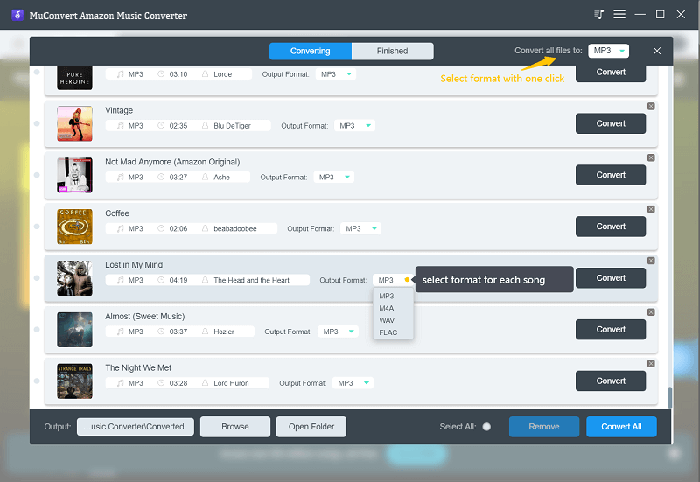 If you have a listening preference, you can go to the Preferences section by clicking the three-horizon lines, which allows you to customize the sample rate and bitrate.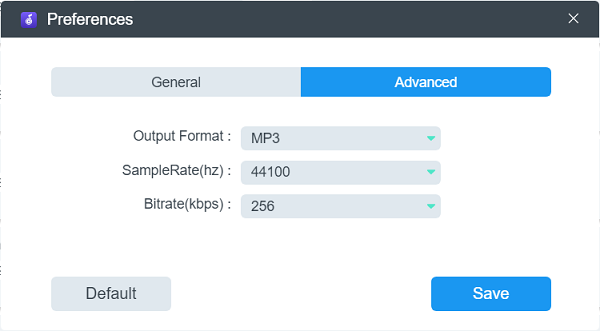 Step 4. Start to download songs from Amazon Music by clicking the Convert All button. And if you want to check the download history, you can head to the Finished section.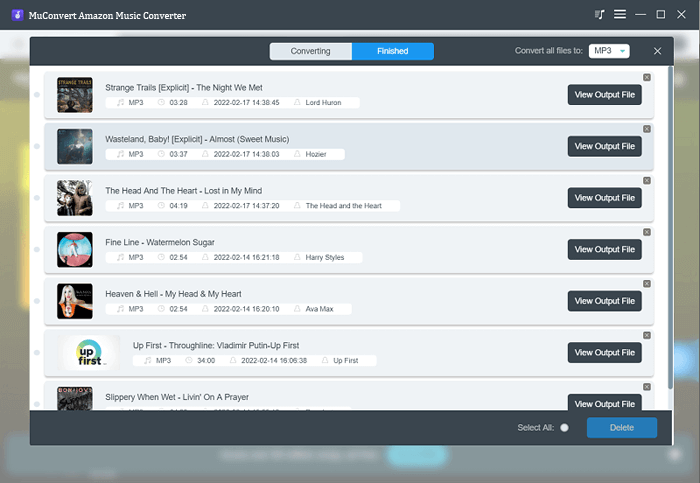 Advanced Tips to Use Amazon Music
Remember the first part mentioned Amazon Music supports desktop, TV, mobile devices, etc., which framed the complete Amazon Music ecosystem. It is also because of such connections that Amazon Music can have a lot of tips on how to use it.
How to Download Your Purchased Amazon Music
Step 1. Navigate to Settings in the Amazon Music app.
Step 2. Turn on the option for Auto-download Amazon Music purchases (iOS) or Automatic Downloads (Android).
Step 3. If you turn this option off, you can head to Settings and manually tap Refresh My Music at the bottom.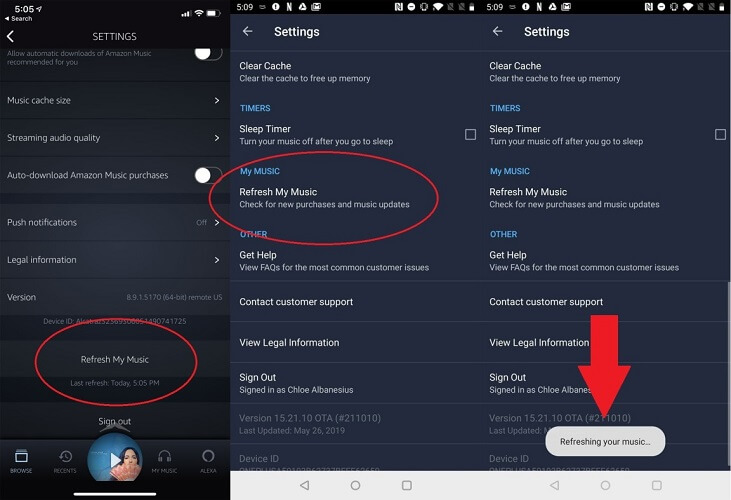 How to Play Amazon Music in Car
Amazon Music provides you with hand-free playback when you are on a trip or commuting, which can perfectly smooth your boring emotions in a car. And the following instructions are the way you can connect your Amazon Music to your car.
Step 1. Open the Amazon Music app on your phone.
Step 2. Hit the Settings gear in the top-right corner and then select Car Mode.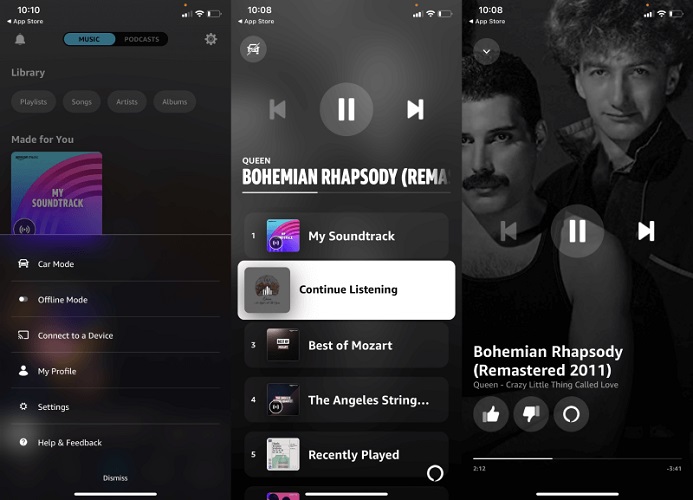 How to Use Voice to Control Amazon Music Playback on Echo
Echo by Amazon Music is a great way for the whole family to enjoy Amazon Music at the same time. This smart speaker can enable you to be hand-free but can retrieve all songs you want to listen to with voice commands. And if your Amazon device has a screen, you can enjoy lyrics directly. For your convenience, here are some commands that can help you a lot.
"Alexa, play [song title or artist name or album name]."
"Alexa, play [emotion or genre or holiday] music."
"Alexa, play the song that goes [lyrics]."
"Alexa, play [station name]."
"Alexa, play new [genre]."
"Alexa, play some music." (Anything from your library)
"Alexa, play a playlist." (Any playlist in your library)
"Alexa, what's playing right now?"
"Alexa, who sings this song?"
"Alexa, skip this song."
Echo may shuffle the music that is not exactly what we asked for.
Amazon Music is a well-established music platform, as are its subscription plans and ecosystem. So as a subscriber, you can enjoy a good music service and listening experience with practical features and seamless connection. With this guide on how to use Amazon Music, you can make full use of your membership. But if you don't plan to renew or your membership is about to expire, you may as well give
MuConvert Amazon Music Converter
a top priority. With this Amazon Music Downloader, you can experience the joy of enjoying Amazon tracks at any time, even without a subscription!