How to Use Spotify on Twitch [Complete Guide in 2023]
Are you a Twitch streamer who wants to add an extra layer of creativity and entertainment with some groovy background tunes to your live streams? Look no further than Spotify! But wait – playing copyrighted music can get you in hot water with Twitch's copyright policies.
So, can you actually play Spotify music on Twitch without running into legal issues? The answer is yes, and in this article, I will guide you through how to play Spotify on Twitch without breaking any rules. But that's not all. I will also share with you a nifty tool named
MuConvert Spotify Music Converter
to download more Spotify music for your future streams. Read on to find out more!
Can You Play Spotify Music on Twitch?
Yes, you can play Spotify music on Twitch as long as the songs are copyright-free. These include songs owned by you, songs you've licensed to, and those provided through "Soundtrack by Twitch."
You may wonder what would happen if you do play copyrighted music. Well, Twitch takes music copyrights very seriously. If you violate their policies, your recorded videos will be automatically muted or removed, and after three violations, your account will be banned. So, it's better to be safe than sorry. But where can you find music that's copyright-free? You might have a Spotify subscription, but this doesn't mean you're allowed to directly connect to Spotify and use their content on your own while streaming.
How to Play Music on Spotify for Twitch Live Streaming
To download copyright-free music from Spotify, you can turn to a third-party software named
MuConvert Spotify Music Converter
. With just a few clicks, this reliable software will help you quickly download music from Spotify onto your local MP3 files. And the best part? The converter supports bitrates of up to 320 kbps, ensuring the highest quality audio during your live streaming.
Key Features of MuConvert Spotify Music Converter
Powerful Spotify downloader – this tool can download any music or podcast from Spotify onto your local devices, saving you the hassle of slow loading or buffering during live streaming on Twitch.
Incredible download speed – 5X faster download speed and batch downloads will expand your library of live-streaming music in the smallest amount of time.
Flexible output choices – downloaded songs can be saved as MP3, M4A, WAV, or FLAC, ensuring compatibility with all major media players you use while streaming.
Lossless conversion quality – the bitrate of up to 320 kbps delivers superior streaming experiences to your audience and brings your Twitch streams to the next level.
Full ID3 tag preservation – with this helpful feature, you can better manage the music downloaded and optimize your live-streaming playlist.
MuConvert Spotify Music Converter is recommended not only because of its powerful features but also for its convenient operation. With it, you can easily download copyrighted-free music from Spotify onto your computer. Once the songs are downloaded, you can use OBS to stream the music onto your Twitch channel. Here are the specific steps:
Step 1. Download and Install MuConvert Spotify Music Converter
Click on the link below to download and install the converter to your Windows/Mac.
Step 2. Log into Built-in Spotify Web Player
After the installment, you can log in to your Spotify account on the converter's built-in Spotify web player. Whether you're a free user or a Spotify subscriber, after logging in, you can download songs for free from the converter.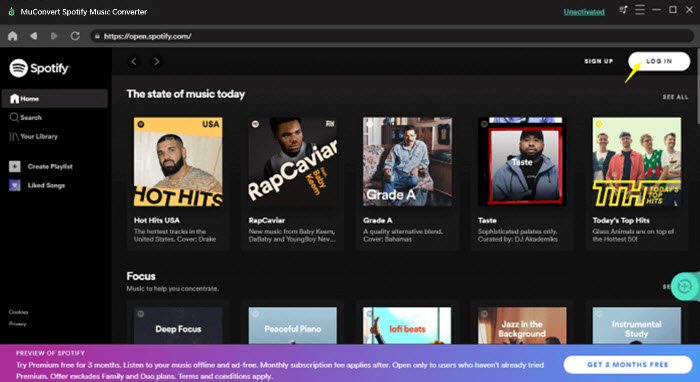 Step 3. Select Songs to Convert
You can download any playlist you want by simply dragging and dropping the songs to the green "+" on the lower right. You can also click on the "+" button directly to analyze the entire playlist for conversion.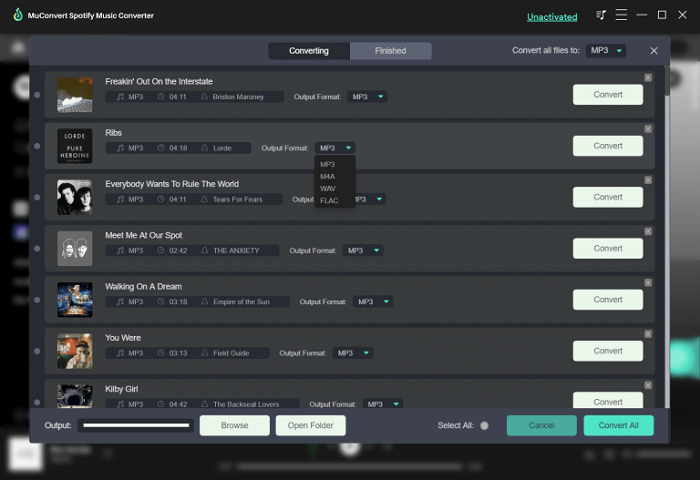 Step 4. Choose Output Formats (Optional)
You can change the output formats before the conversion starts. MP3 is recommended because it is supported by almost all media players. You can select MP3 as the output format directly from the dropdown menu on the upper right.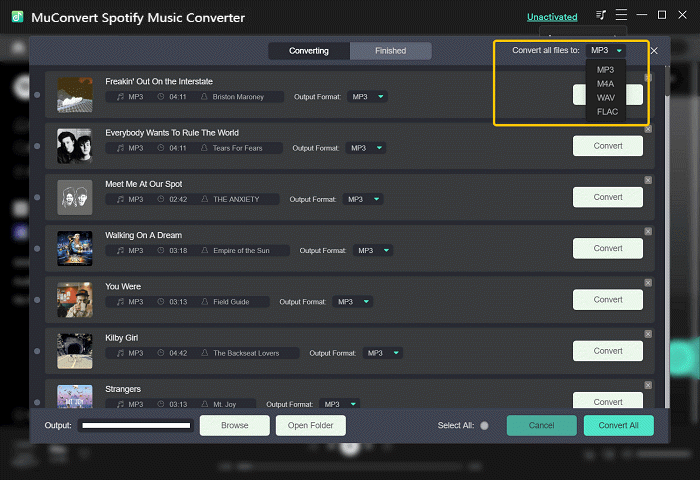 If you want more changes in sample rate or bitrate, you can go to Menu (the "≡" on the upper left of the home page) -> Preference -> General/Advanced.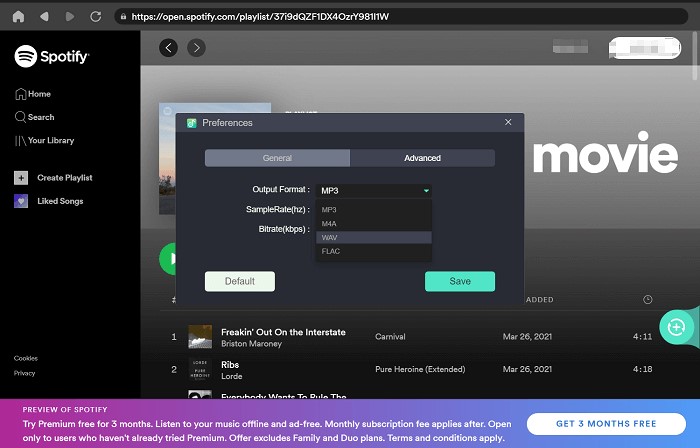 Step 5. Convert Spotify Music
After you're satisfied with the output parameters, click on the green "Convert All" on the lower right to download all the selected songs in one go. Because of the fast conversion speed, you don't need to wait long before you find the songs saved to your local files. To locate the downloaded MP3s on your PC, just navigate to the "Finished" page -> "View Output File".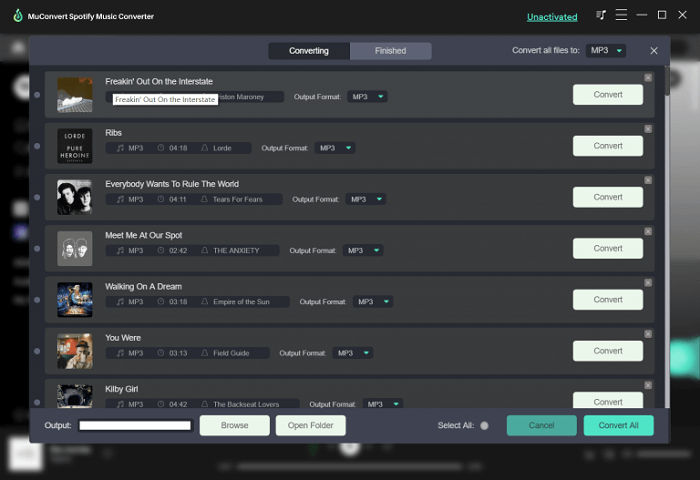 Step 6. Play Spotify Music on Twitch Using VLC
Launch the VLC media player and create a new playlist with the music you just downloaded. Then, go to OBS and click on the plus in the lower left. Select "VLC Video Source" and set it up so that Twitch can play the music from your VLC playlist while streaming.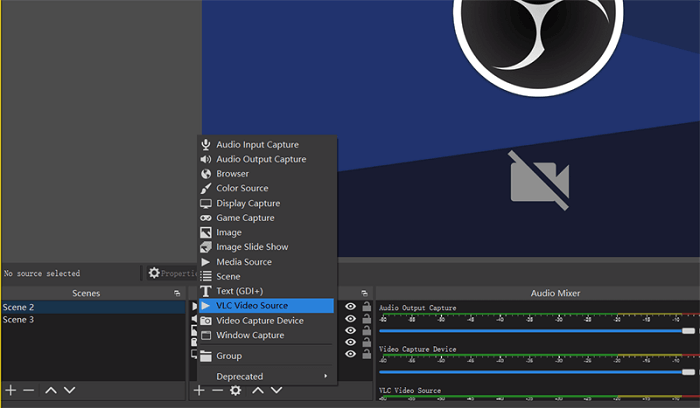 FAQs About Playing Spotify When Streaming on Twitch
Q1. Can You Find Spotify Copyright Free Songs for Twitch?
Sure thing! You can search for playlists on Spotify using keywords such as "copyright free" or "DMCA free" to find a large library of songs without copyright. For example, here are the DMCA-free playlists I've found:
Thanks to the batch download function of MuConvert Spotify Music Converter, now you can
download the Spotify playlist
all at once for your streaming.
Q2. Can You Sync Spotify on Twitch?
Certainly. Apart from the methods mentioned in the second part, a Reddit user has also developed a Twitch-approved extension called
SpotifySynchronizer
. By syncing the viewer's Spotify with the streamer's, this extension allows the streamer to play copyrighted songs during the live streaming without violating the DMCA.
However, this extension has obvious drawbacks. For example, it requires both streamers and viewers to log in with Spotify on channels where the extension is installed. It doesn't support mobile and console platforms. And it's not very stable sometimes.
Q3. How Can I Make VLC Video Source on OBS When Connecting Spotify Music to Twitch?
To make VLC Video Source on OBS, you simply need to click on the plus in the lower left and select the option. However, if you can't find the option, it's probably because the installed VLC version is not compatible with your Windows.
If your computer system is 32-bit, you'll need to install the 32-bit version of VLC. If it's 64-bit, install the 64-bit one instead. Note that if you download VLC from their official website, the default download will be the 32-bit version, so you should manually choose "Windows 64bit" from the dropdown menu if you have a 64-bit system.
To check your system's bits, you can simply press "Win+R", type "dxdiag", and hit enter.
Playing music during your Twitch streaming can greatly enhance the appeal of your channel. However, caution is crucial, for unapproved use of copyrighted music may result in your videos being deleted or, worst still, your account being banned. Therefore, it's advisable to use
MuConvert Spotify Music Converter
– a top-of-the-line and easy-to-use software designed to download royalty-free music from Spotify in bulk and expand your go-to stream playlist. Don't miss out on this golden opportunity and bring your streams to the next level!