How to Download Spotify on Chromebook [Detailed Guide]
While running ChromeOS, Chromebook turns its back to many apps including Spotify. Currently, the Spotify app doesn't support ChromeOS, be it your own Chromebook or a school Chromebook. Luckily, there are actually workable ways to download the Spotify app and download Spotify songs for offline listening. Now, you may want to see how to download Spotify on Chromebook in this post. Let's hit the road and get your best pick.
How to Download and Install Spotify on Chromebook?
Even though the Spotify app is unavailable for ChromeOS, you can get away with it in 4 ways. To get your best choice, let's walk through all the ways and learn how to get Spotify for Chromebook in the following.
Download Spotify Web App on Chromebook on Google Chrome
Google Chrome allows users to install web pages as apps via PWAs (Progressive Web Apps). Therefore, you can also add the Spotify webpage as a desktop app that offers instant access to the Spotify web player. The caveat is that it only allows you to stream songs online rather than download music offline. Here's how to download Spotify on Chromebook as a PWA.
Step 1. Open Google Chrome on your Chromebook and go to Spotify web player.
Step 2. On the right of the address bar, you can find a "Download" icon to install Spotify.
Step 3. Click on the icon and select "Install". After that, you can find the Spotify app on your desktop.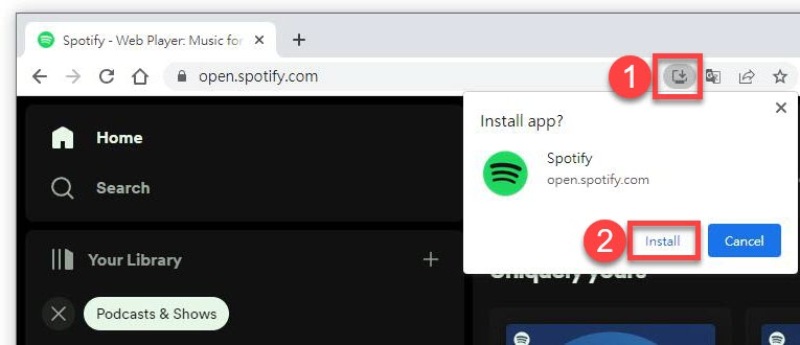 Download Spotify on Chromebook via Google Play Store
According to the Chromium Projects blog, all devices launched in or after 2019 will support Android Apps. Then it is available for you to download the Spotify Android app from Google Play Store and get the chance to play Spotify songs on your Chromebook. For specific steps to download Spotify for Chromebook, you can refer to the process below.
NOTE:
Not all Chromebook devices support installing Android apps. If you are running a pre-2019 Chromebook, you can check the officially supported model list first to verify whether your device is eligible or not.
Step 1. Launch the Google Play Store from the Chromebook's Launcher on your device.
Step 2. Type in "Spotify" to search for the app or click here to go to the Spotify app page.
Step 3. You can directly click on the "Install" button to start the download.

Step 4. When the download is finished, you can find the Spotify icon on your Chromebook Launcher.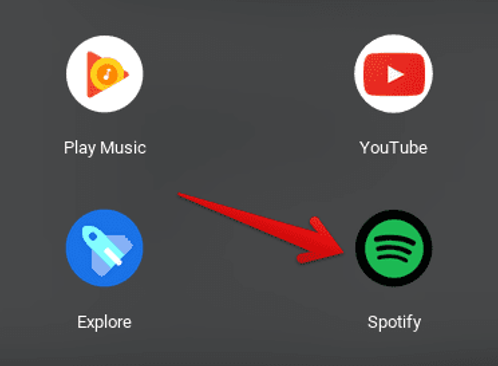 Download Spotify on Chromebook Using Chromebook's Linux Feature
The third trick is to download Spotify on Chromebook via Linux Feature. The Linux feature allows you to install many applications on your device with some special commands, not to mention Spotify. As long as your Chromebook is equipped with the latest Chrome OS system, Linux can truly deliver great benefits to you. But a reminder should be put in that this method would be a bit complicated for you to try.
STEP 1. On your Chromebook, go to "App Drawer" > "Linux apps" and launch a "Terminal". Then you are required to add the Spotify repository signing keys to authorize the download behaviors on your device.
STEP 2. Now, enter the command provided here:
sudo apt-key adv –keyserver hkp://keyserver.ubuntu.com:80 –recv-keys 931FF8E79F0876134EDDBDCCA87FF9DF48BF1C90
Step 3. When you see the command executing with some code and your username appearing again, you should enter the command of the Spotify repository. Just copy and paste it from here:
echo deb http://repository.spotify.com stable non-free | sudo tee /etc/apt/sources.list.d/spotify.list
STEP 4. Remember to update to the latest packages before making the installation any further. And then you just need to enter these commons to process it:
sudo apt-get install spotify-client
Step 5. When you finish the command above, continue to type the commands given below. After that, the system will ask you to confirm the installation, and you need to tap the "Enter" key to go further.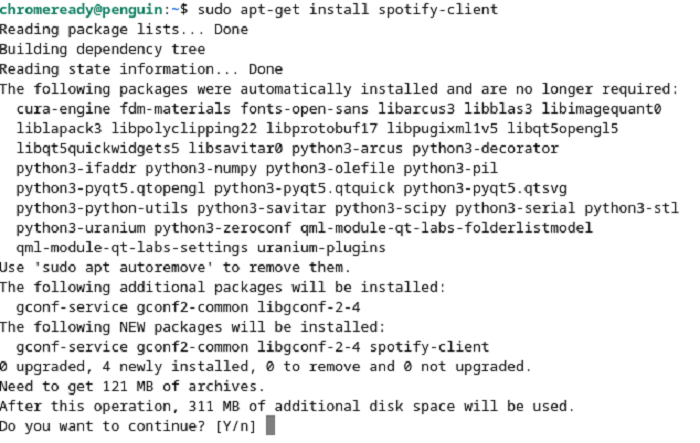 STEP 6. Finally, when the installation is done in minutes, you may need to tap commands again, which is a good sign of a well-finished installation. And then you can check your "Linux apps" folder to find the Spotify app icon.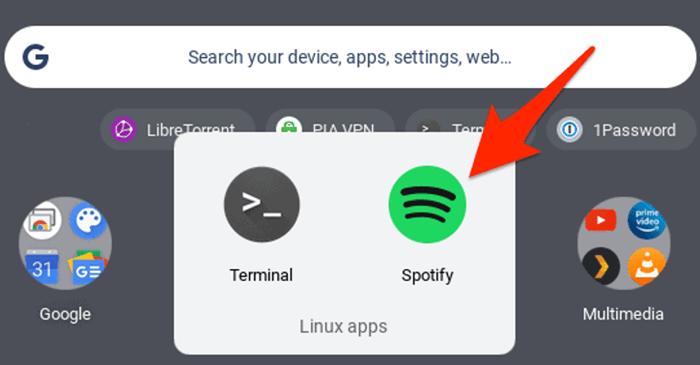 Download and Install Spotify .EXE App on Chromebook
The final workaround is to change your Chromebook to a Windows environment via Wine, which lets you run Windows-based applications on ChromeOS. Then, you can download Spotify for Chromebook and enjoy your favorite melody at work or at school. Yet, please note that this method requires some coding knowledge to proceed and is a bit complicated to get started. Now, the full tutorial is introduced as follows.
Step 1. First off, go to "Settings" > "Advanced" > "Developers" and turn on "Linux development environment". Then, install Linux on your Chromebook.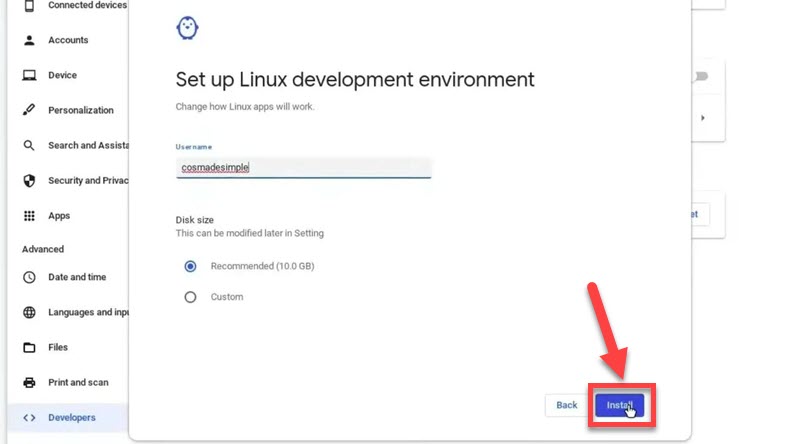 Step 2. Once activated, open "Linux apps" > "Terminal" in the launcher.
Step 3. Now, write the following commands into the Terminal app to finish setting up the Wine app.
Description

Commands

Enable 32-bit Architecture

sudo dpkg –add-architecture i386

wget -nc

https://dl.winehq.org/wine-builds/winehq.key

sudo apt-key add winehq.key

Add the Wine Repository to ChromeOS

Update the System Repository

Install Wine for Chromebook

sudo apt install –install-recommends winehq-stable winbind

Install Extra Packages for Wine

Add a File Manager System
Step 4. Download the Windows version of the Spotify app in .exe and save it to the "Linux files" folder.
Step 5. Back to the Terminal, run the command "wine spotify.exe". After that, the Spotify app is installed on your Chromebook, and you can find it in "Linux apps".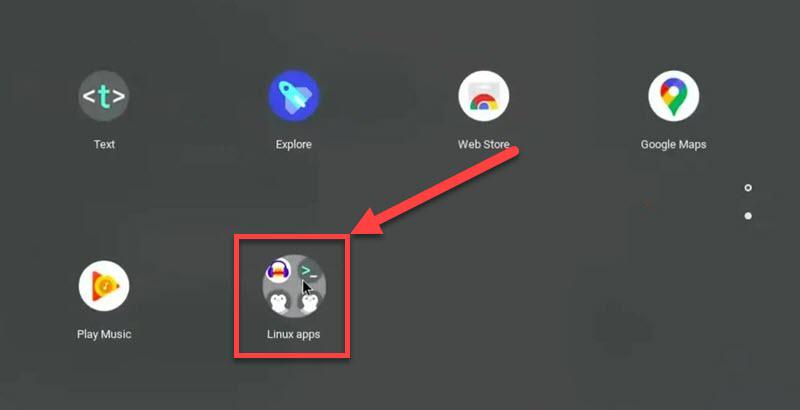 How to Download Spotify Songs on Chromebook?
After you download and install the Spotify app for Chromebook, you can also enjoy offline playback if you're an active subscriber. Better yet, there is a way to download Spotify songs even without premium. Now, let's learn how t download music on Chromebook from Spotify.
Download Songs on Spotify on Chromebook (Spotify Premium Required)
Been a Spotify subscriber for a long time? Then once you get Spotify on Chromebook successfully according to the practical approaches mentioned above, you can directly download Spotify songs on your computer with premium. The download process is easy and identical to ways that work on Windows or Mac laptops. And the steps are as follows:
ATTENTION:
Even if you are a Spotify subscriber, you do not have ownership of the downloaded Spotify music and you can only listen to it offline during the duration of your membership. But by contrast, MuConvert Spotify Music Converter can allow around-the-clock offline Spotify playback.
Step 1. Launch the Spotify app on your Chromebook and log in to your subscription account.
Step 2. Select the songs, playlists, albums, or artists you want to download.
Step 3. In the middle of the page, switch the "Download" button on.
Step 4. You can check the download status next to each song, podcast, or playlist. And a full Green dropdown download button means you download songs successfully.
TIP: To play your downloaded Spotify music offline, just click the "Three-Horizontal Dots" in the top left corner, and go to "File > Offline mode".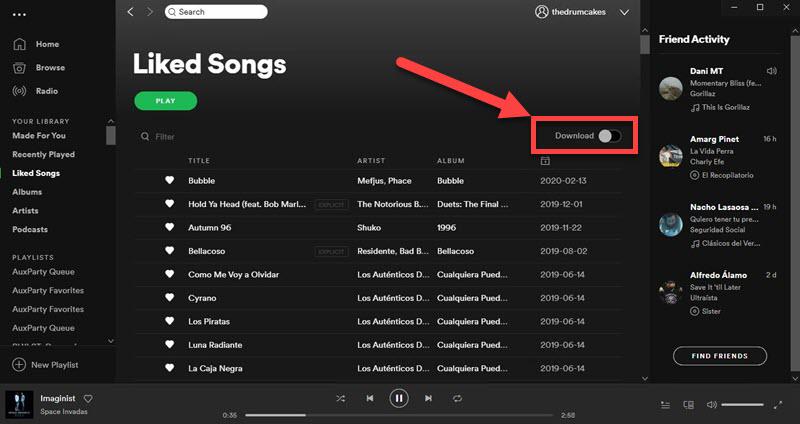 Download Spotify on Chromebook as MP3 (Without Spotify Premium)
MuConvert Spotify Music Converter is a top-rated downloader that enables free users to download the whole catalog of Spotify for offline listening. From new releases to top hits, all take only a button to save them offline. Meanwhile, it'll remove DRM from Spotify songs and convert music to MP3 M4A, WAV, and FLAC with high quality. Then, you are able to enjoy high-res playback on the Chromebook.
Don't Miss More Marvelous Features
Lossless Music Quality – Match tiers of audio quality in Spotify and support up to 320knps and 48kHz.
Unlimited Downloads – Enable multiple-thread tasks and download as many Spotify songs as you want.
Ultra-Fase Download Rate – Boost the process up to 5X faster and take minutes to download an album.
Easy Management – Keep ID3 tags and metadata like title, artists, Track ID, and album artwork.
No Premium Required – No need to subscribe to premium subscriptions or even log in to your account.
With an in-built browser, MuConvert Spotify Music Converter lets you have direct access to the Spotify web player and offers a button to download all tunes. You may want to see how to download Spotify on Chromebook below.
STEP 1. After you download and install the software, launch MuConvert Spotify Music Converter on the desktop, then enter the embedded Spotify web player.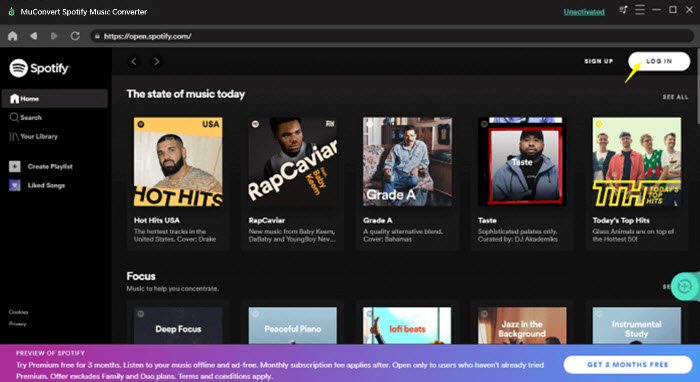 STEP 2. You can select a Spotify playlist or album to download now. After that, simply tap the "+" icon and MuConvert Spotify Music Converter will directly convert it for you.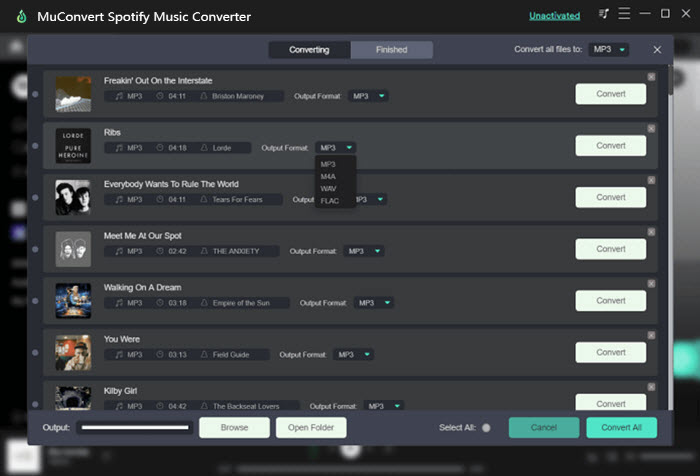 STEP 3. Then, move to the "Convert all files to" menu and select an output format to download the Spotify songs.
NOTE: By navigating to "Menu" > "Preferences" > "Advanced", you are also allowed to adjust the sample rate and bitrate to download the Spotify songs.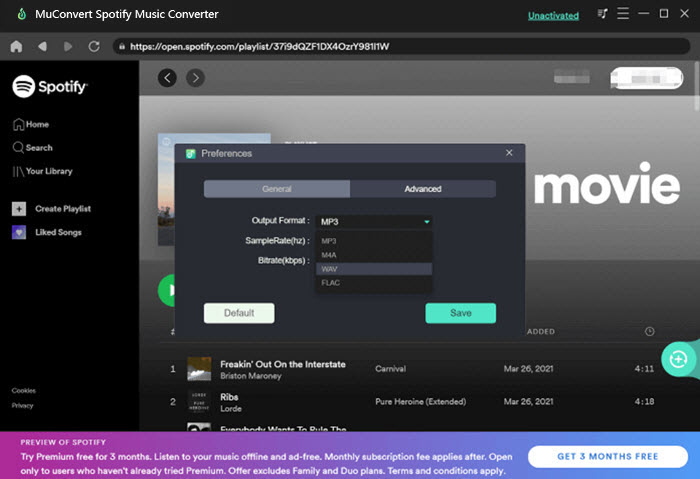 STEP 4. Finally, simply hit the "Convert All" button, and MuConvert Spotify Music Converter will start downloading Spotify playlists for you in batches.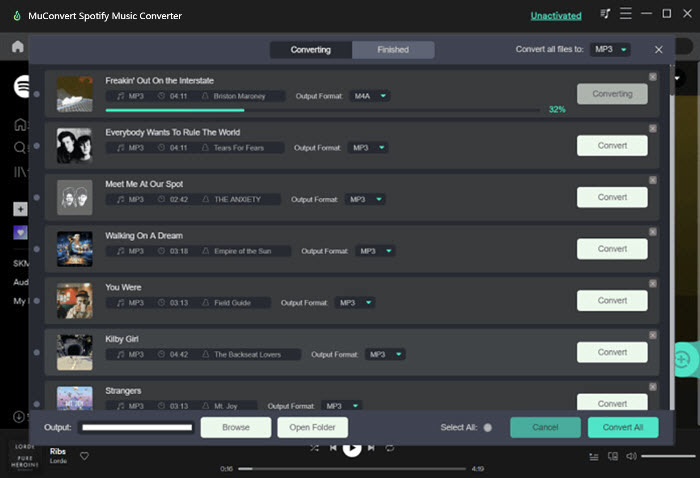 STEP 5. After your download Spotify songs to the computer, you can hit the "View Output File" to open the output folder to get the downloaded songs. Then you are able to transfer them to Chromebook for streaming the music offline using any media player conveniently!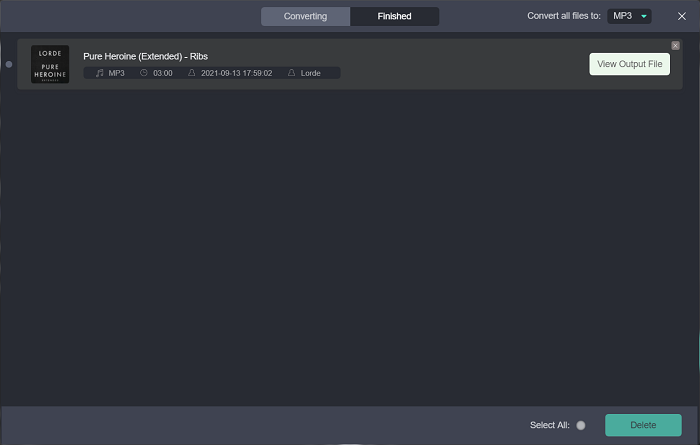 Discussion: Can You Download Spotify Music to Chromebook on Spotify Web Player?
Sadly, the Spotify web player on Chromebook doesn't support the download function. So you can not download Spotify music from the Spotify web player to Chromebook. But you can still stream Spotify songs on the web. When accessing the web player and logging in to your Spotify account, you are eligible to fetch your full Spotify music data without any more ado.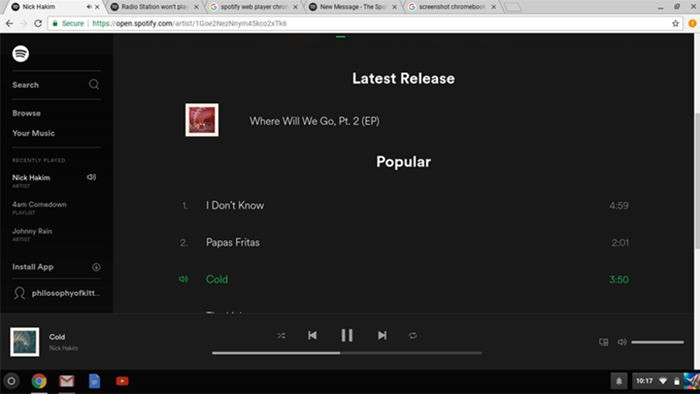 It is convenient to listen to Spotify with a browser. However, you may encounter the following drawbacks or inconveniences while using the Spotify web player to play Spotify songs on Chromebook via chrome:
The browser may not keep your login information after a reboot. Therefore, you are always required to sign in with your account by the time you listen to music on the Spotify web player.
The audio quality for streaming Spotify songs via Spotify web player is set by default at the lowest, you won't be able to adjust it like using a desktop software or mobile application;
It is unavailable for you to sync the local songs for mixing with the online playlist to stream back, as the web player doesn't provide such a functionality;
You are not allowed to download Spotify songs for streaming offline even if you have upgraded to the premium plan. The download feature provided to premium users is only available for desktop software or mobile applications.
FAQs about Downloading Spotify Songs on Chromebook
Before turning down to the ending, these FAQs could be a guide for those who have encountered troubles while downloading Spotify for playing on Chromebook. Grasp them and see if your issues can be solved.
Q: Can I upload local files to Spotify using my Chromebook?
A: When you use the Spotify web player to play Spotify songs on Chromebook, it is not available for you to upload the local files to Spotify, as the web player doesn't support the functionality. If you are able to successfully install Spotify desktop software (with a Linux system) or the Android app, it becomes possible to upload local files to Spotify for playing.
Q: How to fix Spotify not working on Chromebook?
A: The outdated system or software would always get corrupted, or errors happened because of the incompatibility. Hence, when you encounter Spotify not working on your Chromebook, try updating your Chrome OS or Spotify software to the latest version and try again. In most cases, this problem can be solved after the update.
To download Spotify for Chromebook, you have 4 ways to choose from. Just pick a preferred way and download the app on your Chromebook. Besides, you can enjoy Spotify songs offline if you're a premium subscriber.
What's better, MuConvert Spotify Music Converter is the optimal choice to download DRM-free songs for free and keep your favorite songs forever. What you need is to give it a shot and enjoy seamless offline listening on Chromebook.