4 Solutions to Download Spotify Songs on Chromebook [Even Without Primeum]
When starting to use Spotify as your main music streaming platform, you must wonder if the service can be accessed on any device. Although Spotify software and mobile application are well compatible with most mainstream systems such as Windows, Mac, iOS, Android, etc., users discover that there has not launched a version for Chromebook, but only supports to use the Spotify web player for streaming.
Don't worry now! We still get the right ways for you to download Spotify songs on Chromebook. Now, follow me and check the top 4 solutions to download Spotify on Chromebook, even without Spotify premium required!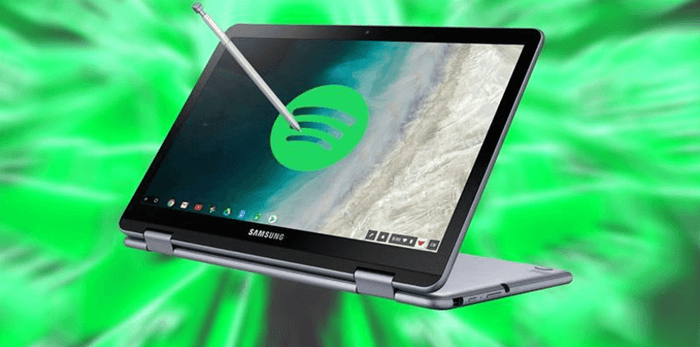 Best Way to Download Spotify on Chromebook Recommended
Although Spotify premium provides the download feature for users to download Spotify songs for streaming offline, its disappointing fact is that this feature will not be available on Chromebook, for the reason that Spotify web play is not compatible with the download feature. Meanwhile, as Spotify also employs the DRM encryption to lock up the songs, it becomes unavailable for users to download the songs and transfer to Chromebook for playback, unless you could decrypt the DRM encryption.
Luckily, MuConvert Spotify Music Converter brings the best solution to overcome the DRM encryption, and download Spotify songs for transferring to Chromebook without hassle. With an embedded Spotify web player, users are only required to login the Spotify accounts, then by simply opening a Spotify playlist, album, podcast, or dragging the singles to the "+" icon, the software will automatically convert the content for you. Despite such convenience, MuConvert Spotify Music Converter also brings the highlighted features as follows to all its dear users: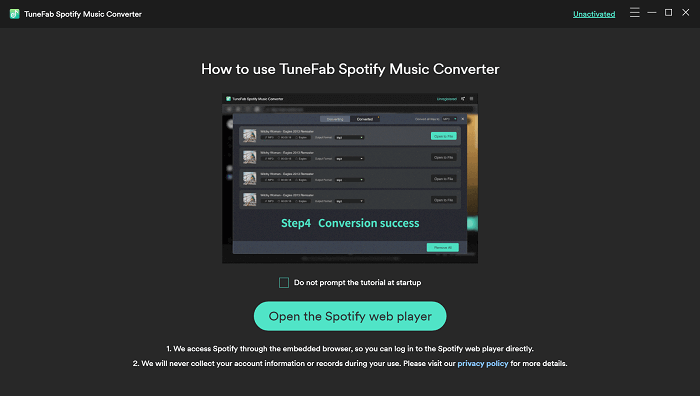 1. Optional Mainstream Formats and Original Quality
To enable the higher compatibility of the converted Spotify songs, MuConvert Spotify Music Converter provides the mainstream formats such as MP3, M4A, FLAC, and WAV to download Spotify songs on desktops. Meanwhile, it will maintain the converted songs at 100% original quality, without affecting the offline music streaming experience at all.
2. 5X Faster Speed and Batch Conversion
MuConvert Spotify Music Converter has embedded the built-in acceleration tech, which enables the conversion to accelerate to 5X faster speed. Additionally, the batch conversion empowered by the software also supports to convert and download batch songs simultaneously, boosting the efficiency to a higher state.
3. Preservation of Original ID3 Tags and Metadata Info
During the Spotify songs conversion and downloading processes, MuConvert Spotify Music Converter will preserve the original ID3 tags as well as metadata info such as the title, artist, album, genre, etc. for the songs, hence, users are still available to check the related info of the Spotify songs directly.
4. Customized Output Parameters
MuConvert Spotify Music Converter also enables users to customize the parameters of the Spotify songs that are going to convert. Output format, sample rate, and bitrate can all be adjusted based on personal requirements.
Additionally, MuConvert Spotify Music Converter also provides an intuitive interface, enabling users to control the Spotify songs download easily. Now, let's go through the brief guide to preview how MuConvert Spotify Music Converter functions to download Spotify songs to Chromebook.
STEP 1. Launch MuConvert Spotify Music Converter on Windows or Mac desktop, then enter the embedded Spotify web player in the software. You are required to hit the "LOG IN" icon and use your Spotify account to login the web player.
NOTE: It is supported to use Spotify free account for accessing the service. No Spotify premium is required.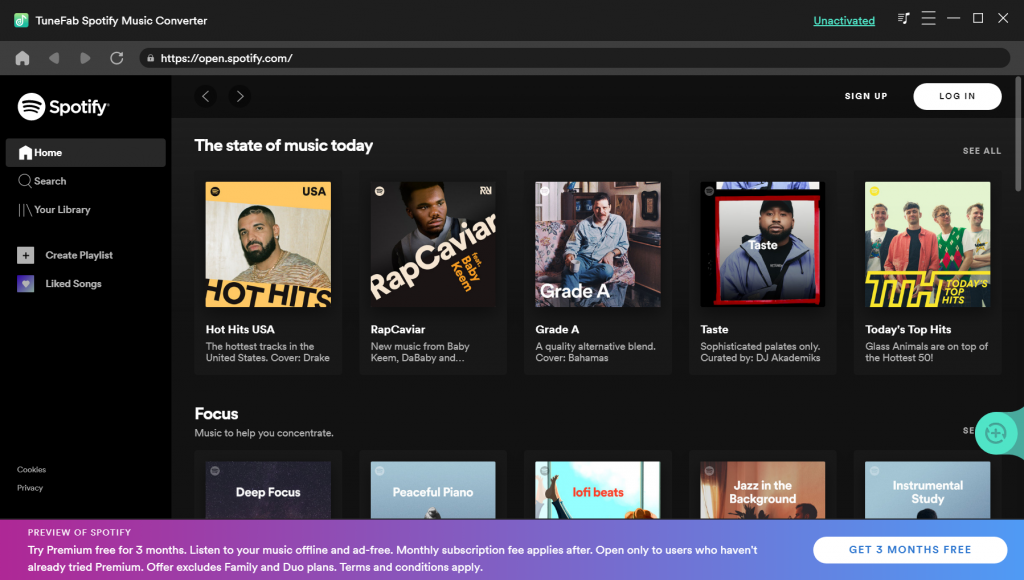 STEP 2. When you have login the account, it is available for you to select a Spotify playlist or album to download now. After that, simply tap the "+" icon and MuConvert Spotify Music Converter will directly convert it for you. Users are only required to select the songs provided in the pop-up list to download.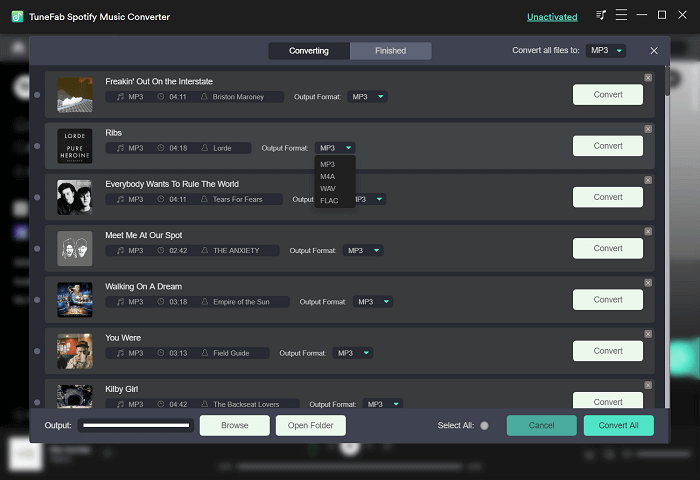 STEP 3. Then, move up to the "Convert all files to" menu and select an output format to download the Spotify songs.
NOTE: By navigating to "Menu" > "Preferences" > "Advanced", you are also allowed to adjust the sample rate and bitrate to download the Spotify songs.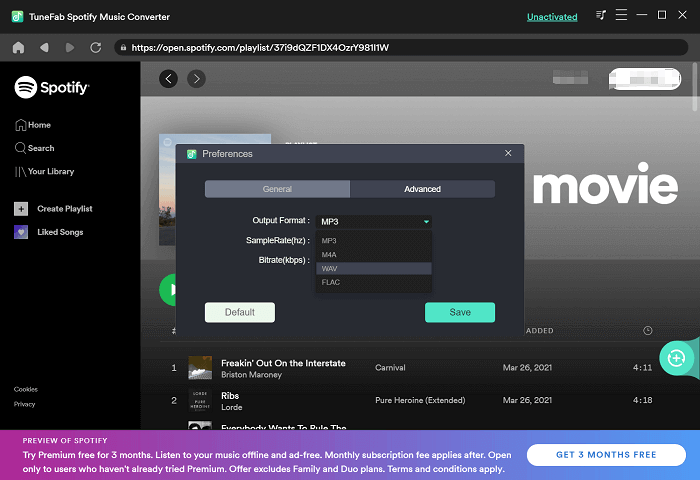 STEP 4. Finally, simply hit the "Convert All" button, and MuConvert Spotify Music Converter will start downloading Spotify playlist for you in batch.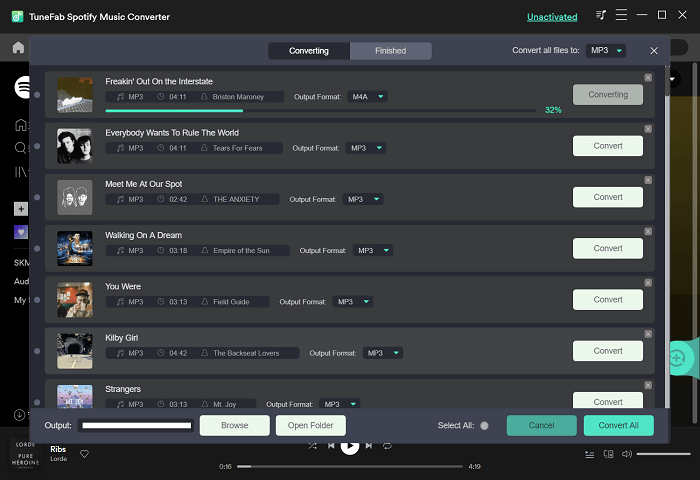 STEP 5. When it is completed, the downloaded Spotify songs are available to be previewed, and you only need to hit the "View Output File" to open the output folder for getting the downloaded songs. Then you are able to transfer them to Chromebook for streaming the music offline using any media player conveniently!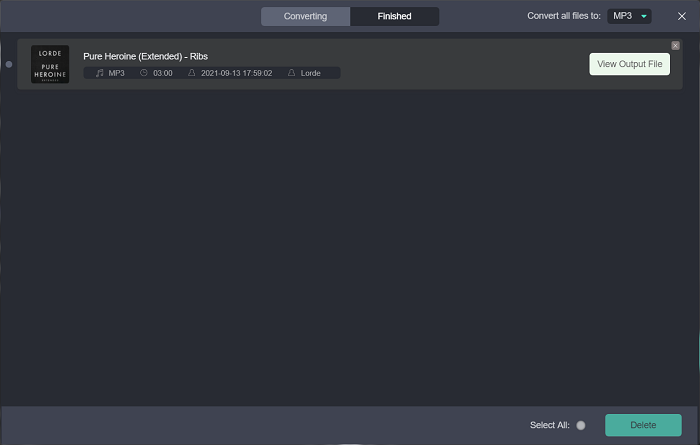 Play Spotify Songs on Chromebook Through Browser
As Spotify hasn't launched a Chromebook version yet, it is still available for Chromebook users to stream Spotify songs on play.spotify.com, which is the Spotify web player. When access the web player and login the Spotify account, you are still available to access the full Spotify library and stream with advanced quality.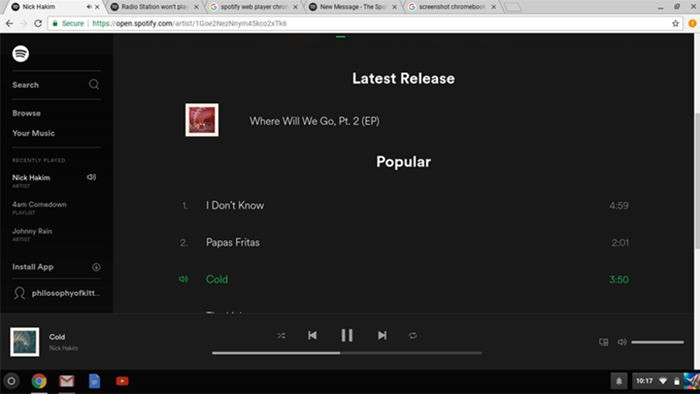 However, you may encounter with the following drawbacks or inconvenience while using Spotify web player to play Spotify songs on Chromebook via the web browser:
The audio quality for streaming Spotify songs via the web player is set by default at the lowest, you won't be able to adjust it like using a desktop software or mobile application;
It is unavailable for users to sync the local songs for mixing with the online playlist to stream back, as the web player doesn't provide such a functionality;
You are not allowed to download Spotify songs for streaming offline even you have upgraded to the premium plan. The download feature provided to premium users is only available for desktop software or mobile applications.
Get Spotify App for Chromebook to Enjoy Music on Linux
An extra trick to get Spotify software installed on Chromebook for playing Spotify music is provided here. Fortunately, the Linux system supports to install Spotify software via special commands, bringing great convenience for the Chromebook devices equipped with the latest Chrome OS system. Only several steps are required to follow (but it would be a bit complicated for everyone to try):
STEP 1. On your Chromebook, go to "App Drawer" > "Linux apps" and launch a "Terminal". Then you are required to add the Spotify repository signing keys to authorize the download behaviors on your device.
STEP 2. Now, enter the command provided here:
sudo apt-key adv –keyserver hkp://keyserver.ubuntu.com:80 –recv-keys 931FF8E79F0876134EDDBDCCA87FF9DF48BF1C90
STEP 3. Now, you should also enter the command of the Spotify repository. Just copy and paste it from here:
echo deb http://repository.spotify.com stable non-free | sudo tee /etc/apt/sources.list.d/spotify.list
STEP 4. Remember to get the latest packages instead of using the outdated ones. You just need to enter these commons to process it:
sudo apt-get update
STEP 5. When the preparation is completed, install Spotify software to the Chromebook now. The following command will be used:
sudo apt-get install spotify-client

STEP 6. Finally, when the installation is done, you are able to enjoy Spotify music streaming via the installed Spotify software opened from the Linux apps menu.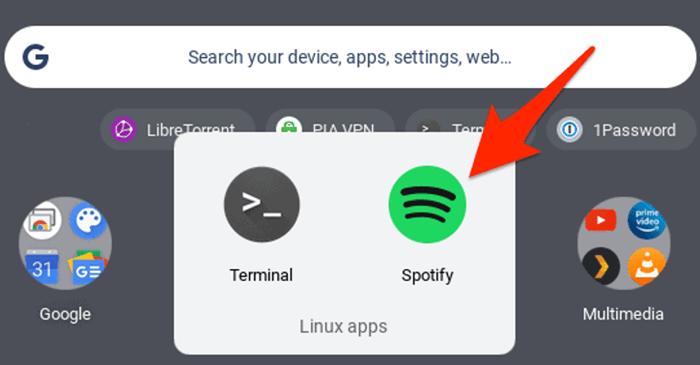 Download Spotify Android App for Chromebook from Play Store
For parts of Chromebook devices, the Google Play Store can be accessed. Then it is available for these users to download Spotify Android app from the Google Player Store for getting the chance to play Spotify songs with great music quality. Now, follow this brief guide to grasp the Spotify Android app on your Chromebook device now:
STEP 1. When you have ensured the Chrome OS system of your Chromebook has been up-to-date, you are able to navigate to select time and open "Settings" in the bottom right corner.
STEP 2. Go to "Google Play Store" section and enable the "Install apps and games from Google Play" option to allow getting apps installed from Google Play Store on the Chromebook.

STEP 3. When a window pops up, submit "I Agree after reading the Terms of Service".
STEP 4. Finally, you are able to access the Spotify app in the store and install it to Chromebook for playing Spotify music easily on the device.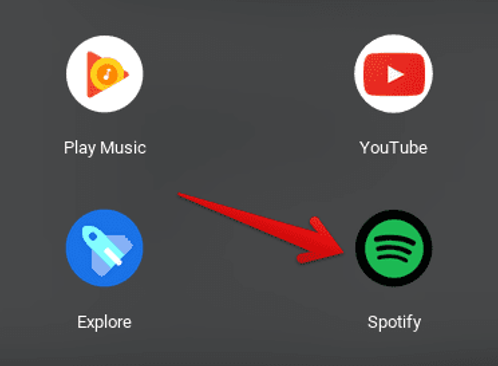 FAQs about Downloading Spotify Songs on Chromebook
Before turning down to the ending, these FAQs could be a guide for those who have encountered with troubles while downloading Spotify for playing on Chromebook. Grasp them and see if your issues can be solved.
Q: Can I upload local files to Spotify using my Chromebook?
A: When you use the Spotify web player to play Spotify songs on Chromebook, it is not available for you to upload the local files to Spotify, as the web player doesn't support the functionality. If you are able to successfully install Spotify desktop software (with Linux system) or the Android app, it becomes possible to upload local files to Spotify for playing.
Q: How to fix Spotify not working on Chromebook?
A: The outdated system or software would always get corrupted, or errors happened because of the incompatibility. Hence, when you encounter with the Spotify not working on Chromebook, try updating your Chrome OS or the Spotify software to the latest version and try again. In most cases, this problem can be solved after the update.
The full comparison among the 4 methods to download Spotify on Chromebook is provided here to help you find the best pick to play Spotify on Chromebook:
| | | | | | |
| --- | --- | --- | --- | --- | --- |
| Methods | Easy Operation | Free of Charge | Software Installation | Import Local Music | High Quality |
| | √ | Register to download a full song | √ | √ | √ |
| Spotify web player | √ | Upgrade to premium for accessing the download feature | × | × | × |
| Spotify for Linux | × | Upgrade to premium for accessing the download feature | √ | √ | √ |
| Spotify Android app | × | Upgrade to premium for accessing the download feature | √ | √ | √ |
Even though Spotify hasn't launched an official software to be fully compatible with the Chromebook devices, we still get the 4 best solutions mentioned here to get it solved. Based on your requirements, simply select the most appropriate method to use. Then you are also able to enjoy the same high quality Spotify music streaming experience on Chromebook devices!