How to Share and Listen to Spotify on Discord [2023 Updated]
Discord has attracted millions of players with its outstanding features – Go Live, All Kinds of Servers, Instant Messaging, Video & Voice Calls, Group Chat, and so on. This platform enables users to socialize, make friends, and have better coordination while playing games across Windows, macOS, Android, iOS, iPadOS, Linux, and in web browsers.
Discord also allows users to connect to accounts on apps so as to unlock special Discord integration. In this case, you can connect your Spotify account to the Discord app to listen to songs along with friends or share your good taste. This guide is going to show you how to share Spotify Music with friends in 2 ways.
Part 1. How to Connect and Listen to Spotify on Discord [Premium Required]
If both you and your friend have Spotify Premium, that is a piece of cake to share and listen to songs on Spotify. You must connect both apps first and then you can share Spotify tracks with ease. To let you be clear about the steps, I break the tutorial down into 2 parts as below.
Connect Spotify with Discord
STEP 1. Run/Open the Discord app/web on your device.
STEP 2. Navigate to the User Settings option and select the Connection option.
STEP 3. Locate the Spotify icon and you should confirm the connection between Spotify and Discord by the OKAY button.
STEP 4. Spotify should be on your connection list now.
Note that you should log in with your Spotify account before connecting to the Discord app.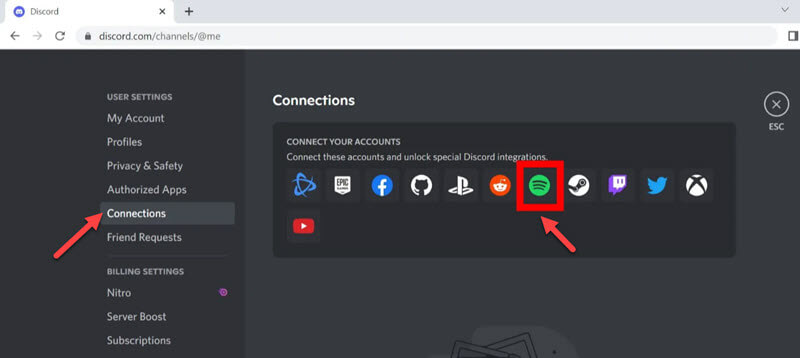 Invite Discord Friends to Listen to Spotify
When the connection is successfully done, you can share your favorite Spotify music with friends when chatting and your friends can join the listening. It's like you're listening right together, and sharing the joy and delight. Isn't that so romantic?
Heads-up: Both the sender and the receiver should subscribe to Spotify Premium and complete the connection between the apps in advance.
STEP 1. Go to the chat screen in Discord.
STEP 2. When you're playing a Spotify song, tap the + button.
STEP 3. Tap Invite someone to Listen to Spotify, and there will be a preview in the chat. It's optional to leave a comment below the preview.
STEP 4. Click the Send Invite button and you can see who is listening at the bottom of the app.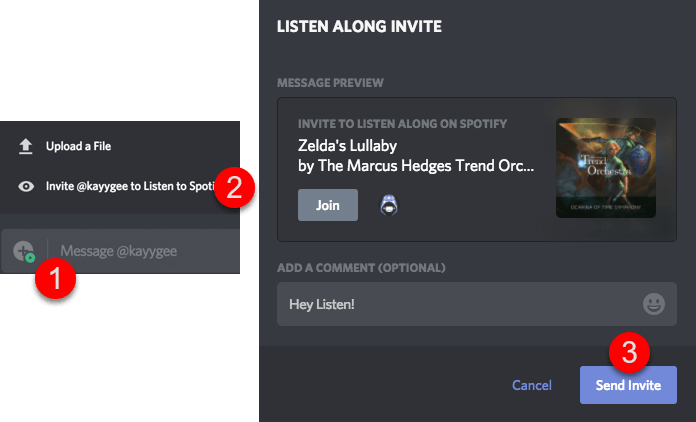 Your friends can tap the Join button to listen to Spotify music with you. However, the message preview would end if you were changing to another song.
Part 2. How to Listen to Spotify on Discord Without Premium
The previous method is exclusive to Spotify Premium members, so it leads to a question for people who don't subscribe to the Spotify Premium plan – How to enjoy and share Spotify songs on Discord without Spotify Premium? Your question will be answered by MuConvert Spotify Music Converter.
MuConvert Spotify Music Converter
is a powerful software to help users download Spotify tracks without Premium onto the desktop and share the tracks with friends on Discord. The program is leading the world in excellent music decryption and transcoding technology with sparking features including:
Professional Decoding Technology – MuConvert is able to bypass the protection and download protected tracks from Spotify to your computer.

Lossless Sound Quality – The program can keep the lossless CD quality of Spotify music when transcoding to digital formats in up to 320kbps.

Batch Download Feature – MuConvert is dedicated to extracting all Ogg Vorbis songs, Playlists, Albums, and Podcasts, with ease and high efficiency.

Instant Download Service – The software comes with the built-in Spotify Music web player, making it ever-easy to download songs from Spotify to Windows and Mac.

Shareable and Transferrable – What I really love about MuConvert Spotify Music Converter is that it can encode Spotify tracks to unprotected MP3, M4A, FLAC, and WAV.
This
Spotify downloader
has expertise in complicated music conversion technology, but it is actually user-friendly and easy to get along with.
STEP 1. Log in Spotify Account
Let's skip the regular setup and skip to launch MuConvert Spotify Music Converter on your desktop. You'll need to sign in the account so that the program can access the tracks on Spotify.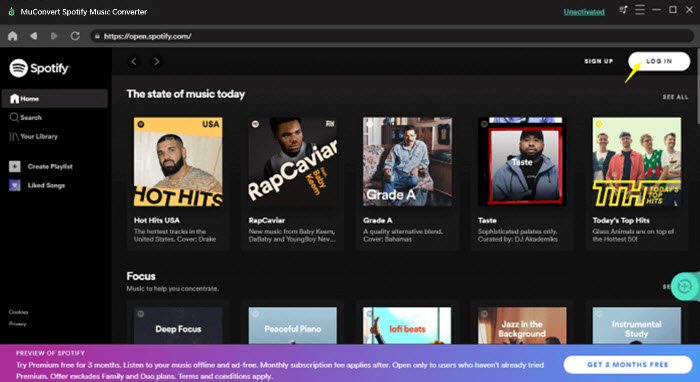 STEP 2. Drag A Song to the Button
You can see a Green + button is floating aside the interface. Click a playlist or album and drag a single song to the floating button. Then, the program will start fetching data from Spotify.
Note that you can directly click the Green + button in a playlist to batch download the entire playlist.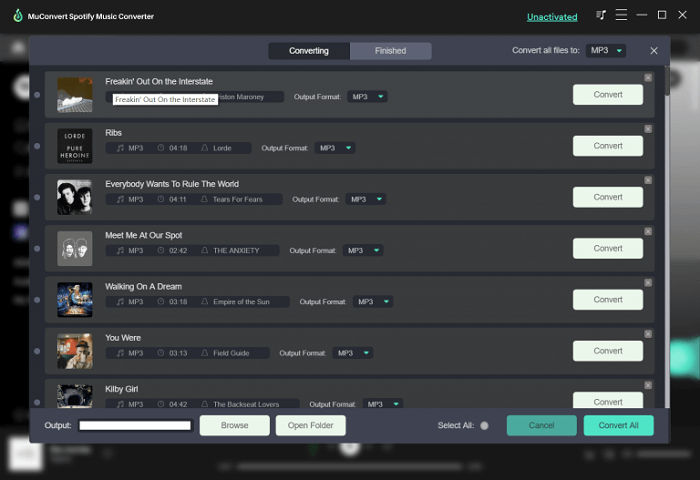 STEP 3. Download Spotify Music
A window will pop up later showing you feeds in the Converting tab. You can go to Convert all files to on the top right and select a shareable output format. I personally recommend MP3, a lossy and universally used format. Now, click the Convert All button to start downloading the tracks from Spotify.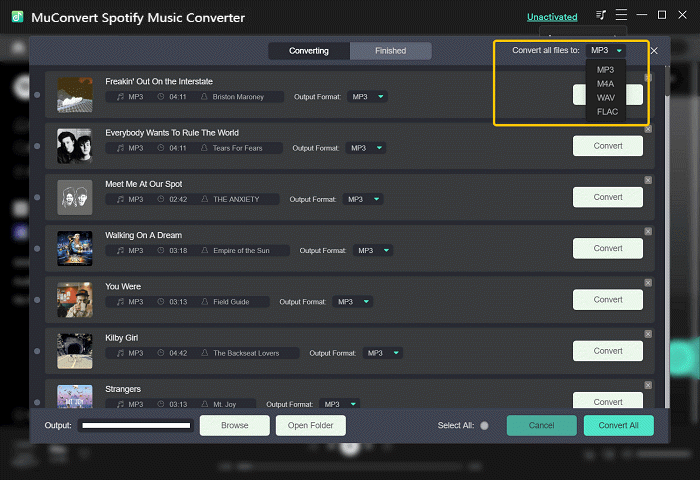 STEP 4. Share Spotify Music with Friends
You can click the Open Folder button to locate the Spotify songs you just downloaded. Now, proceed to Discord Web and open the chat with your friend(s). Click the + icon next to the entering bar and select Upload a File to transfer and share Spotify tracks with your friend(s).