How to Download Spotify Songs to iPad? [Premium & Free]
Spotify is one of the biggest music streaming platforms. However, listeners may find it upsetting to enjoy songs when the internet is bad. Did you ever experience the intolerable interval loading in just one song when listening to Spotify? That's why it's always a nice idea to download Spotify songs to iPad for offline listening.
A question may come to your mind – how to download songs on iPad for free from Spotify if you don't subscribe to its premium plan? There are workable methods for both premium and free users. Take your time to have a look below.
Download Spotify Songs on iPad with Premium Account
This is the official way to save Spotify songs for offline playback. Spotify brought up its paid premium service starting at $9.99 per month for individuals. Firstly, let's see whether it's worth every penny.
Pros
Offline playback anytime.
Available on desktop and mobile devices.
Cons
Cannot download a single song but the whole playlist.
Limited downloads for 10,000 tracks.
Go online at least once every 30 days.
Downloads are unavailable when the Premium plan expires.
How to Get Spotify Premium on iPad
Spotify Premium plan gives a free trial of up to 30 days, which allows you to download Podcasts only. It's recommended to experience it before you determine whether to be a premium member. If you insist on it, check the following guide to get Spotify Premium. The operation is slightly different on devices, here is the tutorial on the desktop.
STEP 2. Click Premium to enter its page for more information. You'd like to check out all the stuff on the page and make sure you are clear with the Premium plan.
STEP 3. Choose a suitable plan. There are four plans: Individual($9.99/mo), Duo($12.99/mo), Family($15.99/mo), and Student($4.99/mo). The Family Plan is the worthiest choice for 6 accounts. You might ask your family or friends to split the bill.
STEP 4. Click GET STARTED and select a payment option. Now, fill out the chart to complete the purchase.
How to Download Songs on Spotify on iPad
After you subscribe to the Premium plan, it's time to learn how to download Spotify songs to your iPad. The Premium plan allows users to download songs from Playlists, Albums, and Podcasts.
STEP 1. Check your Wi-Fi connection or use cellular connection if you have unlimited mobile data.
STEP 2. Go to the Playlists, Albums, Artists, Podcasts, and Shows. Note that Spotify doesn't enable you to download a specific song but the whole list.
STEP 3. You should be able to see a Download arrow when the premium is activated. Tap on it to start downloading the whole list.
You will be asked to use your Apple ID to confirm your identity, just enter your Apple ID number and then click "Enter".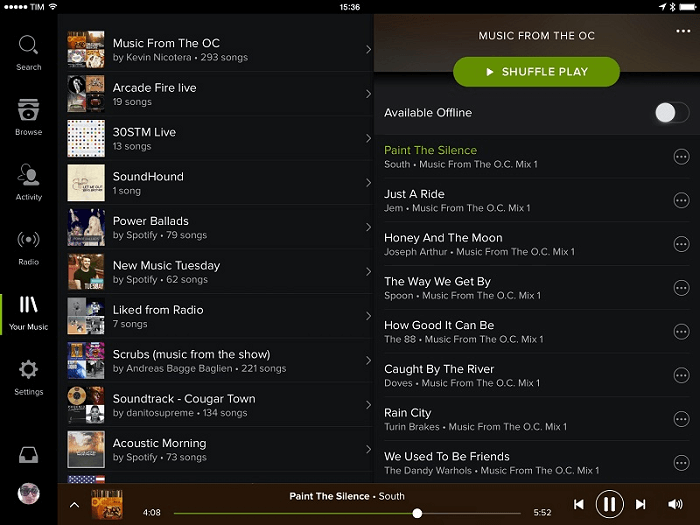 Download Songs from Spotify to iPad for Free
MuConverter Spotify Music Converter
is an expert at downloading songs from Spotify to various digital formats with ease. The software offers an in-built web player that let you easily download any songs or playlists off Spotify. To have an overall introduction, check out the following.
Why MuConvert Spotify Music Converter Stands out?
Advanced decryption technology – MuConvert Spotify Music Converter is devoted to easily decrypting and extracting music tracks from Spotify.
High-quality audio output formats – The program enables users to digitize Spotify songs to MP3, M4A, FLAC, or WAV audio with lossless sound quality in up to 320kbps.
Auto-detection with Spotify Web Player – MuConvert offers quick access for users to directly search and download songs in the program.
Batch download for Playlists, Albums, and Podcasts – The software support downloads in bulk with ultra-fast download speed.
Spotify free or premium available – No matter if you are a free Spotify user or a premium user, you can download songs from Spotify for free.
Ultra-fast downloading speed – MuConvert Spotify Music Converter is designed to have stable performance and ultra-fast decoding rate.
How to Download Songs on Spotify on iPad
If it's your first time getting to know MuConvert Spotify Music Converter, you might want to look up this tutorial. Let's see how to download songs on Spotify without Premium on iPad.
STEP 1. Install MuConvert Spotify Music Converter
To download the converter, simply give it a click on the Download button below. Then, complete the setup and launch the program.
STEP 2. Log in Spotify Account
You'll be in the Spotify Homepage when opening MuConvert. You need to log in to your account for MuConvert to access your favorite songs. Click LOG IN to start. The software will not record any privacy. This is just a Spotify Web Player, an alternative to Google Chrome or Firefox. Please be reassuring.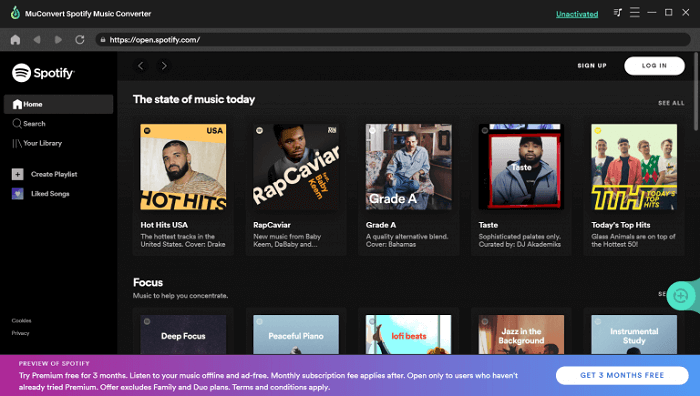 STEP 3. Fetch Spotify Songs
After your log in, open a playlist or album and click the Green Plus icon on the lower right to fetch and extract data over the cloud. It takes no time to show you a list of songs as the picture shown below.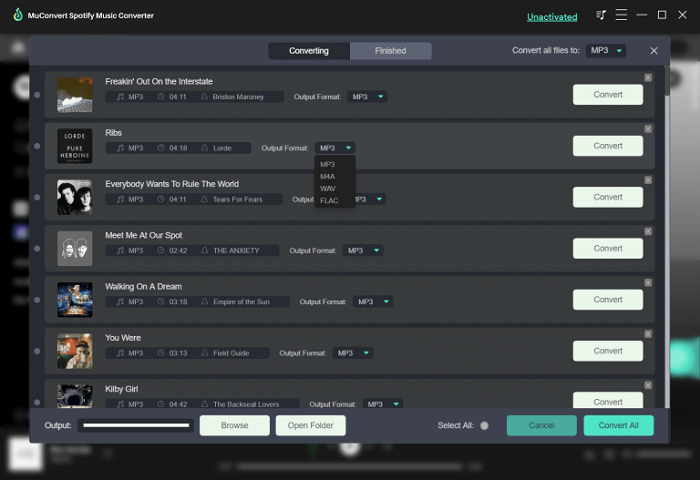 STEP 4. Download Spotify Songs
Please feel free to make selections you want to download. MuConvert Spotify Music Converter enables batch downloads in a click. The default output format is MP3, and you can choose other formats if you have a preference.
Now, click Convert All to start to transcode Spotify songs to specific output format. The converted ones will be in the Finished tab.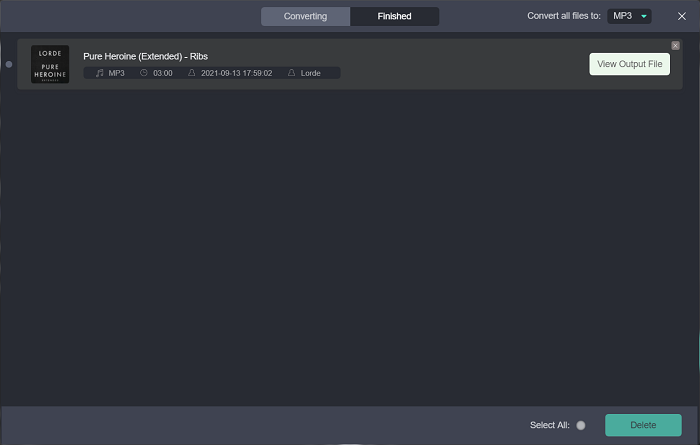 Transfer Spotify Songs to iPad
You already successfully downloaded songs from Spotify to your computer with MuConvert Spotify Music Converter. The next step is to transfer these songs to your iPad. That could be an easy task with the help of iTunes.
STEP 1. Download and install the latest iTunes. Skip the first step if you already have iTunes installed on the computer. Now, click the icon to start up.
STEP 2. Hook up your iPad to your computer and iTunes should be able to automatically connect to your iPad.
STEP 3. Go to the File tab to select Add Files to Library. Here, add the MP3 Files downloaded by MuConvert in the previous part.
STEP 4. Click Music in Settings and check up the box of Sync Music and check up the option for Entire music library.
STEP 5. Click Apply – Sync and the Spotify songs will be transferred to your iPad soon.
Tips on Enjoying Spotify on iPad
I found on Reddit and Apple Community that some iPad users are having trouble using the Spotify app. There are two common problems listed below along with the solutions.
How to Fix Spotify Library Won't Sync Between iPad and iPhone
A user posted on Spotify Community that his Spotify account doesn't sync when he added an album on his iPhone and it somehow didn't show up on iPad with the same accounts. People are following the topic and claim to have the same problem.
In this case, a complete clean reinstall of the app will work, but note that this solution will lead to the reset of all settings to the defaults and the erasing of all previous downloads. If you still want to fix the problem, please go on reading.
STEP 1. Open Spotify on iPad and go to the Gear icon – Settings.
STEP 2. Tap Storage and select the Delete Cache option.
STEP 3. Now, go to Settings – General – Storage on your iPad.
STEP 4. Tap Spotify and choose to Offload the app.
STEP 5. Now, tap Delete App and confirm.
STEP 6. Restart your iPad and install Spotify from the App Store.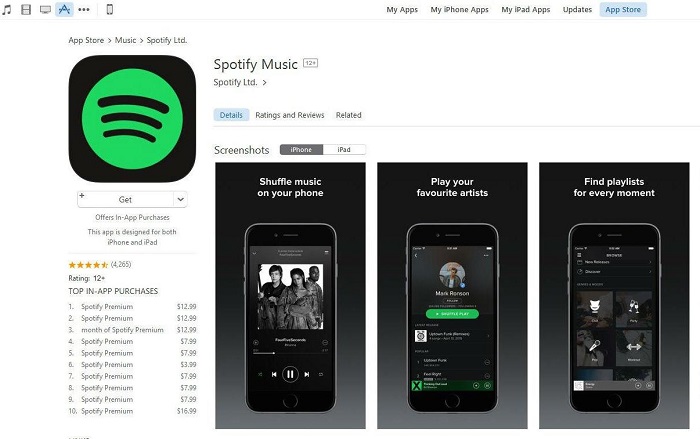 How to Get Spotify Web Player in Desktop Version on iPad?
Some iPad users prefer to
Spotify Web Player
rather than the Spotify app. However, it's different to view Spotify Homepage on a browser between a desktop and a mobile device. The following procedures will show you how to visit the desktop version of Spotify Web Player in iPad.
STEP 1. Open the Safari app and go to Spotify.
STEP 2. Tap the aA icon in the address bar and the dropdown menu will show up.
STEP 3. Tap the Request Desktop Website option.
STEP 4. The page will refresh and redirect to the desktop version of Spotify.
MuConvert Spotify Music Converter
is a better Spotify song downloader than its premium plan. It allows users to download unlimited songs from Spotify to various formats in high quality, which makes it easy to share and store your favorite songs. Check the post and I'm sure an ideal option will pop into your mind.