How to Connect Shazam to Spotify for Song Recognition
Have you ever heard a beautiful song in a cafe or club, and wish to save it to your playlist but fail because you can't know its title? This is actually a daily scenario that would greatly happens in our lives. To resolve this problem, some music recognition apps like Shazam, are developed to give us a favor. Today, let's walk through the comprehensive introduction of Shazam, and the way to add Shazam to Spotify for realizing the music recognition within Spotify. Now, please continue reading.
As introduced before, Shazam is a music recognition app, which is developed to help people easily recognize a song only by capturing 20 seconds of it. Regardless of which parts you play like the intro, verse, chorus, or outro of the song, Shazam could detect the melody and pair with the exact resource from its database, then present the accurate result to you. Over the years, Shazam has helped many people to find out the music when they have heard occasionally, such as in a club, cafe, or other public areas.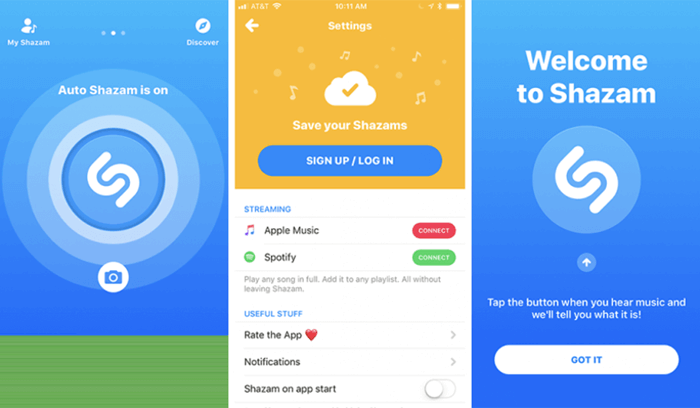 How to Connect Shazam to Spotify
A surprising feature of Shazam should be its ability to integrate with Spotify. By adding Shazam to Spotify, people can directly play the full version within Spotify once they use capture the part of a song with Shazam. Of course, to make this Shazam feature workable, you ought to build to the connection between Shazam and Spotify in the first place. The following manipulation guide will just show you how.
First, sign up for both the Shazam and Spotify account. Then please launch Shazam on your device and turn to Library within the app.
Enter Settings. When you scroll the list to find Spotify, please tap the connect button.
When the connection is built, the Auto-add Shazams to Spotify option would also occur. Please tap to toggle it on.
Subsequently, a playlist named My Shazam Tracks would be created in Spotify. Once you utilize Shazam to recognize a song, its full version will be added to this playlist automatically.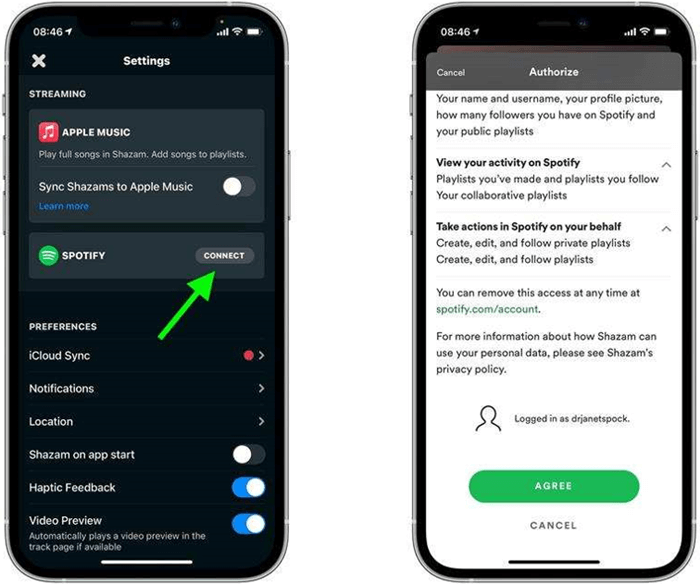 How to Add Shazam to A Spotify Playlist without Premium
When Shazam could help automatically add the recognized songs to your Spotify playlist for streaming directly, you won't be allowed to stream the whole playlist as Spotify would insert some random songs and ads to disturb your music playback, unless subscribing to Spotify Premium.
If you consider bypassing the obstacles brought by Spotify and wish to add Shazam songs to any Spotify playlist without Spotify Premium subscription, MuConvert Spotify Music Converter is what you need.
MuConvert Spotify Music Converter brings the excellent music download function, allowing all Spotify users to easily bypass DRM encryption, and download Spotify songs offline in the popular audio encoders, such as MP3, M4A, WAV, and FLAC, in that leading to the free music playback offline without any prohibition. MuConvert Spotify Music Converter also ensures high sound quality, with customizable parameter settings to personalize the exported music files as people wish, highly guarantees people's music streaming experience offline.
Furthermore, MuConvert Spotify Music Converter also values the productivity, in that it is also equipped with the feature to speed up the music download to 5X faster. Plus the batch convert feature, this Spotify downloader greatly facilitates Spotify Music download to be a time-saving job.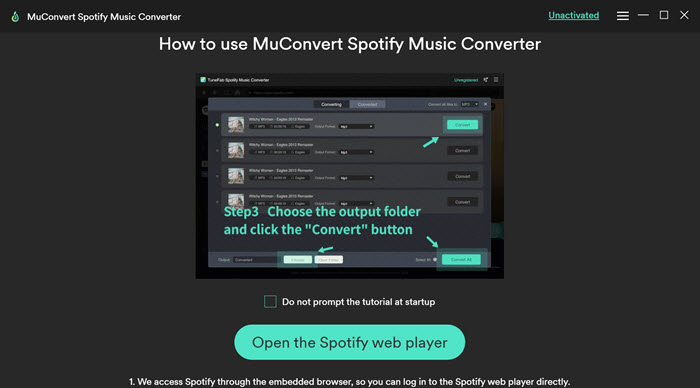 Here, these procedures conclude to be the basic manipulation for downloading the Shazam playlist in Spotify to realize free music streaming offline. Please check.
Step 1. Log in Spotify Web Player to Access the Shazam Playlist
First, please install MuConvert Spotify Music Converter on your computer. As it completes, run the program and enter its Spotify Web Player for logging in your account. Otherwise, you are unavailable to access the Shazam playlist saved in your music library.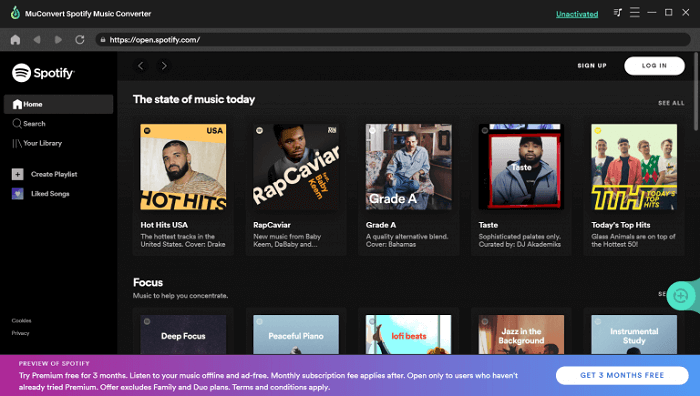 Step 2. Add Shazam Playlist to Convert
Once the account logged in, please turn to your playlists list and scroll to find the Shazam playlist. You can directly drag it to the Add icon aside for allowing MuConvert Spotify Music Converter to convert all the concluded Spotify songs.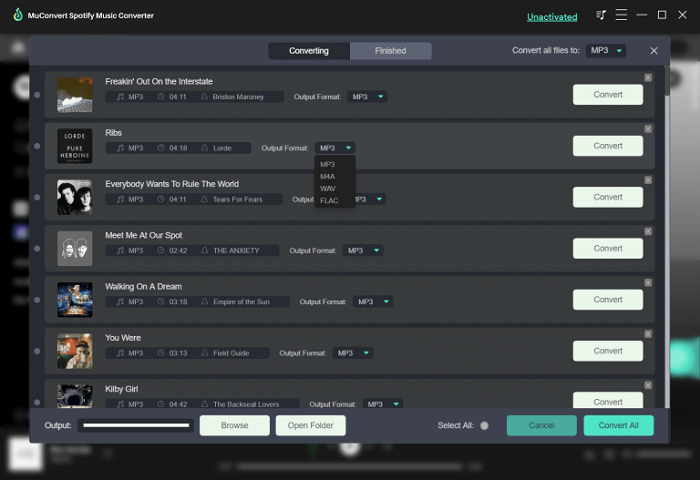 Step 3. Select Format to Download Shazam Playlist
Subsequently, as the Shazam songs are all detected by MuConvert Spotify Music Converter, please select an encoder to export the songs in your preferences.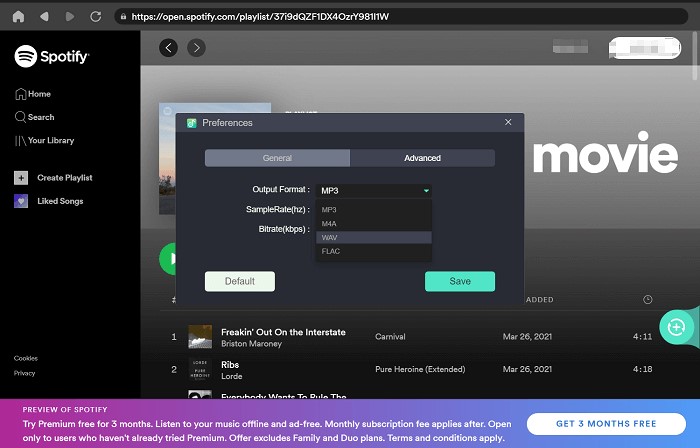 Step 4. Download Shazam Playlist for Offline Streaming
Eventually, simply tap the Convert All button, MuConvert Spotify Music Converter will proceed downloading the Shazam playlist and export the songs to local music files with your select encoder. Subsequently, you can access the downloaded items under Finished module by clicking on the View Output File button.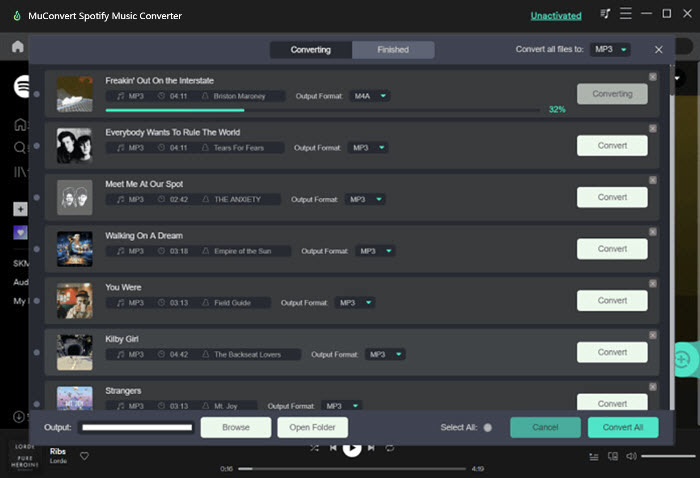 How to Fix My Past Shazam Tracks Spotify No Longer Syncing
Although adding Shazam to Spotify is an effective way for people to sync the playlist in that they could directly stream songs within Spotify, there are still users reported that some of the detected songs are not available to be synchronized from Shazam to Spotify. Therefore, here provides a simple method to help you fix the failure in synchronizing Shazam tracks to Spotify.
Run Shazam app. Then turn to Settings to disconnect Spotify by tapping the DISCONNECTbutton.
Subsequently, also open Spotify and delete the whole Shazam playlist from your music library.
Now, please return back to Shazam and reconnect Shazam with Spotify again to process the playlist synchronization.
Shazam is a great app available for detecting songs by the short 20-second melody at any time when you hear about a song outside. Adding Shazam to Spotify also assists people to conveniently synchronize the newly detected songs for streaming in the full version. It is recommended to use Shazam to detect more beautiful tracks in daily life!