How to Add and Play Spotify Music to Sonos [Best 2 Ways]
Spotify provides not only the world's largest music database converting music of all categories, but also the advanced music streaming experience to all its dear users. Through building up the partnership with the smart speaker, Sonos, users are able to directly stream the Spotify songs to Sonos for enhancing the music playback experience to a higher level.
If you just get a Sonos device and is wondering the correct way to add and play Spotify music to it, this blog is what you need. Here, the two mostly used methods will be introduced to help you stream Spotify to Sonos with ease. Now, just get down to the blog and start reading!
How to Play Spotify Music Directly to Your Sonos Speaker
The build-up cooperation between Spotify and Sonos delivers a straightforward way for users to stream Spotify music directly to Sonos speaker without extra help from third-party apps (but the official Spotify and Sonos apps are required to be installed). Now, the tutorial here will guide you to the correct way of playing Spotify music to Sonos speaker directly on both desktops and mobile devices.
NOTE: You are required to go through the following full steps to play Spotify music on Sonos if you are the first time using it.
STEP 1. Add Spotify to Sonos
You are able to install both the mobile and desktop software of Sonos to add Spotify as a music playback source to make the Spotify music streaming available.
On iOS/Android: When the Sonos app is installed on your iOS or Android devices, navigate to "Settings" > "Services & Voice" > "Music & Content" > "Add a Service" > "Spotify" and select to "Add to Sonos".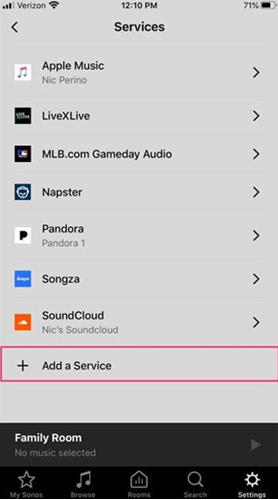 On Windows/Mac: Download Sonos software on desktops, then launch it and navigate to "Select a Music Source" > "Add Music Services". You are required to select "Spotify" to complete the Spotify adding process.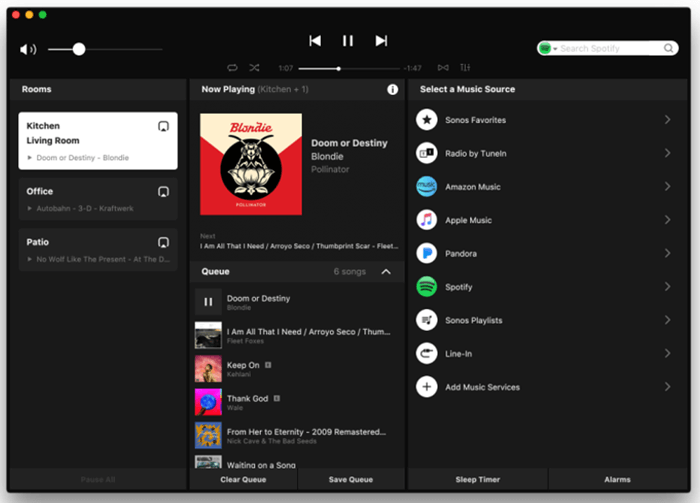 STEP 2. Connect Sonos Speaker to the Same Wi-Fi
No matter you use a mobile device or a computer, you should make sure that both your device and the Sonos are connected with the same Wi-Fi. This is an important basic to stream Spotify on Sonos properly.
STEP 3. Play Spotify to Sonos Speaker
As the network connection is double-checked, directly launch the Spotify program on computer or in your mobile device for selecting the song to playback. After that, you are able to turn to "Now Playing" > "Devices Available" for detecting and connecting to the Sonos speaker. Finally, the Spotify song is available to be played to Sonos successfully!
NOTE: Disconnect Spotify via Sonos
When the Spotify playback ends, users are able to select to logout Spotify on Sonos. This process can be completed using the web browser. Users are required to go to Spotify website and login the account. Then, navigate to "Apps" and remove Sonos from the approved list. Finally, submit to "Sign out everywhere" on the main page, and your Spotify is disconnected via Sonos successfully.

Best Alternative Way to Play Spotify on Sonos Without Premium
The partnership built between Spotify and Sonos has brought users more convenient and high-quality music streaming experience. However, Spotify only provides the full streaming features to its premium users. For Spotify free accounts, you are only available to play Spotify singles and playlists through Sonos, with only the limited 6 skips within an hour. So, is there way available for us to play Spotify on Sonos even without premium?
Alternatively, MuConvert Spotify Music Converter provides the equally professional way for users to download Spotify songs to mainstream audio formats such as MP3, M4A, WAV, and FLAC. Then users are able to transfer the downloaded Spotify songs to Sonos for playing without extra limitations. With the built-in Spotify web player, users don't need to waste much time like the traditional URL copying-and-pasting process. Simply by opening a Spotify playlist, MuConvert Spotify Music Converter is able to analyze it and converts for you to download with ease.
Other Highlighted Features of MuConvert Spotify Music Converter
No Spotify premium account required;
Empower the highest 5X faster conversion speed;
The original quality and ID3 info preservation;
Bulk download supported to grasp multiple Spotify songs simultaneously;
Intuitive interface and easy-to-grasp functionality;
Ads-free in-app performance and stable conversion.
The brief guide is also provided here to show you the process of download Spotify songs to play on Sonos via this Spotify Music downloader.
STEP 1. Launch MuConvert Spotify Music Converter and submit the "Open the Spotify web player" icon to enter the built-in Spotify web player. Now, you are available to login your Spotify account for accessing the playlists in the library by hitting the "LOG IN" icon on the upper-right corner.
NOTE: You are not allowed to download Spotify songs or playlists without login the web player. It doesn't require a premium account in MuConvert Spotify Music Converter.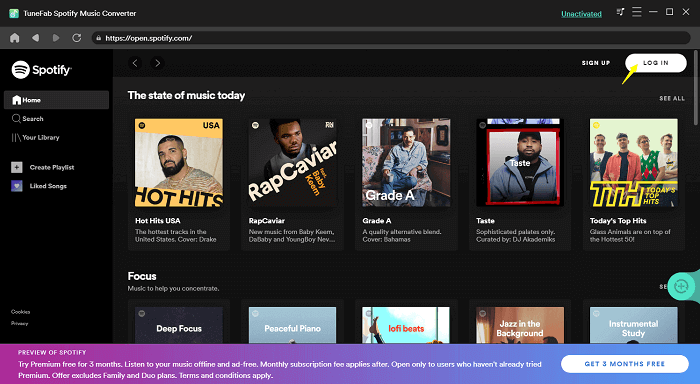 STEP 2. When you login the Spotify web player, directly open a Spotify playlist and hit the "+" icon floating on the right side of the screen to convert the playlist. Just a minute, the playlist is provided in a pop-up window for you to select the songs you desire to download and play to Sonos.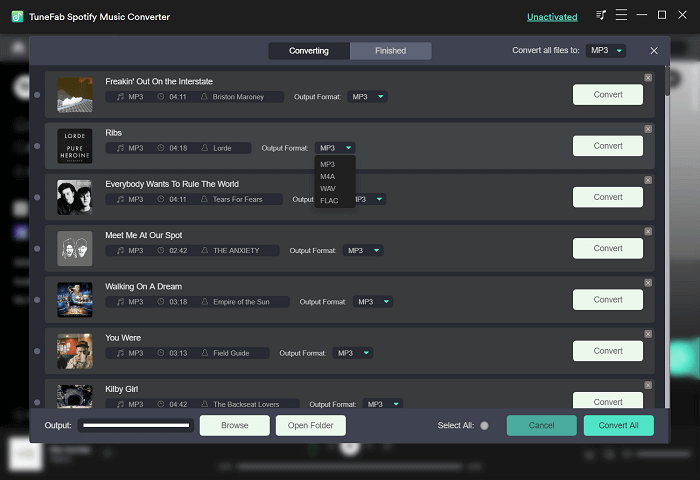 STEP 3. Now, you are able to customize the output parameters for the Spotify songs you are going to download. Just head to "Menu" > "Preferences" > "Advanced" and you are available to select the output format, sample rate, and bitrate based on your needs.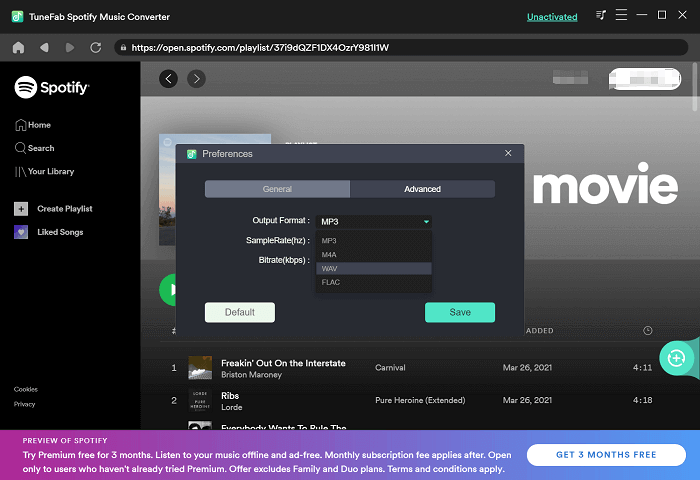 STEP 4. When the settings are completed, directly hit the "Convert All" icon to start downloading Spotify songs offline. When it is done, you will get the songs saved in selected format offline on your desktop.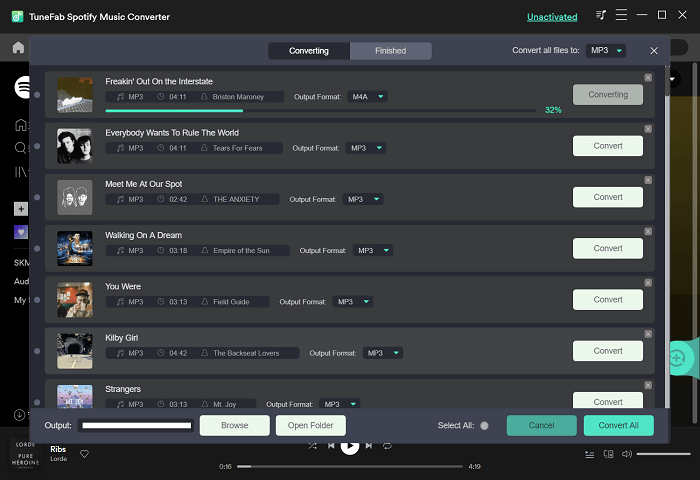 STEP 5. Now, go to Sonos app on your desktop, and go to "Manage" > "Update Music Library Now" to submit importing the downloaded Spotify songs to Sonos library. After that, you are able to enjoy the Spotify songs via the Sonos speaker even without connecting the device to the same Wi-Fi as your desktops or mobile phones.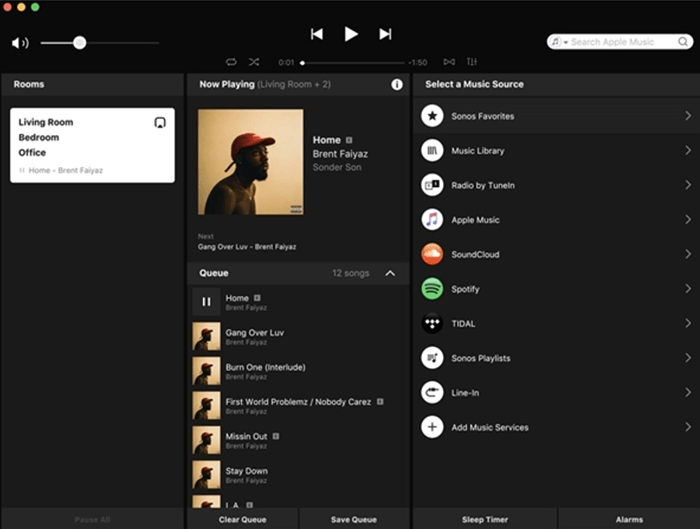 How to Solve Spotify Not Working on Sonos Speakers when Playing Music
Unexpectedly, it may have the times when you encounter with Spotify not playing on Sonos, preventing you from enjoying the music streaming successfully. Here are 3 workable solutions you are able to try when running into the Spotify playback failure on Sonos.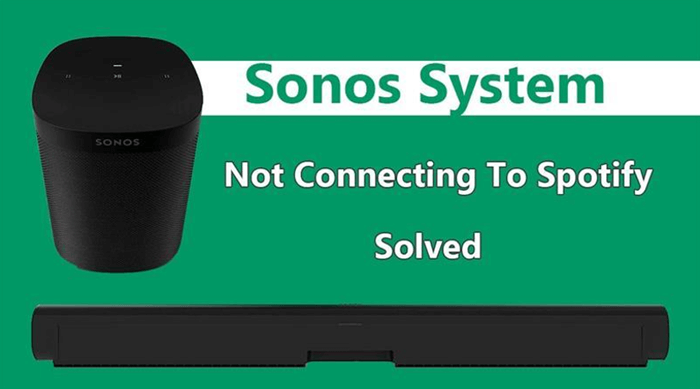 1. Re-login Spotify in Sonos
The failure in streaming Spotify to Sonos may occur because of the improper connection between the services. Hence, you are able to try unlinking the Spotify account and re-connect them again for seeing if the problem can be solved.
When your Spotify app runs for a long while, its data may get corrupted, thus results in the Spotify not playing error. You are able to try restarting the app to see if it can work again for playing Spotify songs on Sonos.
3. Clean Up Spotify App Cache
Through deleting cache stored in the Spotify app to remove the temporary files, you are able to get the Spotify songs streaming properly on Sonos again.
More Useful Tips About Spotify and Sonos
Want more helpful tips about Spotify and Sonos? You could get help from the following FAQs raised by most people! Check them now.
Q: How to change Spotify account on Sonos?
A: As the Sonos app is able to help users change a Spotify account for accessing different playlists for streaming easily, you are only required to launch Sonos software on mobile devices or desktops to complete the process.
On iOS/Android: Navigate to "Browse" > "You Account Name" for changing the account to another you desire to login.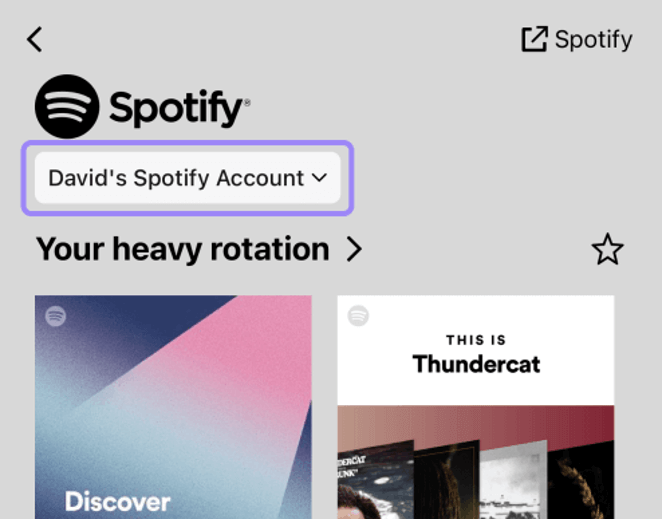 On Windows/Mac: In the software, go to "Select a Music Source" and drop the menu to select "Spotify". Then you are available to switch the Spotify account to the other one you are going to login.

Q: Can I play my own music on Sonos?
A: Of course! Sonos enables users to update the music library by importing the local songs to it. When the songs are added to Sonos app, you are able to stream them through Sonos speaker, even without connecting to the network.
Q: Can I use Spotify with Sonos with a free account?
A: For sure. Spotify used to enable premium-only accounts to stream Spotify songs through Sonos speaker. As it developed, the free accounts of Spotify are also supported to connect Spotify with Sonos for directly streaming, but with limitations. For example, only the singles and playlists are supported to stream through Sonos, and there are only 6 chances to skip the songs within an hour. But Spotify premium users don't have such limitations.
As the music streaming services are developed to a better state, users may wish a better way to enjoy the songs with more enjoyable experience. In recent days, more and more people would use speakers such as Sonos to stream Spotify songs. Based on such demand, this blog helps you find the correct way to play Spotify on Sonos with ease. Share it with your friends if you also consider it helpful!