How to Play Spotify Music via HomePod Mini (Full Guide)
HomePod Mini, and smart speaker developed by Apple, can be used to play audio contents simply by connecting it to your devices through the Bluetooth. However, if you want to play some music, you will find that HomePod Mini would play songs from Apple Music by default. But actually, HomePod Mini can also support many other music streaming platform, including Pandora and Deezer. However, for Spotify, there are still limitations in directly playing it on HomePod Mini.
So, in today's article, you will learn about how to play Spotify on HomePod Mini in several ways. Read the article and see how to do it now.
HomePod Mini's limitations on Spotify
Since the launch of HomePod Mini, the device can support the direct playback of the contents providing in those in-built streaming apps on iOS devices such as Apple Music, iHeartRadio and so on, which people can directly use Siri to control the playback on HomePod Mini. Later, it was also improved to be compatible with other music streaming apps such as Deezer and Pandora, although they were not supported to be set as the default music streaming.
However, Spotify has not been announced to be directly supported on HomePod Mini yet. That means you can't directly add Spotify Music to HomePod Mini for selecting songs for playback through the devices. But it doesn't mean that Spotify Music playback is banned on HomePod Mini – you just need another way to make it work. So, in the following parts, you will learn the correct ways to play Spotify on HomePod Mini.
How can I play Spotify on my HomePod Mini through Apple device?
If you are using an Apple device and want to play Spotify on HomePod Mini through it, these methods are helpful to you.
Enable AirPlay to play on HomePod Mini
The first method is to enable AirPlay on your iOS device and use it to connect with HomePod Mini for getting the Spotify songs playback on the device.
Step 1. At first, you need to open the Bluetooth function on your iOS device. Then connect both of your iOS device and the HomePod Mini to the same Wi-Fi network.
Step 2. Open Spotify app. Then select one Spotify song in it to play. When you open the music playback window, click the device icon in the bottom right corner.
Step 3. Then the "Listening on" window will show up to let you select the device for playing the Spotify song. Now you can select the "AirPlay or Bluetooth" option.
Step 4. Next, the device list will also appear. From the list, find your HomePod Mini and then click it to connect. Then the Spotify song can be played on it.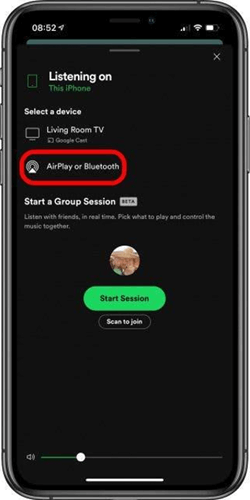 Tip: If your HomePod Mini is playing other content, you need to replace it with the Spotify song, or the music can't be played through the HomePod Mini successfully.
Play through iPhone Control Center
Instead of setting in Spotify app, using the Control Center on Apple devices can also easily make Spotify Music be played on HomePod Mini successfully.
Step 1. When you have turned on the Bluetooth function on the Apple device, also remember to connect it and your HomePod Mini to the same Wi-Fi. Then directly start playing Spotify Music within the app.
Step 2. When the Spotify Music is playing, you just need to swipe your screen to call out the "Control Center".
Step 3. In the music playback block, there will be an "AirPlay" icon provided in the corner. Click it and you can select a device from an appeared list to play the Spotify songs.
Step 4. From the device list, just select HomePod Mini and your Apple device will connect with it and play Spotify Music directly.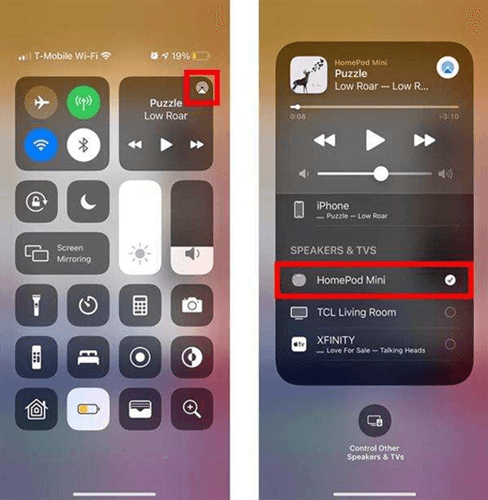 Play with HomePod Mini "relay play" and iPhone "AirPlay&Handoff"
HomePod Mini also provides a feature called "replay play" to make the Spotify Music playback on the device more convenient. People just need to preset some settings to easily use this function to play Spotify songs through HomePod Mini.
Step 1. Open "Settings" on your iPhone, then enter "General" for opening "AirPlay & Handoff". Here you need to turn on the "Transfer to HomePod" option.
Step 2. Now, also turn on Bluetooth and connect both your iPhone and HomePod Mini to the same Wi-Fi.
Step 3. Start playing a Spotify song. Now when you take the iPhone and move it closer to the top of the HomePod Mini device, you will see the notification on iPhone showing you that it is transferring the Spotify song to HomePod Mini, then the music will be played on HomePod Mini successfully.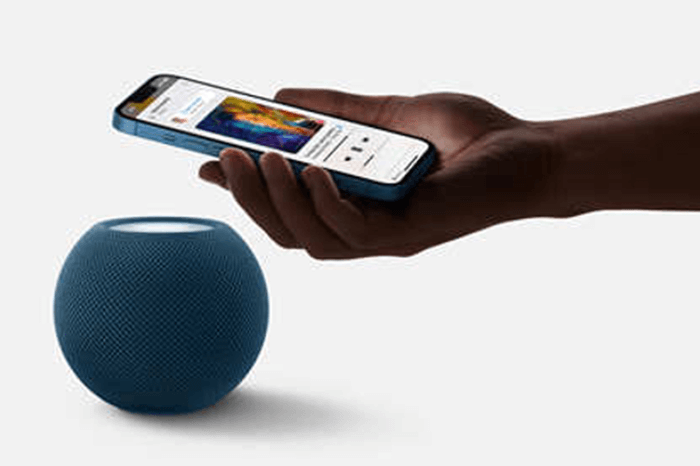 Play Spotify Music on HomePod Mini with Professional Software
However, sometimes when the Wi-Fi network or the Bluetooth connection are not stable, you may fail to enjoy the lossless Spotify playback through HomePod Mini following the introduced ways above. As a result, here is going to recommend a professional software to download Spotify songs with the best music quality for playing on HomePod Mini conveniently offline.
MuConvert Spotify Music Converter provides professional help to let people easily download Spotify songs offline with the best quality to have the original music playback experience off Spotify app. By converting the online music to the common audio files in MP3, M4A, WAV, or FLAC formats, people can then save the songs to the players that are supported by HomePod Mini and have the offline playback with great quality more conveniently.
Key Features:
Provides the common audio formats to save the downloaded Spotify songs for playing on any devices
Offers the in-built Spotify Web Player to directly choose music to download
Keeps original quality and ID3 information to save the downloaded Spotify Music
Supports up to 5X faster speed to batch download Spotify songs quickly
Step 1. Sign in Spotify Web Player in MuConvert Spotify Music Converter
Open MuConvert Spotify Music Converter when you have installed it on your computer. Then when you enter the in-built Spotify Web Player, you need to click the "LOG IN" button on the top-right corner to sign in using your Spotify account.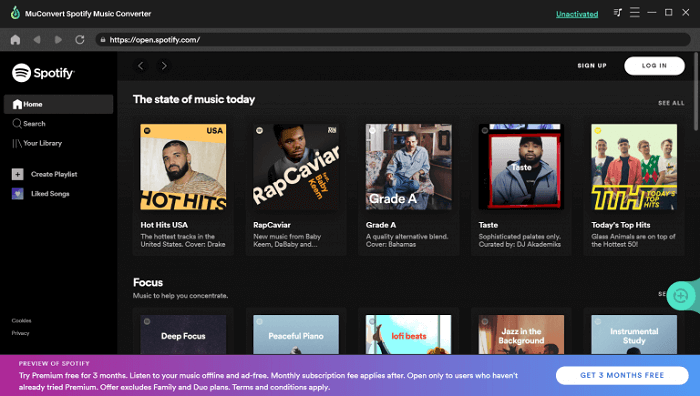 Step 2. Choose Spotify Playlists to Download
When you have signed in the web player, you can directly find any Spotify playlists for adding to the "+" button to get ready for downloading them offline and play through your HomePod Mini.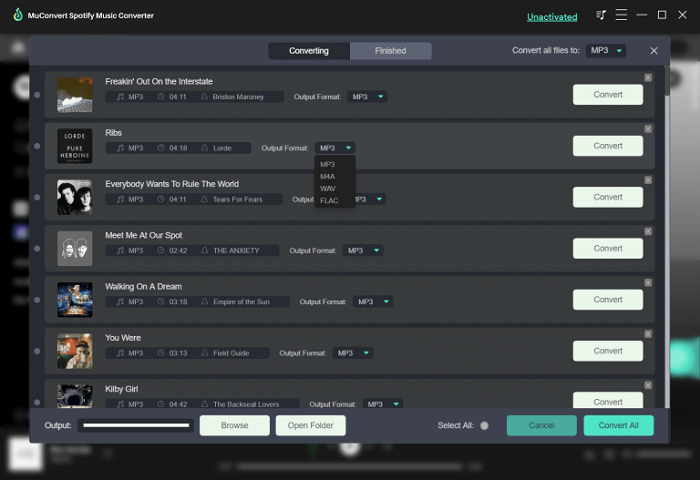 Step 3. Choose Output Format to Download Spotify Songs
When the Spotify songs are selected, you can go to the "Convert all files to" menu on the top-right corner and then choose an output format to download the Spotify Music. There are four options provided, which are MP3, M4A, WAV, and FLAC.
If you need to change the parameters such as the "SampleRate" and "Bitrate" to the highest options, you just need to open the "Preferences" setting window and go to the "Advanced" tab to do it.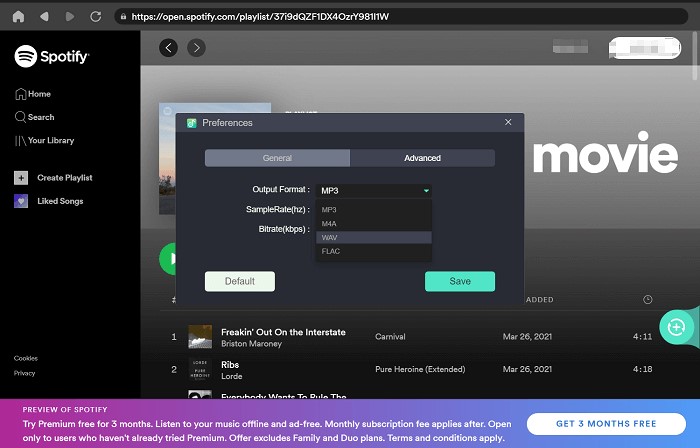 Step 4. Download Spotify Playlists to Your Computer
After selecting the output format, just by pressing the "Convert All" button and the Spotify playlists will be downloaded offline. When it finishes, you can find the downloaded music, then move them to iTunes and import to your iOS devices for directly play on HomePod Mini offline!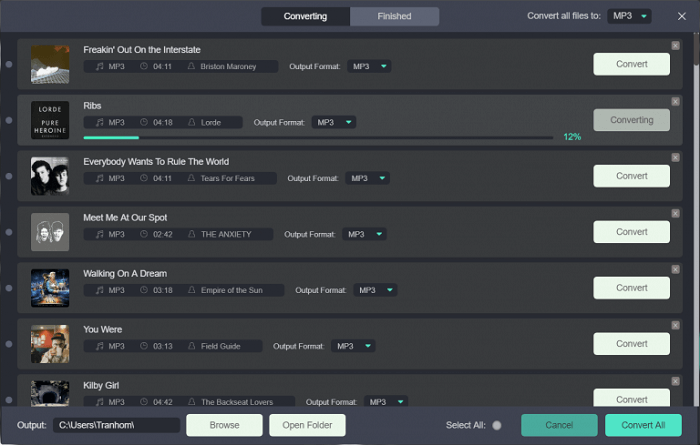 How to control my HomePod Mini with Siri commands to play Spotify music?
When you have downloaded Spotify songs using MuConvert Spotify Music Converter and move them to your iOS devices, now you can friendly play Spotify Music (the downloaded ones) through HomePod Mini by controlling the playback using Siri commands. Here are some commonly used voice commands you can ask HomePod Mini to control the Spotify Music playback for you:
"Hey Siri, turn the volume up."
"Hey Siri, turn the volume to [x]%."
"Hey Siri, turn the volume down."
"Hey Siri, pause this song."
"Hey Siri, resume the song."
"Hey Siri, play the next song."
Tips: What Music Services Can be Supported on HomePod Mini
At present, HomePod Mini works to support the direct playback of some music services like iHeartRadio, Radio.com, Deezer, TuneIn, Pandora and Amazon Music. That means you are able to directly play these music resources using HomePod Mini's features, including the Siri commands and also with the best audio quality.
Although HomePod Mini is not supported the directly playback of Spotify Music, with some default features of iOS devices and the powerful MuConvert Spotify Music Converter, you can still make Spotify songs playable on HomePod Mini. Now, if you also have bought a HomePod Mini and want to play Spotify songs on it, try any of these methods to do it!