The Homepod Mini, a compact yet powerful smart speaker, can work with all of your Apple products, amplifying the musical ambience of social gatherings. However, while the HomePod Mini seamlessly integrates with Apple Music, many Spotify enthusiasts have wondered how they can play their favorite Spotify music on this remarkable device.
Unluckily, HomePod Mini only supports Apple Music as its default music player. In that case, can you still stream Spotify music to HomePod Mini?
Of course! Whether you use an iPhone, iPad, or Mac, this blog offers practical solutions to ensure a harmonious fusion between your HomePod Mini and Spotify.
Play Spotify on HomePod Mini Through an iPhone/ iPad
Spotify, one of the most popular streaming services, is home to an expansive music library. If you're a fan of Spotify and own a HomePod Mini, you are able to play your favorite Spotify tunes at any party venue through your iPhone or iPad by following the two methods.

AirPlay Songs from Spotify to HomePod Mini
Even though direct integration of your Spotify account with HomePod is not possible, you can utilize AirPlay as an alternative. To play Spotify on your HomePod, follow the steps outlined below.
NOTE:
Ensure that the HomePod Mini and your iPhone/iPad are connected to the same Wi-Fi network. Besides, during the song playback, if you exit Spotify, the HomePod Mini will pause the song.
Step 1: Open Spotify on your iPhone and begin playing the desired song.

Step 2: Navigate to the screen that displays information about the currently playing song. On this screen, tap the device menu at the bottom left corner. 

Step 3: From the pop-up menu, tap "AirPlay or Bluetooth". Within the list of available devices, find your HomePod listed under the category "Speakers & TVs."

Step 4: Select your HomePod from the list to establish a connection. Once connected, the selected song from Spotify on your iPhone will start streaming through your HomePod. 


Play Spotify via iPhone Control Centre AirPlay
The above method is designed to help you play Spotify on HomePod via Airplay from Spotify app. Yet if you want to play it on HomePod for an increasingly immersive experience, you don't have to access Spotify every time to change sound output. You can do that from the lock screen by following the provided steps.
Step 1: Power on your iPad lock screen.
Step 2: Locate the AirPlay icon on the music player widget and give it a tap. up menu will appear.  

Step 3: A pop-up menu will appear. Then pick your HomePod Mini, and now you can relish your favorite Spotify tracks on the HomePod.

Listen to Spotify on HomePod Mini Using a Mac
You can not only play Spotify on your HomePod through an iPhone or iPad but also use your Mac to stream music from Spotify to your HomePod. Both the Spotify Web player and the app for Mac are useful to achieve that. Let's explore the step-by-step tutorial for that.
Step 1: Go to the Spotify web player or open your Spotify app on your Mac.
Step 2: Locate and tap the Control Center option in the top right corner.
Step 3: Click on the AirPlay icon within the Sound menu.
Step 4: Choose your HomePod as the preferred destination for audio output. Upon completion of these steps, your Mac will begin playing your beloved Spotify tracks through the HomePod.
Siri Command Spotify Music on HomePod Mini with Professional Tool
It is handy and convenient to play Spotify on HomePod using Airplay, isn't it? Better still, you can also use Siri Command to automatically play your HomePod Mini Spotify. But how to do that? Since Apple Music is the only default music service on HomePod Mini, you can't directly play Spotify on HomePod. For this, a tool such as MuConvert Spotify Music Converter can be your best partner to help you use Siri Commands and play Spotify on your HomePod directly.
MuConvert Spotify Music Converter, with a built-in web player, can convert and download music from Spotify to MP3 format. Thus you can permanently save the music downloaded to your devices and then enjoy them offline or transfer them to various devices, such as computers, smartphones, tablets, and MP3 players. After that, Siri Command can be used to directly play Spotify on HomePod.
Key Features of MuConvert Spotify Music Converter


Download Spotify Content Without Premium: Integrated with the Spotify web player, the converter enables downloading of music tracks, albums, playlists, and podcasts from Spotify without needing a Premium account.
Effortless Conversion to Multiple Formats: Easily converts individual songs, entire playlists, or podcast episodes from Spotify to multiple formats including MP3, M4A, WAV, AIFF, ALAC, and FLAC.
High-Speed Conversion: Utilizes advanced acceleration technology to achieve ripping speeds at least 35 times faster and maintains high audio quality in the output files despite the increased ripping speed.
Flexible Output Settings: Allows users to select output quality ranging from 128 Kbps to 320 Kbps and offers advanced settings to customize output audio parameters like bit rate and sample rate. Since this Spotify converter is handy and practical, how to download Spotify to MP3 format? Just follow the steps below.


Step 1: Install it and Sign in with your Spotify Account.
Once you launch MuConvert Spotify Music Converter, you'll gain access to the built-in Spotify web player. Then log in to your Spotify account by clicking the Login button situated in the upper right corner.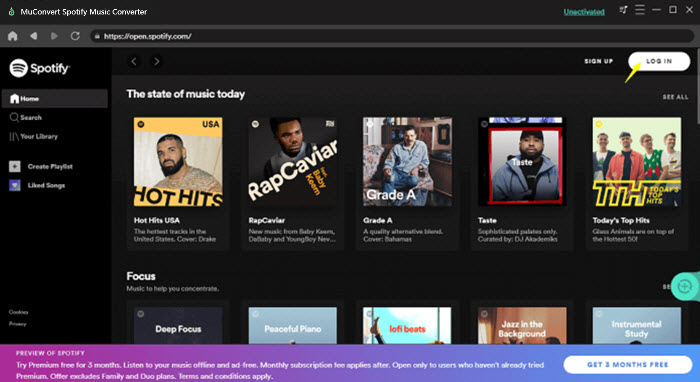 Step 2: Choose the songs or playlists you like to convert.
Explore and locate the particular songs that catch your attention. Following that, you can easily click and drag these selected songs to the movable "+" symbol located on the screen's right-hand side.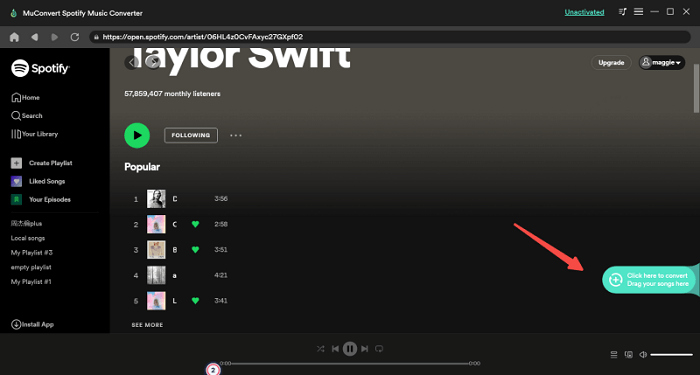 Step 3: Setting MP3 output format.
Once the playlist analysis is complete, you have the option to pick songs and select "Convert all files to." From there, you can choose the desired output format for the conversion. After making your selections, click on "Convert All" and patiently wait for the process to finish.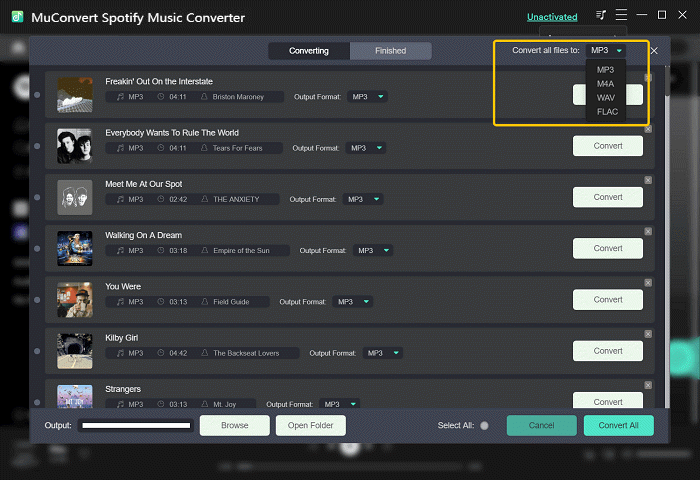 Step 4: Start conversion and downloading.
After the preference setting, tap the "Convert All" button to download Spotify songs. And patiently wait for the process to finish.  After downloading these tracks and saving them to your device, you can directly use your Siri Commands to play Spotify music on HomePod Mini with ease.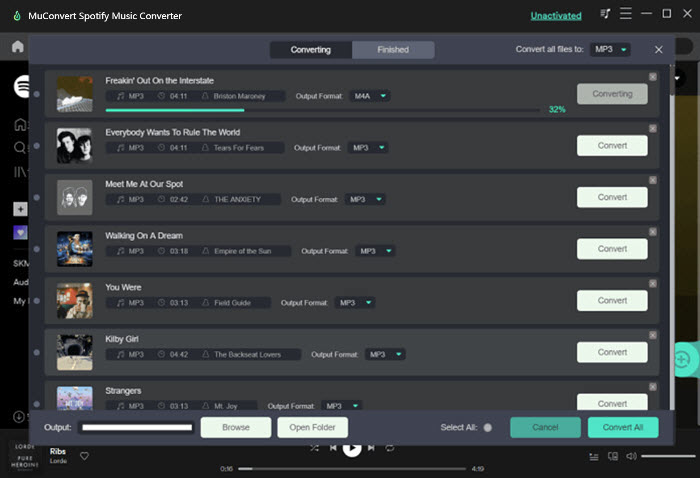 FAQs About Playing Spotify on Homepod Mini
Can I Play Spotify Music on Homepod Mini with Siri Commands?
Yes! But you can't do that directly because Apple Music remains the default playback service for the Homepod Mini. If you really want to use Siri Commands for convenience, you can utilize a spotify downloader, MuConvert Spotify Music Converter. It canconvert Spotify songs to MP3 and then transfer them to an iOS device. Then you can use Siri to play these converted songs.

What Music Services Can be Supported on Homepod Mini?
Apart from Music Apple, there are lots of music services that can be supported on Homepod Mini, such as Pandora, Deezer, TuneIn Radio, iHeartRadio, as well as other third-party music services including Spotify, YouTube Music, and Amazon.

Conclusion
There are several workable methods including using Airplay or a third-party tool to help you play Spotify on HomePod through iPhone, iPad, or Mac. If you want to use Siri Commands for more convenient playing, you are recommended to use MuConvert Spotify Music Converter to download Spotify to MP3 format. The music downloaded can be permanently saved, so you can not only use Siri Commands but enjoy offline Spotify tracks with unlimited transmission.
Convert Spotify Music to MP3 in 320kbps
Drag and drop to convert Spotify songs, albums, playlists, and podcasts to MP3 easily.