How to Transfer Apple Music to Spotify (The Easiest Way)
Recently, Apply Music has announced its new features that would like to provide people with a more enjoyable streaming and listening experience. For example, the new Listen Now tab offers a higher level of personalization. The newly established lossless music quality is also incredible because music exports all around you and ensures a decent listening experience.
However, if you are not attracted by these new features and want to move to Spotify, this post will introduce different tools for you to convert the songs from Apple Music to local files and import them to Spotify.
Why Choose Spotify over Apple Music
Both Apple Music and Spotify are major players in the music streaming industry. It is natural that you find it complicated to decide which to subscribe. Perhaps the decision is easy to make for Apple avids. But there still have chances that some of you don't want to rely too much on Apple and choose to escape from Apple's ecosystem. And Spotify can be an ideal replacement. And here are some sound reasons to explain why Spotify can outweigh other similar products.
Spotify is the largest music streaming platform highly compatible with all systems.
Spotify is in-built with a brilliant podcast listening feature.
Spotify features an amazingly smart algorithm for content recommendations.
Spotify has a more economical subscription plan than Apple Music.
But once you've made up your mind to switch Apple Music to Spotify, is there any efficient ways to migrate Apple Music library to Spotify? The following will recommend some handy tools to deal with your problem.
#1. MuConvert Apple Music Converter
Also, it has other outstanding features that are worthy to use:
Fast speed to convert the Apple Music tracks that ensures good music quality
Reserve the ID3 tags and metadata of the music tracks while transferring
High compatibility with different devices
Support several languages for users' convenience
Able to convert a bulk of music tracks at once
Most surprisingly, this software is very easy to manipulate.
Step 1. Download and install it from the official website.
Step 2. Open MuConvert Apple Music Converter on the desktop and select Continue Trial.
Step 3. Select the song(s) that you would like to convert to the local.
Step 4. Set the output format, quality, and location below the song, and click Convert.
Step 5. Find out the song(s) in the Finished tab or in the location that you save the song(s).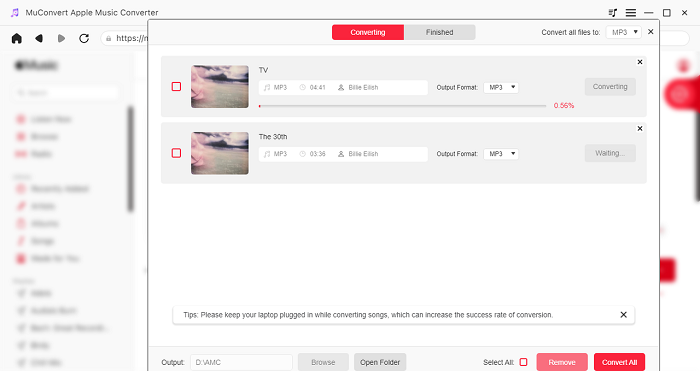 NOTE: 
MuConvert Apple Music Converter has been updated to the built-in player version, you can listen to Apple Music directly in the embedded Apple Web Player without downloading iTunes, which will bring you great convenience. If you have already installed the old version, you need to uninstall it and reinstall the new version to update, otherwise, it will still be the old version.
The next step is uploading Apple Music songs to Spotify for later listening.
Step 1. Open Spotify and click on the down arrow beside your profile.
Step 2. Tap Settings and scroll down to click Add A Source to import the songs that you have converted.
Step 3. Then Spotify will show you the songs. Please right-click the songs and choose to Add to Playlist. You can add them to a new or an existing playlist as you like.
Step 4. Go to the playlist and click Downloaded Songs. Subsequently, you can start listening to the music.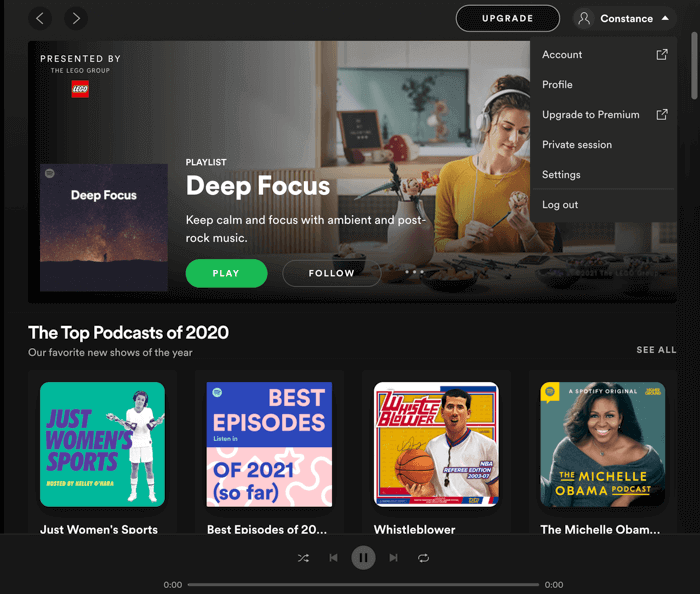 The second in this list is SongShift, another professional tool to transfer Apple Music to Spotify. With an intuitive interface, SongShift will be easy to manipulate when people need to transfer the playlist from Apple Music to Spotify. Additionally, if you want to transfer playlists between other music streaming platforms, SongShift can also do it for you.
To use SongShift to convert Apple Music to Spotify, please follow the below steps:
Step 1. Download and install SongShift to your Mac or iPhone. Next, please open it from your user interface.
Step 2. Click Setup Source > Connect Music Services > Apple Music > Connect > Authorize > Agree the information. Please follow this path to authorize SongShift to connect to Spotify. Before connecting, please ensure that you have accounts or subscriptions for these two apps. After you have completed connecting, please click on Done.
Step 3. When you are redirected to the main feed, please select Setup Source again and you will see Apple Music and Spotify icons this time.
Step 4. Tap Apple Music > Select Media Type > Playlist. Subsequently, please select the playlist that you would like to transfer your songs.
Step 5. Return back to the main feed and choose Setup Destination. Next, select the Spotify icon and follow the path: New Playlist > Save to Favourites > I'm Finished.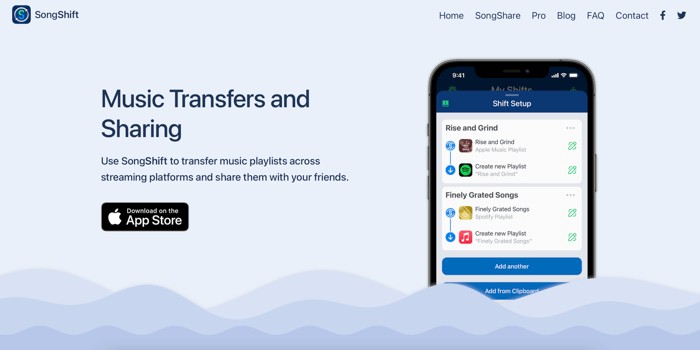 #3. Sidify Apple Music Converter
Sidify Music Converter is another reliable option to transfer Apple Music to Spotify. Like MuConvert Apple Music Converter, it can keep the ID3 tags and original quality while converting Apple Music songs. With different output formats supported, users are able to make Apple music songs free from DRM protection offline, then get the way to transfer them to Spotify for listening. Also, it offers continuous free updates and support if there are any technical problems.
You can learn to use Sididy Apple Music Converter in simple four steps:
Step 1. Download and install Sididy Apple Music Converter to your device and activate it.
Step 2. Click Add and choose the playlist and songs that you would like to import from Apple Music to Spotify. Tap OK.
Step 3. Select the Settings icon and you can choose the output format, quality, and location as you wish.
Step 4. Click Convert and Sididy Apple Music Converter will start to get your songs to the location.
The next thing that you should do is to follow the above steps to upload your songs to Spotify.
Is it easy and simple? These three tools are the final best recommendations after our careful comparison. Feel free and safe to use them. Different tools have their unique features, so grab one and start your journey to transfer Apple Music to Spotify. No bothering!