TunesKit Audible Converter Review (Pros, Cons, & Its Alternatives)
An Audible converter gives you the favor to remove Audible DRM restrictions and enjoy the audiobooks streaming locally in more flexible ways. When TunesKit Audible Converter provides corresponding help to convert Audible books to DRM-free files of popular encoders, including MP3, you may be attracted by it and wish to get the hands-on program in no time.
Nevertheless, as TunesKit Audible Converter is not free of charge completely, it is recommended to think twice before getting started. From this review, you get the opportunity to understand TunesKit Audible Converter in in-depth, from its pros and cons, to the core function offered to all of you. Now, dive in and read in detail.
TunesKit Audible Converter - Pros and Cons
Pros
Deliver simple UI for hands-on experience in converting protected Audible books.

A powerful DRM removal feature is provided to get free Audible books for free streaming locally.

Offer the most popular and widely-utilized encoders such as MP3, M4A, WAV, WMA, FLAC, AAC, AC3, OGG, etc.

Original quality can be fully retained while the Audible conversion processes.

It can save the chapters and ID3 information accompanying the audiobooks without losing them.

Speed up the batch conversion to 100X faster to facilitate higher productivity in Audible books converting.

A splitter feature is embedded to help trim long audiobooks into segments.
Cons
The free version has restrictions on accessing the full Audible conversion function.

Sometimes the conversion speed will be slowed down according to the Internet stability.
TunesKit Audible Converter Overview
As introduced above, TunesKit Audible Converter is a program mainly developed to provide the DRM-removing service to help you bypass the restrictions brought by Audible DRM, in that you enjoy audiobook streaming in more flexible ways. For instance, you can keep the downloaded audiobooks off the Audible app and utilize any media player for streaming regardless of what devices you are taking.
To deliver the best Audible books streaming experience, TunesKit Audible Converter is equipped with those DRM-free encoders such as MP3, M4A, WAV, WMA, FLAC, AAC, AC3, OGG, and more for selection. Meanwhile, it can retain the original sound quality, and the metadata information like chapters and ID3 tags while managing the Audible conversion, making sure that you can take the same audiobook streaming process after downloading the audiobooks to regular audio files.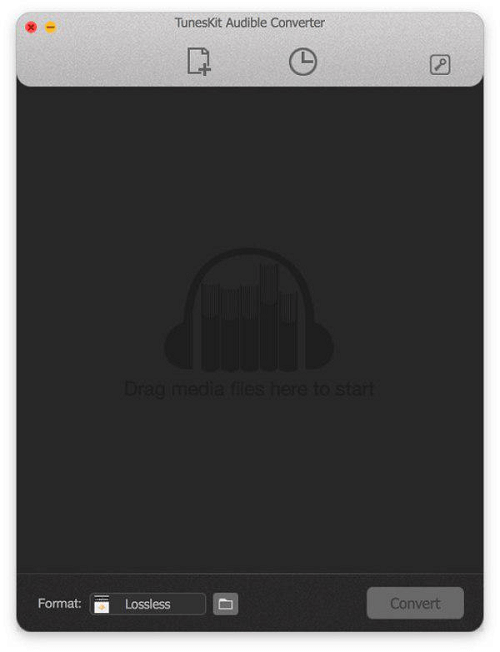 System Requirements and Availability
Please pre-check the system requirements and availability of TunesKit Audible Converter to evaluate whether it can be fully compatible with your devices:
| | |
| --- | --- |
| Operating System | Windows, Mac |
| Processor | 1G Hz processor, or above |
| RAM | 256MB or higher of RAM |
| Monitor | Monitor with 1024×768 pixels or higher resolution |
| Input Audio Formats | Protected AA, AAX audiobooks |
| Output Formats | Lossless audio, MP3, M4A, AAC, AC3, OGG, AIFF, APE, FLAC, WAV, WMA, M4B, M4R, MKA, AU |
Explore TunesKit Audible Converter Features
Surely, TunesKit Audible Converter provides user-friendly service and also attractive features that will drive its popularity. Dive in to read in-depth.
Being designed with a straightforward interface, TunesKit Audible Converter ensures the intuitive manipulation of processing Audible conversion effortlessly. From the main feed of the program, you can only see several simple buttons without any confusing options. Even for starters, you will find TunesKit Audible Converter pretty easy to get started.
When it refers to the program performance, as TunesKit Audible Converter can work independently without connecting to iTunes or Audible apps, it can lead to stable performance and a higher success rate in managing the audiobook conversion regardless of the types and length.
As a way to facilitate a better user experience, TunesKit Audible Converter also equips multiple highlighted abilities to make its performance more competitive:
Simple drag-and-drop audiobook importing – when the Audible books are well-prepared, simply dragging them to the interface can complete the importing in no time.
Customized audio parameters – when the program offers the right for you to determine the encoder, codec, audio channel, sample rate, and bitrate, you can define the quality of the audiobook with freedom as needed.
ID3 tags edition – for the ID3 tags of each audiobook, you can alter its title, author, etc if required for better sorting after the downloads are complete.
Split large Audible books into segments – replacing saving a long Audible book of large size, the built-in splitting function allows you to cut it into smaller segments for easier transferring, storing, and playing.
How to Convert Audible Books
Now, please take one more minute to walk through the manipulation of TunesKit Audible Converter to see how it works exactly:
Step 1. Add Audible Books
First, complete the program installation. Meanwhile, you can prepare to download the Audible books you wish to convert in advance. Later, when you open it, directly drag the audiobooks to the interface for importing.
Step 2. Configure Parameters
When the Audible books have been added, please click on the Format module in the bottom left side of the interface and configure the parameters such as encoder, codec, audio channel, sample rate, as well as bitrate to export the audiobooks in preferences.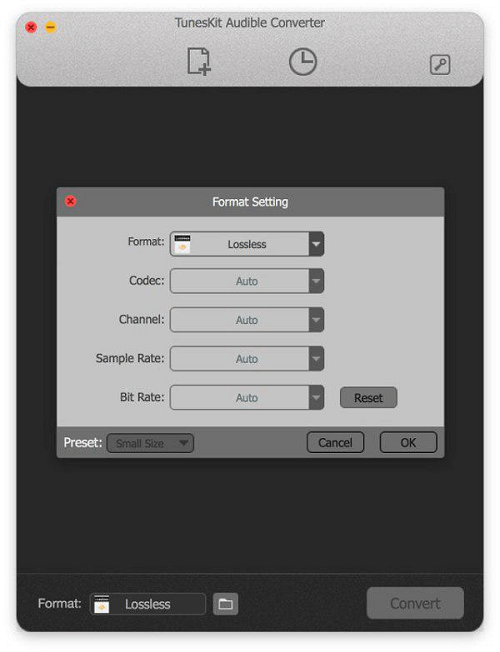 For easier audiobook sorting and organizing, simply by clicking on the edit icon next to the audiobook information, you can edit the ID3 tags like the title and author of it accordingly.
Step 4. Turn on Splitting Mode (If Need)
Subsequently, before proceeding with the conversion, you can turn on the splitting mode to trim the audiobooks into smaller parts by time or chapters in preferences.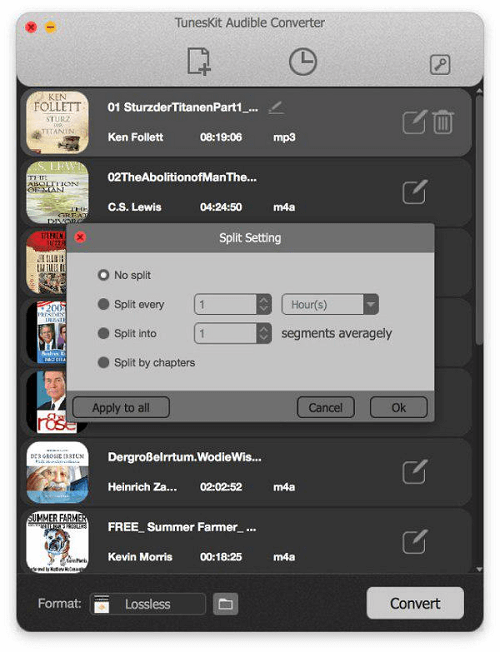 Step 5. Convert Audible Books
Eventually, please tap the Convert button to initiate the conversion of the Audible book. It takes only a short while to complete as ThnesKit Audible Converter can speed up the conversion to 100X faster than you could imagine!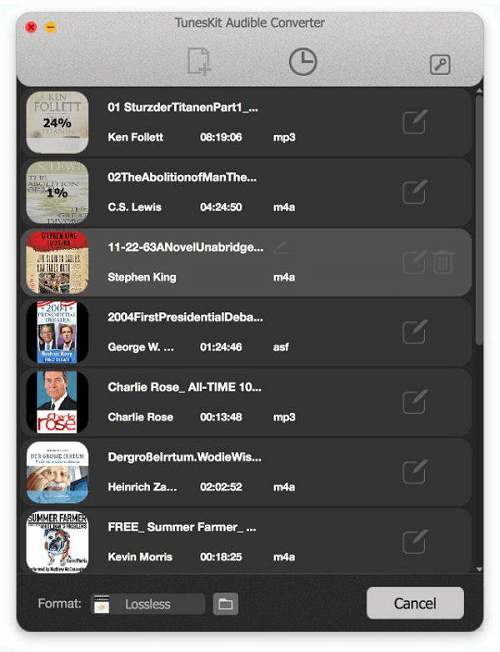 As mentioned, TunesKit Audible Converter is not free at all. To bypass all its restrictions under the free trial and convert complete Audible books, you ought to upgrade to its registered version.
The official offers the lifetime license at only $49.95 for every user to utilize the full feature on 1 single device. You can also turn to its subscription plans at lower prices every 1 month (at $9.95) and 3 months (at $14.95).
Perfect Alternative to TunesKit Audible Converter - MuConvert
Replacing TunesKit Audible Converter,
MuConvert Audible Converter
delivers a stabler function to
convert Audible to MP3
on both Windows and macOS computers. Like TunesKit, the program can function at high speed and easily decrypt sophisticated DRM protection with just a click. By comparison, MuConvert Audible Converter provides fewer output encoders but the best sound quality to export the converted files. Similarly, the ID3 tags saving and splitting modes are both available in the program, so it would be an effortless process if you wish to switch from TunesKit to MuConvert.
NOTE:
If you want to learn more details about MuConvert Audible Converter, you can navigate to this article:
MuConvert Audible Converter Review: All Details Included
.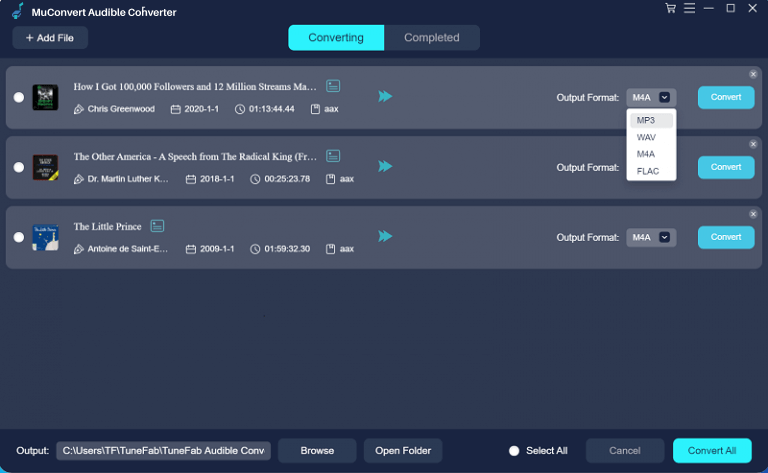 Both TunesKit and
MuConvert Audible Converter
are considered as two of the
best Audible converters
today. Therefore, no matter which one to choose, you can enjoy the conversion of the Audible book with a stable, fast, and high-quality experience, leading to a more flexible audiobook enjoyment offline.