How to Make a Collaborative Playlist on Spotify (Mobile & Desktop)
Spotify boasts multiple social features and a unique one is making a collaborative playlist with other music lovers. A collaborative playlist can provide you with an easy and interesting way to share music with friends and discover new songs. Then, we will show you how to make and add songs to a collaborative playlist on Spotify in detail.
What Is Spotify Collaborative Playlist
Introduced in late 2020, the collaborative playlist of Spotify is a feature that allows you and other users to add, remove, edit and record tracks or podcasts in a shared playlist. With this upgraded feature, you can freely build fantastic playlists for different occasions, from parties to family trips, and then share them with your friends and family.
To make your playlist collaborative, you need invite other users to contribute by tapping the Add User button in the playlist header and sharing the playlist link with them. It should be noted that there are some special functions that only the playlist owner can perform. They are shown as follows.
Make the playlist collaborative.
Share playlists with public groups or make them private
Add or remove playlist members at any moment
Modify the picture and title of the playlist
For those contributors invited by the playlist creator, here are some functions they can enjoy.
Add or delete a song from a collaborative playlist.
Check who added each song or podcast episode by looking at the new user avatars in front of them
Know the date when each song was added while using the Spotify desktop app
How to Make a Collaborative Playlist on Spotify
When it comes to building a collaborative playlist, both Spotify free and paid users can enjoy this feature. You can make a collaborative playlist on Spotify mobile and desktop apps, but it is not available on Spotify web player. The following step-to-step guides will teach you how to make collaborative playlists on Spotify mobile and desktop apps without hassle.
Step 1. Launch Spotify on your mobile devices and click on the "Your Library" tab.
Step 2. Press the plus icon to create your playlist, and fill in some information, such as the playlist name, description, and cover picture.
Step 3. To make the playlist collaborative, tap the three-dot icon at the top of the playlist. Then, scroll down the menu to choose Make Collaborative.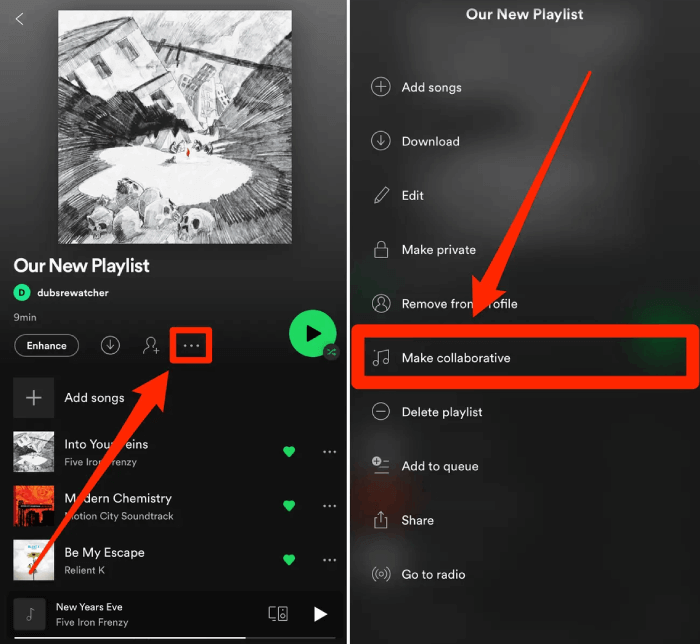 Step 4. Tap the three-dot icon again and choose Share. You can copy the link (that is valid for 7 days) to your friends or share it on other social media or messaging platforms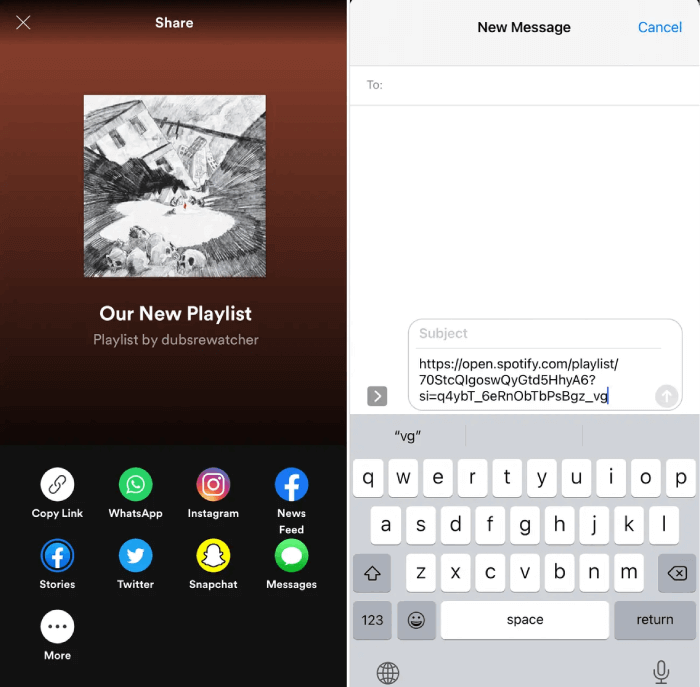 Step 1. Launch the Spotify desktop app on your computer.
Step 2. Right-click an existing playlist and choose to create a playlist on the left menu. Then, add more details for the playlist like title, picture and descriptions.
Step 3. Right-click this playlist and choose Collaborative playlist from the menu to make it collaborative.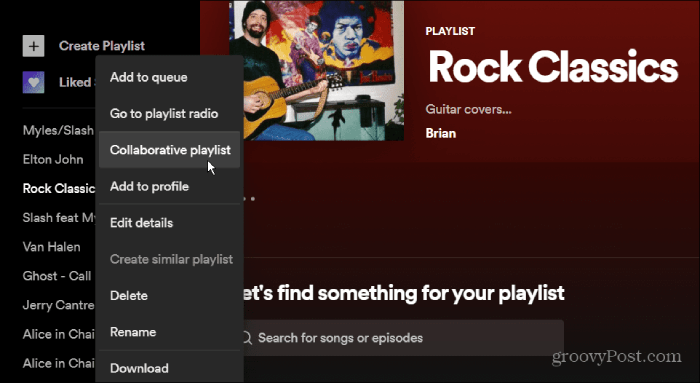 Step 4. Open the playlist and tap the three-dot icon. Then, select the Share and Copy link to the playlist. This way, you can choose to share your Spotify collaborative playlist with one person or larger public groups.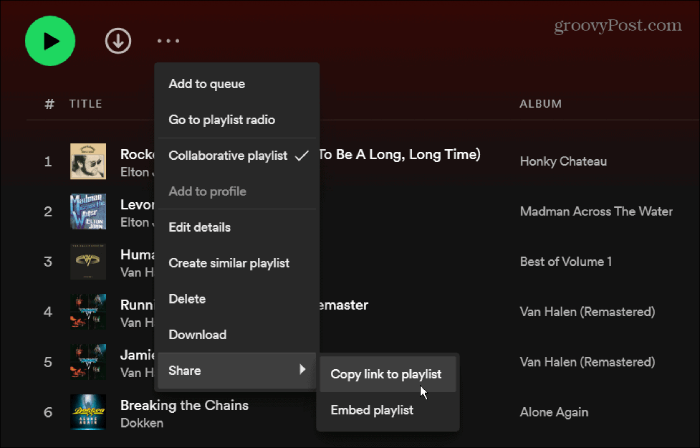 How to Add Songs to a Collaborative Playlist Spotify
After building a Spotify collaborative playlist, the creator and invited collaborators can add their desired songs to the playlist with simple clicks. The following steps are conducted on the Spotify desktop app.

Step 1. Open the Spotify desktop app and right-click on the song or album you want to add.
Step 2. Hover the mouse over Add to Playlist tab and choose your desired collaborative playlist from the pop-up menu. Then, this song will be added to your selected playlist.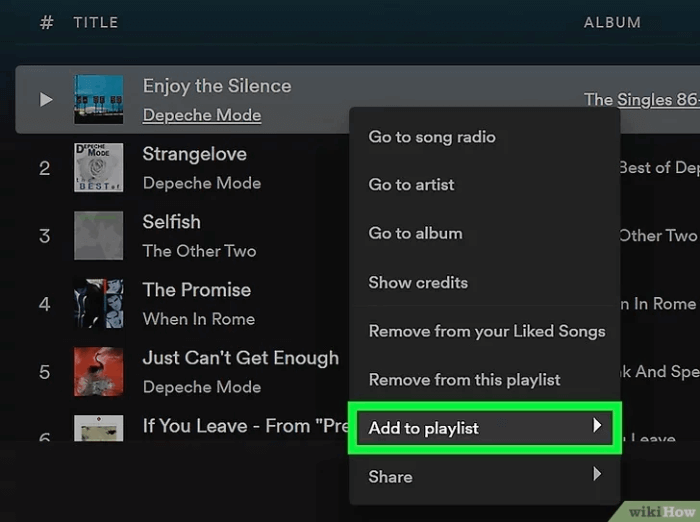 The conducting process on your mobile devices is similar to the above simple steps. You need to navigate to your Spotify app and click on the song or album you want to add. Next, tap the three-dot icon and select Add to Playlist to choose your collaborative playlist.
FAQs About Spotify Collaborative Playlist
How to Make a Spotify Collaborative Playlist Private?
The collaborative playlist is set to public by default. If you don't want your playlist shown to other Spotify users, you are allowed to make your Spotify collaborative playlist private. Then, only the playlist owner and collaborators can check and edit the playlist.
For Spotify's mobile app, you only need to open your collaborative playlist and tap the three-dot icon. Then, select Make Private from the menu and a lock icon will appear next to the playlist name.
For the Spotify desktop app, just go to the Collaborate playlist you want to lock and right-click on it. Next, select Make Secret from the menu and there will also be a lock icon beside the playlist name.
Why Can't I Add Songs to A Collaborative Playlist on Spotify?
Sometimes you may find your Spotify collaborative playlist not working and collaborators can not add songs to the playlist. The most common problem lies in Spotify's UX flow. Actually, while the creator is sharing the playlist, each link is unique and can only be used by a single person. Therefore, if you use a "second hand" link, you probably can not add songs to the playlist.
To solve this problem, here are some possible solutions.
For a collaborative playlist creator, remember to create a unique link for each collaborator.
For the person who received the newly shared link, remember to unfollow the playlist first before you use the link.
How to Remove a Collaborator from Spotify Shared Playlist?
If you want to remove a collaborator from your Spotify shared playlist, you can achieve it quickly. You need to open the playlist and select users next to the playlist title. Then, tap the three-dot icon next to your selected collaborator and select "Remove as a collaborator" or "Remove from playlist".
The article explains one of Spotify's new social features, Collaborative Playlist. With the help of our step-to-step guide, you can build your desired collaborative playlists on Spotify mobile and desktop apps. Besides, you can check how to make your collaborative playlist public/private, add songs, as well as remove collaborators.