How to Make a Playlist on Spotify [Newest]
On Spotify, users would like to create special music playlists with the songs they like the most, or divide them based on different specific genres and moods. Playlists give a convenient way for Spotify users to enjoy the music streaming in a more enjoyable way, and also make it easy thing to share the songs with others. Below, to help you create and manage Spotify playlists, some tips and tricks will guide you through how to make a playlist on Spotify crossing devices. Now, keep reading and grasp how.
Part 1. How to Make a Spotify Playlist on Diverse Devices
Creating playlists on Spotify is an easy task as every Spotify user is able to process it – no matter if you are a premium user or using the free accounts.
Create a Spotify Playlist on Desktop
You are available to create Spotify playlists using the web player or desktop software on computers. Once you log into the web player or launch the desktop software, simply tap the "Create Playlist" icon provided on the left panel, then Spotify will directly generate a playlist named "My Playlist" for you. Now, simply change the name of the playlist and add songs to it.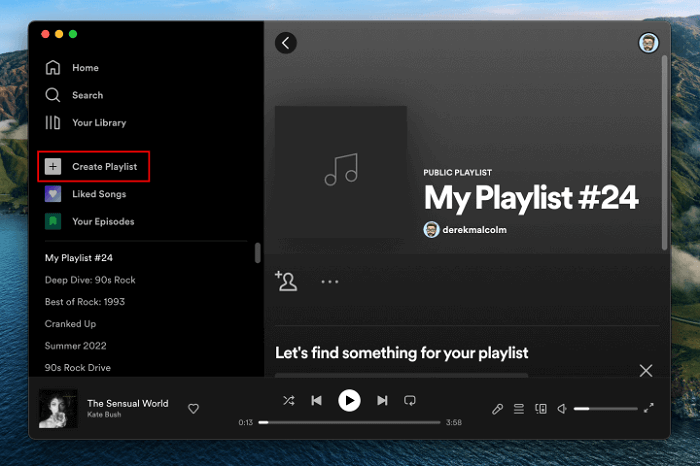 Create a Spotify Playlist on Mobile
On mobile devices, once you install the Spotify app, launch it and log in your Spotify account. Then by navigating to "Your Library" tab and hitting the "+" icon on the upper-right corner, a window will pop up, which is available for you to create the Spotify playlist with a customized title. Enter the title and submit "CREATE", then the Spotify playlist can be successfully added to your library.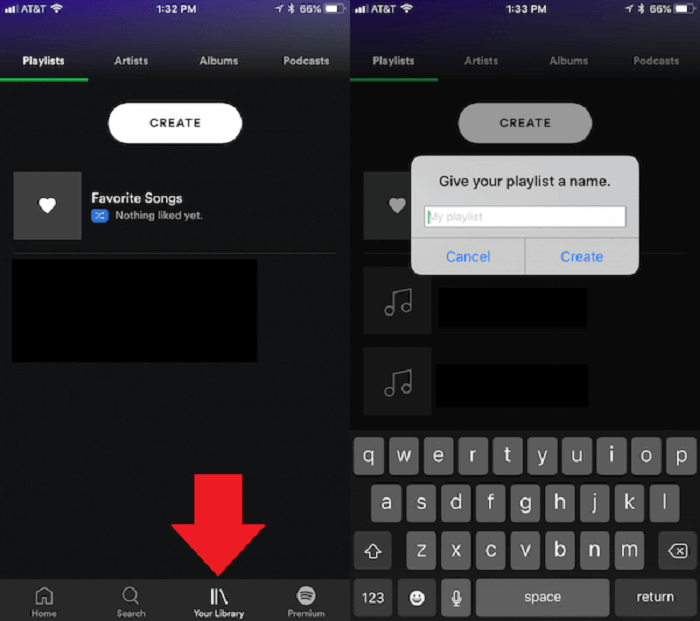 Part 2. How to Edit the Playlist on Spotify After Creating
Once the Spotify playlists are created, you are able to customize them with the Spotify playlist editing features provided by the official. For example, it is available to make your playlist a collaborative one to share with friends, or keep it private and prevent everyone from accessing it. Let's grasp some usage on editing the Spotify playlists.
Make the Playlist Collaborative
To set your Spotify playlists as the ones that are available for your friends to collaborate, your friends are able to add, delete, or reorder the songs on the playlists as well. This helps boost the interaction between you and your friends, making it easy to share the songs you like with each other conveniently.
Simply right click on the playlist you have created, select the "Collaborative playlist" option and choose "Invite collaborators". There will be a link generated for you to share with friends. Then, share the link to those you want to share the collaborative playlist with, then they are available to edit the playlist with you together.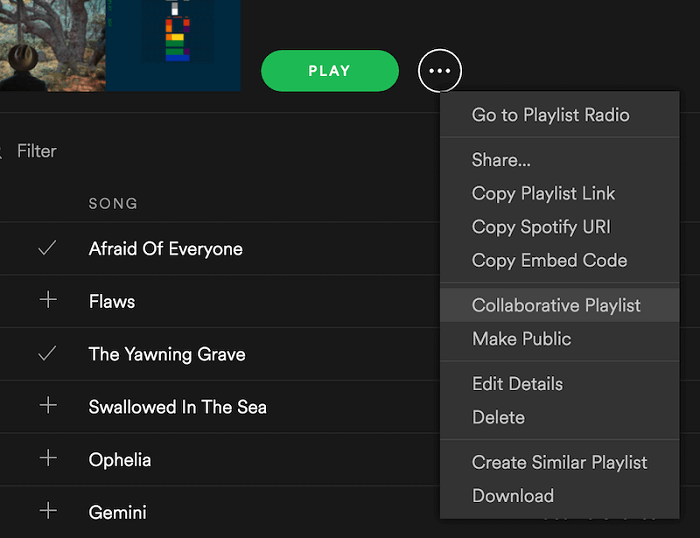 Make the Playlist Private or Public
By default, the created Spotify playlists would be set as the public ones and everyone is able to access them. To make the Spotify playlists private and hide them from other Spotify users, simply follow the steps below:
STEP 1. Navigate to Spotify and log into your account.
STEP 2. On desktop, directly access the playlist on the left panel, while in Spotify app on mobile, you will need to navigate to "Your Library" tab.
STEP 3. Right-click on the playlist you desire to make it private, then select "Remove from profile" on PC or "Make secret" on mobile.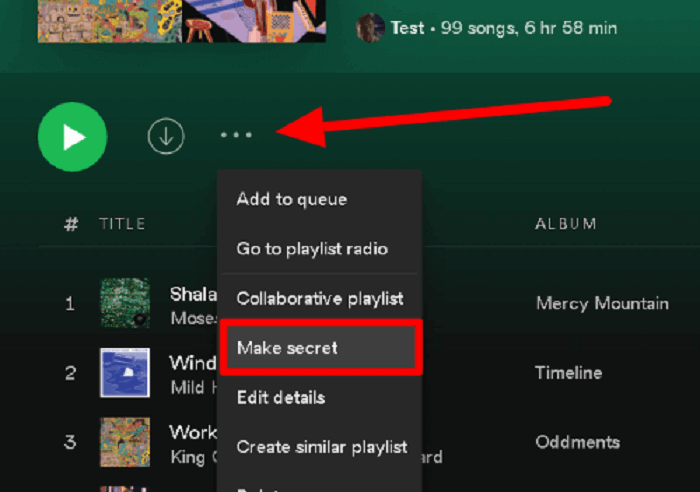 Now, the Spotify playlist will be hidden from your profile and set as private ones.
When you are bored with the Spotify playlists, you are able to delete them freely as you want. Simply access the playlists and right click on it, then you are able to hit the "Delete playlist" option to remove it right away.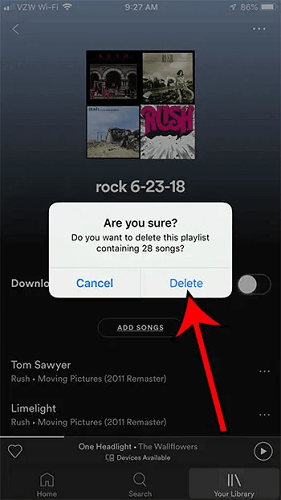 If you delete a playlist by accident, Spotify enables you to recover it again. Simply turn to Spotify's official website in the browser and head to your profile page, you are able to select "Recover Playlists" on left and find the deleted playlists to submit "Restore".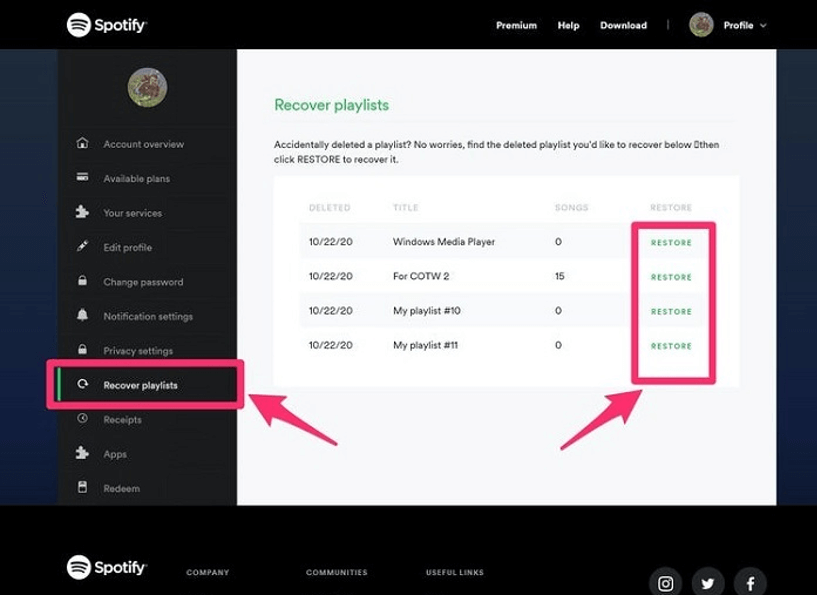 Part 3: How to Download the Created Playlist on Spotify
Online streaming would be flexible, but it sometimes comes with some troubles, especially when the network connectivity is not reliable. Under such situations, you may desire to download the created Spotify playlists to enjoy offline. Here provides both the official method and a tricky way to download Spotify playlists for boosting the offline music streaming.
To enable the official download functionality, you are required to subscribe to Spotify premium at first, as the download feature is only provided for premium users to enjoy. Once the subscription is activated, open the playlist you desire to download offline, there will be a download icon provided. Simply tap it and all the songs contained in the playlist will be saved offline. Once complete, you are able to enjoy the playlist playback offline.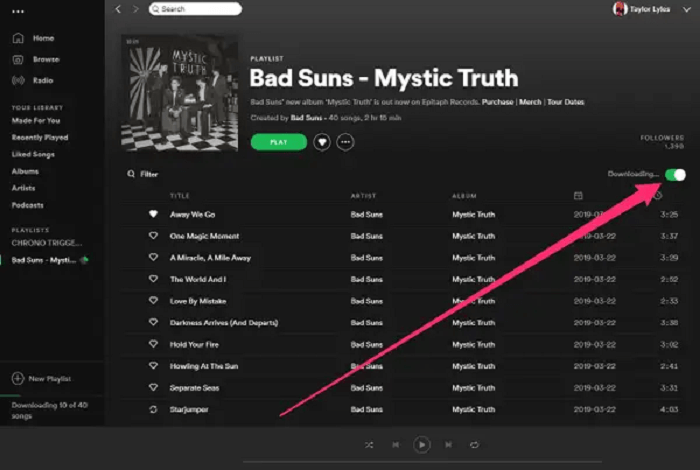 Instead of subscribing to Spotify premium, users are also available to download Spotify playlists to avoid sudden streaming issues using a professional Spotify music downloader. Here MuConvert Spotify Music Converter is highly recommended.
MuConvert Spotify Music Converter has integrated with the Spotify web player, which enables users to log into their free accounts to access Spotify's official music library or the created playlists, then download the resources directly offline to DRM-free MP3, M4A, WAV, and FLAC audio files. It offers the best 320kbps and 48000 sample rate to encode the music files at the highest quality, thus users are able to enjoy the same high-quality music streaming experience after downloading the created Spotify playlists offline.
Highlighted Features of MuConvert Spotify Music Converter
Available to access the full Spotify music library and download any Spotify playlist offline without premium subscription;
Mainstream formats such as MP3, M4A, WAV, and FLAC are available to encode downloaded Spotify songs;
Customized sample rate and bitrate to save Spotify songs with your preferred quality;
Acceleration tech was applied to speed up the batch download to 5X or even faster;
ID3 tags preservation to download Spotify songs with all metadata info saved.
Now, simply grasp this brief guide to learn how to download created Spotify playlists without a premium subscription at all:
STEP 1. Launch MuConvert Spotify Music Converter once complete its installation. Then, you are required to enter the main interface of the built-in Spotify web player and log in using your Spotify free account.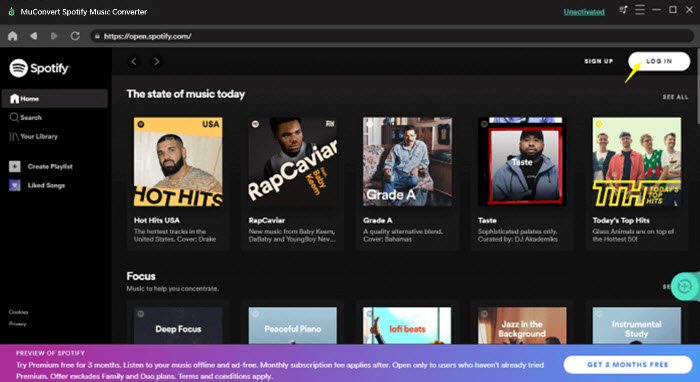 STEP 2. Then, you are able to navigate to your library and find the created Spotify playlists you desire to download offline. Or simply search for them from Spotify's music library. Once access the playlists, simply drag them to the "+" icon and the songs will be added to the conversion queue.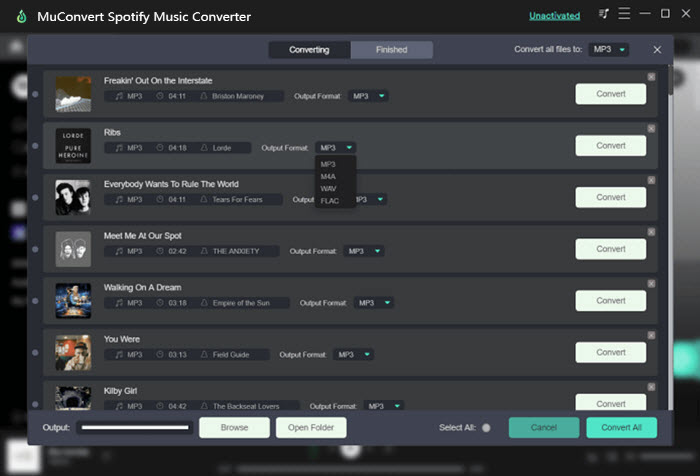 STEP 3. Now, turn to "Menu" > "Preferences" > "Advanced" to customize the output parameters as you like. The format, sample rate, and bitrate are all available to be adjusted here freely.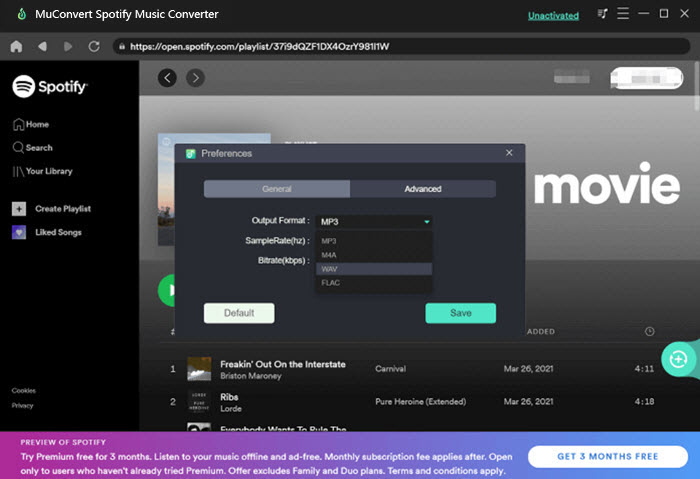 STEP 4. When the parameter settings are completed, simply hit the "Convert All" icon to start downloading the Spotify playlists. Just wait for a moment and all the songs contained in the playlists will be downloaded offline with original quality preserved!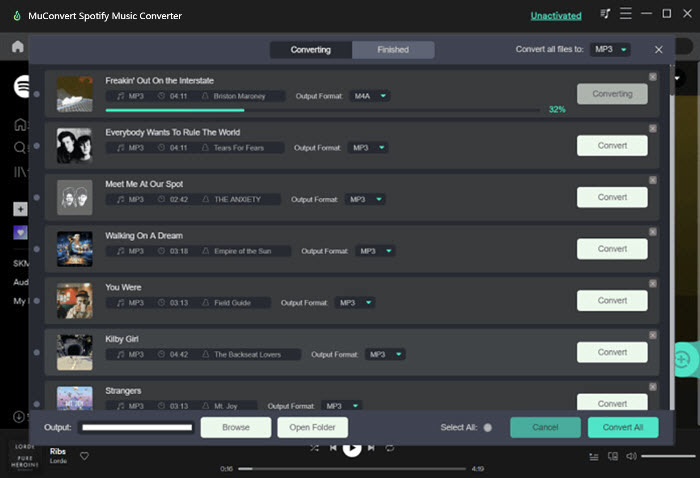 Part 4. FAQs About Spotify Playlists
Finally, grasp the FAQs about Spotify playlists to find more ways to boost a better music streaming experience on Spotify.
Q1: How to share Spotify playlists with others?
A: To share your created Spotify playlist with others, you should first go to "Your Library" and access it. Then, click the three-dots icon > "Share" > "Copy link". Once you get the link, share it through chatting platforms or SMS to your friends right away.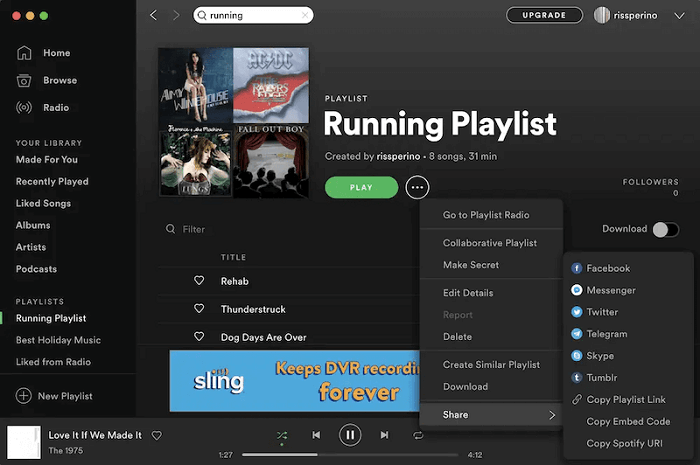 Q2: How to make a playlist cover on Spotify?
A: By default, Spotify would set the cover of the playlist to be the thumbnails of the first 4 songs. If you desire to customize the image for the Spotify playlist, simply open the playlist and tap the current image of the cover. Then, select "Choose photo" to make your favorite image as the cover for the playlist freely as you want.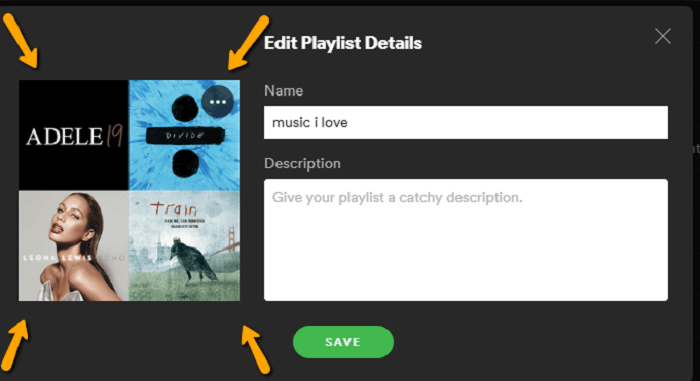 Q3: How to add liked songs into a playlist on Spotify?
A: Once you liked a song, it will be saved to the "Liked Songs" playlist in your library. Open it and access the song you desire to add to another Spotify playlist. Then by hitting the three-dots icon, you are available to select "Add to playlist" and choose any of the created playlists to save the liked song.
Q4: How to make a combined playlist on Spotify?
A: Currently, the playlist combination feature is only available in the Spotify app on desktops. Simply select all the songs included in one playlist at once and right-click on them, then hit the "Add to playlist" option and they will be combined with another playlist as you desire. But on iOS and Android devices, you can only process the combination by moving the songs one by one.
This blog has comprehensively introduced the ways to create Spotify playlists for shuffling and managing the Spotify songs you like in more convenient ways. Despite this, some tips and tricks to enjoying the Spotify playlists playback are also recommended. For example, you are available to download Spotify playlists without premium with the help of the powerful MuConvert Spotify Music Converter. Now, grasp them and have a more enjoyable Spotify playlists streaming experience!