How to Recover a Deleted Spotify Playlist [Mobile & Desktop]
"Can you recover a deleted playlist on Spotify? I accidentally deleted a Spotify playlist, but I don't know what to do."
Have you ever encountered such a problem while using Spotify? Some people may manually add songs again to create a new playlist. But doing so would be too troublesome. Is there a better way to recover deleted playlists on Spotify? The answer is yes!
Fortunately, Spotify provides a recovery service for deleted playlists. However, it should be noted that only playlists deleted within 90 days can be restored. So if your playlist has been deleted for more than 90 days, you can not get it back. Moreover, only Spotify web player supports recovering deleted playlists。
Next, this post will introduce you to complete tutorials on how to recover a deleted Spotify playlist on mobile devices and desktops.
How to Recover Deleted Playlist on Spotify on Mobile Phone (Android & iOS)
It's a pity that the Spotify app does not provide relevant services to recover deleted Spotify playlists on mobile. If you want to recover a playlist that was deleted within 90 days, you can use Spotify Web Player to do so.
STEP 1. Open Spotify web player in a web browser and log into your account.

STEP 2. Tap on "View Account" to go to your account page.

STEP 3. Select "Recover Playlists" from the pull-down menu, which shows your Account Overview by default.

STEP 4. Choose the playlist you want to restore. And tap "Restore". It's noted that only playlists deleted within 90 days will be displayed here.

STEP 5. Waiting for a little while for the recovered playlist to reappear in your Spotify library. Then, you can sort the playlists by "Recently Added" to bring the recovered playlist first. Also, you can tap on "Pin Playlist" to stick the recovered playlist to the top.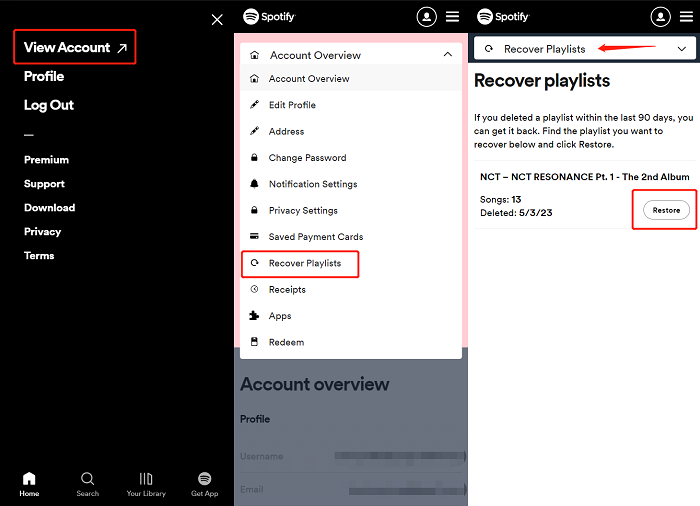 How to Recover Deleted Playlist on Spotify on Desktop (Windows & Mac)
Also, due to the inability of Spotify's desktop program to recover deleted playlists, we can only achieve our purpose through its web players on your computer.
STEP 1. First of all, log into Spotify Web Player with your account. Then, click your account name in the top right corner of the page and click "Account" to activate your profile page.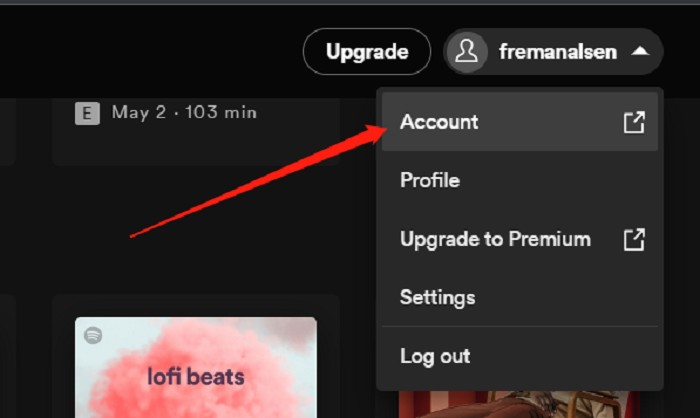 STEP 2. Head to the "Recover Playlists" section on the side menu. Find the available playlist that you want to recover. If you don't see the desired one, please make sure the playlist has been deleted for no more than 90 days, or you haven't created the playlist with another account.
STEP 3. Click the "Restore" button next to the playlist you want to recover to start the recovery.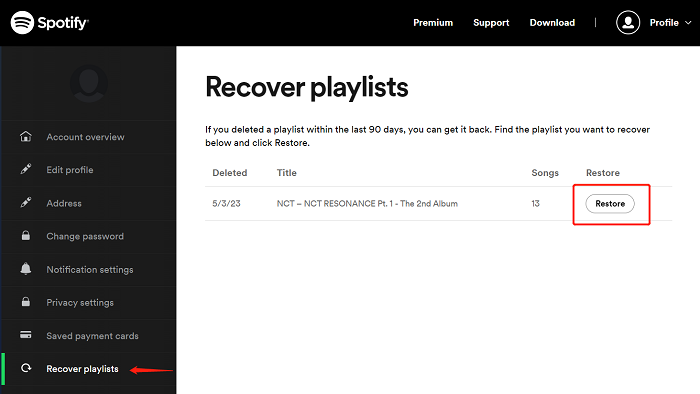 STEP 4. It will take a few minutes to restore the playlist in your Spotify account. After that, when you open Spotify again, you can see the recovered playlist at the bottom of your playlist collection.
FAQs About Recovering Deleted Spotify Playlist
Will I Lose My Playlists If I Delete and Reinstall Spotify?
Definitely not. All your created playlists will be saved no matter if you reinstall Spotify or log in to your account on a different device. However, your downloads will be removed after the program uninstallation. If you want to enjoy offline playback after reinstalling Spotify, you will need to download the playlists again.
How to Immediately Recover a Deleted Spotify Playlist?
Sometimes, you may feel regretful immediately after deleting a Spotify playlist. When this happens to you, don't worry. You can immediately press Cmd+Z (for Mac) or Ctrl+Shift+Z (for Windows) to undo your deletion. The restored playlist will appear in the playlist collection after a while.
Now, you may know how to recover deleted Spotify playlists on mobile & desktop after reading the article above. Some people may be curious about whether there is a method to recover the playlists which have been deleted over 90 days. Unfortunately, there is no such solution at present.
However, to avoid this kind of situation, you can download your favorite music from Spotify beforehand using a third-party program like Muconvert Spotify Music Converter on your computer. Thus, you can keep your Spotify downloads forever even without any Spotify Premium.