HitPaw Apple Music Converter Review: Troublesome to Use
Instead of subscribing to Apple Music membership, people find that selecting a professional Apple Music Converter even helps them to have a more convenient and limitation-free Apple Music streaming experience offline. When you are also finding such a tool to help, HitPaw Apple Music Converter may get your notice.
As a new brand appeared with function to convert and download Apple Music songs, many of you would be curious about HitPaw Apple Music Converter and wonder how it can help if we need such services. So today, this article will mainly introduce this software from all aspects to help you decide whether to get started with it.
Tip:
HitPaw Apple Music Converter only provides Windows version at present. If you are a Mac user, it is recommended to try
MuConvert Apple Music Converter
, which offers the Mac version and even more professional functions than HitPaw.
Features of HitPaw Apple Music Converter
The main function of HitPaw Apple Music Converter should be its ability to help you convert and download Apple Music, iTunes songs, podcasts, and audiobooks offline in common formats. But how well it would be in providing the service? Now, we will introduce the following aspects to let you know more details about the software.
The music quality would be the most important thing that many users would care about. When HitPaw Apple Music Converter offers a quality selection to let you download songs in the audio effect that is "same as source", it will try its best to keep original quality to save the downloaded music files.
However, if you carefully compare the playback effect with the original source provided on Apple Music or iTunes, you can still sense the compressed outputs of the downloaded audios. Therefore, HitPaw Apple Music Converter doesn't provided "lossless" quality to download Apple Music songs like how it says on its product page actually.
If you need to download Apple Music songs to play on different devices or using in any installed software, the provided output formats to select is important. HitPaw Apple Music Converter has offered different preset profile before starting the music conversion. You can choose the one you need from them based on where you want to play the downloads. It supported formats can cover almost all devices and players, so you don't need to worry about the Apple Music downloads incompatibility at all.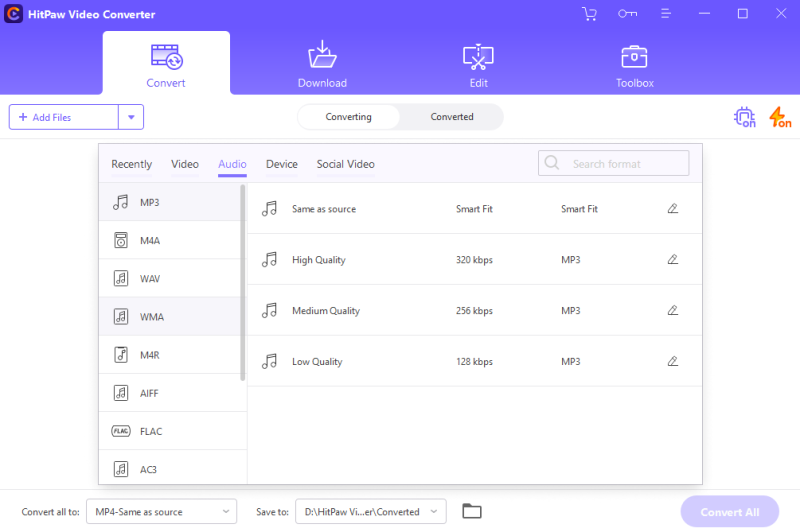 However, according to many users, HitPaw Apple Music Converter is not actually a very efficient tool to download Apple Music. It needs to process with iTunes and get authorization by signing in your Apple ID on Windows. Only by connecting to iTunes Library successfully can you continue on the music choosing and downloading later. So if the software is not running well with iTunes, it is easy to fail the music download process.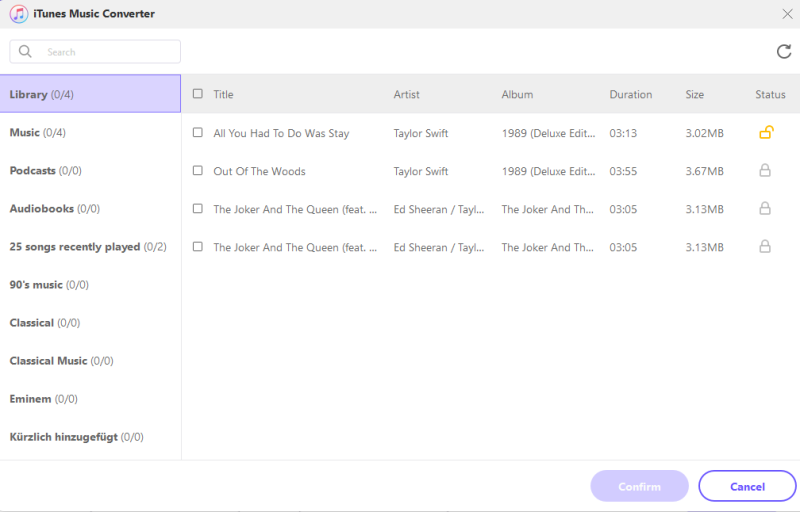 For the music converting and downloading speed, HitPaw Apple Music Converter is also running in a slower way than many other Apple Music Converters. Once loading the iTubes Library and selecting the songs to convert, it will take one or two times longer than the length of them to process, only then can you continue downloading them. According to its introduction on the product page, it is not actually possible to reach 120X faster speed.
How Much Is HitPaw Apple Music Converter?
If you consider using HitPaw Apple Music Converter for free, then you are wrong. It's not a free tool to use. Here is the pricing information for you to consider:
1 Month Plan: USD 19.95 (for 1 PC)
1 Year Plan: USD 39.95 (for 1 PC)
Lifetime Plan: USD 74.95 (for 1 PC)
Although you may find it free to convert Apple Music songs the first time installing it, there actually have limitations – you can only convert one song at its 1/3 length! According to HitPaw, this only lets you know how the software works and the output quality it can provide. When you want to continue using it, you have to pay to get its registered version.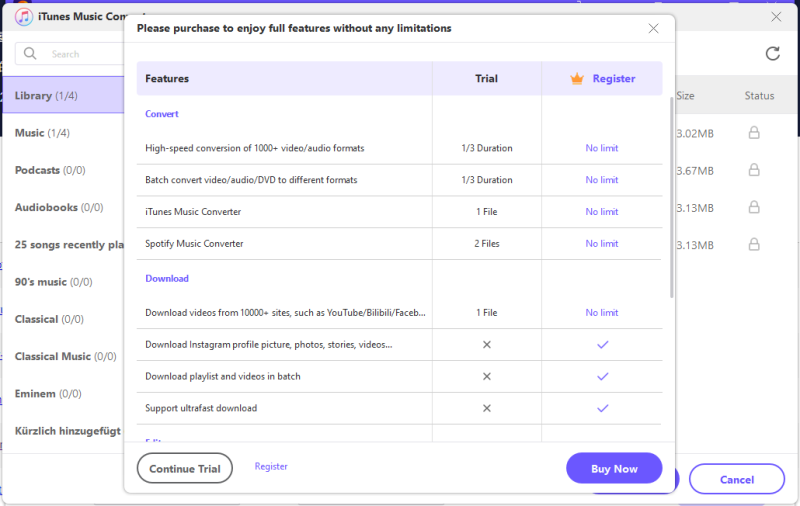 Verdict: Is HitPaw Apple Music Converter Good?
To conclude the pros and cons of HitPaw Apple Music Converter, they can be divided into the following ones based on some use reviews.
Pros:
Offers adjustable output settings before downloading Apple Music songs
Provides a user-friendly interface so even new users can easily know how to use it
Supports downloading Apple Music songs in different formats that are commonly-used
Also supports converting iTunes M4P songs, audiobooks, and podcasts
Cons:
You have to install iTunes and sign in your Apple ID first, and this would be slow or easy to occur errors
The music quality is compressed and worse than the original source
It always fails to work successfully in downloading Apple Music songs
Customer service is terrible and will seldom give a refund like a scam
Its conversion and downloading speed are very slow
The free version is completely useless
Alternative to HitPaw Apple Music Converter
Actually, HitPaw Apple Music Converter is not a professional Apple Music Converter, which only adds such a function inside its video converter. That's also the reason why it pays less attention in improving its Apple Music download feature. So for some of you want to download Apple Music songs on Mac and Windows at fast speed, high output quality, and easy operations, instead of trying HitPaw Apple Music Converter, MuConvert Apple Music Converter is a more powerful Apple Music downloader for you to use.
Unlike HitPaw which needs you to connect with iTunes, MuConvert Apple Music Converter has used the in-built Apple Music Web Player to improve the efficiency and successful rate in converting and downloading Apple Music albums. You only need to sign in it inside the software. You can go to search all songs provided by the official and then drag to download offline immediately, even without iTunes installed. It doesn't have the conversion process because the software can directly detect the songs and lets you download!
If you worry about the output quality, MuConvert Apple Music Converter will promise you by offering the highest option to you. No matter downloading what songs, it offers the best quality settings at 320Kbps Bitrate and 48000Hz SampleRate, which will keep the original quality for you to make sure a high-quality music playback offline.
Key Features:
Adds Apple Music Web Player to download official music directly without installing iTunes
Offers the most widely-used formats such as MP3, M4A, FLAC, and WAV to select
Provides the best audio quality to select downloading Apple Music songs losslessly
Offers the least 10X faster speed to download albums in batch
Allows to drag Apple Music songs to download without wasting time in converting and analyzing them
Keeps the original ID3 tags as well as metadata information to let you manage the downloads offline easily
Now, also read the tutorial and know how to use MuConvert Apple Music Converter to download Apple Music albums easily and quickly.
Step 1. Sign in Apple Music Web Player
Without installing iTunes anymore, when you get MuConvert Apple Music Converter on your computer, just open it and then enter the in-built Apple Music Web Player to sign in your music account.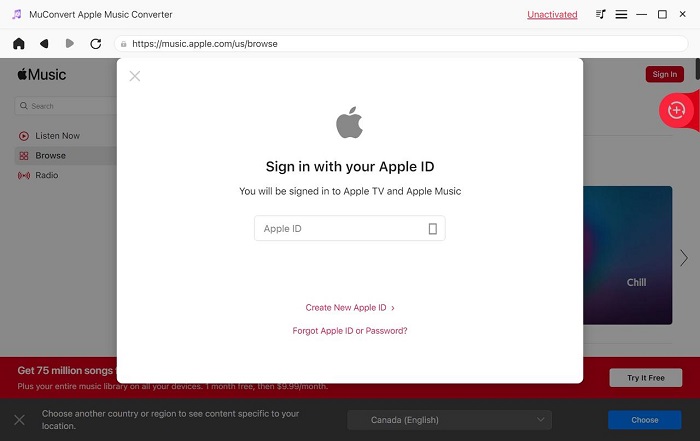 Step 2. Add Apple Music Songs to Download
After signing in, you can use Apple Music Web Player to directly find the songs or albums you want to download and enjoy offline. By dragging them to the "+" button, the songs will be added to the list immediately.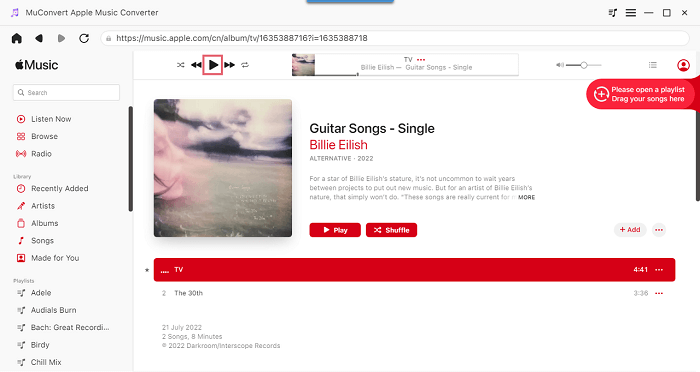 Step 3. Choose Output Format and Quality
When you have added all Apple Music songs, now you can go to the "Convert all files to" menu in the top-right corner to choose one output format to download these songs.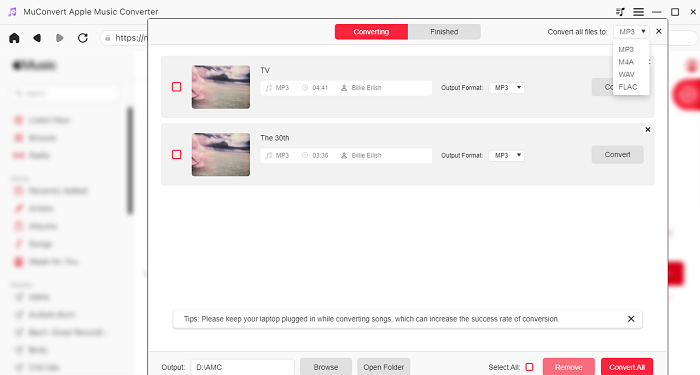 If you want to select the best quality to download them, you need to go to "Preferences" setting and change the "SampleRate" or "Bitrate" based on your needs.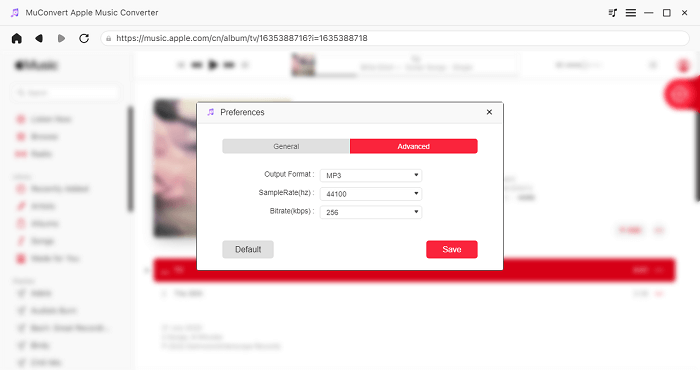 Step 4. Download Apple Music Songs in Batch
Finally, once the settings are finished, directly press the "Convert All" button and MuConvert Apple Music Converter will begin to download the selected songs for you with very quick speed in batch!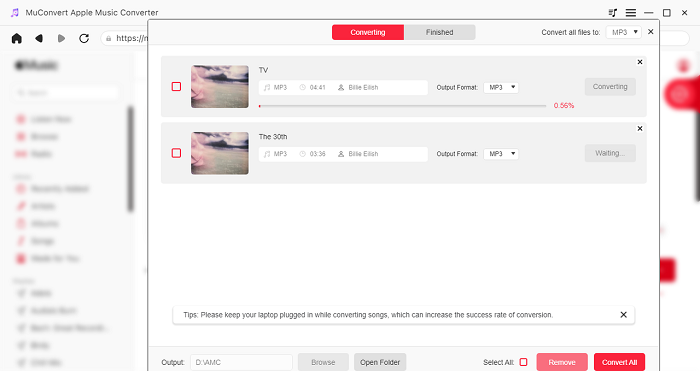 MuConvert Apple Music Converter also offers very in-time customer help. When you meet any problem using the software, contact its customer team and they will be happy to help you solve them quickly.
Unlike HitPaw, MuConvert Apple Music Converter is professional in developing its Apple Music download services. That's also why many users would feel unsatisfied with HitPaw Apple Music Converter. It is not working as it advertises on its product page, and will seldom offer a refund once deceiving users in installing and paying to use it. So if you want a better tool to convert or download Apple Music, HitPaw Apple Music Converter is not recommended.