Epubor Audible Converter Review: All Details & Its Alternative
As people are changing their reading habits from reading physical books to listening to audiobooks instead, platforms like Audible are getting higher popularity, as users are available to discover all types of resources for enjoying with their electronic devices. However, as Audible has encrypted its audiobooks with DRM encryption, it becomes inconvenient as you are only allowed to stream the audiobooks within Audible or iTunes.
To remove such limitations and bring a more convenient Audible books playback experience, Audible Converters like Epubor Audible Converter is launched to stripe DRM from the resources. Hence, in today's review, we will focus on this converter and bring all its details to help decide whether it is worth trying. Now, let's get started.
Epubor Audible Converter Overview
Epubor Audible Converter
is a DRM removal software developed for striping the encryption from Audible books, meanwhile, convert the protected AA/AAX audiobooks to DRM-free MP3 or M4B files for more convenient offline streaming. By unlocking the DRM encryption, users are available to get the Audible books out of the Audible platform, or even transfer them to all devices for streaming in any media player freely as they desire. 
Over the years, Epubor Audible Converter has helped millions of users boost the audiobook playback experience with its out-performing Audible conversion service. In the next part, you are able to grasp all its highlighted features that enable it to be one of the best Audible converters on the market in detail. Just continue reading.
Out-Performing Features of Epubor Audible Converter
Highly focusing on bringing the most professional Audible books conversion service to users, Epubor Audible Converter has equipped the following features that make its core functionality to be more attractive. Now, let's go through them one by one:
1. Mainstream Output Formats
In order to increase the compatibility of the Audible books, Epubor Audible Converter has provided the most mainstream MP3 and M4B formats to output DRM-free audiobooks, which are able to be supported on all devices and media players for processing audiobook playback offline. From then on, you can enjoy the Audible books without the Audible app installed more flexibly.
2. Original Audio Quality Preserved
While processing the conversion of the Audible books, Epubor Audible Converter is able to maintain the original quality without compressing the Audible books at all. In this way, the offline streaming experience will always be guaranteed at the best state as the original sources.
3. Split Audible Books into Smaller Clips
Don't want to save a long Audible book at all? Don't worry! Epubor Audible Converter has embedded the splitting mode to help trim the Audible books into smaller audio clips by chapter, time, or segments. With such a feature, you are able to grasp certain clips for preserving offline to save much space, and also process more convenient Audible books playback!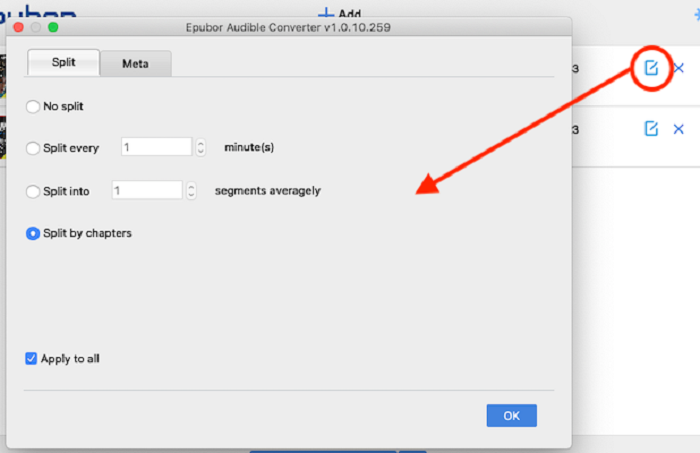 4. Original Chapter and Metadata Info Preservation
While processing the audiobook conversion, Epubor Audible Converter is also available to preserve the full chapter and metadata info such as the book cover, title, author, etc. for easier checkback and management offline. You are also available to edit them as you desire if you need.
5. 60X Faster Conversion Speed
To boost the conversion efficiency, Epubor Audible Converter is equipped with hardware acceleration tech, which is able to improve the conversion speed to 60X faster maximum. Hence, it won't take a long time even if you get a batch of long Audible books required to convert at once, as the software will process them for you within a short period quickly!
How Epubor Audible Converter Works
With an intuitive design and easy-to-grasp functionality, Epubor Audible Converter provides a hassle-free way for users to process the Audible books download within pretty simple steps. Here is the guide provided for your reference:
STEP 1. Once complete the installation of Epubor Audible Converter, launch the software and directly add the Audible books to its interface through dragging and dropping. You are able to hit the "+Add" icon to browse the audiobooks for importing as well.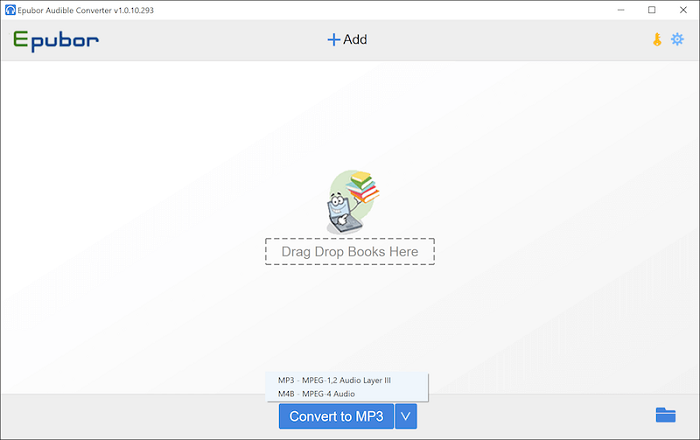 STEP 2. Now, you are available to tap the edit icon provided after the Audible books to edit their metadata or adjust the splitting mode if you desire to trim them into smaller audio clips.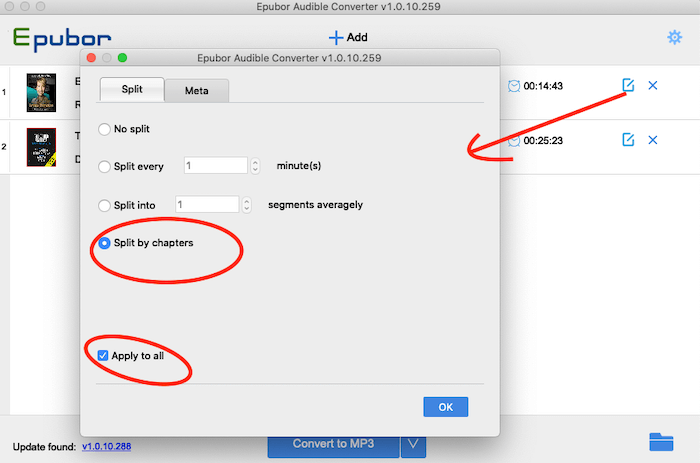 STEP 3. Once complete, tap the "Convert to MP3" icon and Epubor Audible Converter will process with 60X faster speed to download Audible books in DRM-free MP3 files for you right away.
NOTE: You are able to click the down arrow next to the "Convert to MP3" icon and select M4B as the output format based on your requirement.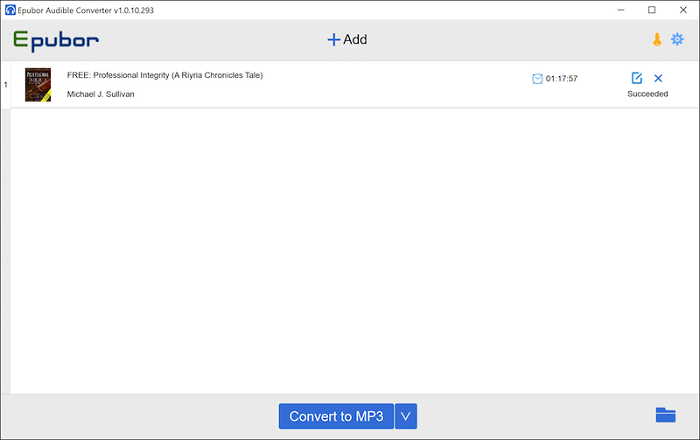 Alternative to Epubor Audible Converter - MuConvert
Although Epubor Audible Converter can ensure good quality to download Audible books as common MP3/M4B files, it doesn't provide customized options for users to freely adjust the output quality for balancing the file sizes at ease. Hence, to offset this con, MuConvert Audible Converter is recommended as an alternative to Epubor for downloading Audible books with customized parameters at your will.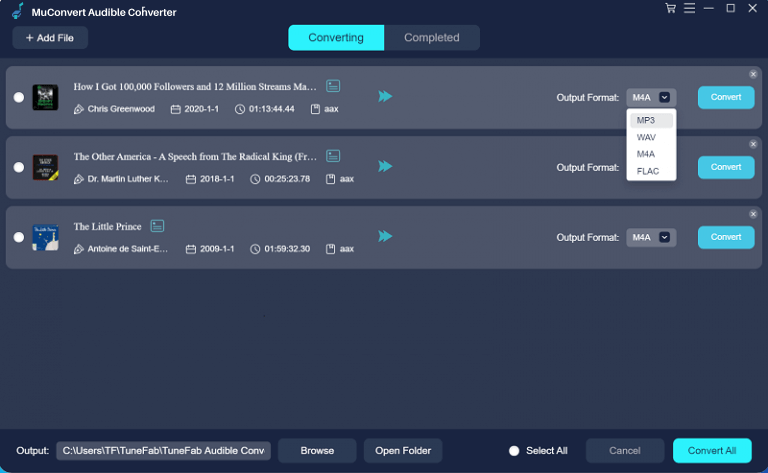 MuConvert Audible Converter
will cover most features brought by Epubor and offers the same intuitive functionality to process Audible book conversion without hassle. Moreover, the software is able to provide the free parameter adjustment feature, enabling you to freely change the sample rate as well as bitrate to output Audible books in the quality you desire. Through the comparison chart below, you will grasp why it is a perfect alternative to Epubor Audible Converter for most users:
| | | |
| --- | --- | --- |
|   | Epubor Audible Converter | MuConvert Audible Converter |
| Output formats | MP3, M4B | MP3, M4A, WAV, FLAC |
| Quality status | Good quality at fixed settings | Keep original quality and provide customizable sample rate and bitrate |
| Splitting feature | Y | Y |
| Conversion speed | 60X faster | 60X faster |
| ID3 and chapters preservation | Y | Y |
To conclude, Epubor Audible Converter is a reliable option to remove DRM from Audible books and convert them to audio files of mainstream formats to help you have a more flexible offline streaming experience. But if you consider an alternative with customized quality settings,
MuConvert Audible Converter
will be the best backup, with all the features Epubor provides and a better balance on the output quality. Hence, if you are considering a convenient way to enjoy Audible books playback, consider them and get started to try it now!