Amazon only allows subscribers to download songs and enjoy Amazon Music offline on its mobile app. With no luck, it somehow happens that the Amazon Music download queue is not working and fails to download songs. Why? That may be caused by intermittent internet, insufficient phone storage, software compatibility issues, etc. Also, Amazon may be having server downtime. No matter what the culprit is, here round up 9 useful solutions for you to quickly fix the Amazon Music not downloading error. Now, let's kick in.
Fix 1. Troubleshoot Amazon Music Not Downloading Forever [Best Solution]
MuConvert Amazon Music Converter is the optimal solution that allows you to download your favorite songs to MP3, M4A, WAV, and FLAC on your computer for offline playback. It covers the entire Amazon Music library including all the songs, playlists, albums, and podcasts. What's better, it can keep the best audio quality of up to 320kbps and 48kHz.
This amazing software comes with an inbuilt web player and it cannot be easier to download Amazon Music in just one click. Moreover, it enables multiple downloads at a time and accelerates the process up to 5X faster. It's estimated to take minutes to download the whole album. Since it's able to rip music from Amazon Prime, your downloads will be DRM-free and also free from any error like Amazon Music not downloading issue.
>> Click here to see How to Convert Amazon Music to MP3 to fix your Amazon Music not downloading issue forever.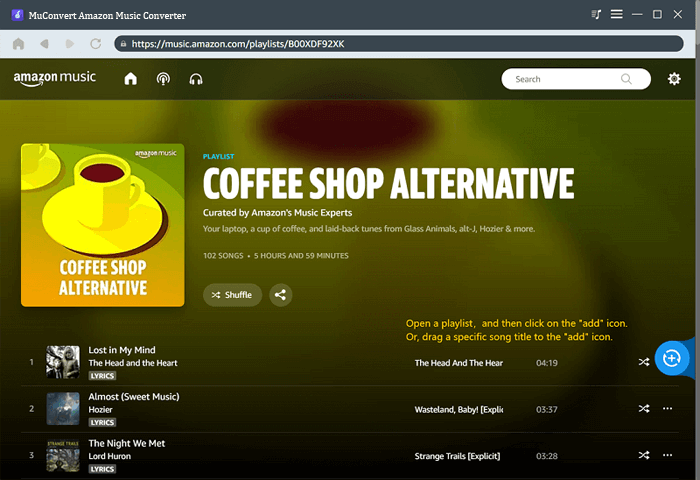 Fix 2. Check Your Network Connection
Generally speaking, the network connection is usually the one that should take the blame. If your Android or iPhone is connected to a weak or unstable Wi-Fi, it may disrupt the process and lead to Amazon Music not downloading. In this case, you may hook up to a stable Wi-Fi connection or use mobile data instead. Furthermore, you may consider resetting network settings if your device has a problem connecting to the internet.
Fix 3. Renew Your Subscription
When you find that the Amazon Music download queue is not working songs anymore, you'd better go to your profile and see whether your membership has expired. Also, you can click here to visit the "Your Memberships and Subscriptions" page. The offline playback feature is only available for active subscribers. If yes, please renew your subscription to fix this Amazon Music download error.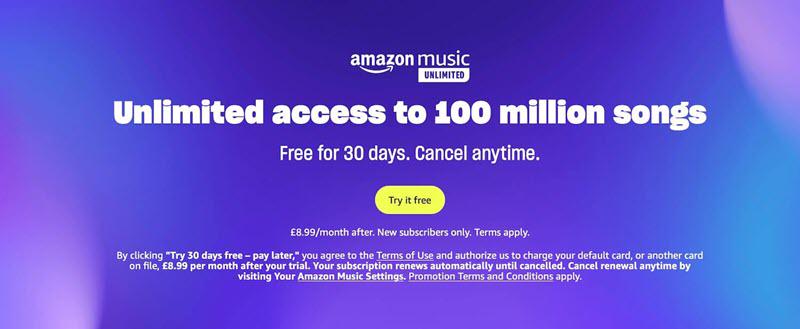 Fix 4. Sign out and Back in Amazon Account
Somehow Amazon Music songs not downloading issue occurs if Amazon's server fails to fetch and sync your account information. Such a system glitch would happen usually when you fly across regions or countries. At that time, you may simply sign out and then sign in to your account on the app to get it fixed. After that, the server will reconnect to your account and the problem should be solved.

Fix 5. Restart Amazon Music App and Device
If you have many apps running in the background, this may lead to a conflict between apps and thus Amazon Music download failed to continue. You may close all the apps and restart the Amazon Music app. Then, download songs again. Also, you can restart your Android/iPhone to ensure that there is no app interrupting the download process.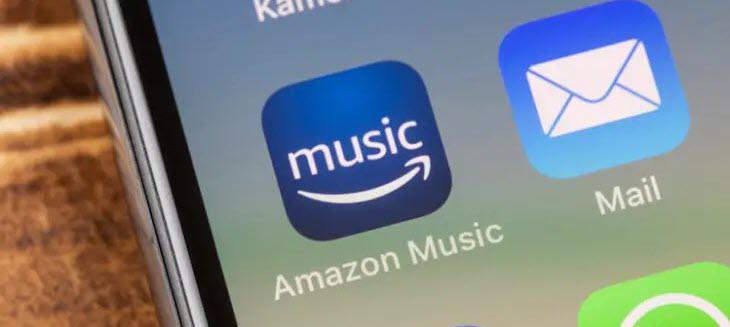 Fix 6. Update Amazon Music App to the Latest
From time to time, developers will release a new version of the Amazon Music app to fix existing bugs, add new features, and optimize the overall performance. If an update is released right after you cross cross Amazon Music app not downloading songs, then this may be caused by a bug. Therefore, you should go to the Google Play Store or Apple App Store to update the Amazon Music app to the latest version.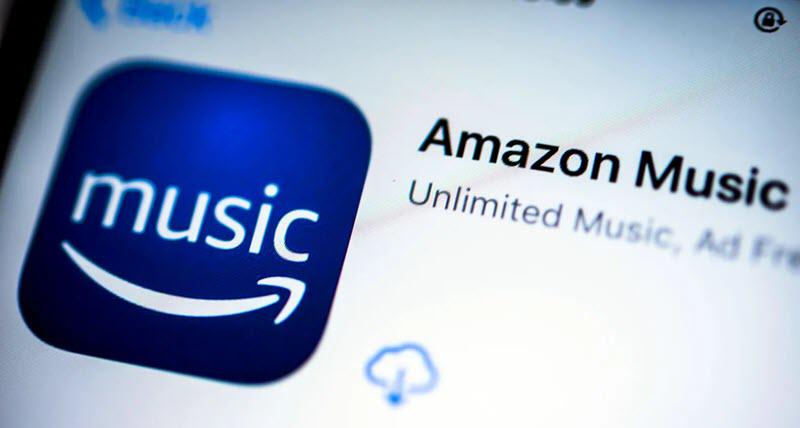 Fix 7. Update to the Latest Android or iOS
On the other hand, if the operating system on your phone is outdated, it may have bugs or compatibility issues that can interfere with the Apple Music app. If your Android or iOS hasn't been updated for a long time, you may consider keeping pace with the latest software update. After that, you may redownload the songs and see whether the Amazon Music not downloading error persists.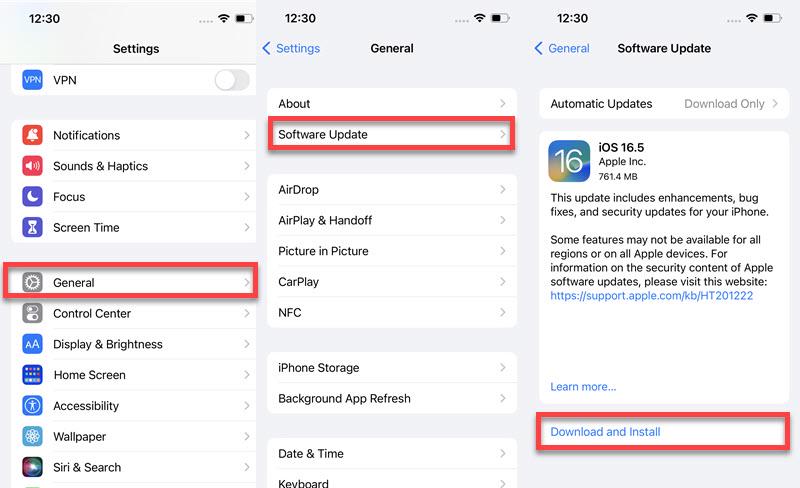 Fix 8. Clear Cache and Data to Refresh the App
If the cache piles up, it may somehow interrupt the download process and result in Amazon Music not downloading to the phone. It's easy to fix the issue by clearing the cached data. For Android users, you can directly clear the cache in the Amazon Music app. For iPhone users, it should take a few steps to do so. Here are brief instructions for your information.
Android: Open the app and tap "Settings" > "Storage" > "Clear Cache".

iPhone: Launch "Settings" > "General" > "iPhone Storage" > "Amazon Music" > "Offload App".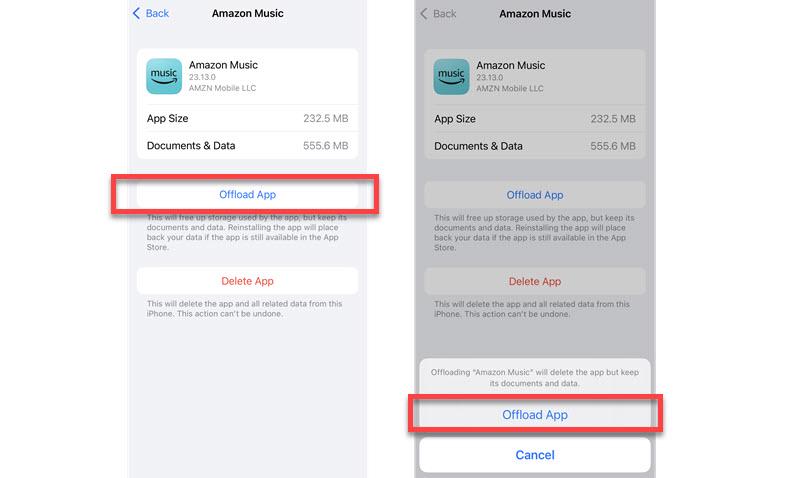 Fix 9. Make Room for Amazon Music Downloads
When you notice that Amazon Music download queue not working to download the rest of the songs, you should check whether your Android/iPhone has enough storage. If your device's storage is full, this will cause Amazon Music not downloading songs anymore. In this case, you might as well delete some unused files, videos, photos, and apps and ensure that there is enough memory to download songs.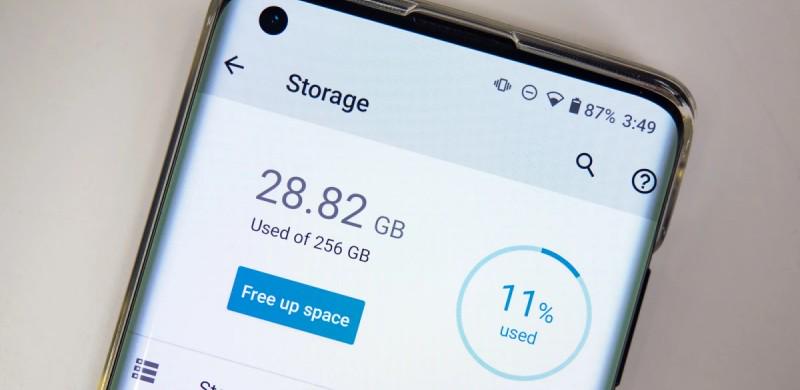 Conclusion
No worries if you run into the Amazon Music not downloading songs error. There are 9 solutions proven to be able to resolve this annoyance. Most of them are really easy to get done, so you'd better try them out one after one.
If you want to get rid of any Amazon Music error, MuConvert Amazon Music Converter is no doubt the best helper, which can leverage your subscription and make the most of it. You can download as many songs as you like with up to lossless quality and enjoy offline playback on any device without restrictions.
Convert Amazon Prime Music to MP3
Easily convert music from Amazon Prime/Unlimited/HD/Free to MP3 without losing quality.