How to Use Spotify as Alarm Clock on iPhone/Android Freely
Feel tedious of utilizing the custom alarms to wake you up every morning? As the music streaming services have taken up people's daily life, they also consider whether they can set their favorite music from Spotify as the alarm clock on iPhone/Android to refresh a day with better mood.
Currently, Spotify doesn't enable the direct feature to make its music tracks available for people to set as alarm clock directly. Instead, you require third-party programs to give you a favor. In the following parts of the post, you will access 4 easy solutions to make Spotify songs as alarm clock on iPhone/Android through simple manipulation. Now, please follow our path to walk through the guidance.
How to Use Spotify Music as Alarm on iPhone
Things you'll need:
Alarm Clock for Spotify
Spotify Premium subscription
Stable network connection
Alarm Clock for Spotify is an iOS application workable to enable Spotify Premium subscribers to customize Spotify tracks as alarm clocks directly. After installing the program, then by following the procedures below and you can manage to set your favorite Spotify songs to wake you up in the morning. Please read.
Please run Alarm Clock for Spotify app on your iOS device. You ought to log in your Spotify account with Spotify Premium subscribed.
Turn to Setting. Here you can create an alarm by tapping Alarms >> Add. Subsequently, also customize the timing and repeat mode in preferences.
Please click on the Spotify Playlist option then tap Add in the upper right corner to select it as the source where you can choose the track for making as alarm.
Eventually, select one music track from the playlist and tap Done to complete the alarm setting process. Then in the coming morning, you could hear your favorite Spotify track to wake you up!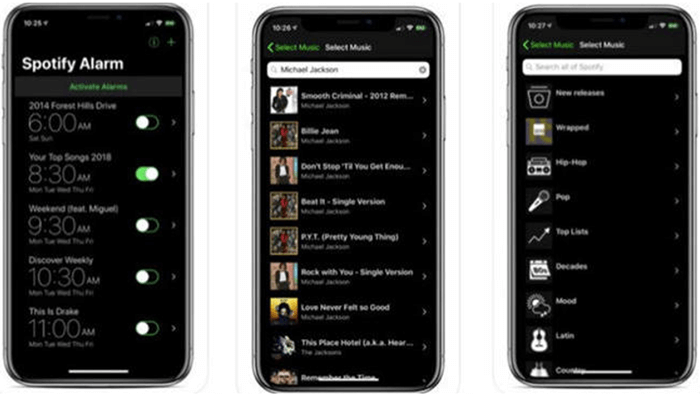 How to Use Spotify as Alarm Clock on Android
Things you'll need:
SpotOn
Spotify Premium subscription
Stable network connection
Replacing Alarm Clock for Spotify, for Android users, SpotOn is the application that could give you a favor to customize alarm clocks with the Spotify songs if you have been a Spotify Premium subscriber. The following manipulation would give you an overall introduction on how to complete the settings.
Please open the installed SpotOn app on your Android device. Similarly, you should log in your Spotify Premium account in order to process the personalized alarm setting.
Click on the WAKE option to create a new alarm clock. You can complete the basic clock settings at the same time.
You would notify the TAP TO SELECT MUSIC button while processing the alarm setting. Please tap it and feel free to select the music from any Spotify playlist or album you prefer.
Subsequently, as you have selected the Spotify song, please complete the alarm settings and you can successfully make your favorite Spotify track as the alarm.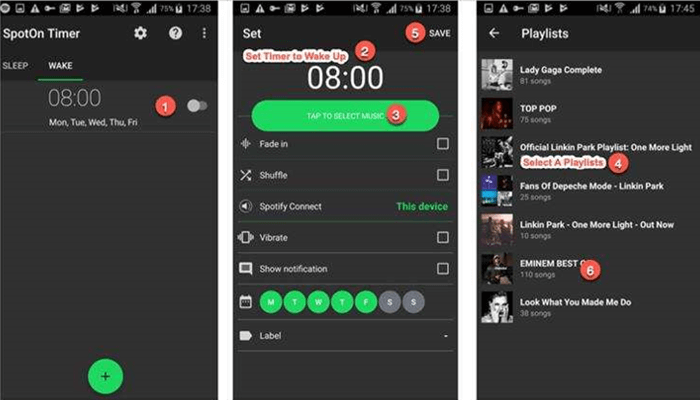 How to Set Spotify Alarm on Google Home
For Google Home users, it would be simple as a piece of cake for ordering Spotify to play your favorite song to get you out of bed in the morning. Now, please follow the guidance and master the way to utilize Google Home for setting Spotify alarm for yourself!
On your mobile device, please launch Google Home app and set Spotify as the source music provider by tapping Add+ >> Music >> Spotify >> Link Account.
Subsequently, please follow the instruction to log in your Spotify account to enable it within Google Home app.
Once logged in, return back to the main feed and press on the gear setting button.
Please tap Audio >> Alarms and Timers now to create a new alarm clock and complete the setting and also choose the Spotify music you wish it to wake you up.
Best Way to Make A Spotify Song as Your Alarm on Any Device
Comparing with utilizing the third-party programs to authorize Spotify for making it possible for people to customize the alarm clock with the Spotify music, which is still a troublesome process, downloading the Spotify songs offline and transfer them to any device for freely personalize as the ringtones or alarms could be a simpler solution.
To download Spotify songs in poplar plain encoders for importing to any device for setting as alarms, MuConvert Spotify Music Converter is what you need. The program also allows Spotify Free accounts to log in for accessing the download function, in that convert the music they like and export as plain audio files with MP3, M4A, WAV, or FLAC encoders for sending to portable devices such as the mobile phones, tablets, or speakers of all systems to freely set an alarms or ringtones.
Furthermore, MuConvert Spotify Music Converter can function to retain the full ID3 information, such as the title, artist, and other tabs of the downloaded Spotify songs for making it simple to manage the files locally. To facilitate effortless but high productivity, the program can also speed up the batch conversion to 5X faster, making the whole process a time-saving job.
Download Alarm Songs from Spotify via MuConvert Spotify Converter
MuConvert Spotify Music Converter is easy to get started, especially with the manipulation guidance provided here. If you are not a Spotify Premium subscriber but also consider customizing the music from Spotify database as your alarms, install MuConvert Spotify Music Converter for freely trying it with the simple guidance below. Please read.
Step 1. Log in MuConvert Spotify Music Converter
First, you ought to open MuConvert Spotify Music Converter on computer and enter the main feed of the Spotify Web Player. Subsequently, you can click on the LOG IN button in the upper right corner to login your Spotify account for accessing the download function provided by the program.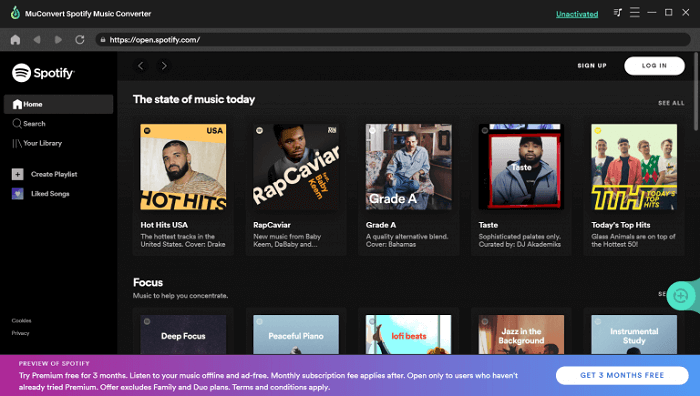 Step 2. Add Spotify Song or Playlist to Convert
After the account login, you can directly search for your favorite Spotify song or playlist for adding to convert by dragging them to the Add button. MuConvert Spotify Music Converter will proceed the analysis process to detect the content for you.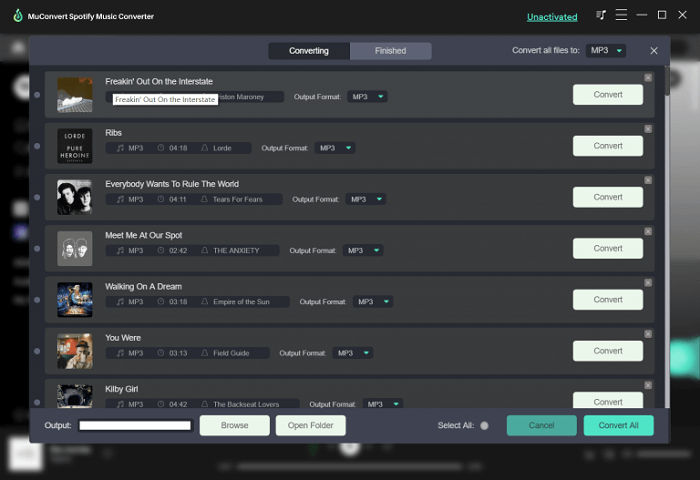 Step 3. Configure Parameters to Export Spotify Songs
Subsequently, please turn to Menu >> Preferences to customize the audio parameters in your preferences under the Advanced tab. You can adjust the Output Format, SampleRate, and Bitrate casually.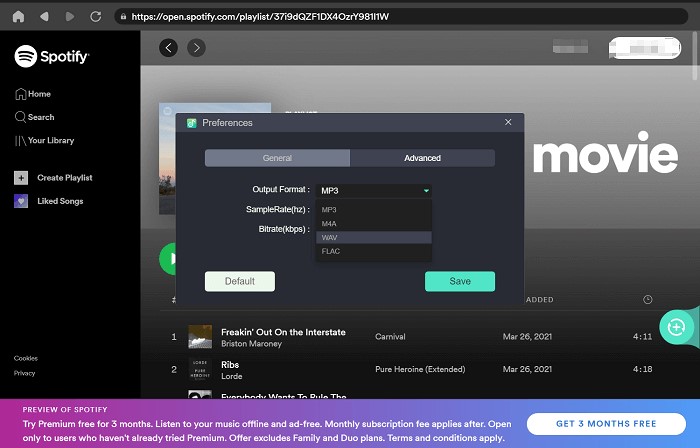 Step 4. Download Spotify Songs As Local Files
When the parameter settings are done, let's move on to the final step. You only need to click on the Convert All button to intimate the Spotify songs download process. Then MuConvert Spotify Music Converter would complete the download process swiftly and export the plain audio files to the local folder. Simply access them under Finished module by tapping the View Output File button.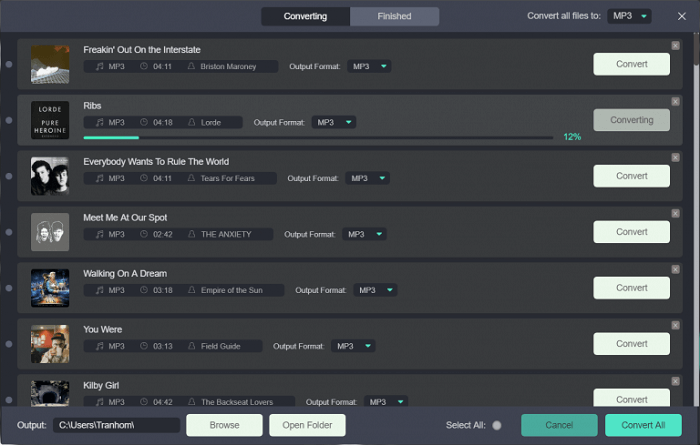 Set Downloaded Spotify Music as Alarm on iPhone/Android Device
When your favorite Spotify music has been downloaded offline, feel free to transfer them to your iPhone or Android devices now! You can use iTunes to sync them to iPhone, while utilizing an USB cable to import the songs to your Android device. Subsequently, by following the manipulation below and you can set them as the alarm on your iPhone/Android device.
Set Spotify As Alarm on iPhone
Open the Clock app on iPhone and switch to the Alarm module.
Edit the Alarm you wish to customize its sound as the imported Spotify music.
Click on Sound >> Pick a song.
Select the imported Spotify music and confirm Save to complete the setting.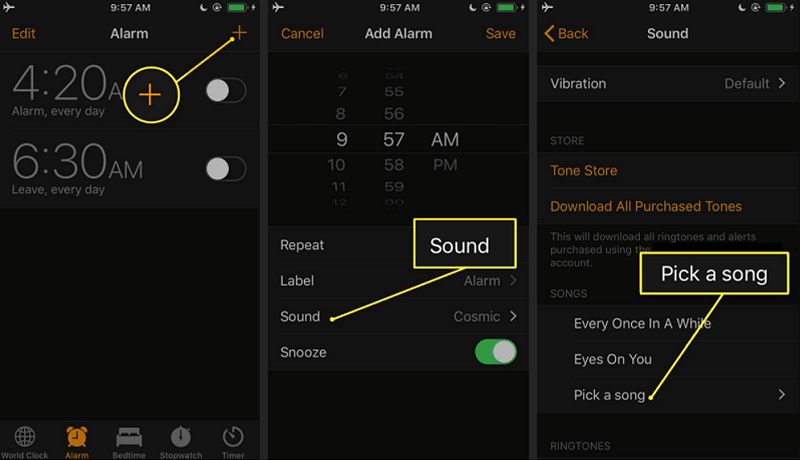 Set Spotify As Alarm on Android
Similarly, launch the Clock app on your Android device and turn to the Alarm module.
Select to edit the alarm in preferences, then tap Alarm Sound >> Add new for selecting the imported Spotify song as the alarm for this clock.
Confirm Done and the setting can be completed.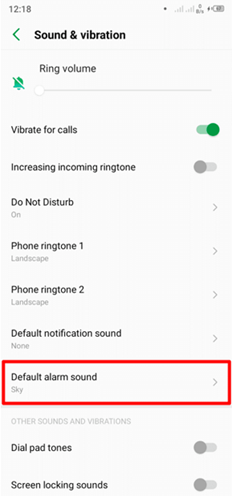 With MuConvert Spotify Music Converter, even the Spotify Free users can customize their alarms utilizing any Spotify music in personal preference. You should really master this way to make alarm and even ringtone customization an easy job from then on.