Downloading Spotify to MP3 on Android and listening to it on the go is definitely an ideal way to enjoy music whenever you want! But DRM encryption Spotify has invited to regulate music streaming hamstrings the MP3 download and stream on Android. In terms of this, the post has gathered 5 workable ways for you to download Spotify playlists to MP3 on Android. Now, please scroll down and dive in!
Download Spotify Songs Without Premium to Android
When it comes to high-rated tools to download Spotify to MP3 on Android, MuConvert Spotify Music Converter can be a good consideration for you. It is a user-friendly and efficient program designed with a built-in Spotify music player, allowing you to access the full music database and remove DRM applied on Spotify songs, playlists, albums, and podcasts, then download them to MP3 all at once without installing the Spotify program.
MuConvert Spotify Music Converter also will retain up to 320Kbps quality to export Spotify downloads. Better yet, regardless of whether you are a Spotify free user or a premium subscriber at all, the program will function as the same powerful and quality-guaranteed music download service for you to download Spotify to MP3 for Android.
Key Features of MuConvert Spotify Music Downloader
Lossless conversion quality ensured
This tool can ensure 100% lossless sound quality for offline listening after conversion. It can keep Spotify songs with the highest 320 Kbps audio quality to fulfill your needs at best.
Embedded Spotify web player
With Spotify Web Player embedded in MuConvert, you don't need to install the Spotify app to access every song link. Only a drag-and-drop movement can help you download Spotify to MP3 to Android.
Super fast conversion speed
Boasts 35X faster conversion speed, which can make music downloads be finished in seconds. Moreover, this download speed can also be applied in batch download so that you can enjoy Spotify music on Android one step faster!
Personalized parameter settings
It provides you with a variety of output formats for no-limit playback, including MP3, AAC, WAV, FLAC, AIFF, and ALAC. Besides, customization of audio parameter settings such as bit rate and sample rate also be provided.
Keep original ID3 tags and metadata information
During the conversion, the ID3 tags and media metadata information such as titles, artists, albums, and cover artworks can be saved. You can further select the tags as file names in the preferences setting. In addition, the program will alter and filter the downloads to the same category for facilitating more convenient music management in the local library.
With a straightforward interface, the converting process can be conducted with simple clicks. The following step-to-step guide will teach you how to convert Spotify Music songs to MP3 audio files and download them to your Android devices.
STEP 1. Get MuConvert Spotify Music Converter Ready
MuConvert Spotify Music Converter can be downloaded to Windows and Mac computers. You can easily click the buttons and install this software. After that, please launch the program and log in to your Spotify account in the built-in player.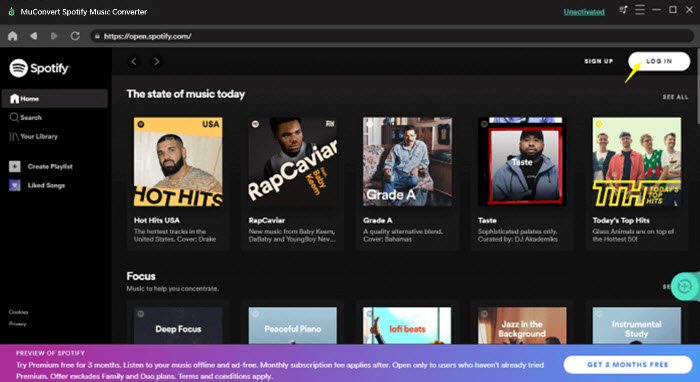 STEP 2. Drag and Drop Spotify Songs/Playlists to Convert
Once you log in to Spotify, you are allowed to browse your Spotify music library to select songs or playlists that you want to download to MP3 to Android. Subsequently, you can simply drag and drop them to the "+" icon. Then, MuConvert will list the selected songs for you.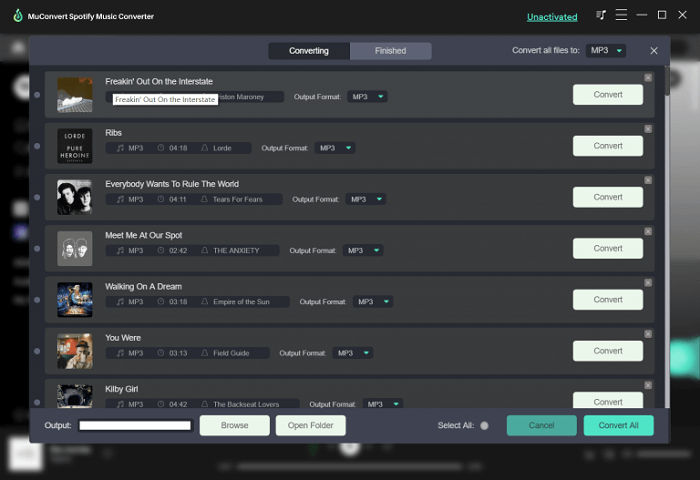 STEP 3. Customize Output Settings to Convert Spotify to MP3
Now, you can select the output format of Spotify music on the upper-right format menu. Meanwhile, you should choose which folder to save your files.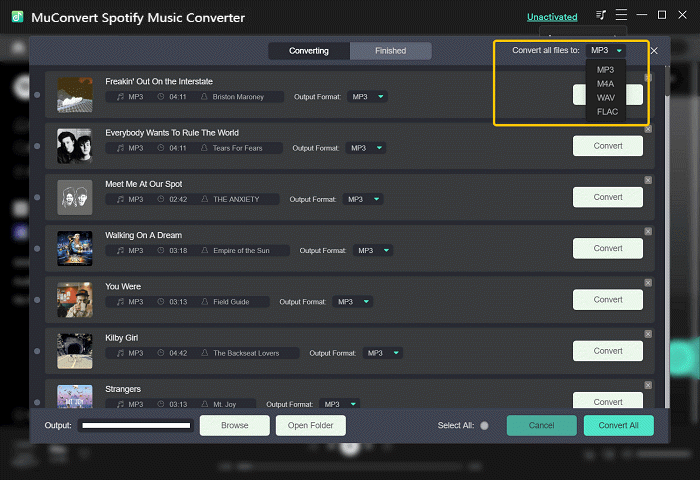 Subsequently, if you wish to determine the music quality for later offline streaming, please turn to Menu → Preferences, where you can further adjust both SampleRate and Bitrate parameters under the Advanced module.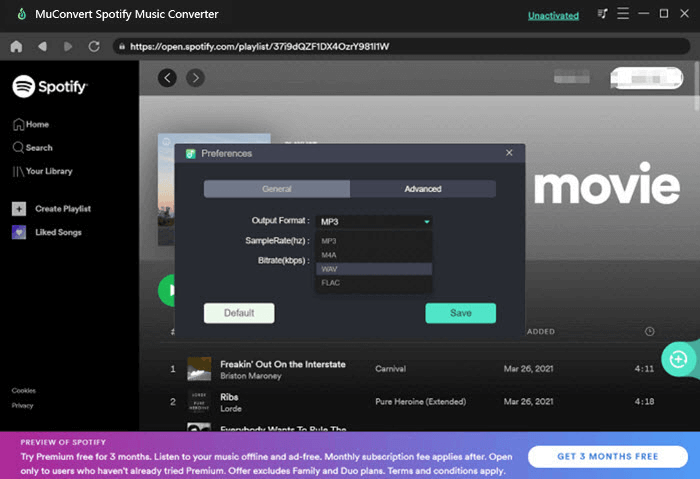 Once settings are adjusted, you can click the "Convert All" icon to start the converting process to download Spotify offline without premium. In a moment, you can get lossless high-quality music as you want and prepare to transfer Spotify to MP3 Android next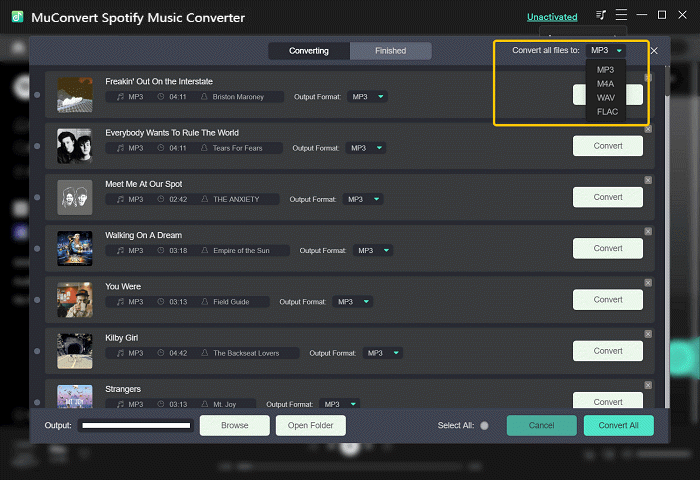 STEP 4. Stream the Converted Spotify Music to Android devices via USB
After the conversion, the "View Output File" button helps you locate the converted songs. Then, you can store these songs on your USB drive and transfer them to your Android phones for offline playback.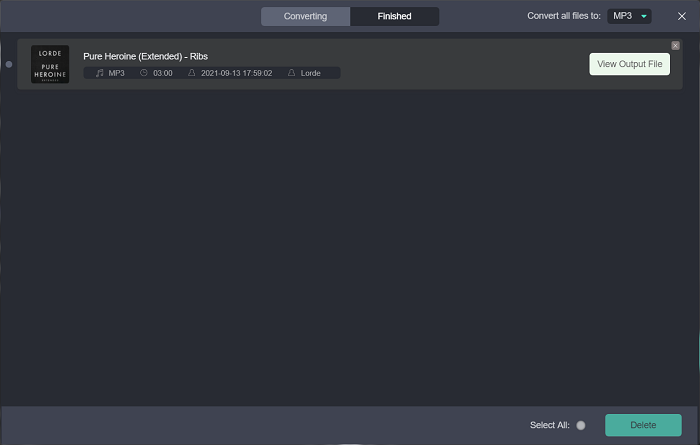 Download Spotify Songs to MP3 with Free Android Converters
Definitely, the direct way to download Spotify playlists to MP3 on Android can be using the Spotify to MP3 downloaders working on Android. In this module, SpotiFlyer and Fildo will be brought to you, which are two reliable Android applications working to download Spotify to MP3 to Android by taps. Please keep reading and see how they function to help.
SpotiFlyer
A free Android converter to download Spotify to MP3 to Android will be first introduced as SpotiFlyer. This Spotify to MP3 converter free Android version supports various platforms ranging from Spotify, JioSaavn, and Gaana to YouTube Music. In this way, the app enables you to download your favorite Spotify songs swiftly to MP3 and save them to Android phones or share them with friends. The ad-free interface and free access are the most attractive features of SpotiFlyer.
However, this tool is developed by Kotlin programming language and it should run on JAVA. So, you might spend time installing JAVA before operating it. Here are some simple steps to convert Spotify Music songs to MP3 on Android via Spotiflyer
STEP 1. Navigate to your Spotify app and browse your music library to select your favourite songs, albums or playlists. After the selection, you should copy the URL of the music.
STEP 2. Launch the Spotiflyer app and put the URL of desired songs to the URL bar. Then, you will see the corresponding search results quickly.
STEP 3. Click the download icon on the right side of selected music titles to start downloading. When the process is completed, you can listen to them offline anytime and anywhere.
Fildo
Another alternative Spotify MP3 downloader for Android you shall have a try can be Fildo. The application contains no messy ads inside, and it is also a cross-platform supported application, also working to help Windows 10 and Xbox One users to get rid of Spotify DRM and download Spotify playlists to MP3 on Android and more devices by clicks. When it ensures decent quality to export Spotify songs, you can have a quality-guaranteed music streaming experience offline on Android later.
Please walk through the guide to download Spotify playlists to MP3 on Android using Fildo.
STEP 1. Please install the Fildo application on your Android device to set up this Spotify MP3 downloader for Android properly.
STEP 2. When the installation completes, please run Fildo and turn to More >> Import Spotify to connect it to your Spotify account.
STEP 3. Import Spotify playlists to Fildo now. Once complete, you can click on the provided Download button to download Spotify to MP3 on Android in no time.
Download Spotify Songs to MP3 with Converter Online Free
Replacing installing third-party applications or programs, you can definitely rely on a web-based Spotify MP3 downloader for Android to download Spotify to MP3 effortlessly. These online tools would take no charge, meaning that you can complete the conversion entirely for free. Meanwhile, they are accessible by browser, so you can download Spotify to MP3 regardless of what devices you are using. In the following, please take the two recommendations to download Spotify to MP3 to Android online.
SpotiDown
The installation and charge-free web-based tool, SpotiDown, is a rational Spotify to MP3 converter free for Android users to access and download Spotify to MP3 with only very basic taps. When you get the Spotify URL copied to the clipboard, paste it to SpotiDown and it will resolve the link to convert Spotify to MP3 for you.
NOTE:
Please make sure that you are not pasting a playlist URL as SpotiDown has not yet supported downloading Spotify playlists to MP3 on Android this time.
STEP 1. First, please open the Spotify platform and access the song you wish to download to MP3. Copy its URL.
STEP 2. Subsequently, open a new tab in the browser and turn to SpotiDown. By pasting the Spotify URL into the search bar and clicking on the Download button, it will resolve the link for you automatically.
STEP 3. Once the conversion completes, you will get a Download button to save the converted MP3 music file locally for offline streaming.
MP3Juices.cc
The next recommended tool to download Spotify to MP3 on Android is also free to try, which is MP3Juices.cc. It is a popular music search engine for downloading free songs easily, compatible with any browser. The website directly displays a search box for you and you are allowed to search with keywords like singers, lyrics, and album names.
When you find your desired songs, you can download them with simple clicks. However, you can not get rid of advertisements while using MP3Juices.cc. Pop-up advertisements might annoy you during the downloading process. If you would like to try MP3Juices.cc to download Spotify to MP3, here is a brief guide.
STEP 1. You have two options at first. You can go to the Spotify app to copy the URL of your favorite songs to the MP3Juices.cc website or just enter those songs' names on the website. Then, you can click the search button.
STEP 2. After processing, the website will produce a list of your search results and you can check.
STEP 3. Click the download button to start downloading Spotify to MP3 on Android devices and enjoy offline playback.
Comparison of Free Spotify to MP3 Converters on Android
To draw a conclusion, please refer to the following chart and compare these 5 methods to download Spotify to MP3 on Android for better sorting your most preferable one:
| | MuConvert Spotify Music Converter | SpotiFlyer | Fildo | SpotiDown |
| --- | --- | --- | --- | --- |
| DRM Removal | ✔ | ✔ | ✔ | ✔ |
| Output Format | MP3, AAC, WAV, FLAC, AIFF, and ALAC | MP3 | MP3 | MP3 |
| Output Quality | Lossless | Medium | Medium | High |
| Conversion Speed | Ultra-fast (35X) | Medium | Medium | Fast |
| Batch Conversion | ✔ | ✔ | ❌ | ❌ |
| ID3 Editing | ✔ | ❌ | ❌ | ❌ |
| Ad-free Interface | ✔ | ✔ | ✔ | ❌ |
| Ease of Use | ✔ | ✔ | ✔ | ✔ |
Conclusion
Overall, in this post, we introduce you to three tools to download Spotify music to MP3 formats and facilitate offline playback on Android devices. Among them, MuConvert Spotify Music Converter is highly recommended, which can convert your Spotify songs to MP3 with lossless sound quality and avoid some hidden troubles (like the messy ads interrupting your Spotify to MP3 Android download progress in free applications and online tools) for offline listening on Android phones. Now, please install it and freely get started on the trial!
Convert Spotify Music to MP3 in 320kbps
Drag and drop to convert Spotify songs, albums, playlists, and podcasts to MP3 easily.