How to Make a Spotify Song the Ringtone for Android/iPhone?
When you are coming across a great piece of Spotify music and try to set it as your ringtone, you may find there is no such feature within Spotify. In this case, a problem arises: can you set a Spotify song as your ringtone? In fact, Spotify doesn't allow for using its songs as ringtones even for Spotify Premium listeners. Plus, Spotify encrypts its songs with DRM in OGG Vorbis format, making it impossible to download a Spotify song and put it as a ringtone directly.
Though the official service doesn't offer the feature, there is still a 100% efficient method to accomplish the task. In today's post, we will share with you how to make Spotify the ringtone on iPhone/Android by converting a Spotify song to MP3 and putting it as your ringtone. Let's check out now.
Download Spotify Ringtone with MuConvert Spotify Music Converter
Considering that Spotify songs are all protected with DRM, as we mentioned before, you have to decrypt and convert Spotify OGG music files to plain MP3 format before putting it as a ringtone. The conversion process necessitates the use of a powerful song converter – MuConvert Spotify Music Converter.
MuConvert Spotify Music Converter is an excellent and professional Spotify Music DRM removal desktop application capable of easily removing Spotify protection and converting songs to common audio formats like MP3 and WAV. After processing songs, the app will help you quickly download Spotify songs as local files for song editing and merging outside the Spotify app. Better still, the app is so powerful that it can help you download as many Spotify songs as you want, even with your Spotify free account.
Once the DRM-free Spotify songs are ready, you can transfer them to mobile devices and make them ringtones whenever you need.
Now let's take a deeper look into how the features provided by MuConvert Spotify Music Converter enable you to download any Spotify song you like with ease and fully prepare for making a Spotify song your ringtone.
Guarantee the superior audio quality of your Spotify songs – MuConvert Spotify Music Converter converts Spotify songs with lossless quality to make sure your ringtone is clear and melodious.
Download Spotify songs/playlists/albums without premium – Even if you are a Spotify Free user, the app still enables you to download unlimited Spotify tracks so that you can merge several audio clips together to create a unique ringtone.
5X faster speed & batch download – With the leading acceleration technique applied, MuConvert provides a speedy batch download feature and rips Spotify songs offline without waiting for a long time.
Support 4 common audio formats – MuConvert Spotify Music Converter converts Spotify songs to MP3, M4A, WAV, and FLAC formats so that you can trim Spotify songs without any limits on platforms.
Better music management with ID3 tags preserved – While processing Spotify Music downloads, the app will also resolve ID3 information such as title, artist, and cover to help you manage Spotify songs with ease.
Customize parameter settings – from the popular encoders to the free SampleRate as well as Bitrate personalization, the app has provided options for you to adjust flexibly as you wish.
In the following, please read the detailed guide to download Spotify songs as common audio files in preparation for subsequently creating ringtones.
Step 1. Log in MuConvert to Access Music Database
First, download and launch the well-installed MuConvert Spotify Music Converter. After clicking Open Spotify web player, click on LOG IN to log into your Spotify account.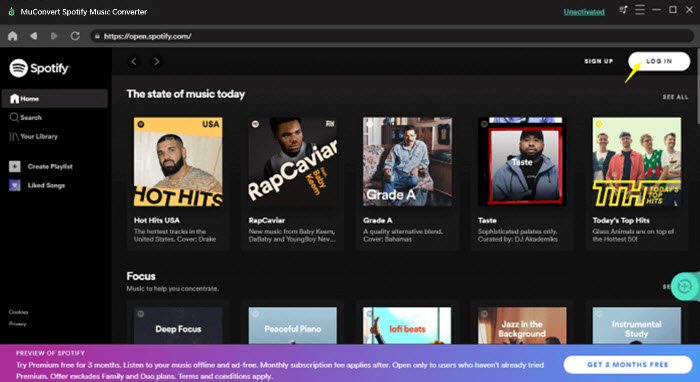 Step 2. Select Spotify Songs to Download as Ringtones
After the login, you can directly access all Spotify tracks. In the search tab, input the name of a Spotify song you wish to download and make as ringtones. Then, drag it to the "+" button aside to add it to the converting list.
You can also drag and drop an entire playlist to the button to download a bunch of songs with one click.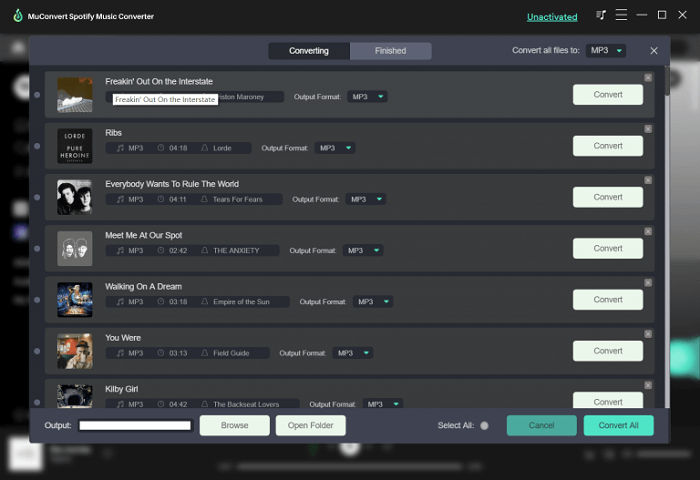 Step 3. Set Parameters to Get Ready for Spotify Download
Next, please turn to Menu > Preferences for customizing the Format, SampleRate, and Bitrate for the Spotify song to be downloaded. Please configure the supported audio file formats of your devices. For high audio quality and small file size, here we recommend you set MP3 as the output format.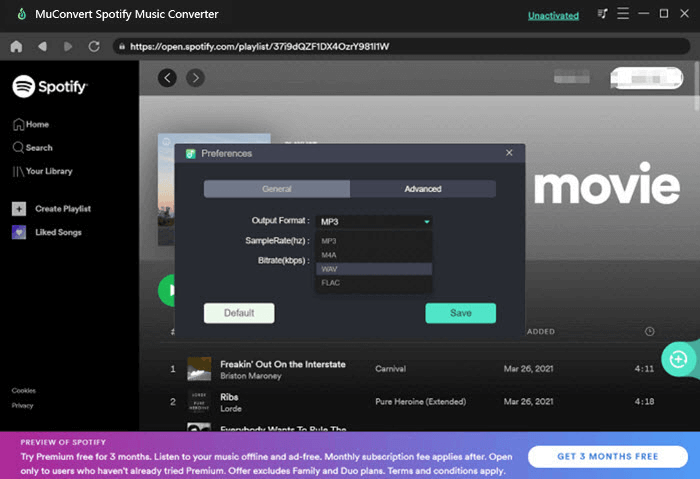 Step 4. Download Spotify Songs to Make a Ringtone
The next step is to click Convert All to download the imported Spotify songs in one shot. Once the download completes, you will get the DRM-free Spotify music files and now you are ready to make them as ringtones on iPhone/Android.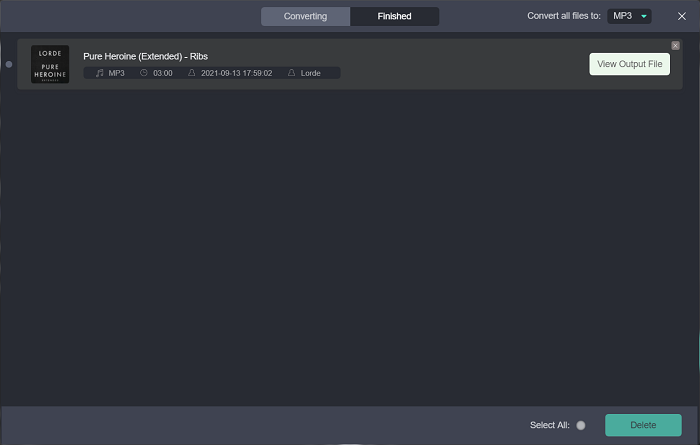 Make Ringtones from Spotify Songs on iPhone/Android
Once the DRM-free Spotify songs are downloaded by MuConvert Spotify Music Converter on computers as local files, the next step is to transfer it to iPhone/Android and trim a ringtone from the Spotify song. Steps on how to create a ringtone on iPhone and Android are different. So choose the right method based on your device.
Note: It should be noted that the maximum ringing duration of the iPhone is 40 seconds. Therefore, you can trim the Spotify song using iTunes to a 40-second sound clip before setting it as the ringtone.
Step 2. To create a 40-second ringtone from a Spotify song, right-click the song:
Choose Get Info. You will see a pop-up dialog.
Click the Options tab where you can set the duration of the song to play on by adjusting the start and stop time. Keep in mind that ringtones cannot be longer than 40 seconds.
Click OK to save your changes.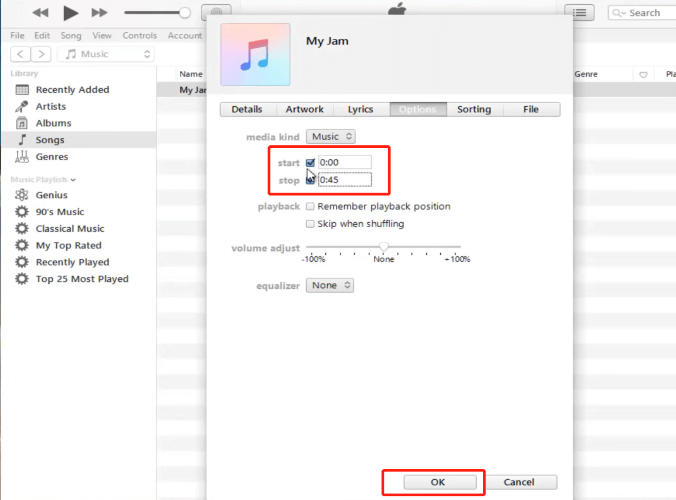 Step 3. Select the audio clip. Right click on it and select File > Convert > Create AAC Version. Wait for a few seconds and a new audio clip with the same name but shorter duration in AAC will be created in your iTunes Library.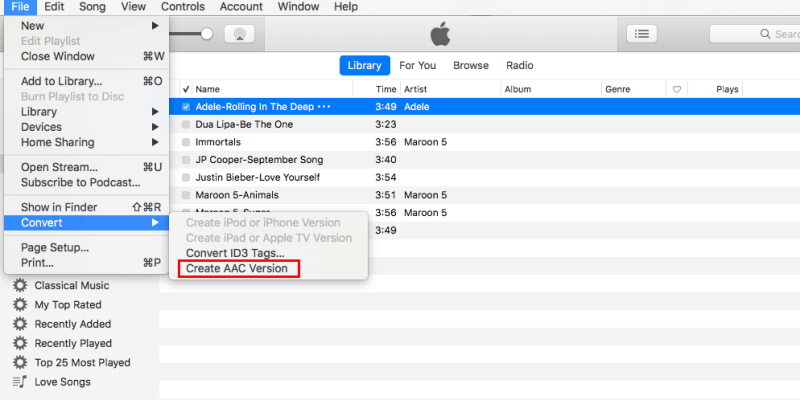 When the AAC Spotify music file is created, right-click the sound clip and select Show in Windows Explorer to save it in a folder. Rename it by adding a dot and m4r (all lowercase).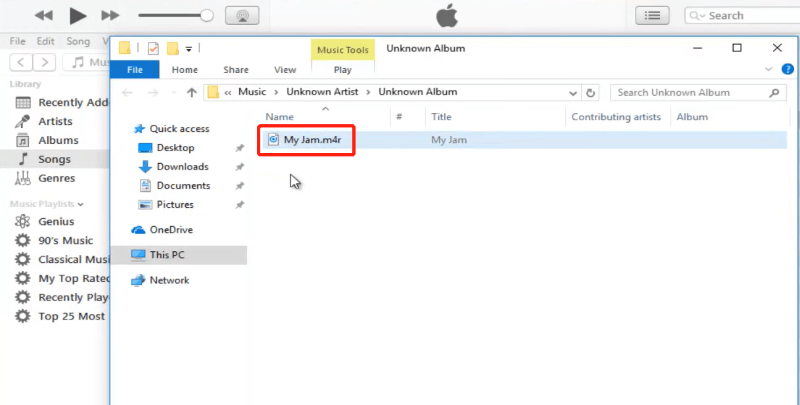 Step 4. Go back to iTunes. Click Music > Edit Menu. Check Tones and click Done.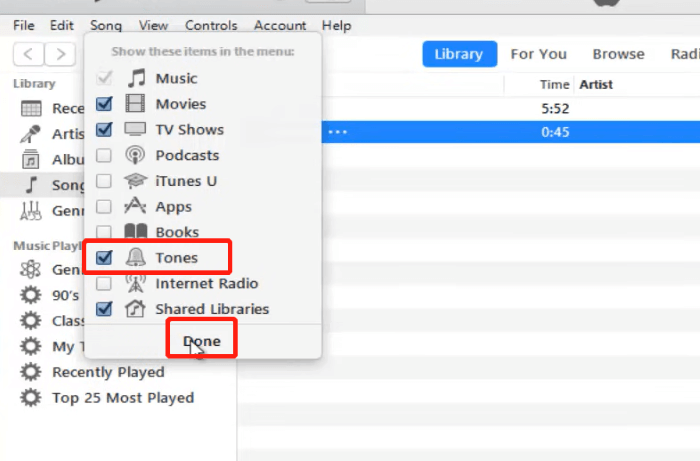 Then, click Tones. Open the folder that stores your 40-second audio clip. Drag and drop it to the Tones page.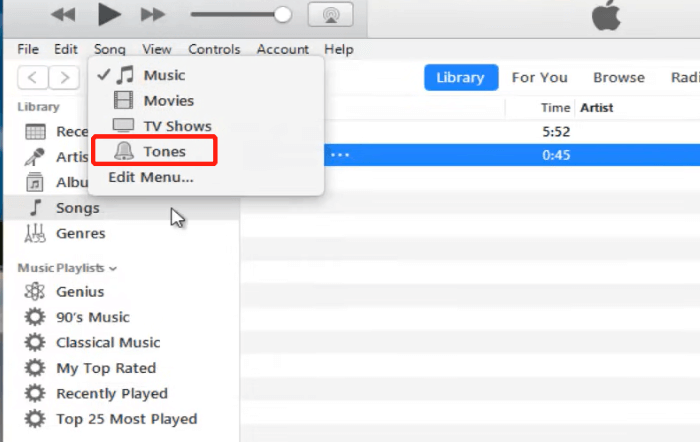 Step 5. Now, please connect your iPhone with iTunes and turn to Summary > Tones for importing the .m4r Spotify ringtones to save on the device.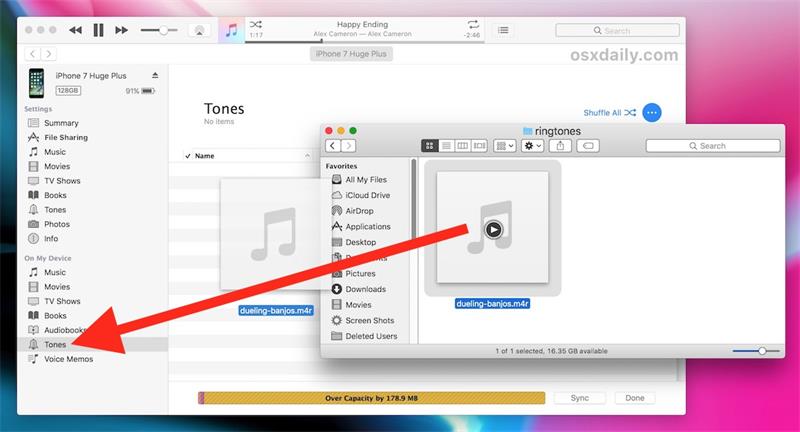 Step 6. Subsequently, go to Settings > Sounds & Haptics > Ringtone on iPhone and select the imported Spotify song to utilize the ringtone directly.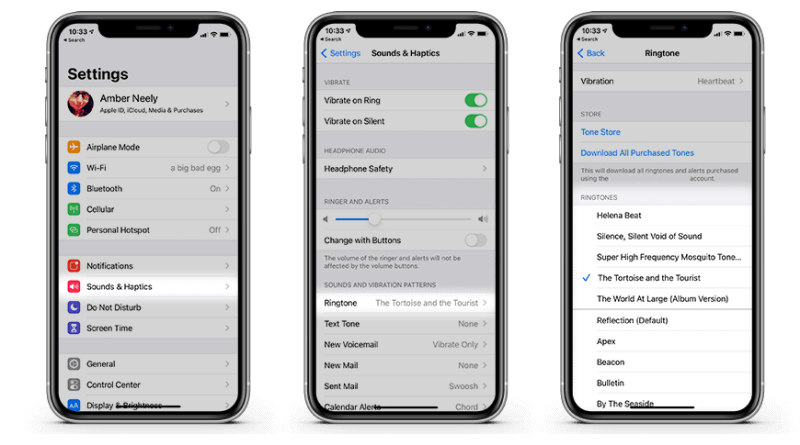 Step 1. To download Spotify songs to MP3 on Android, please connect your Android device to computer with a USB cable and import Spotify downloads to your mobile.
Step 2. Before setting your favorite part of a Spotify song as the ringtone, you can cut out the wanted part. Check Q1 in FAQ to choose a phone app to trim a Spotify song on Android.
Step 3. Open Settings > Sounds and vibration > Ringtone.
Step 4. Tap "+" to select the downloaded Spotify Music to directly apply it as your Android ringtone.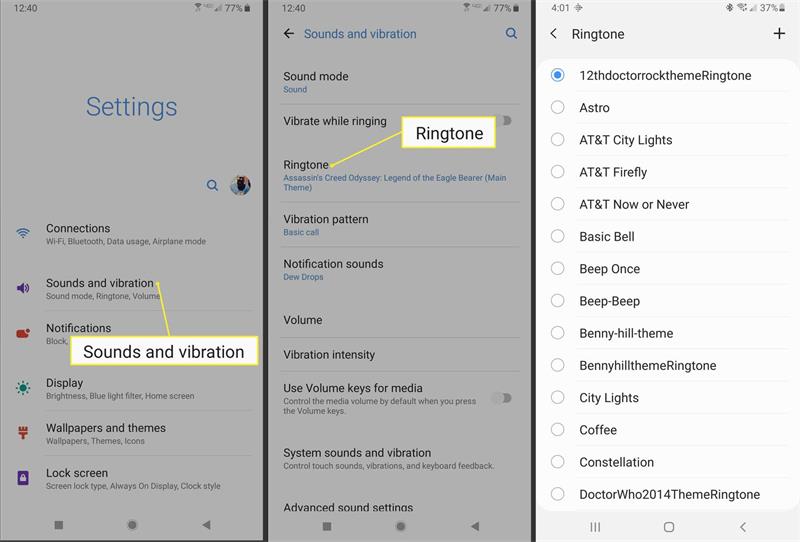 FAQs About Setting Spotify Songs as Ringtones
Q1: What app can you use to make ringtones from Spotify
For Android users who need apps to create ringtones on the phone, both free and paid ringtone maker apps with powerful functions are listed below to help you create ringtones on the phone.
Ringtone Maker – a totally free Android app with pop-up adds
• Support MP3/WAV/AAC and other audio formats.
• Cut, crop, and merge audio files and leave you with the part you want
InShot MP3 Cutter and Ringtone Maker – free /$3.99
• Add special effects like fade-in and fade-out effects
• Powerful functions like trimming songs down and mixing music.
Audiko – both a ringtone maker and a ringtone app
• Create your unique ringtones by trimming, cutting, or combining any parts of the song.
• Choose free ringtones from its big database
Zedge – A large ringtone library
• offers millions of free wallpapers, ringtones, alarm sounds, stickers, and notification sounds
• offers millions of free wallpapers, ringtones, alarm sounds, stickers, and notification sounds.
Q2: Can you convert Spotify to iPhone ringtone without a computer?
If you don't want to use a computer to convert Spotify songs to iPhone ringtone, the following steps will show you how to set a Spotify song as the ringtone with only your iPhone in an easy manner.
Download the Ringtone Maker app on your iPhone. Input a downloaded DRM-free Spotify song to your Music Library. Cut out a 30-second part from the Spotify song.
Tap Save to store your ringtone file in the My Tones section.
Download the GarageBand app on your iPhone. (Usually, the app has already been preinstalled on your iPhone.) Click the three-dot icon next to the audio clip and tap Install Ringtone > Install via GarageBand.
Tap the GarageBand icon.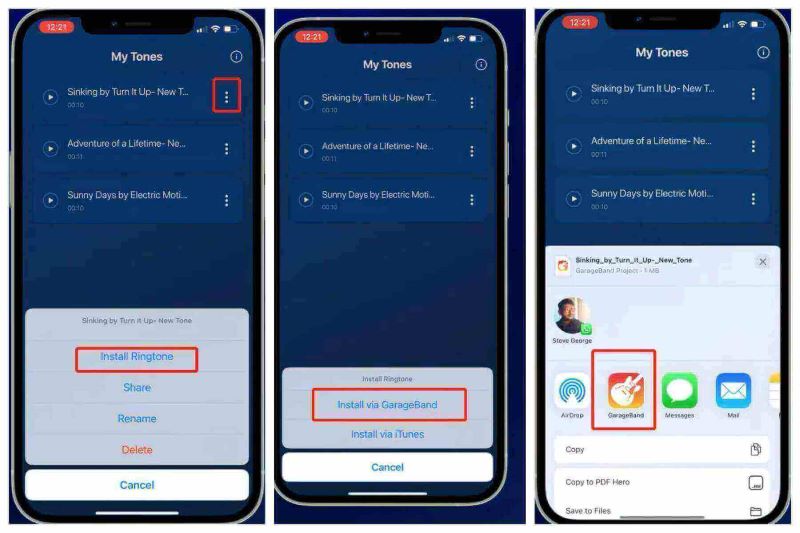 Tap and hold on to the clip. Tap Share >Ringtone >Export.
After the ringtone is exported successfully, go to your iPhone settings, tap Sound and Haptics >Ringtones. Choose the audio clip, and you're good to go.
While Spotify doesn't allow you to directly set its songs as ringtones on iPhone/Android, you can still download the songs with MuConvert Spotify Music Converter first, then transfer them to the mobile devices for creating unique ringtones. As the process is pretty simple, everyone is able to start up with thito s simple manipulation guide. Besides unique ringtones, you can even make good use of MuConvert Spotify Music Converter to set Spotify music as an alarm. Now it's your turn to have a try!