How to Make a Spotify Song the Ringtone for Android/iPhone?
Spotify does offer countless music resources and great sound quality for people to have an enjoyable music journey. Nevertheless, when Spotify has encrypted all the media content with DRM (Digital Rights Management) protection, you are restricted to utilizing Spotify songs for other purposes like making them as ringtones on mobile devices.
If you are still struggling to make ringtones from Spotify, don't worry! This post now brings the full manipulation guide to you. Please take a moment to walk through the tutorial and you will master how to make Spotify the ringtone on iPhone/Android easily.
Download Spotify Ringtone with MuConvert Spotify Music Converter
As mentioned, when DRM protection is the key factor preventing you from using Spotify songs as ringtones, for sure we need to unlock it in the first place. Therefore, MuConvert Spotify Music Converter is recommended to provide you with help.
MuConvert Spotify Music Converter
is an excellent Spotify Music DRM removal program, delivering brilliant features to unlock Spotify protection and convert songs to regular music files in encoders of great popularity and high compatibility. The program will retain full quality, meanwhile keeping the original ID3 tags for exporting the songs. Once the DRM-free Spotify songs are ready, you can transfer them to mobile devices and make them as ringtones whenever you need.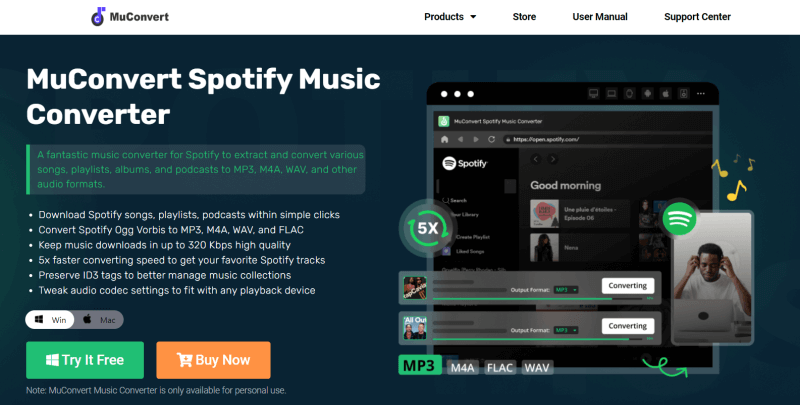 Please preview the following sparkling features you will access by utilizing MuConvert Spotify Music Converter to download Spotify songs:
In the following, please read the detailed manipulation guide to download Spotify songs as regular music files for making ringtones in later procedures:
Step 1. Log in MuConvert to Access Music Database
First, open the well-installed MuConvert Spotify Music Converter. After landing in the main feed of the built-in Spotify web player, you can click on the LOG IN button to log in utilizing your personal Spotify account.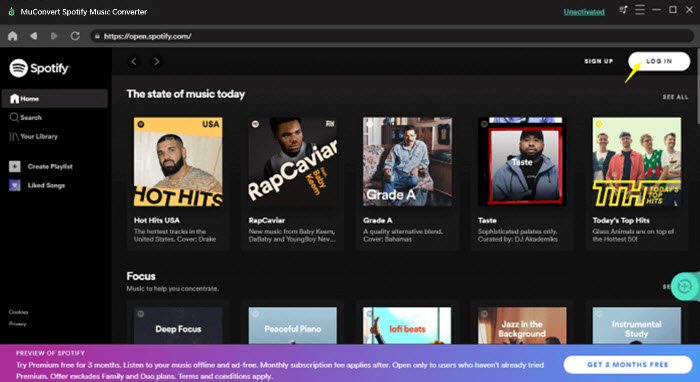 Step 2. Select Spotify Songs to Download as Ringtones
After the login, you can directly access the official music database and utilize the searching function to find any Spotify song you wish to download and make as ringtones. Please drag them to the Add button aside to prepare the conversion in advance.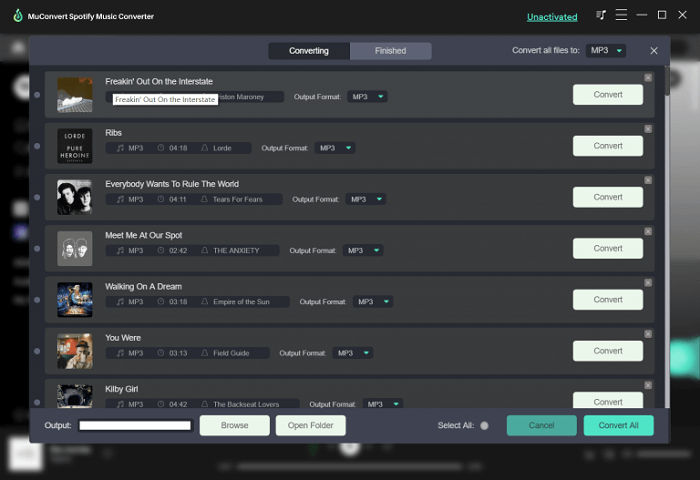 Step 3. Preset Parameters to Get Ready for Music Download
Subsequently, please turn to Menu >> Preferences for personalizing the Format, SampleRate, and Bitrate to download Spotify songs in need. Please configure the supported audio file formats of your devices to determine which encoder to select.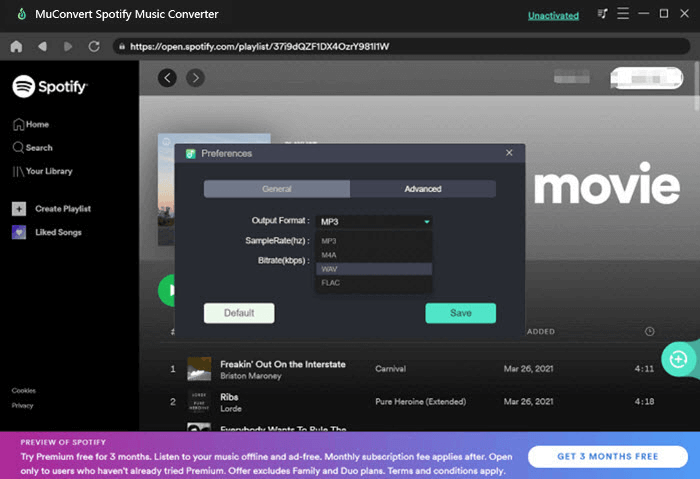 Step 4. Download Spotify Songs as Ringtones
Eventually, please tap the Convert All button to proceed with downloading the imported Spotify songs in one shot. Once the download completes, you get the DRM-free Spotify music files and now you are ready to make them as ringtones on iPhone/Android.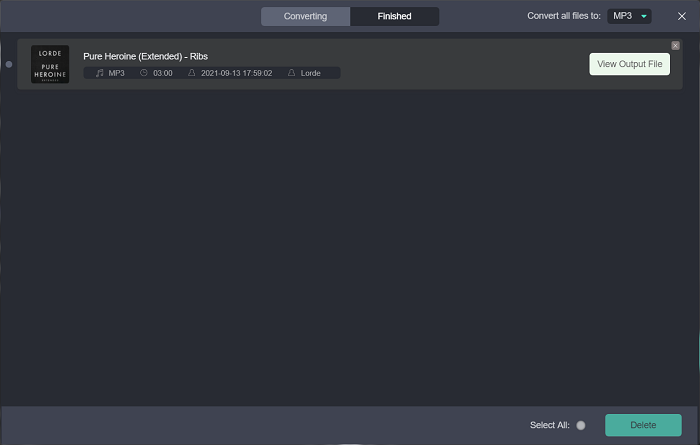 Please continue with the following procedures.
Make Ringtone from Spotify Song on iPhone/Android
Once the DRM-free Spotify music songs are downloaded on computers as local media files, it's your turn to transfer them to iPhone/Android and make ringtones from Spotify now. Please continue reading the guidance below to master how to do it on these two types of devices respectively.
1. Run iTunes and import the downloaded Spotify songs to iTunes Library first.
2. Locate the Spotify song you wish to make it your iPhone ringtone. Right click on it and select File >> Convert >> Create AAC Version.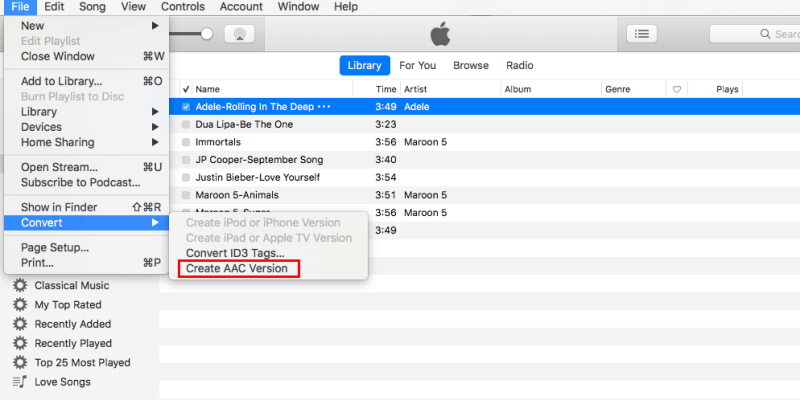 3. When the AAC Spotify music file is created, drop it to your desktop and alter the extension of it to .m4r.
4. Now, please connect your iPhone with iTunes and turn to Summary >> Tones for importing the .m4r Spotify ringtones to save on the device.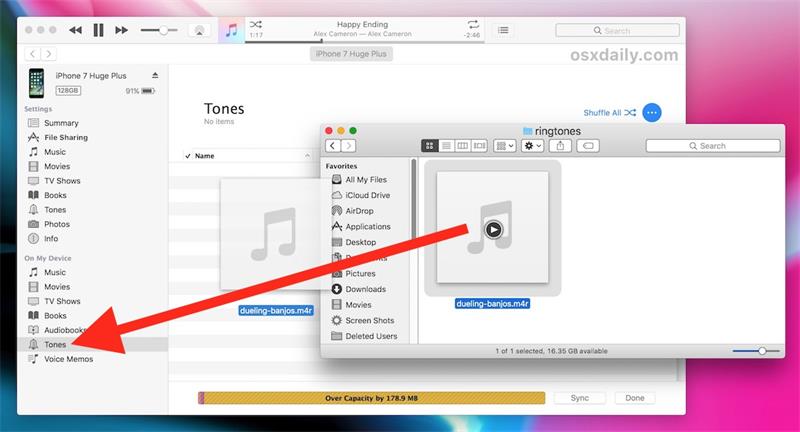 5. Subsequently, go to Settings >> Sounds & Haptics >> Ringtone on iPhone and select the imported Spotify song to utilize the ringtone directly.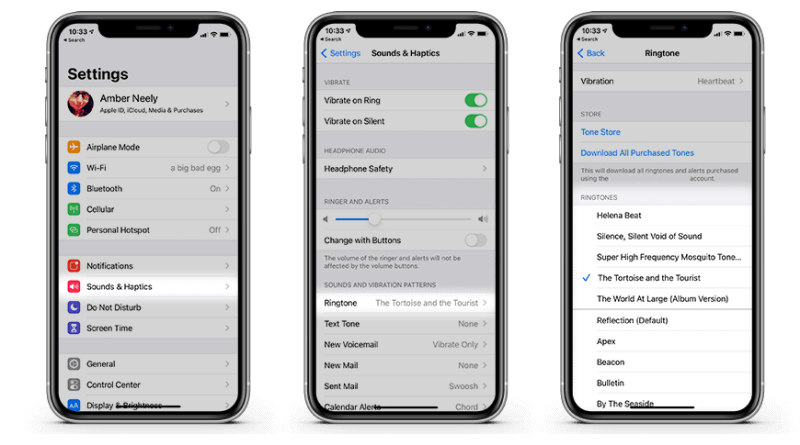 1. Please connect your Android device with computer with a USB cable and import the Spotify ringtones to your mobile.
2. Open Settings >> Sounds and vibration >> Ringtone.
3. Tap + to select the downloaded Spotify Music to directly apply it as your Android ringtone.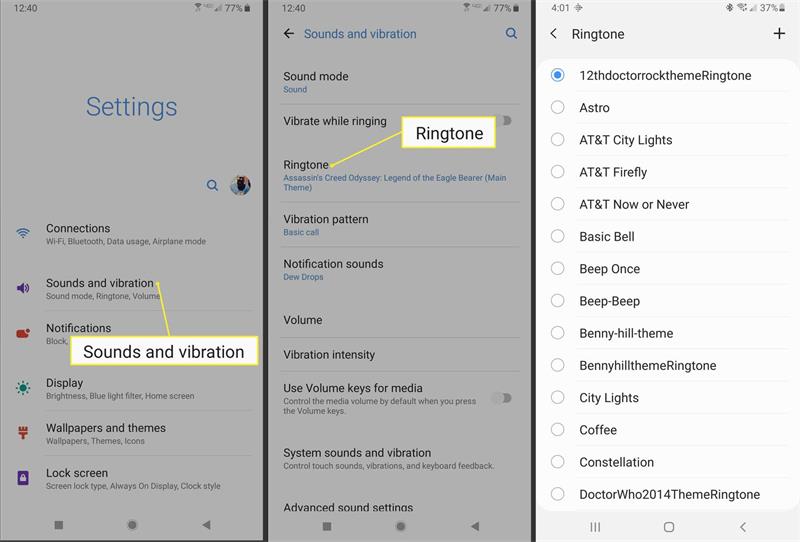 When Spotify fails to be directly utilized as ringtones on iPhone/Android, it is still workable to download the songs with
MuConvert Spotify Music Converter
first, then transfer them to the mobile devices for creating unique ringtones. As the process is pretty simple, everyone is able to start up with this simple manipulation guide. Please try and make your ringtones unique!