How to Transfer Spotify Playlist to Deezer in 3 Workable Ways
Are you a new jumper from Spotify to Deezer? Spotify enables listeners to stream music on all devices and play local files on each device, but it cannot sync your local songs and saved songs among Android, iPhone, and Desktop. Luckily, Deezer can play both saved songs and local songs across different platforms. That's why people want to shift from Spotify to Deezer.
However, you may be upset with the problem – how to transfer Spotify playlist to Deezer? Then, you're in the right place. This post is going to introduce the 3 best ways to transfer Spotify to Deezer. Let's take a look.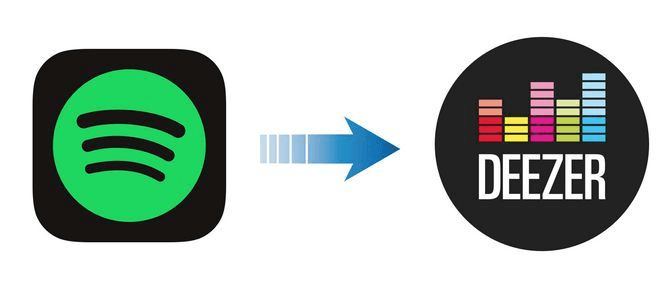 How to Transfer Spotify Playlist to Deezer Online?
The most convenient way is to use an online tool to transfer your music library from Spotify to Deezer without any software. There are the two most popular online Spotify to Deezer transfers for you to choose from, respectively, TuneMyMusic and Soundiiz. If you're unfamiliar with both online tools, you may want to check out their features & drawbacks and how they work as follows.
Soundiiz
provides a powerful online service to convert playlists between different music streaming platforms, including Spotify to Deezer. Without the requirement to install extra software, Soundiiz enables users to complete the playlist conversion online without hassle. If you are unwilling to install third-party extensions or software to transfer Spotify playlists to Deezer, Soundiiz is an ideal choice for you.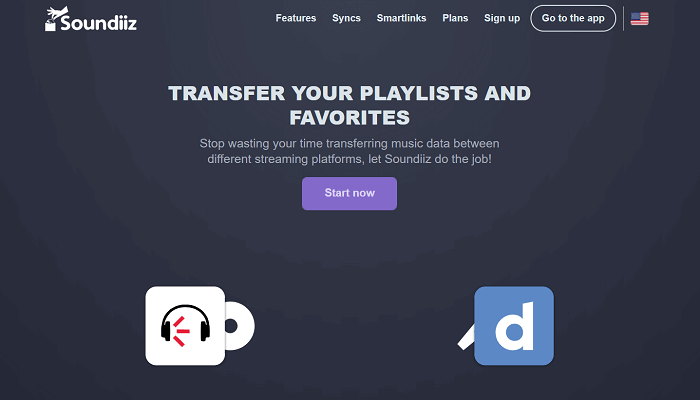 Features

Drawbacks

Available to synchronize playlists among popular streaming platforms such as Spotify, Deezer, Apple Music, YouTube, and so on;

Smooth and fast conversion process;

Easy-to-grasp playlist conversion operations;

Enable to export playlists in CSV, XML, TXT, and other document formats.

Free Sync Spotify and Deezer once for the first time.

Transfer up to 200 songs per playlist for free.

Convert Spotify playlists to Deezer one by one for a free account.

A bit expensive for €3 per month billed annually.

A bit risky because it requires authorization between Spotify and Deezer.
Soundiiz is easy to use on the web. You don't need to download any program, but go through the whole procedure in the browser. Let's find out how Soundiiz works to convert Spotify playlist to Deezer.
STEP 1. Go to visit Soundiiz's official site on your Android, iPhone, iPad or computer.
STEP 2. Hit the Get started now button and create an account. In this case, you may want to sign in with your Spotify account.
STEP 3. After the authorization, Soundiiz'll fetch your playlists. Tick up the checkbox before the playlist you want to transfer and choose Convert on the top.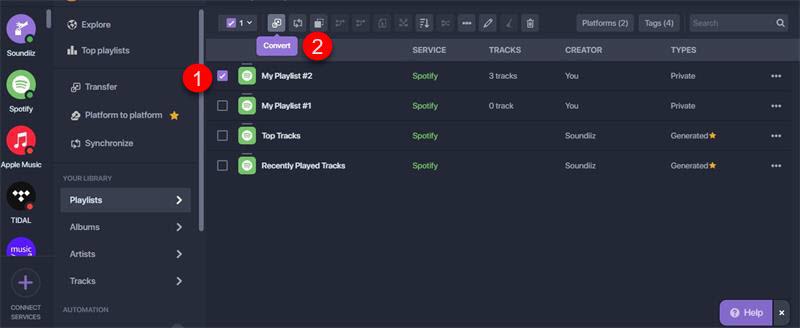 STEP 4. Next, you can configure your playlist if needed, and select songs in the playlist.
STEP 5. Click Confirm to proceed, and you'll be prompted to select a platform to transfer your playlist. You should choose Deezer and log in to your account. Then, it'll start converting your playlist from Spotify to Deezer.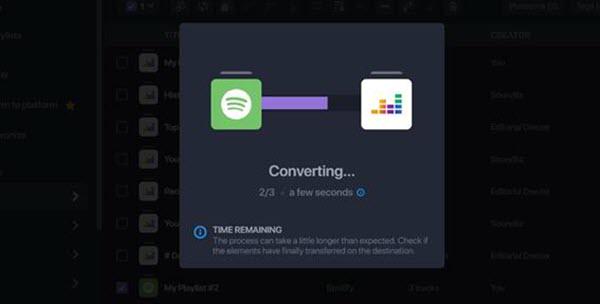 Another online Spotify to Deezer converter is
TuneMyMusic
. By providing a well-designed interface, Tune My Music is able to help users transfer playlists from Spotify to Deezer or other music streaming platforms with ease online. When you use the service, you are not required to install an extra extension to activate the function. Thus, for users who want to transfer Spotify playlist to Deezer without complicated operations, Tune My Music will be a rational choice.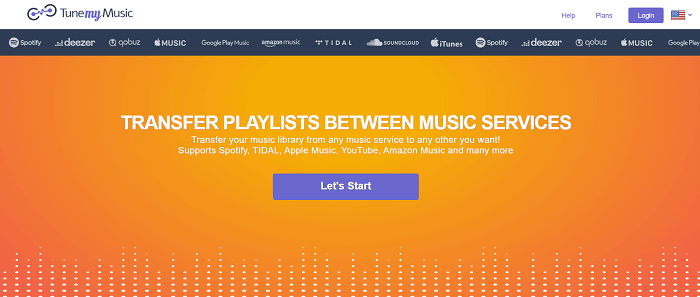 Features

Drawbacks

Perfectly synchronize playlists while converting from one to another music service;

Available to backup music library to a file for preservation;

Easy-to-grasp functionality;

Instantly share music with friends.

Transfer up to 500 tracks for free.

No automatic syncs for a free account.

Start at $2/mo for an annual plan.

Cannot transfer songs that the artists are not in Deezer.

A bit risky because it requires login information for your Spotify and Deezer accounts.
Actually, Deezer has already integrated with TuneMyMusic to help listeners quickly transfer playlists from Spotify to Deezer. You can do the transfer on the web or on the Deezer app. As far as I am concerned, it's easier and quicker to perform the procedure on a smartphone. Let's see how it works below.
STEP 1. Open the Deezer app on your Android, iPhone/iPad.
STEP 2. Log in to your account and go to Settings, and tap Transfer your favorites to proceed.
STEP 3. You'll be redirected to TuneMyMusic and prompted to select the source. Now, go with Spotify.
STEP 4. Allow the authorization for TuneMyMusic to access your Spotify playlists.
STEP 5. Select the playlist that you want to transfer and tap Transfer To Deezer. It'll now start transferring your selected playlist from Spotify to Deezer in no time.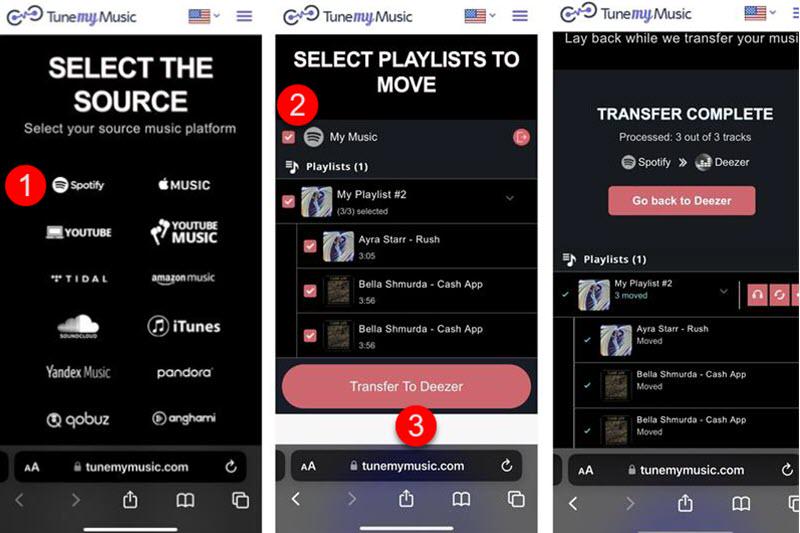 How to Download and Transfer Spotify Music to Deezer?
Online tools like Soundiiz and TuneMyMusic are really helpful for direct transfer from Spotify to Deezer, but they cannot sync your locally saved music library to Deezer. You'll need to upload the local tracks from the computer to Deezer on your own. There are some restrictions when it comes to uploading local files to Deezer.
Deezer only allows users to upload MP3 files to the platform.

Users cannot upload over 200MB in size at a time.

Deezer sets a limit of up to 2,000 MP3 songs to upload to an account.

Users need to subscribe to Deezer Premium to access MP3 files on mobile.
As you may know, the downloads from Spotify are encrypted and untransferrable with DRM protection. Therefore, you need to download Spotify music to MP3 and then upload the files to Deezer.
MuConvert Spotify Music Converter
enables users to decrypt Spotify music and download Spotify music even without Premium. More sparking features are listed below.
Spotify to MP3 Converter – MuConvert Spotify Music Converter enables users to directly download unlimited Spotify music to MP3 format to Windows and Mac, so you can upload them to Deezer. More output formats include M4A, WAV, and FLAC.


Playlist auto-detection feature – Simply by logging in to your Spotify account within MuConvert's built-in Spotify web player, you are able to download the entire playlist from Spotify in one click.

Original quality guaranteed – MuConvert Spotify Music Converter ensures to maintain the original quality of up to 320kbps and 48kHZ while downloading Spotify songs. Users are able to enjoy high-quality music streaming offline.

Super fast conversion speed – The music conversion speed of MuConvert Spotify Music Converter has been quickened to 5X or even faster, helping to boost efficiency to a higher level.

Song info preservation – The ID3 tags and metadata of the Spotify songs will be preserved when MuConvert processes the conversion.
More than these highlighted features, MuConvert Spotify Music Converter also delivers the best conversion service with its interface intuitive and easy to grasp. In the following, the brief guide will show you how to convert Spotify playlist to MP3 for saving offline, so that you can transfer the Spotify playlist to Deezer from desktop.
STEP 1. Install and Launch MuConvert Spotify Music Converter
Currently, MuConvert Spotify Music Converter is available on Windows and Mac. Simply go through the easy setup process to install the software, and launch it to enter the built-in Spotify web player.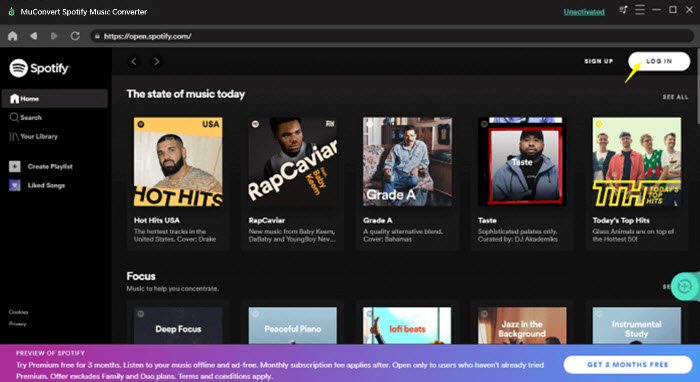 STEP 2. Log in Spotify Account and Open the Playlist
Now, you should log in to the web player with your Spotify account. There will be no risk because MuConvert will not collect any private data or bring potential danger to your account. After that, open a Spotify playlist you desire to transfer to Deezer. Just a moment, MuConvert Spotify Music Converter will read all the songs and provide them for you to select.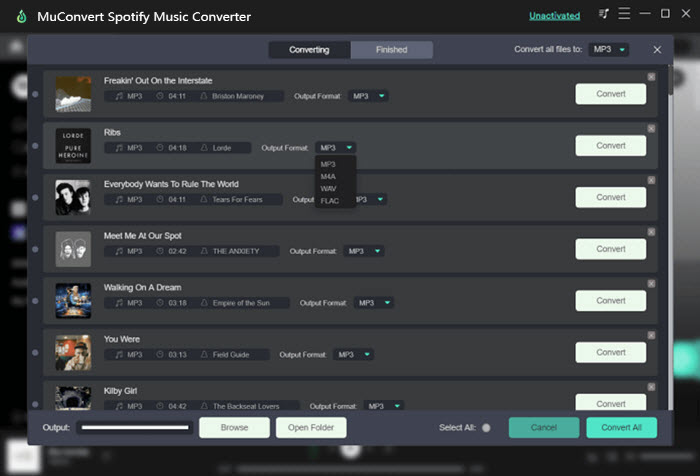 STEP 3. Customize Output Settings
You need to choose the output format as MP3, because Deezer only supports uploading MP3 files to its server. By going to "Preferences" > "Advanced", users are able to customize other parameter settings such as SampleRate and Bitrate. In "General", changing the output folder is also available.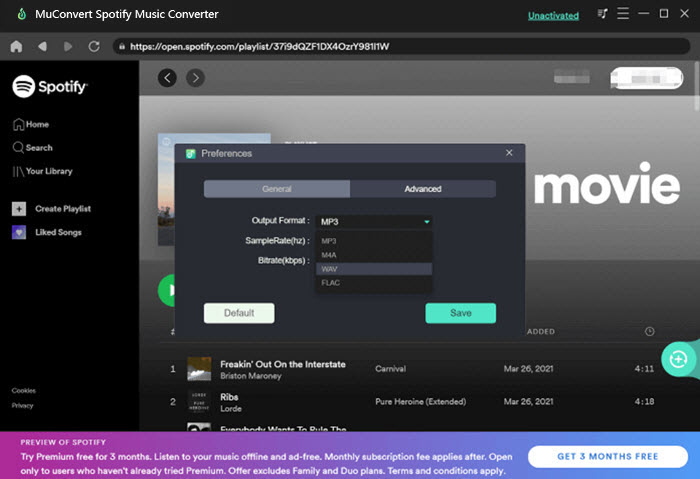 STEP 4. Download Spotify Playlist
In the final step, after all the settings above, you just need to hit the "Convert All" button, and the whole Spotify playlist will be converted immediately. The conversion history can be accessed in the "Finished" section. By hitting the "View Output File", the output folder will be opened directly, enabling users to quickly access all the downloaded songs.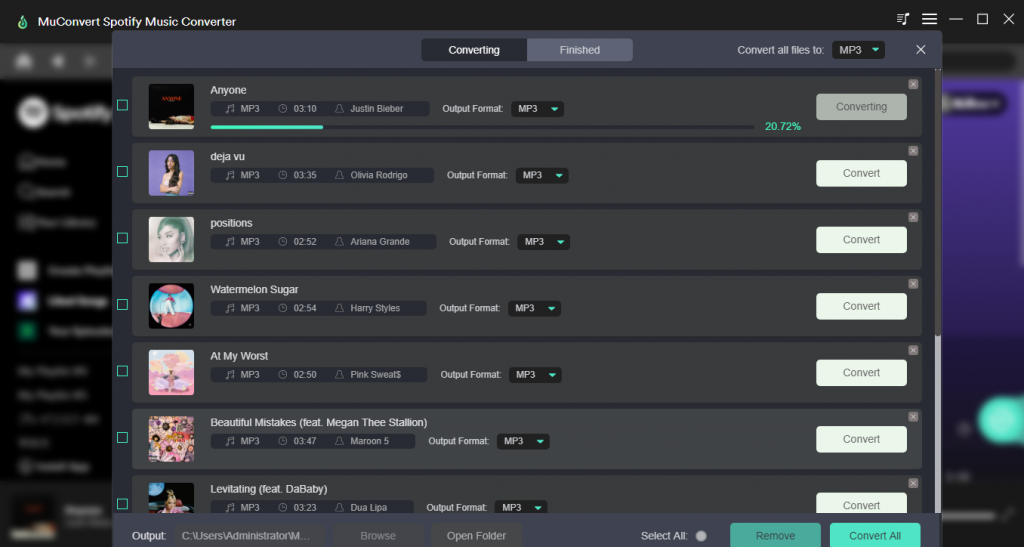 STEP 5. Upload MP3 to Deezer
Now, it's time to upload Spotify music to Deezer. Open Deezer in your browser and log in to your account. Then, click the "More" tab and go with My MP3s. You'll see the "Select MP3s to upload" option. All you need to do is to select the local MP3 files of Spotify music and they'll be automatically uploaded to Deezer. You'll then be able to enjoy your favorite Spotify songs on any device.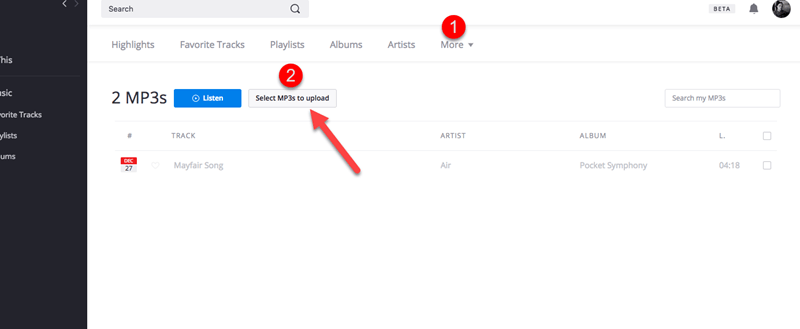 Spotify VS Deezer: Which One Is Better?
After discovering the top 3 Spotify playlists to Deezer converters, let's dig out the differences between the two music streaming services for helping you to figure out the most suitable option for yourself. They will be compared from several aspects, including the functionality, available content, music streaming quality, and pricing.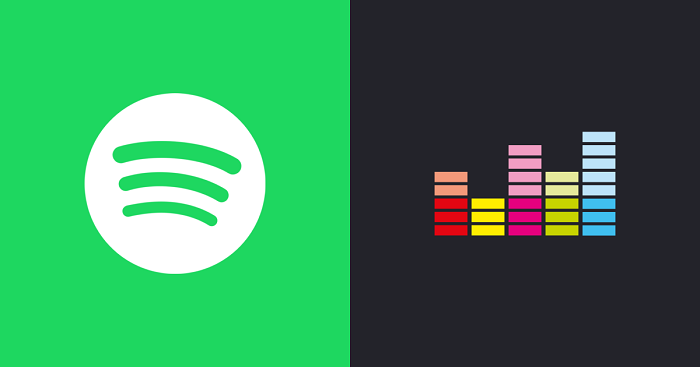 Since both Spotify and Deezer offer online music streaming services, the basic functions are almost the same. Listeners can stream all kinds of songs online, like favorite tunes, listen to editorial mixes, share favorite songs, and create or add songs to a playlist. If you want to unlock more functions like ad-free streaming, offline playback, and higher fidelity sound quality, Spotify and Deezer both require a Premium subscription.
Both music services offer millions of music of all genres, podcasts, radio, and smart recommendations for listeners. The main differences lie in the number of tracks & artists and their own music algorithms to dig out new discoveries for you. Spotify claims to boast 80 million tracks, while Deezer allows listeners to explore a rich catalog of 90 million songs.
Additionally, both Spotify and Deezer create their own content, like the Live EPs for Deezer and Spotify Singles for Spotify, which will only be available on the corresponding platforms.
For standard music streaming, Deezer provides paid subscribers with 320kbit/sec MP3 quality to enjoy music (by turning on data-saving mode, the quality will be dropped to 128Kbits/sec). Additionally, it also provides another more expensive quality streaming feature – the "HiFi" tier, with CD-quality lossless 16-bit FLAC for playing back music.
However, Spotify is still on its way to preparing the release of high-quality streams, which will rise up to 320kbit/sec AAC. Thus, currently, Deezer seems to provide higher quality when it comes to music playback.
If you have a Premium subscription, Spotify and Deezer will enable the offline playback feature for you. It allows users to download online tracks in the app for offline listening. However, downloads are exclusive to playing in the app, which means that listeners cannot play downloads on other media players or share with friends.
Both Spotify and Deezer enable listeners to play local music files with Premium. Spotify allows users to play local music in MP3, WAV, FLAC and M4A, but the songs cannot sync among different devices. Deezer only lets listeners play MP3 files in local storage, and sync the songs to its cloud so that it's playable across different operating systems.
Spotify and Deezer both bring their Premium subscription for listeners to unlock more features including offline listening, higher music quality, ad-free streaming, and playing premium tracks. Both platforms offer a one-month free trial. Also, Spotify and Deezer have different pricing for different plans, and the prices vary from country to country. You can check out the following table for more details.
Spotify Premium

Deezer Premium

Monthly Plan

$9.99/mo for one account

$12.99/mo for two accounts

$3.66/mo for 3 months then $10.99/mo

Annually Plan

X

$8.24/mo when paid annually

Family Plan

$15.99/mo for 6 accounts

$17.99/mo for 6 accounts

Student Plan

$4.99/mo for on account

$5.99/mo for one account
After reading the whole post, which one do you want to start in the first place among the 3 Spotify to Deezer converters? Soundiiz and TuneMyMusic offer basically the same service that enables you to transfer Spotify to Deezer directly online. However, if you want to
download Spotify music without premium
, and are willing to manually upload MP3s to Deezer,
MuConvert Spotify Music Converter
will be a better choice for you.