Top 3 Spotify Playlist to Deezer Converter You Can Rely on (2022)
When there are more music streaming services provided for people to enjoy their favorite audio tracks conveniently, many of you tend to be cautious before deciding their desire streaming platforms for later use. Sometimes, you may choose to switch from one to another after a thought comparison, for instance, switching from Spotify to Deezer. In terms of this, the concern of most users would be whether they can keep or transfer Spotify playlists to Deezer so that their favorite playlists could be preserved.
Fortunately, there are optional ways to help. This blog will introduce the 3 best Spotify playlists to Deezer converters you can rely on to transfer Spotify playlists. Let's take a look!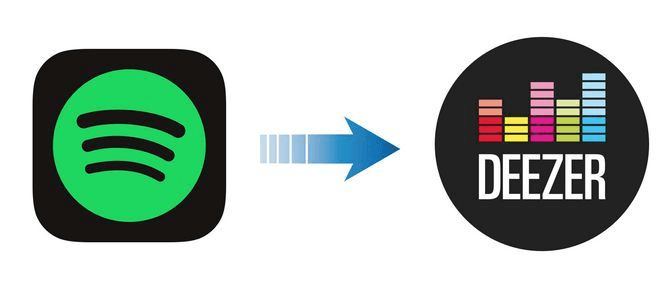 Best Spotify to Deezer Converter for Desktop
For desktop users, a lightweight, stable, and 100% safe software would be the best option when they consider using a Spotify to Deezer converter for moving Spotify playlist to Deezer. Such qualifications can be easily met by MuConvert Spotify Music Converter, the best Spotify playlist converter on the market.
The core tech applied by MuConvert Music Converter to resolve Spotify music conversion is to remove the protected added to the songs. By doing this, Spotify songs are available to be converted to audio formats such as MP3, M4A, FLAC, or WAV. In the new update this year, MuConvert Music Converter employs the Spotify web player inside the software, thus, users are no longer required to copy and paste Spotify song URLs for converting manually. When the Spotify playlist is opened, MuConvert Music Converter is able to detect the list automatically and pops up the tracklist for selecting and downloading. As the Spotify playlist is downloaded, users are able to transfer it to Deezer for listening to other Deezer songs.
Highlighted Features of MuConvert Music Converter
Playlist auto-detection feature – Simply by logging in to your Spotify account within MuConvert's built-in Spotify web player, you get the playlist auto analysis feature only through opening one, which will be more convenient.
Original quality guaranteed – MuConvert Music Converter ensures to maintain the original quality while downloading Spotify songs. Users are able to enjoy high-quality music streaming offline.
Super fast conversion speed – The minimum conversion speed of MuConvert Music Converter has been quickened to 5X faster compared to the old versions, helping to boost efficiency to a higher level.
Songs info preservation – The ID3 tags and metadata of the Spotify songs will be preserved when MuConvert processes the conversion. It even allows users to edit them as they need.
More than these highlighted features, MuConvert Music Converter also delivers the best conversion service through maintaining its interface intuitive and easy to grasp. In the following, the brief guide will show you how to convert Spotify playlist via MuConvert Music Converter for saving offline, so that we can transfer the Spotify playlist to Deezer for enjoying.
STEP 1. Install and Launch MuConvert Music Converter
Currently, MuConvert Music Converter is available on Windows and Mac. Simply go through the easy setup process to install the software, and launch it for entering the built-in Spotify web player.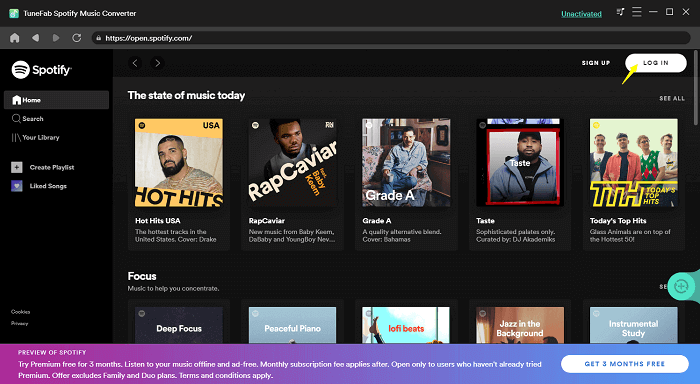 STEP 2. Log in Spotify Account and Open the Playlist
Now, you should log in to the web player with your Spotify account. There will be no risk because MuConvert will not collect any private data or bring potential danger to your account. After that, open a Spotify playlist you desire to transfer to Deezer. Just a moment, MuConvert Music Converter will read all the songs and provide them for you to select.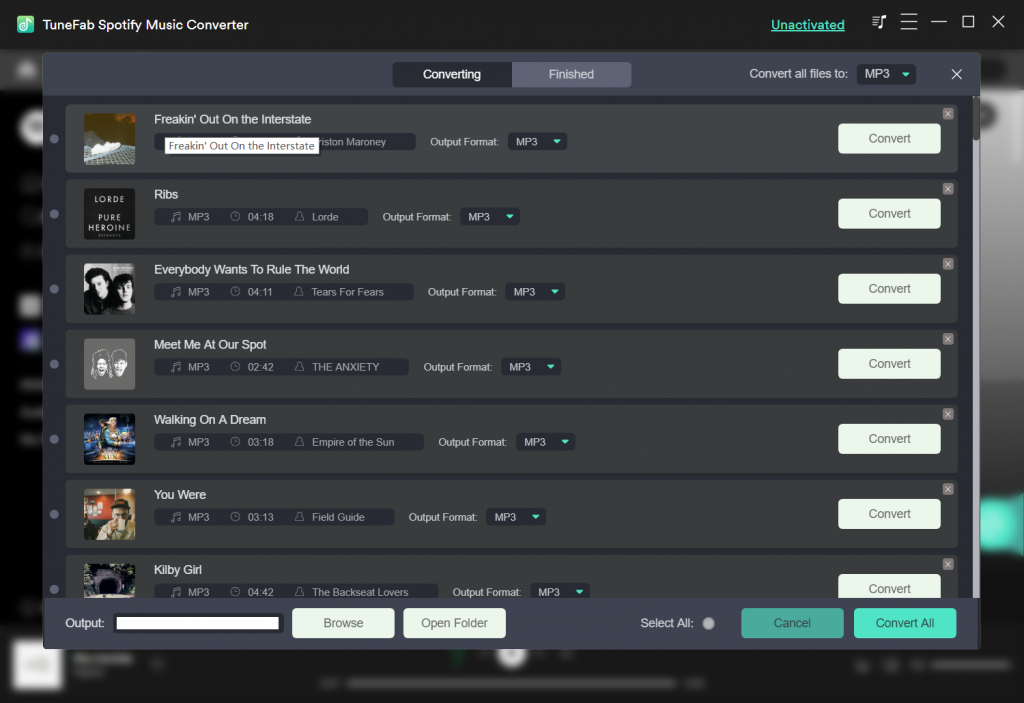 STEP 3. Customize Output Settings
When you have selected the Spotify songs in the playlist you want to convert, it is available to select an output format for converting them to.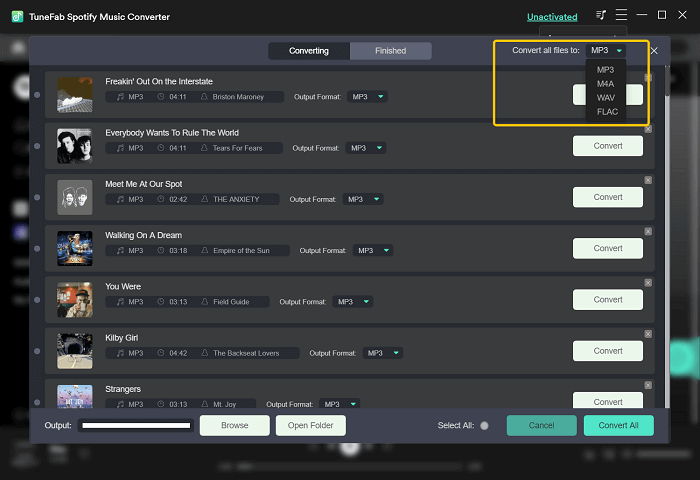 By going to "Preferences" > "Advanced", users are able to customize other parameter settings such as SampleRate and Bitrate. In "General", changing the output folder is also available.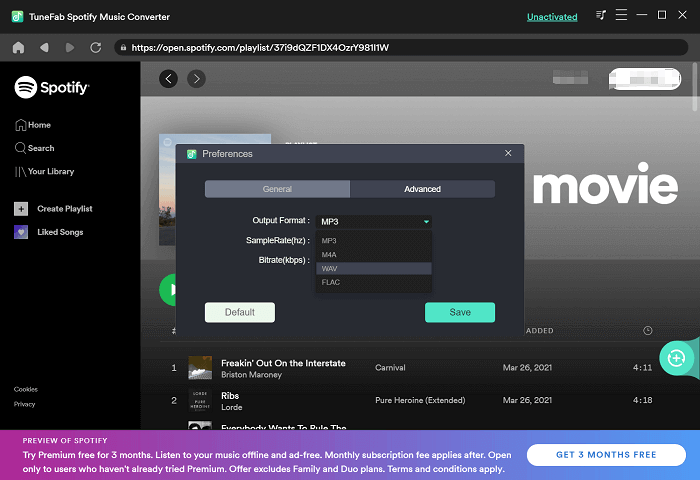 STEP 4. Download Spotify Playlist
In the final step after all the settings above, users just need to hit the "Convert All" button, and the whole Spotify playlist will be converted immediately.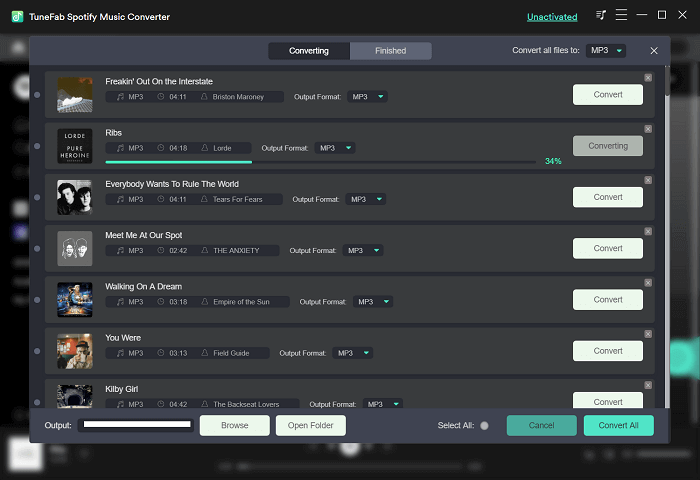 The conversion history can be accessed in the "Finished" section. By hitting the "View Output File", the output folder will be opened directly, enabling users to quickly access all the downloaded songs. Then they just need to transfer them to Deezer for playing back.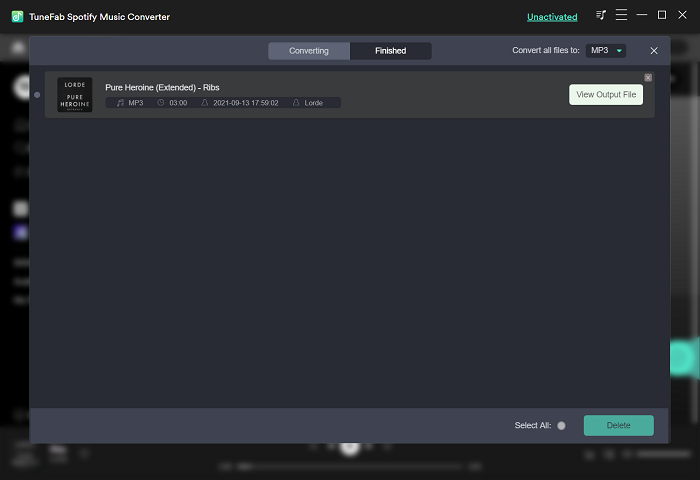 Online Spotify to Deezer Converter to Transfer Playlist
For users who desire to complete the Spotify to Deezer conversion without software, using an online service is absolutely the best option. Here are two popular tools recommended to you.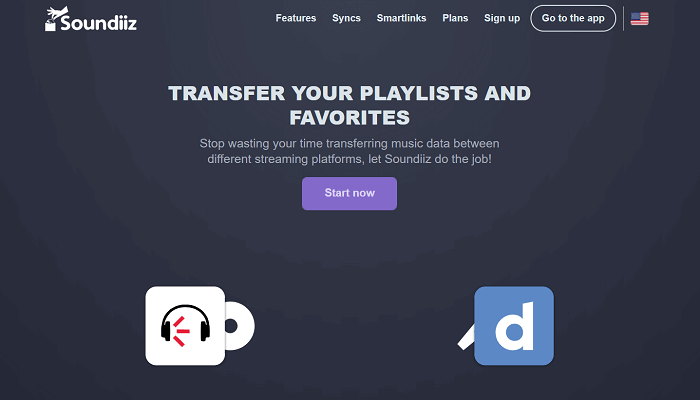 Soundiiz provides a powerful online service to convert playlists between different music streaming platforms, including Spotify to Deezer. Without the requirement to install extra software, Soundiiz enables users to complete the playlist conversion online without hassle. If you are unwilling to install third-party extensions or software to transfer Spotify playlists to Deezer, Soundiiz is an ideal choice for you.
Features of Soundiiz
Available to synchronize playlists among popular streaming platforms such as Spotify, Deezer, Apple Music, YouTube, and so on;
Smooth and fast conversion process;
Easy-to-grasp playlist conversion operations;
Enable to export playlists in CSV, XML, TXT, and other document formats.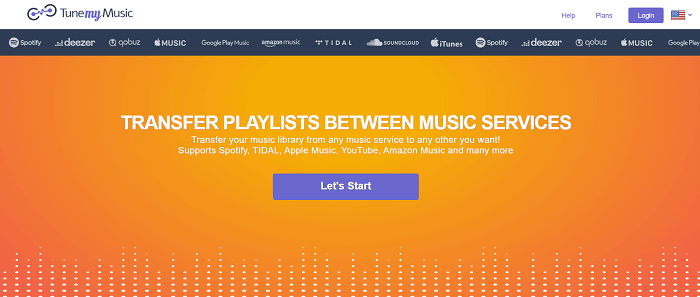 Another online Spotify to Deezer converter is Tune My Music. By providing a well-designed interface, Tune My Music is able to help users transfer playlists from Spotify to Deezer or other music streaming platforms with ease online. When you use the service, you are not required to install an extra extension to activate the function. Thus, for users who want to transfer Spotify playlist to Deezer without complicated operations, Tune My Music will be a rational choice.
Features of Tune My Music
Perfectly synchronize playlists while converting from one to another music service;
Available to backup music library to a file for preservation;
Easy-to-grasp functionality;
Instantly share music with friends.
Spotify VS Deezer: Which One Is Better?
After discovering the top 3 Spotify playlists to Deezer converters, let's dig out the differences between the two music streaming services for helping you to figure out the most suitable option for yourself. They will be compared from several aspects, including the functionality, available content, music streaming quality, and pricing.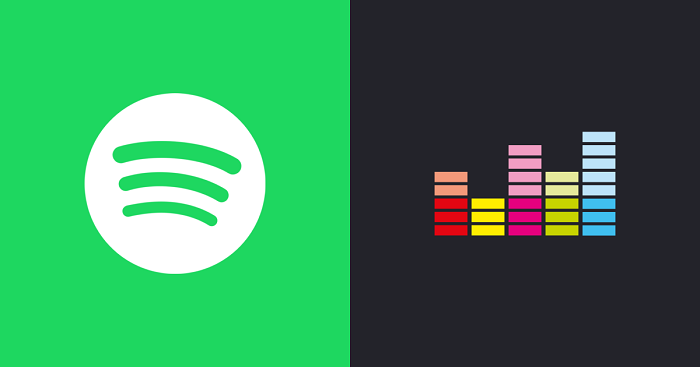 Functionality
For basic functions, both Spotify and Deezer provide similar ones, including song skipping, adding to a like playlist, creating playlists, etc. The differences stand for that Deezer will offer lyrics viewing as the songs are playing back, while Spotify replaces this with the "Behind the Lyrics" feature, telling audiences some stories behind the songs.
Available Content
Music is the basic content of both platforms. Except for this, Spotify stands out for its podcasts online streaming. Although Deezer doesn't provide such a feature, it offers another type of content – bring some shows to the catalog for audiences to playback.
Additionally, both Spotify and Deezer create their own content, like the Live EPs for Deezer and Spotify Singles for Spotify, which will only be available on the corresponding platforms.
Music Streaming Quality
For standard music streaming, Deezer provides the paid subscribers with 320kbit/sec MP3 quality to enjoy music (by turning on data-saving mode, the quality will be dropped to 128Kbits/sec). Additionally, it also provides another more expensive quality streaming feature – the "HiFi" tier, with CD-quality lossless 16-bit FLAC for playing back music.
However, Spotify is still on its way to prepare the release of the high-quality streams, which will raise up to 320kbit/sec AAC. Thus, currently, Deezer seems to provide higher quality when it comes to music playback.
Pricing
The subscription pricing of the services may be a key factor for some users. Both platforms provide similar pricing for students, individual plans, and family plans to subscribe to, which costs 4.99/mo, 9.99/mo, 14.99/mo respectively.
Based on the differences, you may have an idea of selecting a suitable music streaming service for yourself. If you need, the Spotify playlist to Deezer converters will be reliable helpers. Try them any time when you need them!