Spotify on Apple Watch: How to Play Spotify Songs Offline Without Phone
Is Spotify compatible with Apple Watch? As many users are considering leaving the phones behind for streaming music in more flexible way, the best smart watch, Apple Watch, also announced to support Spotify for syncing the high-quality music streaming service to the device (Apple Watch Series 3 or later, with watchOS 6.0+). However, for playing Spotify songs on Apple Watch without connecting to iPhones, you have to ensure any of the following conditions:
You have subscribed to Spotify premium, so that the download functionality is available on Apple Watch as well;
Your Apple Watch provides the cellular connection is that online music streaming is also available.
Referring to the demand of playing Spotify songs on Apple Music without phone, there will provide several optional methods to help based on different situations. If you also desire to get rid of phones and play Spotify songs on Apple Watch directly, just keeping on reading.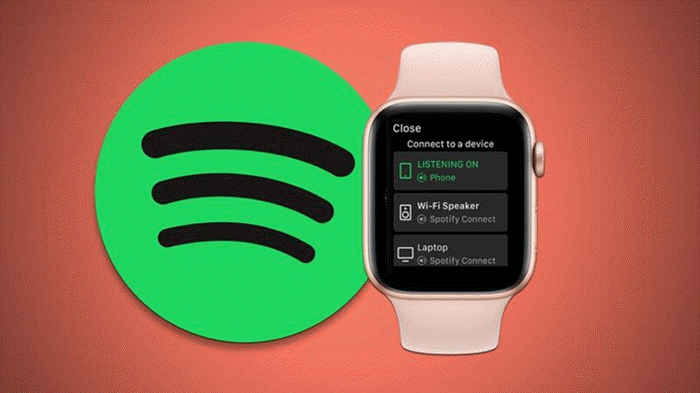 Can We Install Spotify on Apple Watch? And How?
As Apple Watch supports the compatibility of Spotify app, users are available to install Spotify directly on Apple Watch for boosting the music streaming in more flexible ways. To install Spotify app to Apple Watch, you get two ways to process. Here are them:
Way 1. Install Spotify on Apple Watch from iPhone
The general method to install Spotify app on Apple Watch is to process the installation through the connected iPhone. Here is the detailed guide:
STEP 1. Awake your iPhone and launch the "Watch" app for accessing the connected Apple Watch.
STEP 2. In the "My Watch" section, scroll the list download and find Spotify app (it will appear if you have installed Spotify on the iPhone before).
STEP 3. Hit the "INSTALL" icon and the Spotify app will be added to Apple Watch directly.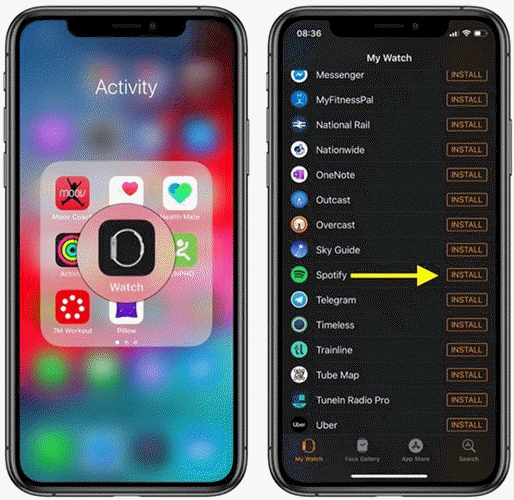 Way 2. Directly Install Spotify on Apple Watch
As Apple Watch also has its built-in App Store, you are also able to directly install Spotify app on the watch when it is connected to Wi-Fi or cellular:
STEP 1. Launch App Store from the listed apps on your Apple Watch.
STEP 2. Use the search bar to find Spotify by typing in the keyword.
STEP 3. When the Spotify app is available, click the "Get" icon and it will be installed to your Apple Watch directly.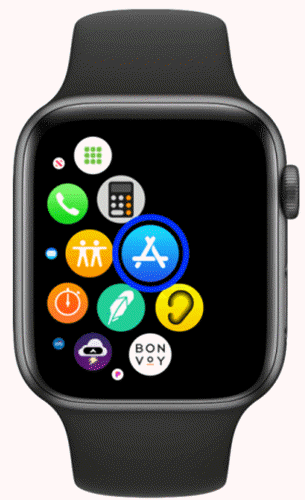 Best Alternative Way to Listen to Spotify on Apple Watch Without Phone and Premium
When Spotify is installed on Apple Watch, users are able to enjoy the same Spotify music streaming as they are using iPhones. However, as mentioned above, unless you are a subscriber of Spotify premium, or have purchased the Apple Watch with cellular connection available, it would be unavailable to stream Spotify songs without connecting to your iPhone. Hence, here offers an alternative way to subscribing to the premium plan and teach you an efficient way to download Spotify songs to Apple Watch for playing without phone.
MuConvert Spotify Music Converter empowers the batch download functionality enabling users to download Spotify songs and playlists offline to mainstream formats, hence, the downloaded music files are able to be transferred freely for playback on any device. The built-in web player integrates in MuConvert Spotify Music Converter also ensures the high-efficient Spotify playlists conversion, replacing the traditional copy-and-paste method, making it much simpler to download Spotify songs.
Why Select MuConvert Spotify Music Converter?
These highlighted features provided by MuConvert Spotify Music Converter also make it an out-performing option from the variety of competitors on the market:
Available to download Spotify songs with mainstream formats such as MP3, M4A, WAV, and FLAC;
Ensure the lossless quality to download Spotify songs without compression;
100% ads-free and malware-free in-app environment to protect information security;
Accelerated mode to speed up the conversion to 5X faster in max;
Preservation of the original ID3 tags and metadata info with the downloaded songs together.
How to Download Spotify Songs on Apple Watch
The intuitive interface also makes MuConvert Spotify Music Converter an easy-to-grasp software as well. Let's grasp the way to download Spotify songs on desktops for preparing to transfer them to Apple Watch.
STEP 1. After going through the installation, launch MuConvert Spotify Music Converter and enter the interface of the built-in Spotify web player. You are required to hit the "LOG IN" icon on the upper-right corner to login the player via your Spotify account.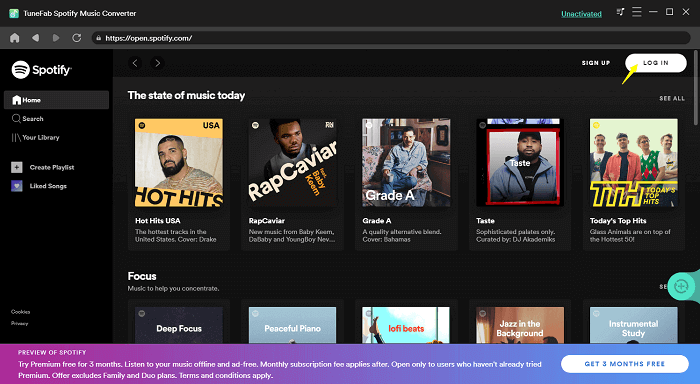 STEP 2. As the account login, you are able to open any Spotify playlist, and by hitting the floating "+" icon, the playlist will directly be converted. You are also allowed to drag the content to the "+" icon for adding solely.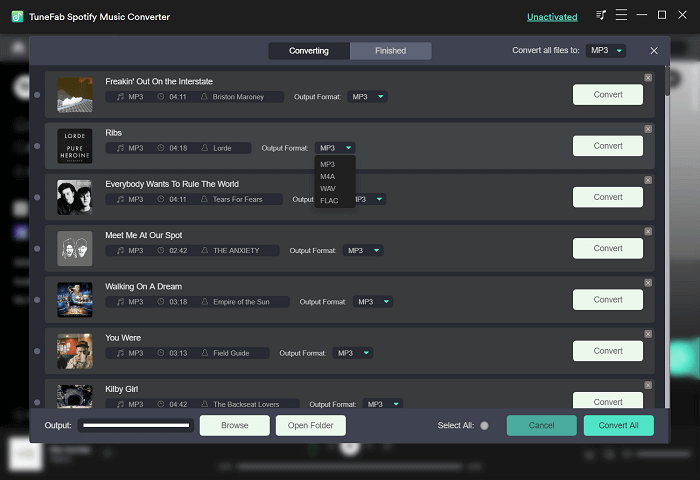 STEP 3. Drop down the "Convert all files to" format menu, and here you are available to select an output format to download the Spotify songs. For more parameter's customization, you should go to "Menu" > "Preferences" for adjusting under the "Advanced" tab.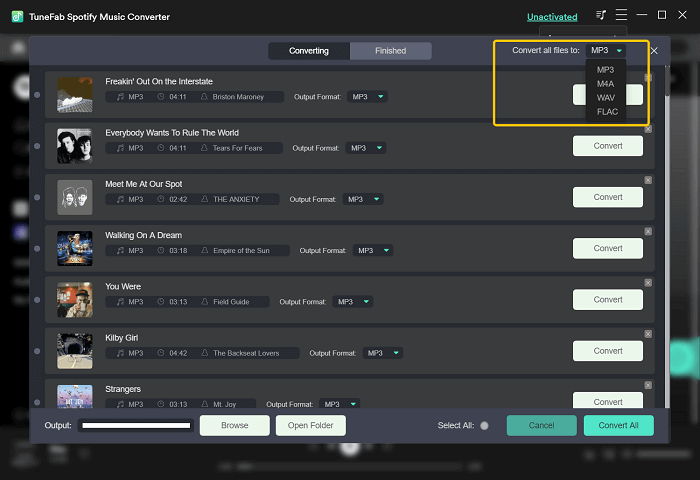 STEP 4. Finally, start downloading the Spotify songs by tapping the "Convert All" button. As the songs are downloaded to free music files offline, you are ready to transfer them to Apple Watch for streaming offline without connecting to the phone.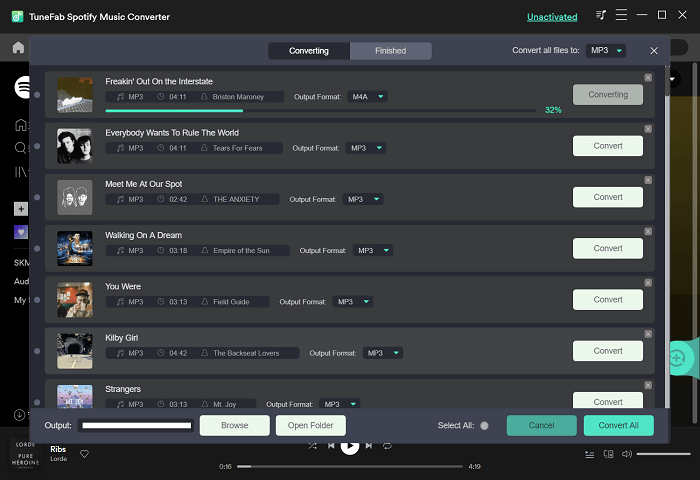 How to Transfer Downloaded Spotify Songs to Apple Watch
When the Spotify songs are downloaded via MuConvert Spotify Music Converter to your desktop, it is available to transfer them to Apple Watch. Now, perform the steps below to complete transferring the Spotify songs to Apple Music right away.
STEP 1. Firstly, connect your iPhone to the desktop, and use iTunes for syncing the downloaded Spotify songs to the phone.
STEP 2. Then, use Bluetooth to pair iPhone with your Apple Watch.
STEP 3. When the two devices are connected, launch Watch app on iPhone and go to "My Watch" > "Music". Here, you are able to hit the "+" icon and select the synced Spotify songs for adding to the watch.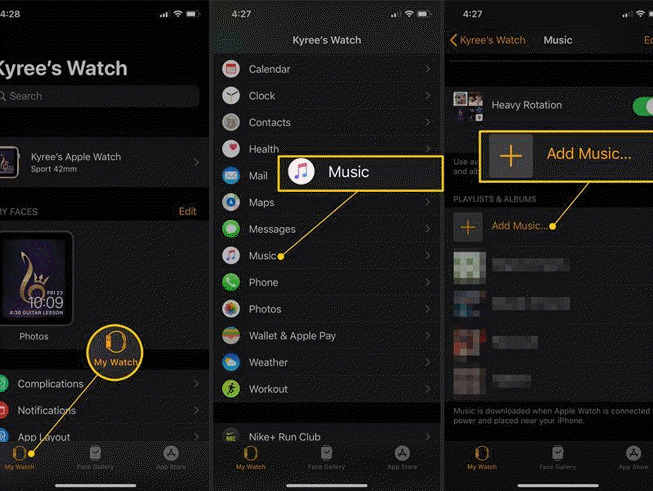 How to Play Spotify on Apple Watch without Premium
As Spotify app is available to be installed on Apple Watch, through connecting the watch to iPhone online or using the cellular mode (if you have purchased the Apple Watch in cellular version), users are able to stream Spotify songs online with the free account.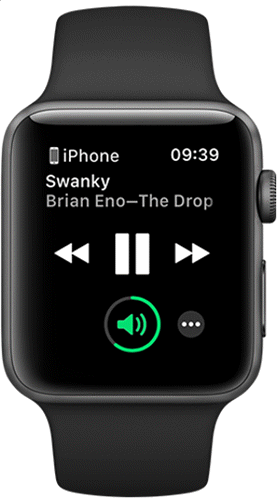 How to Play Spotify on Apple Watch without Phone
However, if you are not willing to connect the Apple Watch to iPhone, you get three options to play Spotify songs directly:
If your Apple Watch is the one with cellular mode, connect the mobile data and the Spotify songs can be streamed online.
You are also available to upgrade to Spotify premium, thus enable the download functionality to save the Spotify songs on Apple Watch offline in advance. Then the offline playback is available even your Apple Watch is not connected to iPhone or network.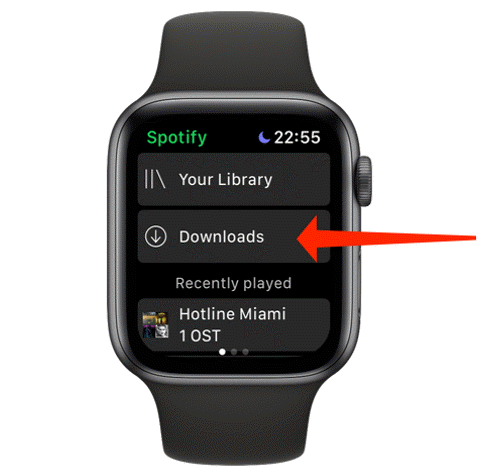 More Features About Enjoying Spotify on Apple Watch
For those who would use Apple Watch to enjoy the playback of Spotify songs, here also recommends more features about the usage for boosting convenient Spotify streaming on the watch. Grasp them now!
Feature 1. Control Spotify Playback on Apple Watch
A functionality named Spotify Connect enables users to control the music playback from Apple Watch to pause, skip, or return back for streaming the songs on speakers or TVs flexibly. It can be enabled on following these steps:
STEP 1. Update the Spotify app installed on your Apple Watch to the latest version.
STEP 2. In the Spotify app, enable the devices to be compatible with the Spotify Connect feature.
STEP 3. When your Apple Watch and the connected speakers are using the same Wi-Fi, then the control can be activated, and you are able to take over the streaming through Apple Watch directly.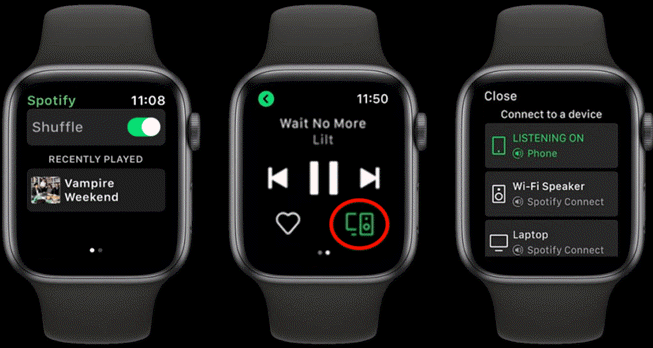 Feature 2. Browse Albums and Playlists
Apple Watch enables users to access the full library in Spotify for streaming the saved songs. Simply swiping the screen to the left side, you are able to access "Your Library" and the "Recently played" playlists saved in your account. It would be an easy way to sync the music streaming records for boosting more convenient playback through allowing users to save their listening habits in Spotify app.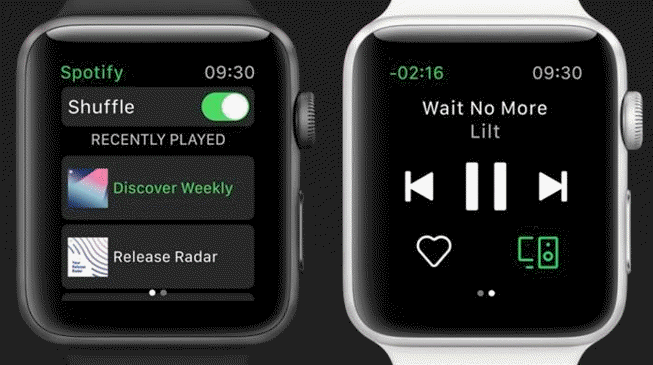 Feature 3. Control Spotify Playback Using Siri
Like on iPhone, Apple Watch also hires Siri to control the device in an easy way. Users are able to awake Siri by calling "Hey, Siri", then ask it to control Spotify by giving some orders, such as:
Play any Spotify song, playlist, album, artist, or podcast;
Adjust the volume;
Skip or pause/play the Spotify songs;
Like the currently-playing Spotify music;
...
Concluded from the above, it is obviously that more people rely on Apple Watch to boost more convenient Spotify songs playback without using the phones. Thankfully, as Apple Watch is compatible with Spotify app, it becomes simpler to enjoy Spotify songs on the device. If you also consider this blog helpful, share it to your friends if they also desire the convenient ways to stream Spotify songs via Apple Watch. Hope this can help!