How to Import Music from Spotify to Windows Media Player (2022 Update)
For Windows users, you may be familiar with Windows Media Player, which is an in-built media player on Windows to play audios, videos, and images in most popular formats. However, for the streaming music such as Spotify, Apple Music, and so on, Windows Media Player seems to fail to play them directly. So, today's article will tell you the reason why Windows Media Player fails to play Spotify songs, and the solution to make the Spotify Music playable in the software easily. Now, you can have a look.
Can I Transfer Music from Spotify to Windows Media Player?
As the largest music streaming service in the world, Spotify provides attractive online music playback service to let people freely access its rich music library and find their favorite songs to directly play without any cost. However, as a way to protect the copyright and profit of the artists as well as the entertainment companies, Spotify also strictly limit people's music playback by using a technology, called DRM.
With the protection of DRM, for example, people can only play the songs online instead of downloading them unless they have paid for subscribing the Spotify Premium plans; moreover, the downloaded Spotify songs under the Spotify Premium account can't be moved outside Spotify for playing with other media players, including Windows Media Player. 
How to Import from Spotify Music to Windows Media Player
When we know that DRM is the main reason stopping us from download Spotify Music offline as the free digital audio files for playing using other players, we should remove it if you want to make the songs playable on Windows Media Player. So what tool we need to do it?
Tool Required to Play Spotify on Windows Media Player
Key Features:
Signs in the in-built Spotify Web Player to directly convert Spotify playlists inside the software
Supports common formats such as MP3, M4A, WAV, or FLAC to make the downloaded songs playable on all devices and players
Keeps the original quality to download Spotify Music
Saves the ID3 tags and metadata information for convenient music management offline
Supports up to 5X faster speed to batch download Spotify Music for saving time
Convert and Export Spotify Music to MP3 for Windows Media Player
When you have finished installing MuConvert Spotify Music Converter on your Windows or Mac computer, now it's the process to start converting Spotify Music to MP3 for playing them on Windows Media Player.
Step 1. Open MuConvert Spotify Music Converter and Sign in the Player
On your Windows/Mac computer, open MuConvert Spotify Music Converter and then enter the home screen of its in-built Spotify Web Player. Then you should click the "LOG IN" button and sign in with your Spotify account.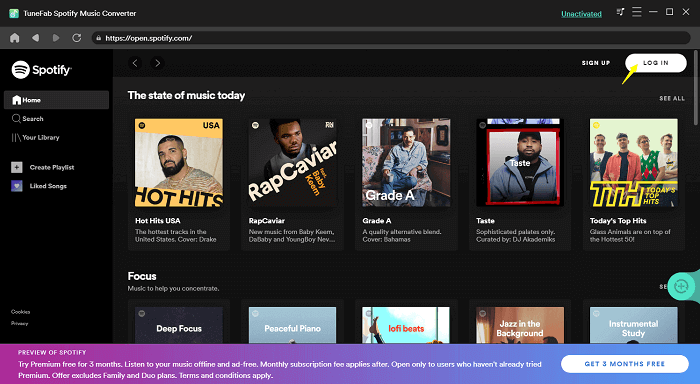 Step 2. Select and Add Spotify Playlist to Convert
Then you can directly search for the Spotify playlist you want to download for playing with Windows Media Player in the web player. When you find it, directly drag the playlist to the "+" button for converting all the containing songs in it.
Step 3. Select MP3 to Download Spotify Playlist
When MuConvert Spotify Music Converter converts the playlist, you can select the songs you want to download, and also MP3 format from the "Convert all files to" menu in the top right corner.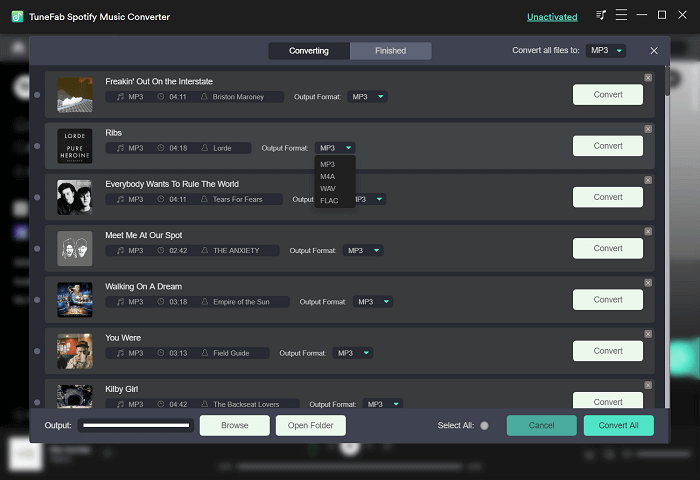 If you also need to customize the "SampleRate" or "Bitrate" settings of the songs, you need to click the "Menu" icon, then select "Preferences" option and turn to the "Advanced" tab in the window for making the settings as you need.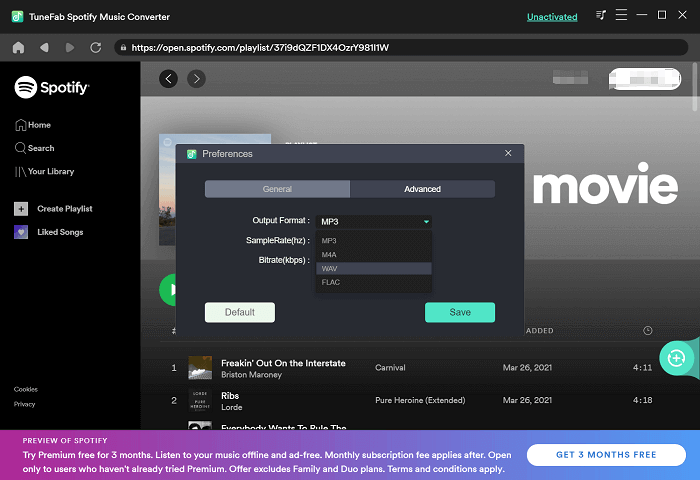 Step 4. Download Spotify Songs to MP3 Files Offline
When the settings are done, directly click the "Convert All" to start converting the Spotify songs to MP3 as common digital files. At the same time, MuConvert Spotify Music Converter will remove the DRM protection to make the downloaded Spotify Music free from Spotify app completely.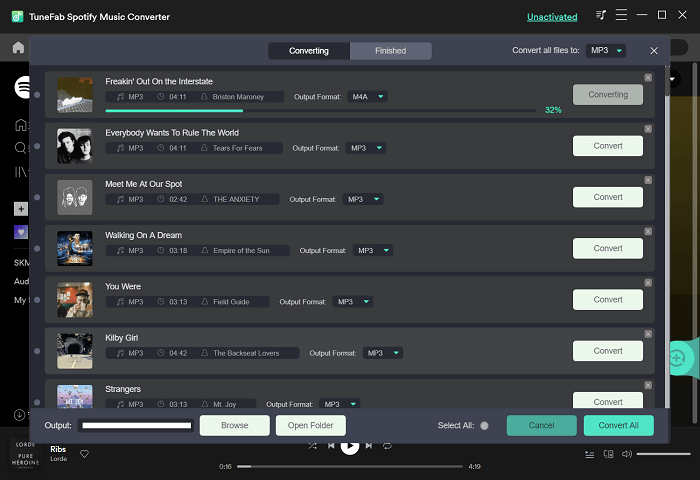 Import Music on Windows Media Player from Spotify
When you finish converting Spotify Music to MP3 files offline, now you can also follow the steps here to start importing the songs to Windows Media Player for offline playback.
Step 1. When you open Windows Media Player, go to "Organize" by clicking the button in the top left corner.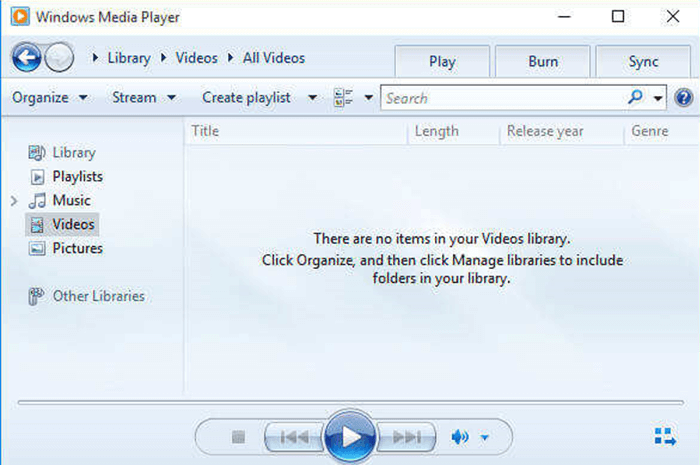 Step 2. Then select "Manage Libraries" and open "Music" to add the downloaded Spotify songs from your computer to the Windows Media Player.
Step 3. Click "OK" to finish adding. Then the imported Spotify songs can be directly played within Windows Media Player even without network connection.
How to Burn Spotify Music to CD via Windows Media Player
Instead of playing the imported Spotify songs, Windows Media Player can also work as a CD burner to help convert the Spotify songs into a blank CD so that you can bring them everywhere for playback with good quality. The following steps will show you how the Windows Media Player can help to burn Spotify Music to CD.
Step 1. Open Windows Media Player and click the "Burn" option on the right panel.
Step 2. Click the down arrow icon and then select "Audio CD".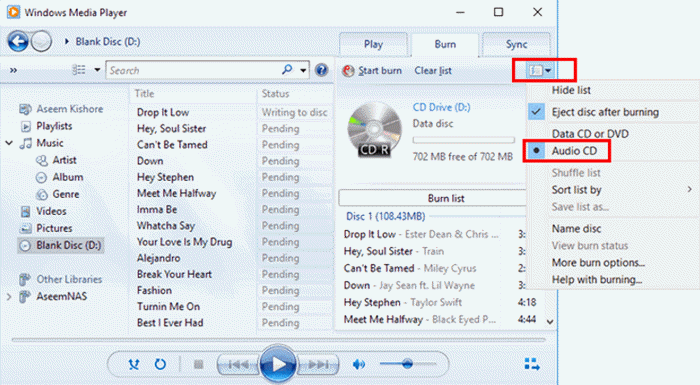 Step 3. Now, you should insert a CD disc to the computer. When Windows Media Player detects the disc, you can directly drag the Spotify songs from your computer to the burning panel.
Step 4. When the Spotify list is created now, you can directly click the "Start burn" button to begin burning the Spotify songs to the CD disc.
If you don't remove DRM protection from Spotify Music, then it won't be able to get the songs outside Spotify for playback using other players like Windows Media Player. As a result, if you consider having a more flexible offline Spotify Music playback even without Spotify Premium, MuConvert Spotify Music Converter is the tool you must turn to for help. Now, install it and try downloading Spotify Music for playback in Windows Media Player!