How to Play Amazon Music on Google Home Speaker in 2023?
Listening to Amazon Music from a phone can be the most common way to entertain outdoors. But when you are at home, comparing listening to it from your computer, playing music on Google Home speaker will make the playback more fascinating. This tutorial will instruct you on how to play Amazon music on your PC and mobile device online and offline. Follow this tutorial with us to obtain more information.
Cast Amazon Music to Google Home from Computer
Amazon Music web player
lets you log in to Amazon Music on your computer browser, you can go there and stream music on it and then cast it to your Google Home. This is the most convenient way compared to other methods in this post, and here is the step-by-step guide:
Step 1. Open the Amazon Music web player with Chrome browser and sign in with your Amazon account. Login to this website.
Step 2. You can see the triple-dotted menu icon in the upper right corner. Click this icon to open the Chrome menu. Choose the "Cast" option. Find your device "Google Home Speaker" in the pop-up window and confirm the connection.
Ensure that your computer and your Google Home Speaker are connected to the same Wi-Fi.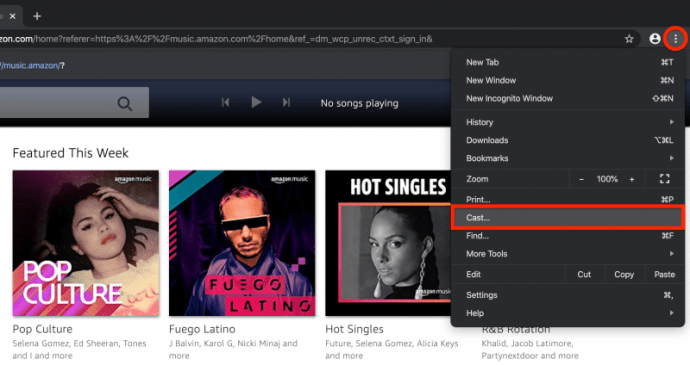 Step 3. Play the Amazon songs you like on your computer, and then it will be cast to your Google Home Speaker.
Play Amazon Music to Google Home from Mobile Device
If you don't have your PC at hand, you can choose to cast Amazon music to Google Home from your mobile phone. As Android mobile devices have a different operating system from iOS mobile devices, this section falls into two parts to illustrate the operation steps on the two systems respectively.
Step 1. Open your Google Home app on your iPhone or iPad. Tap the settings icon and go to the Audio area.
Step 2. Pair your iPhone or iPad with the Google Home speaker on the condition that your Bluetooth is opened.
Step 3. Open the Amazon Music app on your device and log in to your account. Play your favorite Amazon songs on this app.
Step 4. Open the Control Centre on your ISO and press the controls in the top right corner.
Step 5. Tap the Airplay icon on your mobile device and select Google Home to share Amazon music tracks with your speaker.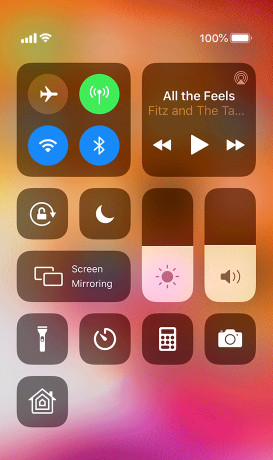 Step 1. Open the Google Home app on your Android device and pair this app with your Google Home speaker via Bluetooth. Tap the cast icon in the upper right corner.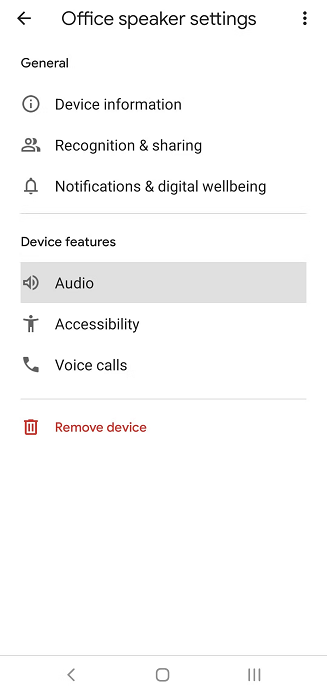 Step 2. Open the Amazon Music app and log in with your Amazon account.
Step 3. Play your favorite songs on the Amazon Music app to enjoy them on Google Home Speaker.
Listen to Amazon Music on Google Home from Any Device Offline
Every time you want to listen to Amazon Music offline on your Google Home, you can
download them on your phone
and use the method in part 2. However, songs downloaded on Amazon Music can only be played on this app. If you wish to play them from other players like Virtual DJ and then cast them to Google Home, you need to
rip the DRM on Amazon Music
and download them to MP3 first.
MuConvert Amazon Music Converter
is the best assistant to convert any Amazon Prime music to MP3 and other common formats. This converter offers all-sided and considerate conversion services. You can download Amazon music on this platform freely as well as convert Amazon songs, playlists, albums, and podcasts to MP3 quickly.
Top Features of MuConvert Amazon Music Converter
Popular Media Formats – supports outputting Amazon Music to common formats including MP3, M4A, WAV, and FLAC.
Any Amazon Music Content and User Availability – nearly all audio files from Amazon music (playlist/album/song/podcast) can be converted to common formats and played offline unlimited. Music from Amazon Free, Amazon HD, Amazon Prime & Unlimited are included.
Easy Management – the converted MP3 files can preserve the original ID3 tags & metadata info. You can check out and manage your music files conveniently.
High-Quality Output – you can adjust the bitrate, and sample rate to obtain high-quality output files. Amazon HD sound quality can be maintained to the greatest degree.
Simple Operation Steps – there's no need to download the Amazon music app on your computer. You just log in to the Amazon website and can drag these music items to the blue Plus icon.
Fast Conversion Speed – the conversion speed in batch can reach up to 5X depending on the actual network connection and computer performance.
Step 1. Launch MuConvert Amazon Music Converter. Log in to your Amazon account and you will come to the main interface.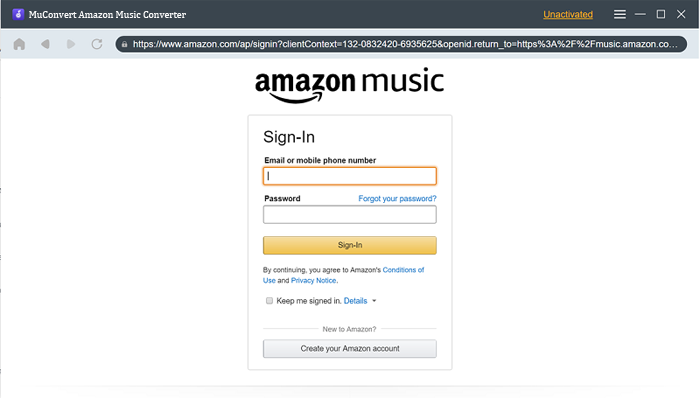 Step 2. Drag Amazon songs/playlists/albums/podcasts to the blue "Plus" icon or click this icon to add the to-be-converted music files.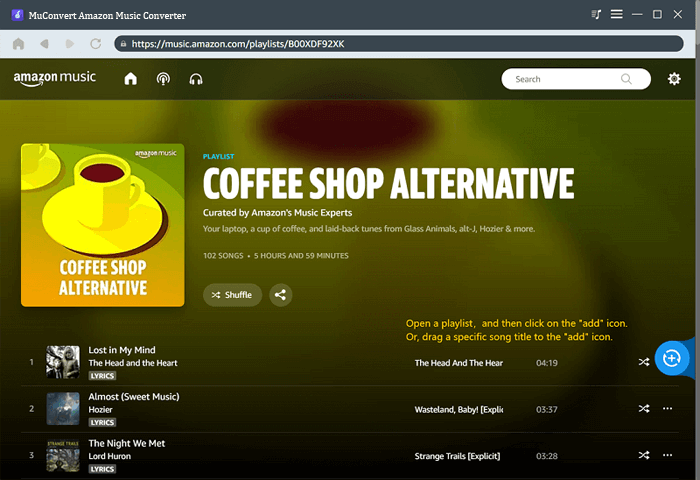 Step 3. Set up output formats as MP3 in the pop-up window where you can check task progress. Convert all music files to MP3 in the upper right corner or select the output format one by one by clicking the "Output format" column. As for other output parameters, you can click the "Settings" option to make further adjustments. Click the "Convert" or "Convert All" button to start the conversion process.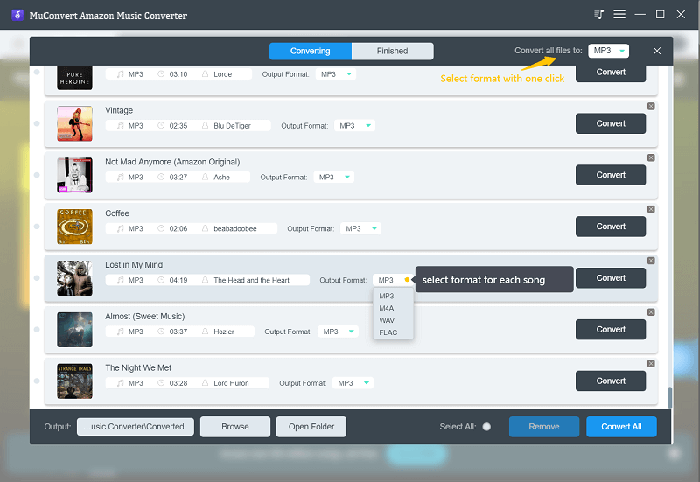 Step 4. Check the converted MP3 songs in the "Finished" section.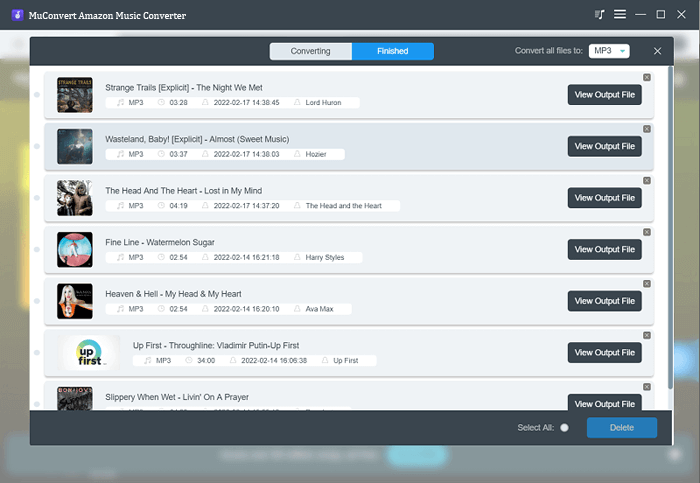 Once Amazon music has been converted to MP3, you can easily cast them to Google Home offline by dragging them to your Chrome, and following the guidelines in part 1 to enjoy them on your Google Home.
This tutorial introduces the operation steps to stream Amazon music from your PC or your mobile device on Google Home speaker. Besides that, it also specifies how to listen to Amazon songs from third-party devices on your speaker offline. With the help of
MuConvert Amazon Music Converter
, it's easy for you to convert your Amazon music to MP3 and upload these songs to authorized apps on your devices.