Top 5 Ways to Get Free Audible Books (Even Without Membership)
When listening to audiobooks has been a daily routine for some people to grasp knowledge or kill spare time for gaining pleasures, people also desire to find some ways to save the expense on purchasing audiobooks as they could. Audible, the world's largest audiobook provider, is a palace for people who love streaming audiobooks to dig out the audiobook resources of all categories as they need. Today's blog would be a benefit for you if you are also an Audible books lover! In the following, there will provide 5 tricky methods to help you get free Audible books offline without charge at all! Feel excited? Get started with us!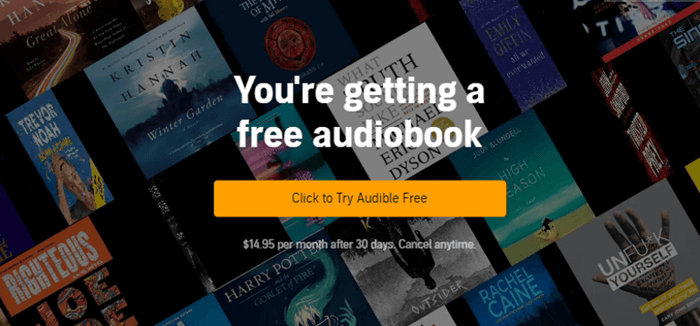 Best Way to Get Free Audible Books Without Membership
It is well-known that Audible has employed the encryption tech, DRM, to all its on-sale audiobooks. Unless you have purchased them, you are not allowed to download for streaming offline. Therefore, to get rid of the DRM encryption and get free Audible books, the first method you shall try is using the MuConvert Audible Converter.
MuConvert Audible Converter empowers powerful access to decrypt DRM from the protected Audible books, which are encoded in AA or AAX audio formats. Meanwhile, the software is able to convert these 2 niche formats to mainstream options such as MP3, M4A, WAV, or FLAC, hence the compatibility of the Audible books can be increased, enabling users to stream the downloaded audiobooks on any device or using all media players as users' requirements. Even you are not an Audible membership, MuConvert Audible Converter still performs to help. With it, you are able to get any free Audible books preserved offline in non-DRM audio files.
Highlighted Features of MuConvert Audible Converter
Various mainstream formats available to output Audible books;
Lossless quality preserved for ensuring equally-same quality Audible books streaming experience offline;
Full chapter and ID3 info preservation to enable convenient audiobook organization;
The accelerated tech boosts the Audible books conversion to 60X faster at max;
Batch download is available;
Extra built-in splitting tool to easily cut audiobooks in shorter clips by time, chapter, or segment.
Now, follow this brief guide and grasp the way to download Audible books freely in non-DRM audio files offline via MuConvert Audible Converter.
STEP 1. Complete the installation of MuConvert Audible Converter at first. Then, launch the software and directly drag the Audible books you desire to download freely in non-DRM status to the interface of MuConvert Audible Converter.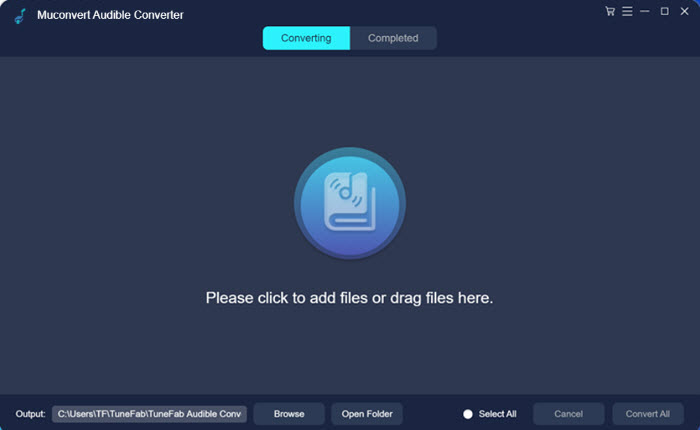 STEP 2. When the Audible books are imported, select an output format to convert and preserve them offline. To customize other parameters such as the sample rate and bitrate, you should navigate to "Menu" > "Preferences".
NOTE: As mentioned, MuConvert Audible Converter enables users to split audiobooks before the conversion. The feature would be set in "Preferences" as well. If you desire to trim Audible books into parts, select a splitting mode in "Preferences" and also submit the change, then MuConvert Audible Converter will split them while processing the conversion automatically.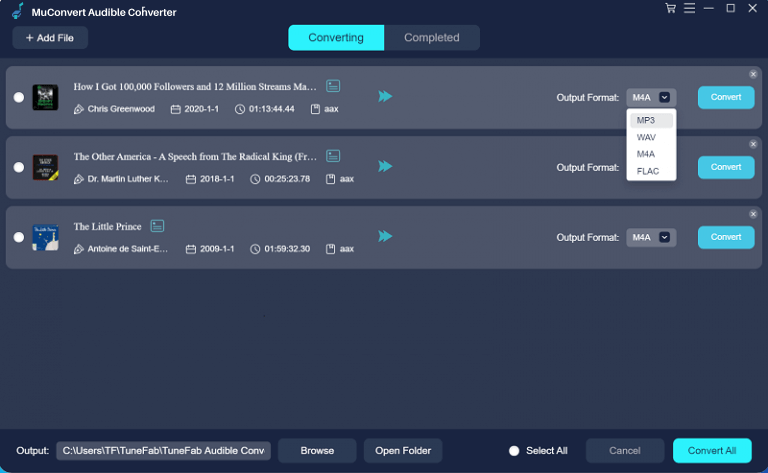 (Optional) STEP 3. Some users may desire to better manage the downloaded Audible books offline by tagging them in orders. If you also desire to edit the ID3 tags of the audiobooks, directly hit the edit icon behind the Audible book's title, and the "ID3" window will pop up for you to freely customize the title, artist, album, etc. of it as you need.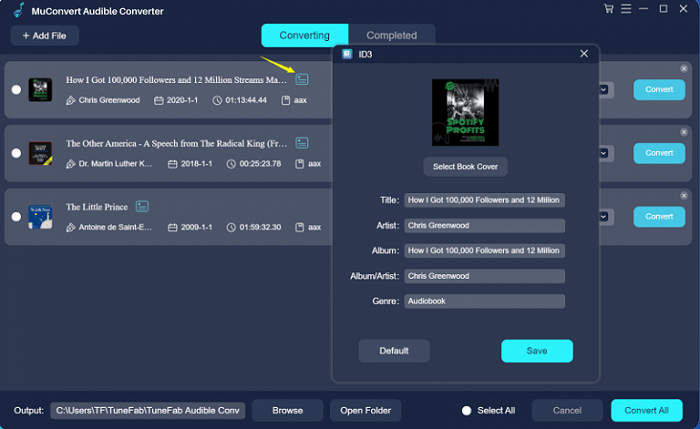 STEP 4. Finally, give one click on the "Convert All" icon, then MuConvert Audible Converter will start downloading the Audible books in your desire format right away. After getting them, you can freely enjoy the audiobooks playback offline even without Audible membership at all!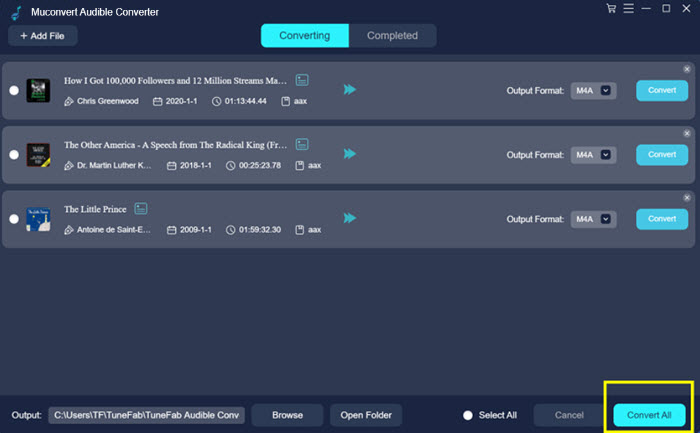 Get Free Books on Audible with 30-Day Free Trial
Actually, Audible also offers the free trial program, enabling new Audible users to experience the membership for 30 days without charge at all. Within this period, users are able to get free audiobook with one given credit (there would be two credits offered to Amazon Prime member if you have subscribed to it before).
For those who are not willing to pay for extending the membership as the free trial expires, Audible enables them to cancel the membership at any time freely before the trial ends. Hence, if you just desire to get this free audiobook credit, simply subscribe to the 30-day free trial program offered by Audible, then cancel it once you get the free audiobook!
Here shows you the steps to join Audible free trial program and get the free audiobook without paying:
STEP 1. Navigate to Audible official platform and directly hit the "Try for $0.00" icon to join the free trial program. You would be guided to login or sign up an account if you haven't login or have an Audible account yet.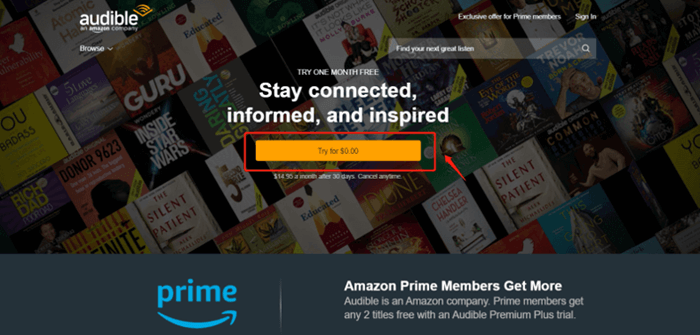 STEP 2. As you login now, Audible would directly lead you to the application page. Simply follow the instructions to complete the billing info and submit "Star Your Free Trial Now" to join the free trial.
STEP 3. Once completed, directly browse the audiobook you want to get for free in Audible platform. As you access it, directly submit to purchase the audiobook with the given credit. Then you are able to download it for freely playback offline using Audible or iTunes apps.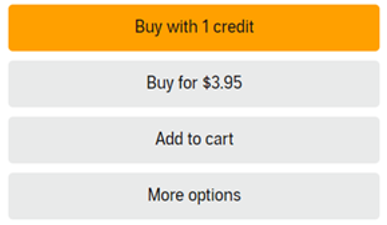 NOTE: When the free trial is over, you would be required to pay for $14.95 monthly to extend the membership. Simply cancel the membership before the next billing date if you don't want it at all.
Get Audible Books for Free from Audible Free Listens
In addition to the free trail program, on Audible, there are also some free audiobooks provided for audiences to listen to completely for free. To find such free audiobooks, you are only required to login your Audible or Amazon account, then directly use the built-in search engine in Audible to search for "free audiobooks". As the results are listed, directly choose the book you desire to enjoy, and follow the instruction to get it without billing. After that, the free audiobook is able to be added to your own library for streaming or downloading freely!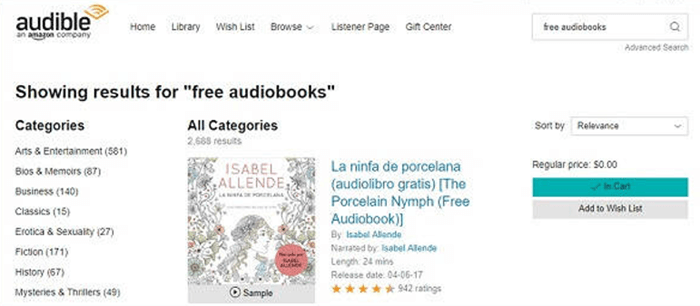 Get Free Audible Books as Amazon Prime Member
Instead of the Audible premium plan, another available program which provides free audiobook credits if the Audible Premium free trial membership. If you have joined the Amazon Prime member program, you will get two accesses to access free Audible books to enjoy them without paying a penny.
For Amazon Prime members, Audible offers an Audible Channel, which provides all free audiobooks for them to stream completely for free. The channel will be available inside Audible app, which is currently supported on Windows 10, iOS, and Android.
Simply launch the app and login your Amazon prime account, then you are able to access the free audiobooks by navigating to "Channels" > "Featured Tab" > "Browse all channels" and enjoy all audiobooks provided here for free.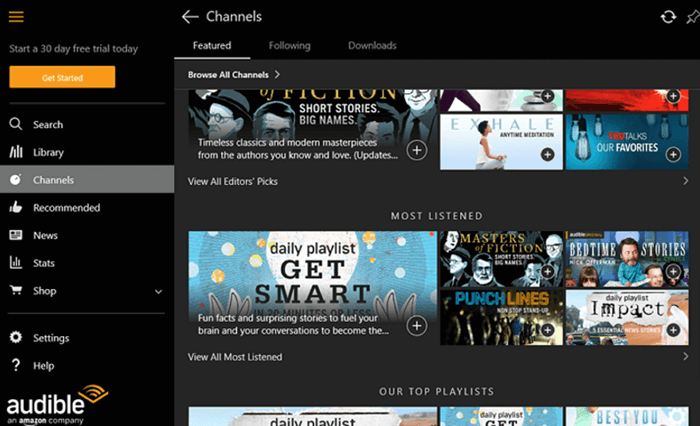 Add Kindle Books Audible Narration
Another free method for Amazon prime members to enjoy Audible books freely is to add the Kindle eBook for activating its narration when it provides a matching audiobook on Audible. Then you are able to enjoy the playback of the Kindle eBook in the form of audiobook for free as well.
Get Free Audiobooks on Audible After Subscribing Membership
If you choose to subscribe to the Audible membership, you are able to enjoy more benefits as you could imagine. After being an Audible subscriber, except for the free audiobook resources offered in Audible channels and the monthly free credit for exchanging Audible books, Audible also enables its members to select 2 of 6 featured Audible Originals every month without extra payment. Such Audible Originals are directly recorded by some famous storytellers from all over the world, covering different categories. Therefore, you are actually getting more than you could see by subscribing to the Audible membership.
To get free Audible books, you are actually having more ways, in order to save your own expense. As people are having higher demands towards Audible streaming, the official is also releasing more benefits to help them enjoy more content freely. Also equipped with the MuConvert Audible Converter, it even makes the offline free Audible books streaming to be more flexible, even without affecting the quality. It also deserves a try!