Whether you're a free or premium Spotify user, you can't have complete control over downloading music for permanent local storage. In this case, why not consider using a Spotify Recorder? This type of audio recording tool can help you save any songs you want to listen to, even if it's just a part of the song that you want to record. And for such demands, this post has gathered the top 10 Spotify recorders below to help you offline Spotify playback forever on Windows, Mac, iOS, and Android as you need.
Best Spotify Recorder Alternative - MuConvert Spotify Music Converter
Traditional audio recorders would take a lot of time to process Spotify recordings for you, as these tools are not equipped with speed-up or batch recording features at all. Therefore, if you want to save time in extracting Spotify songs as compatible audio files outside the official platforms, MuConvert Spotify Music Converter is recommended as the best Spotify recorder alternative you should not miss.
MuConvert Spotify Music Converter is embedded with the full Spotify Web Player, with which you can access the whole music library of the Spotify app. You can simply have songs saved with an easy drag-and-drop movement. Meanwhile, the software offers a batch download ability to let you save several Spotify playlists offline all at once!
Better still, thanks to the 35X faster download speed of this top-rated program, you can complete a 3-minute-long Spotify song within just 5 seconds! And the process of downloading music quickly does not affect the simultaneous playback of other music.
Here is a simple guide for how to convert Spotify to MP3 with the help of the converter.
Step 1. Download, install, and launch the MuConvert Spotify Music Converter, follow the instructions to Open the Spotify web player, and log in with your own Spotify account. Please note that you do not need to have a Premium account.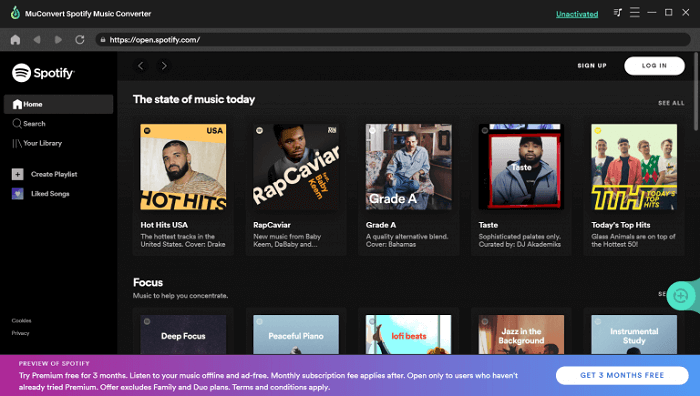 Step 2. Search for songs you want to download, and drop&drag them to the floating green "+" icon. You can convert it song by song, or convert the whole playlist.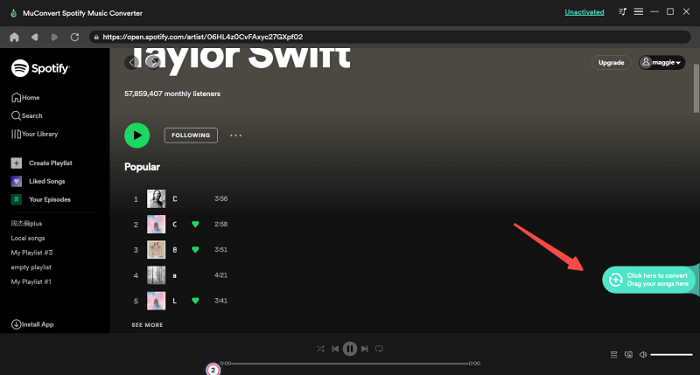 Step 3. Set the output formats and get ready for conversion. Click to expand the pull-down menu next to the Convert all files to notice and select your desired output format, or adjust the Output Format one by one next to each song.
If you need to change the audio quality, simply go to the "Preferences" setting window in "Menu", then switch to "Advanced" and you can make the changes as you need.
Step 4. Finally, just click Convert All to extract and download Spotify songs as common audio files in your selected audio format offline.
Step 5. Find your converted songs in the Finished tab, and tap the View Output Files. Now the converted songs are saved on your own devices. You can stream them at any time, anywhere, without any restrictions from Spotify.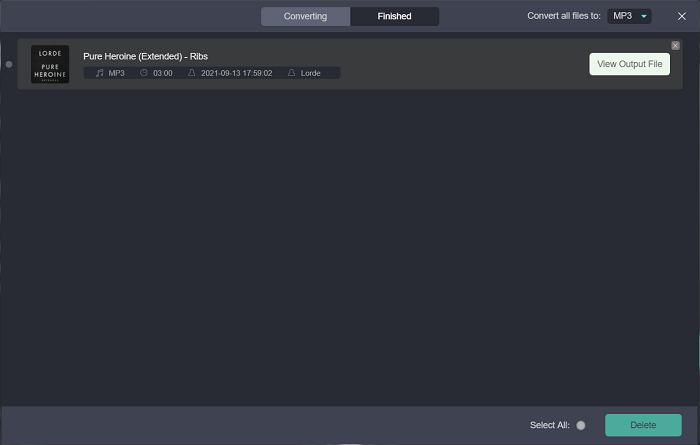 6 Best Spotify Recorders for Windows/Mac
Although it is easy to convert Spotify to MP3 with MuConvert Spotify Music Converter, sometimes you only want to record some parts of a song instead of the whole music, or you may need to combine several songs together and make them a single track. In this case, you may need a Spotify recorder to help process the Spotify Music capturing in more flexible ways instead downloading the complete tracks. See how to record songs from Spotify with the help of the following professional and powerful recorders.
Top 1. Cinch Audio Recorder (for Windows/Mac)
Cinch Audio Recorder offers a very easy-to-use recording service to capture music from most streaming music sites and saves the recorded files as MP3 with up to 320Kbps quality. As one of the best Spotify recorders, the software offers not only a user-friendly control panel, but also helpful music management functions such as ID3 taggers to help you tag the recordings before saving them on desktops. To record Spotify songs with Cinch Audio Recorder, your Spotify streaming as well as managing experience later will be ensured to be quite friendly.
✔

Pros

✘

Cons

Supports recording music from Spotify and more streaming music sites in one software
Keeps up to 320Kbps music quality to save Spotify recordings as MP3 or lossless WAV files for you
Provides ID3 tagger to save tags for all recordings automatically
Mutes sound to avoid noise while recording Spotify songs for you
Supports music editing to make Spotify as ringtones to use easily

The software is not free at all
Only offers two output formats to select
The recording speed can't be accelerated at all
Top 2: Spytify Audio Recorder (for Windows)
Spytify is a Windows-only Spotify recorder, which allows both Spotify free and Premium users to record whatever Spotify streams with high sound quality, which can be up to 320Kbps (for Spotify Premium users) and 160Kbps (for Spotify Free users). Spytify will mute all ads when it is recording Spotify songs for you, so you can get Spotify songs recorded without ads even if you are using Spotify Free accounts.
Also, Spytify has added the advanced technology, which can work to split Spotify songs while recording even you are processing the batch recording at once. This bring convenience when you get more songs to record at once.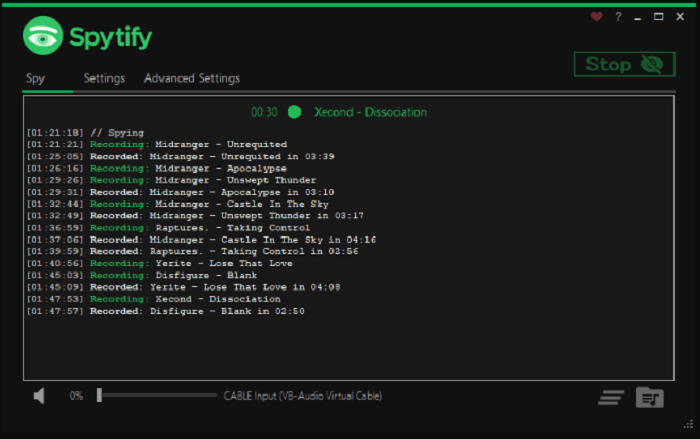 ✔

Pros

✘

Cons

It mutes/removes all ads when recording.
You can choose different output audio quality, up to 320kbps.
It isolates Spytify so other sounds from the computer will not be recorded. You can operate other programs while using Spytify.
It automatically splits each song, adds metadata, and names it by its name and artist.

It takes real-time to record each song.
You need a Premium Spotify account to enable 320kbps recording. And you may need to install an extra Virtual Audio Cable to make sure the output is of high quality.
It works only for Windows.
It takes time to learn about the operation.
Top 3: Dojotech Spotify Recorder (for Windows)
Dojotech Spotify Recorder provides neat and easy operations for users to record Spotify. As a free Spotify recorder, you will not be asked to pay any fee to use this open-source software to record Spotify songs. Like other Spotify recorders, Dojotech Spotify Recorder will also auto-tag the Spotify recordings to make it convenient for you after getting the recordings saved on the computers. However, there are some users saying that it is inconvenient to control the software for its outdated classic interface.
But still, as Dojotech Spotify Recorder also ensures flexible bitrate settings to let you adjust the music quality to output, you can ensure a nice music streaming experience offline with the help of the software.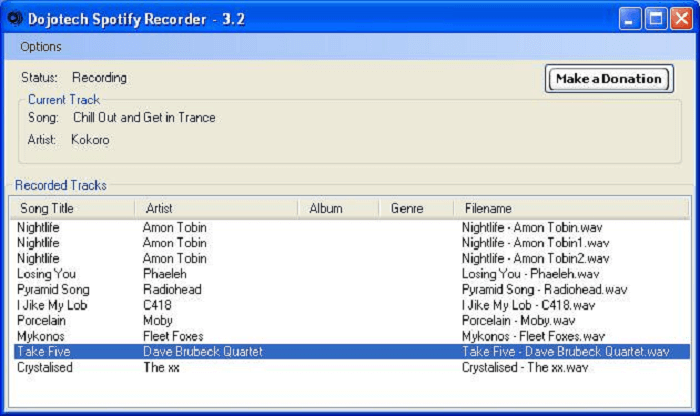 ✔

Pros

✘

Cons

It is free to download and use.
It focuses on Spotify recording and is easy to operate.

It takes real-time to record each song.
It works only for Windows XP and lower, including Windows 2000, and 98.
You must unmute your PC while using it, and adjust the volume to make it loud enough to hear.
Top 4: Audacity (for Windows, Mac, Linux)
Audacity serves as a free, professional Spotify recorder working on different device systems such as Windows, Mac, and Linux smoothly. As a professional recorder, Audacity is more suitable for professional users to record Spotify songs and edit them later.
Although it is a free tool, its audio quality can be kept at up to 32bit/384KHz, which can ensure a high-quality Spotify Music streaming experience offline. To capture the voice, simply launch Audacity and you can find the toolbar in the upper-left part of the main interface. Click the Start button (the triangle icon) and the recording process is on. You can see the recorded soundtrack on the main interface and also edit it if needed. Note that if you are using a Mac, you need to pre-install a plugin and set it as the output device.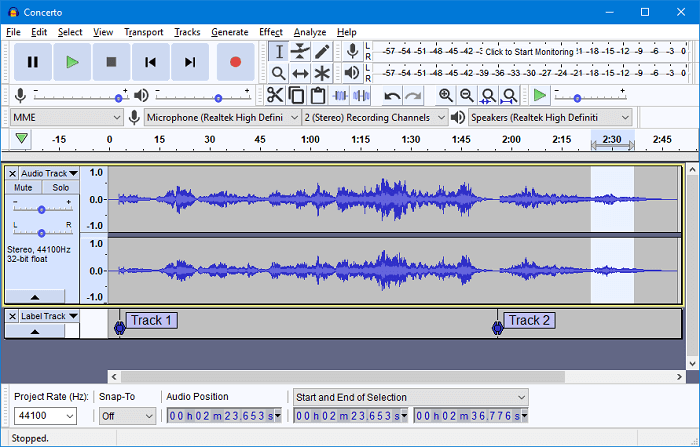 ✔

Pros

✘

Cons

Free and open-source software, easy to download and use.
It is compatible with Windows, Mac, and Linux.
It provides powerful editing tools.

It takes real-time to record each song.
You need to install an extra plugin to export the recorded files to MP3.
It cannot guarantee the output sound quality.
It cannot preserve ID3 tags.
Top 5. FonePaw Audio Recorder (for Windows/Mac)
Another reliable Spotify recorder you can trust to record Spotify songs with flexible parameter settings can be FonePaw Audio Recorder. The software has offered several recording modes, letting you capture both internal and external sounds on computers as you need conveniently. Don't worry about the quality while recording Spotify Music because this top-rated program offers audio enhancement and noise cancellation features to help. You are sure to keep good quality to record Spotify songs and have an enjoyable playback experience offline.
✔

Pros

✘

Cons

Supports recording Spotify Music with flexible modes selection and volume adjustment
Supports more formats such as MP3, WMA, AAC, and M4A to save Spotify recordings on computers
The auto-recording feature is provided to record Spotify songs at a specific time
Provides hotkeys to control Spotify Music recording more conveniently

A subscription is needed to access the software's full feature
No speed-up function is provided to save you time waiting for the Spotify recording
Top 6. Free Sound Recorder (for Windows/Mac)
If you want a free Spotify recorder to record Spotify songs without paying any fee on it, Free Sound Recorder is one tool you can trust. The tool offers a very simple interface making your music recording process easy enough. However, it supports flexible quality settings, letting you record Spotify Music in Stereo effect with quality ranging from 128 to 320Kbps.
Also, if you want to process Spotify recording simultaneously, the "Schedule" function can be enabled. More than using it as a Spotify recorder, you can also use Free Sound Recorder to record other audios on computers as it supports capturing everything for you.
✔

Pros

✘

Cons

Doesn't need any fee to install or use the recording functions
Provides flexible quality settings to record Spotify songs
Supports scheduled recording to start and end the recording automatically
Allows to freely adjust the volume as you need

The tool doesn't provide any editing functions at all
No auto-tagging feature is offered
Top Spotify Recorder Online - Apowersoft Audio Recorder
If you want to use an online Spotify recorder to capture Spotify songs without installing a software, Apowersoft Audio Recorder is the one you are looking for. No matter you are using Windows, Mac, iOS, or Android, simply open the tool in a web browser, then you can directly start the recording with Spotify Music playing at the same time. This free online Spotify recorder offers ultra-high music quality by adding the HTML 5 technology in the tool, which will not compress the audio but keep Spotify recordings played in lossless quality offline.
Don't worry about the safety of the tool because Apowersoft Audio Recorder will not save any user data to the server, and all the recordings will only go to your local disks, which prevents the hidden danger of privacy leaks.

✔

Pros

✘

Cons

Free to use and no need to install.
Easy to operate, needs only one-click operation to start recording.
Automatically saves recorded soundtrack to MP3 files.

It takes real-time to record each song.
Just recommend recording within 30 mins, or you need to download the software.
Recording online needs stable and quick internet access.
You cannot choose the output sound quality.
Free Spotify Recorder for Android - Syncios Audio Recorder
Syncios Audio Recorder helps to record any sound from your Android device. Surely it also works for Spotify. With wide compatibility support to run on different Android devices, the app can help more users to record Spotify songs. If you already have your Android rooted, it is convenient to use the Syncios Audio Recorder to record Spotify streams with high sound quality.
By adding the controlling bar of Syncios Audio Recorder on your Android Home Screen, it is possible for you to click the recording button at any time when you get a Spotify song you want to record. You will find it quite simple to control the app and the output quality is good to ensure you a nice music playback experience offline.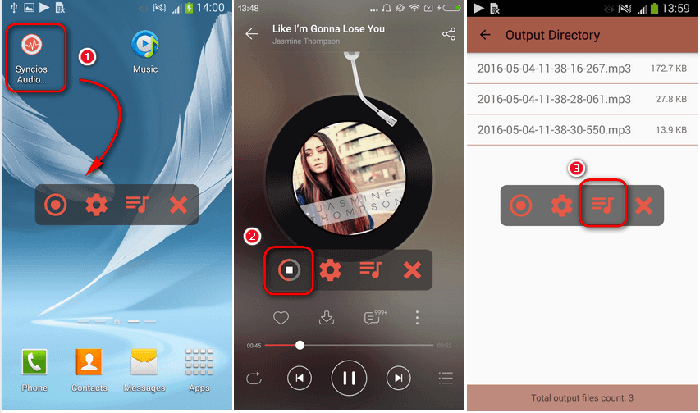 ✔

Pros

✘

Cons

Easy operation, free to download and use.
It is compatible with many Android brands.
Automatically saves the recorded songs to MP3 files.

It takes real-time to record each song.
Only for rooted Android Devices and operating systems from Android 4.1.2 to Android 5.1.1
Cannot record system sounds.
Best Spotify Recorder for iOS - GarageBand Spotify Recorder
For iOS users, the free built-in GarageBand app is absolutely a convenient Spotify recorder that can help you record Spotify streams without installing extra software to help. Not only for all iOS devices, but also MacBooks and also iMac, GarageBand can be installed and provide professional recording, audio track mixing, and even soundtrack creating as well as editing features for you.
As many professional musicians will also use GarageBand to create songs, you don't need to worry about the quality at all. There are also different instruments provided to let you record your own performance by adding to Spotify recordings and creating amazing outputs on your devices.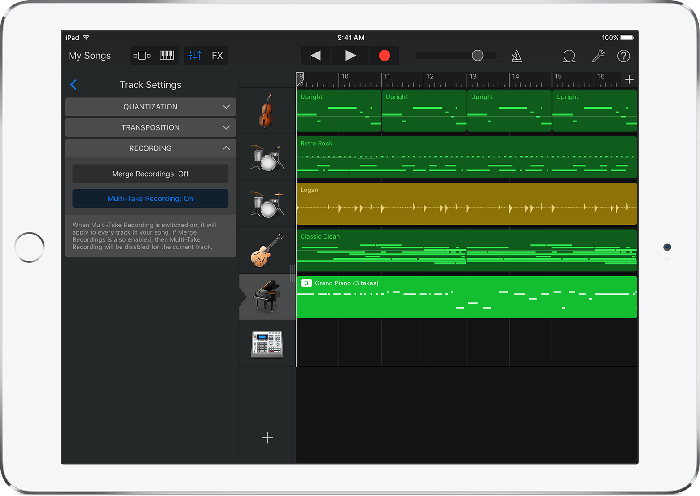 ✔

Pros

✘

Cons

Built-in and free app for iOS users.
Easy operation, enables further editing.

It takes real-time to record each song.
Takes up a lot of storage space on your device.
It records sound from the microphone, so it may record extra noise.
Not friendly because it is too professional for beginners to get started
Which Is the Best Spotify Recorder?
Although Spotify does not allow users to extract music from the software for offline playback, you can still make it with the help of some third-party tools. We have introduced to you 10 recommended Spotify recorders, and let's check the comparison table of the best 10 Spotify Recorders for Windows/Mac/iOS/Android.
If you only want to record songs from Spotify, you can choose to use Spotify recorders like Audacity, which supports almost all operating systems and provides powerful editing tools. If you do not want to download extra software, go to Apowersoft Audio Recorder webpage and take advantage of the online recorder. For smartphone users, there are still convenient tools. Just pick the more suitable one.
But if you are looking for an efficient and professional Spotify converter to help you convert your favorite songs from Spotify, without a doubt, the MuConvert Spotify Music Converter will be your best choice. It suits both Windows PC and Mac, supports up to 35x faster speed conversion, and removes Spotify restrictions. The converted MP3 files can be saved on your own devices, and you can stream them on whatever music player you want. As the software is free to try, you can install it and get started saving Spotify songs offline now!