Audible Books Not Playing? 10 Quick Fixes That Work
Audible offers wonderful leisure for people to enjoy fantastic spoken adventures and stories on the go. However, with great entertainment somehow comes annoying nuisances. I've noticed that some listeners are upset by the Audible Won't Play issue and complaints about the Audible app not working trouble on forums like Reddit, Apple Community, and Audible Help. There are common scenarios including:
The Audible app gets stuck and nothing happens.

Why won't my audiobook play on Audible?

Audio stops abruptly even when it's downloaded.

Having no sound when I play my audible book.

The audible audio keeps skipping somehow.
There are possible causes that may lead to these problems. You might want to check out the causes and corresponding solutions according to the scenario you're facing. No worries. I'm sure your problem will be fixed soon.
Causes and Fixes on Audible Won't Play Issue
I've listed 10 possible causes and the related solutions that work to fix the Audible Won't Play problem. Please go on reading and see whether it can help you get rid of this nuisance.
Cause 1. Login Infomation Got Expired (iOS Only)
It sometimes happens that you've signed in with your account on Audible for a long time and the account information may not be refreshed or updated to the Cloud. That may grow into the issue that Audible won't play on iPhone/iPad.
Solution: Reset your iOS device.
iOS: In the Audible app, go to Profile – Settings – Swipe down to Sign out – Resign in again. Then, restart your iPad/iPhone and sign back into the app.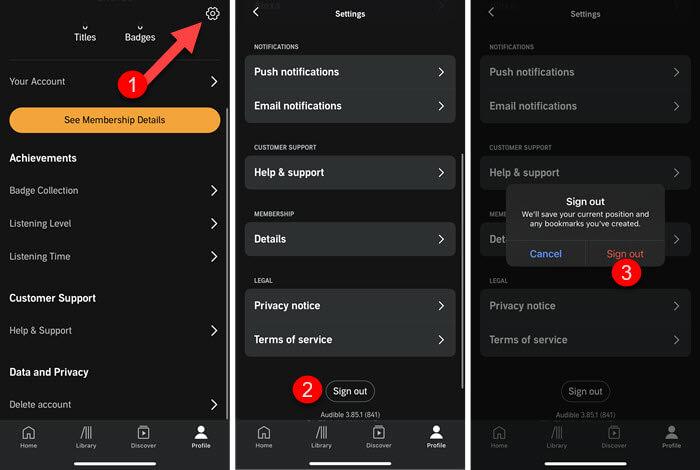 Cause 2. Outdated Application Version
You should keep the Audible App up to date. The latest version is usually dedicated to solving some minor or major bugs. Also, outdated versions may miss some features compared to the latest version and result in unexpected issues.
Solution: Update the Audible App.
iOS: Go to App Store and check for the update.

Android: Go to Google Play Store and check for the update.
Cause 3. Obsolete Operating System
Apart from outdated application versions, issues occur when your iPhone or Android device is running an outdated operating system. Application development is always keeping pace with the operating systems, so it may cause conflict when the versions don't match. You can surely use Audible Web instead, or just simply update your operating system.
Solution: Update the iOS/Android System.
iOS: Go to Settings – General – Software Update and check for update.

Android: Go to Settings – Software Update and check for update.
Cause 4. Temporary Glitch
Most of the time, the Audio Won't Play issue is caused by a temporary system glitch. The issue will persist unless you restart your device. So, in this case, the solution is easy to go.
Solution: Force Start Your Device
iOS: Press and quickly release the Volume Up button, and then the Volume Down button. Next, Press and hold the side button until the Apple Logo appears.

Android: Simultaneously press and hold the Power and Volume Down buttons until the Logo shows up.
Cause 5. Cached Verison Conflict
If your Audible app is misbehaving. It's possible because the cached version of the data and the latest data may not match, causing conflict. This problem is also easy to solve. What you need is just to clear the cache on the app or the web.
Solution: Clear Cache
iOS: Go to Settings – General – iPhone/iPad Storage – Audible – Offload App.

Android: Go to Settings – Apps – Audible – Storage – Clear Cache

Web: Go to More tools – Clear browsing data or use the hotkey – Ctrl+Shift+Delete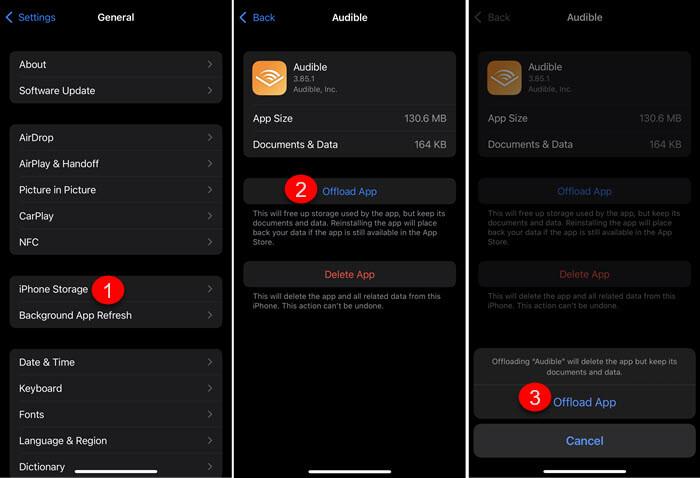 It's reasonable that Audible book stopped playing if you were connecting to an unavailable network, or having unstable internet connectivity. Under these circumstances, you'd better hook up to another Wi-Fi connection or use mobile data on your Android or iOS. Or, you may want to reset your router if you're wondering why won't audible play on your computer. Moreover, you may consider resetting the network settings on your device.
Solution: Reset Network Settings
iOS: Go to Settings – Reset – Reset Network Settings.

Android: Go to Settings – General management – Reset – Reset Network Settings.
Cause 7. Corrupted Downloads
This is a common cause that downloads are incomplete due to unstable internet connectivity. In this case, the Audible app may be unable to play audiobooks or the audio keeps skipping. All you have to do now is to re-download the audiobook. The steps are the same on all devices.
Solution: Redownload the Audiobook
iOS/Android/Web: Go to My Library – Delete the previously downloaded audiobook – Search for the audiobook – Redownload it.
Cause 8. Quality Version Problem
The Audible app may be having a problem with a different quality version of the audiobook you're unable to playback. There are two options, Standard or High. If Audible won't play the audiobook in a high-quality version, you should try the Standard version instead.
Solution: Download Another Quality Option.
iOS/Android/Web: Go to Profile – Settings – Data & Storage – Download by quality.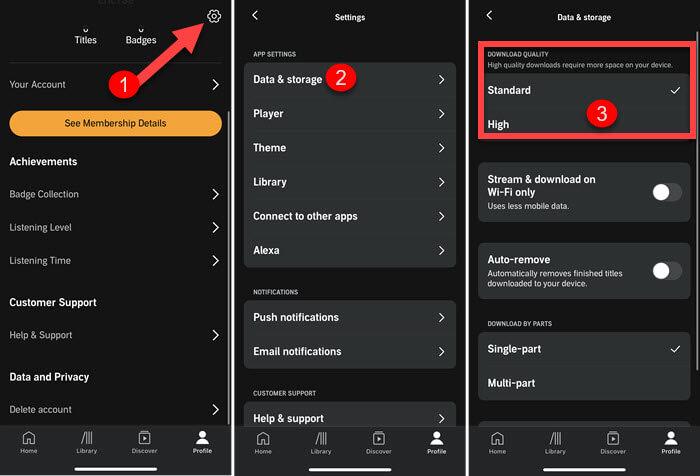 Cause 9. Download by Parts Problem
Listeners can choose to download the audiobook by single-part or muti-part in the Audible app. However, the Download by parts setting can cause issues with the audio. If Audible won't play the audiobook you just download by muti-part, you should try the other option instead.
Solution: Download Audiobook by Signle-Part.
iOS/Android/Web: Go to Profile – Settings – Data & Storage – Download by parts.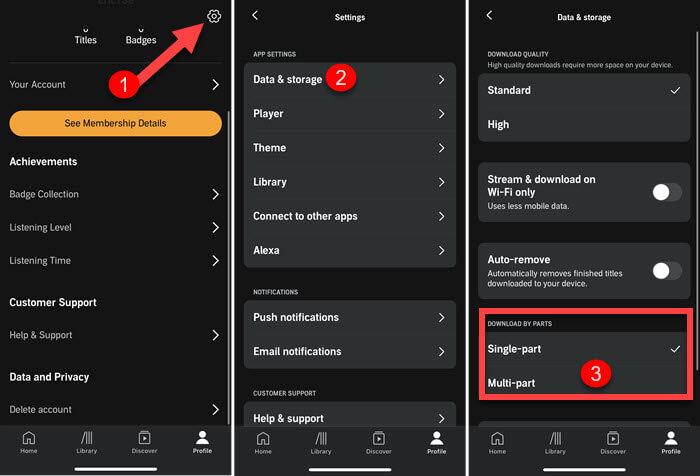 Cause 10. Geographical Restriction
Copyright-protected content is usually encrypted with Region codes, which means that some countries or regions are unsupported. You should check out whether the audiobook is available to play in your country. In this case, what you need is a VPN to change your IP address and bypass the region code restriction.
Solution: Use Virtual Private Network
Best Solution: Convert Audible Books to MP3 for Any Media Player
There is an alternative idea to avoid the previous bugs & problems. That is to say, you can consider converting Audible audiobooks to DRM-free MP3 audio format using
MuConvert Audible Converter
. Better yet, it enables listeners to freely enjoy audiobooks on any media player across platforms. Let's take a look at its sparking features below.
DRM-Encryption Removal – MuConvert Audible Converter is leading the world in the field of audiobook decryption, which makes it ever-easy for listeners to remove Audible's DRM restrictions and convert .aa & .aax files to popular formats like MP3, M4A, FLAC, and WAV.

Batch Download – The program enables users to convert multiple Audible audiobooks at a time. No matter how many audiobooks are uploaded, it's a piece of cake for MuConvert Audible Converter to handle them simultaneously.

Handy Splitting Tool – For any audiobook that lasts for a long time, you may consider using MuConvert Audible Converter's in-built splitting tool to separate the audiobook by Chapter, Segment, or Time.

Preset High-quality Output – Users might not be as picky about listening to audiobooks as listening to music. However, MuConvert Audible Converter ensures you the best quality of audiobooks at up to 320kbps and 48kHz.

Quick as Flash Conversion – MuConvert Audible Converter utilizes its excellent acceleration technology to boost up to 60X faster-decoding speed based on your internet connectivity.

Easy Management – The software will keep ID3 Tags such as Cover, Title, Author, and Chapter info along the way. Also, you can edit the metadata and make it easy to manage after the conversion if you want to.
MuConvert Audible Converter offers a clear and intuitive user interface. It's easy to convert your audiobooks from .aa & .aax to a DRM-free audio container format. Now, let's dive into the tutorial below.
STEP 1. Add AAX or AA Files
Take a minute to download and complete the setup of MuConvert Audible Converter first. Then, you'll see the following screen after you launch the program. You can click the button in the middle or directly drag audiobooks to the program.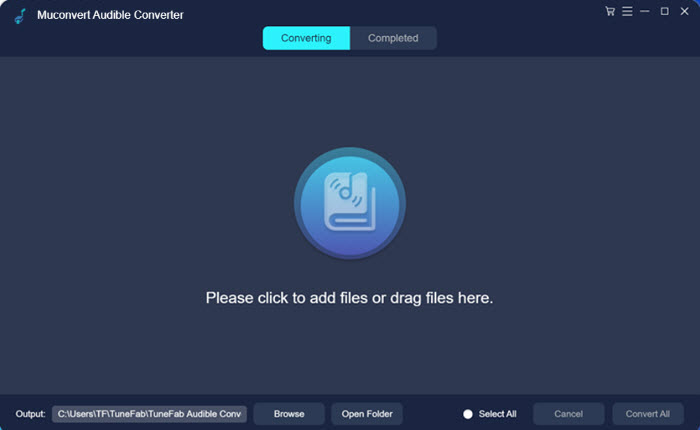 STEP 2. Preset Audiobooks Before Conversion
Users can preset the Output Format, Sample Rate, and Bitrate in the Preferences tab by going to the ≡ option and selecting Output Setting. It's always recommended to convert your audiobooks to MP3, for it's a lossy and popularly used format on any media player. Also, you are able to split the audiobook into parts by chapters, segments, or time if necessary. When you're done, click the Save button to proceed.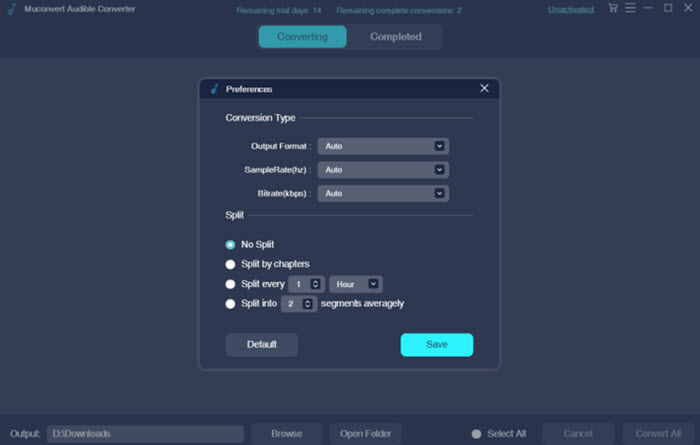 STEP 3. Convert Audible Books to MP3
You can see the feed of your audiobooks listed in the program. Then, please click the icon behind the book's title to edit the metadata before conversion. Next, determine where to save the audiobooks. Now, it's time to click Select All and hit the Convert All button to start converting Audible books to MP3.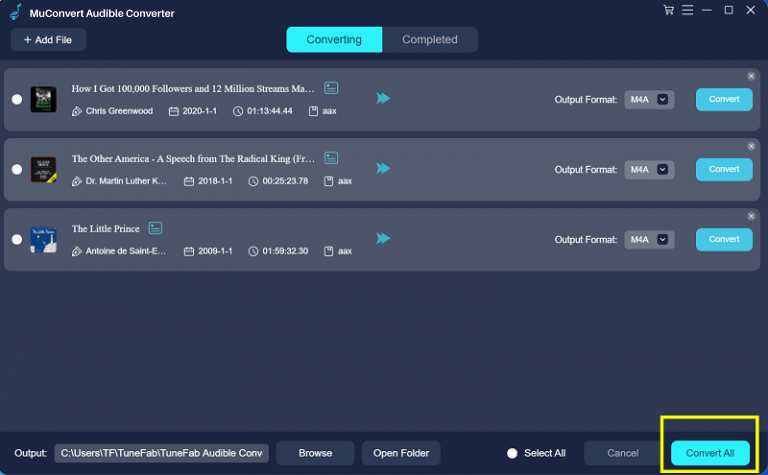 Tip - Differences Between Audiobooks in AA/AAX and MP3
You might have no idea why it's preferable for listeners to
convert audiobooks from .aa or .aax to .mp3
. The former two audio formats are encrypted and exclusive to authorized devices or apps, while the latter one is compatible with any media player and transferrable to any device. Why not check out the chart to have overall knowledge?
| | | |
| --- | --- | --- |
| | Audiobooks in .aa and .aax | Audiobooks in .mp3 |
| Encrypted or Not | √ | × |
| Transferrable or Not | × | √ |
| Accessible or Not | × | √ |
| Offline Playback | √ | √ |
| Long-term Preservation | Unavailable When Subscription Expires | √ |
| Playback on any player | Only Authorized Apps/Accounts | √ |
That's the end of today's topic. If your Audible won't play on iPhone, iPad, Android, or desktop. This full guide will definitely get you out of trouble. If you're looking for a permanent way to preserve your audiobook collections, this best
MuConvert Audible
Converter
will meet your expectations.