Michael Jackson, the king of pop music, has impressed many music lovers with his talent. As one of his fans, you may also want to download Michael Jackson songs to enjoy and appreciate them anytime and anywhere. However, on the main streaming media platforms like Spotify, most of his songs have been restricted, meaning that you can only download and enjoy them within the platform even if you have purchased the Premium.
Is there any way out? Sure, and pretty simple. This article will show you the 3 most practical ways to download Michael Jackson songs to MP3 for free, which helps you to enjoy his songs on most players and devices. Please scroll down and continue reading!
1. Download Michael Jackson Songs with Spotify Music Converter
Keeping Michael Jackson songs for free via professional music converters will be the best solution, and MuConvert Spotify Music Converter is one of them ready to help you out.
With a clear and user-friendly interface, it plays a perfect role in converting Spotify to MP3, which is bound to assist you in downloading Michael Jackson songs to MP3 for free. What's more, MuConvert Spotify Music Converter provides a built-in Spotify web player, enabling you to directly visit the Spotify Music Library to listen to songs online without installing the Spotify App, before you decide to download songs.
Main Features of MuConvert Spotify Music Converter:
Convert Spotify songs/albums/playlists/podcasts at 35x faster speed
Convert Spotify to MP3, M4A, WAV, AIFF, ALAC and FLAC
Maintain high-quality music downloads up to 320 Kbps
Preserve ID3 tags for better organization of your music collection
Customize output presets for audio file title and folder archive
Navigating the MuConvert Spotify Music Converter is a simple and straightforward process that can be accomplished in just a few steps. Here's a comprehensive guide on how to use it:
Step 1. Install and Run MuConvert Spotify Music Converter
Download MuConvert Spotify Music Converter and install it on your desired devices. Then launch it and log in to your Spotify account (even without Premium) via the web player.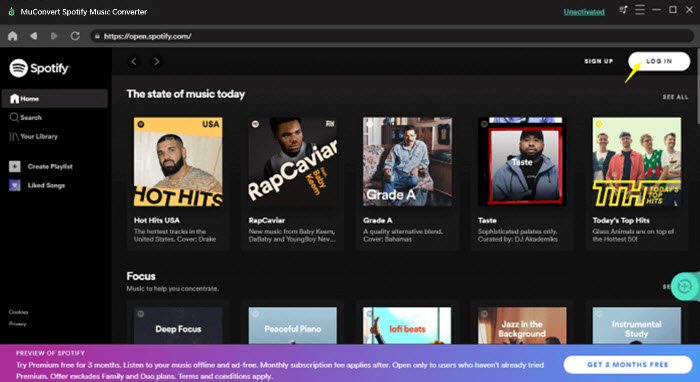 Step 2. Choose Michael Jackson Songs/Playlists to Convert
Browse the web player to choose your target songs, playlists, or podcasts to convert. Once you've decided, drag them to the floating "+" icon on the right side of the screen to place them in the conversion queue. Then MuConvert Spotify Music Converter will be ready to convert them in batches, saving you time of great value.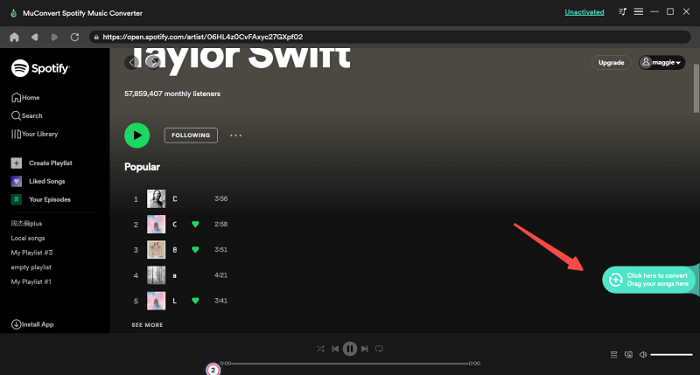 Step 3. Choose MP3 as the Output File Format
Select "MP3" as the output format of the song you want to download. Also, you can customize the desired output file format, for example, M4A, WAV, FLAC, AIFF, and M4A(ALAC) any time. You can also tap the "Convert all files to" from the upper-right drop-down menu to convert all songs into MP3 files.
Tips:
If you want further customization settings, navigate to "Menu">"Preferences">"Advanced" to select your preferred sample rate and bitrate.
Step 4. Download Michael Jackson Songs to MP3 for Offline Playing
When all the settings are finished, tap on the "Convert All" icon to start the conversion. You can click the "Stop" button on the right to stop the conversion anytime if you select the wrong song.
After that, you can check your Spotify downloads on the "Finished" module, and directly listen to the downloaded music by clicking the "Play" button next to the songs.
2. Get Michael Jackson Music Download via SpotiDown.online
Of course, if you are not into downloading Michael Jackson songs via software, there is another alternative option to convert Spotify to MP3 freely using the best Spotify online converters. For example, SpotiDown, an easy-to-use online Spotify converter, allows you to analyze the links of Michael Jackson songs on Spotify and convert them into downloadable MP3 files.
Here is the guide to converting Spotify to MP3 for free using SpotiDown:
Step 1. On Spotify, copy the URL of your desired Michael Jackson songs. Then paste them back into the search bar on SpotiDown.
Step 2. Tap the green Download button below the search bar. Then, just wait a second to complete the conversion. When it is done, download these Spotify songs.
3. Save Michael Jackson MP3 for Free Using Audio Recorder
Apart from using converters like the MuConvert Spotify Music Converter and online tools like the SpotiDown, you can also download Michael Jackson's songs for free via audio recorders. Here we recommend Audacity, a professional audio recorder, to help you keep Michael Jackson music downloads as MP3 files through audio recording. Without further ado, let's see how to convert Michael Jackson's songs on Spotify to MP3 with its assistance:
Step 1. Download and install Audacity on your computer. When it launches as default, open your Spotify web player/app to search for your favorite Michael Jackson songs.
Step 2. On the main interface of Audacity, press the Record button to record songs for real. At the same time, start playing the songs you choose on the Spotify web player/app.
Step 3. Once the songs end, press the Stop button to stop recording. You can edit your records on the main screen of Audacity based on your needs.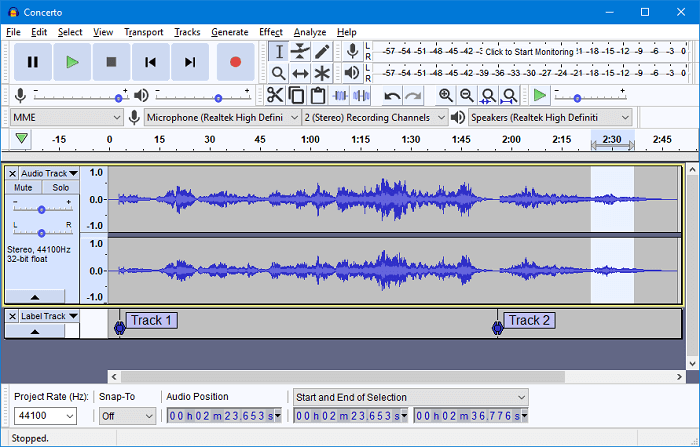 Step 4. When finishing editing, click on the "File" on the upper left to go to "Export". Then export your Spotify recordings as MP3 files to the location you prefer. You can now enjoy your Michael Jackson MP3 anytime and anywhere.
Note:
While recording, make sure that no extra programs are running at the same time to prevent the creation of noise.
Bonus: Top 10 Michael Jackson Songs Playback & Download
Since Michael Jackson has created countless masterpieces, you might find it difficult to choose which song to download. Don't worry, here we provide you with a list of the top 10 most popular Michael Jackson songs with Spotify links. You can click them to enjoy and further download Michael Jackson's songs via the methods mentioned above.
| No. | Song Name | Introduction | Spotify Link |
| --- | --- | --- | --- |
| 1 | Billie Jean | This is one of the bestselling song of Michael Jackson at all times. It is also regarded as the music that makes Michael Jackson the most popular singer in the word. | Spotify Link |
| 2 | Beat It | Beat It is the most surprising and stunning music from Michael Jackson's album Thriller. Since the launch, the song topped many music charts and won No.1 in all over the world. | Spotify Link |
| 3 | Thriller | This music has create a horrible atmosphere but without affecting the wonderful music melody, which quickly ranked as one of the top 10 popular music of Micheal Jackson. | Spotify Link |
| 4 | Off The Wall | The launch of the song quickly peaked at the top 10 on Billboard Hot 100 in 1980, making it one of the most favorite songs people from all over the world enjoy to playback. | Spotify Link |
| 5 | Man in the Mirror | The song is considered to be the best one in Michael Jackson's music career. Of course, it ranks at No.1 in Michael Jackson's album and is really a song you should not miss. | Spotify Link |
| 6 | Rock With You | Singing in a pop feel, Michael Jackson has presented the great atmosphere for people to celebrate as the song comes out.Till today, we could often hear this brillant song while under some exciting environment. | Spotify Link |
| 7 | Bad | Since the release, the song directly went straight to the No.1 on Billboard Hot 100, and also topped many charts of other coutries. Bad is also the music that drove Michael Jackson even more popular in the world. | Spotify Link |
| 8 | Smooth Criminal | As one of the killer bass lines Micheal Jackson has ever written, this song broke the Billboard Hot 100 peaking at No.7 and also went high to No.1 in many other countries like Netherlands, Spain, Belgium and Iceland. | Spotify Link |
| 9 | Black Or White | Black Or White is a song that could cross all genres, races, and stereotypes, which greatly inspire people from different countries. This song is also a great song in the final career of Michael Jackson. | Spotify Link |
| 10 | Don't Stop 'Til You Get Enough | This song has inspired people to try their best to reach the targets in life. Since the release, this song directly ranked at No.1 on the Billboard Hot 100 chart and won love from many people. | Spotify Link |
Conclusion
To sum up, since main streaming media platforms like Spotify pose strong limitations on their music downloads, you can use SpotiDown, Audacity, and especially MuConvert Spotify Music Converter to solve this problem by converting your favorite Michael Jackson music to MP3, enabling free offline listening to Michael Jackson MP3 at any time and any place. Hit the button below, and start your music journey!
Convert Spotify Music to MP3 in 320kbps
Drag and drop to convert Spotify songs, albums, playlists, and podcasts to MP3 easily.