How to Convert M4B Audiobooks to MP3 Easily on Windows/Mac
If you're a fan of audiobooks, then M4B is a format you are familiar with. For audiobooks, you might like M4B's ability to store bookmarks and chapters in metadata, or you might like its lossless sound quality. However, since M4B is a lossless file, you'll be hard-pressed to find a compatible device to play it on. Therefore, you need to convert M4B to MP3 that is compatible with almost any platform, so that you can enjoy audiobook time on any media player. In order to satisfy your need, this article will introduce you several ways to convert M4B to MP3, you can read this passage to learn more.
Best Way to Convert M4B to MP3 on Windows/Mac (Recommended)
The best M4B to MP3 batch conversion software on the market is MuConvert Apple Music Converter. The converter is highly compatible and can batch convert Apple Music, iTunes purchased music, Audiobooks, iTunes Podcast and protected AAC files in the iTunes library to MP3, M4A, FLAC, WAV and so on. You can listen to the songs and convert them directly in the embedded Apple Web Player without additionally downloading iTunes. Before the conversion process, one can customize audio parameters such as Bitrate and Sample Rate. The batch conversion feature saves both time and energy for users and its tutorial is as follows.
Brief Guide to Convert M4B to MP3 with MuConvert
STEP 1. Install and Launch MuConvert Apple Music Converter
Open the MuConvert Apple Music Converter and click "Open the Apple web player", then the program will directly conduct in the built-in Apple web player. Check the files you wish to convert or drag and drop the files into the program.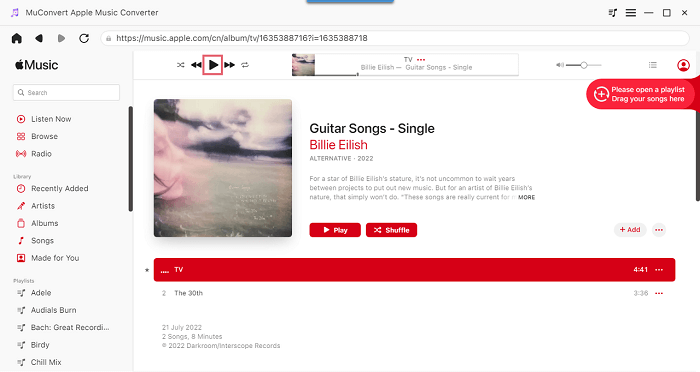 STEP 2. Preset Output Parameters
Before conversion, you can go to the "Advanced" of "Preferences" to set the SampleRate(hz) and Bitrate(kbts). Then you can click the "General" to set the output file path.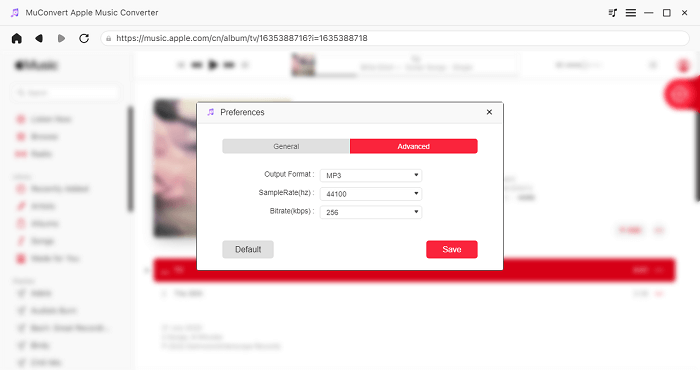 STEP 3. Start Converting M4B Files to MP3
Initiate the conversion process by selecting the "convert" icon.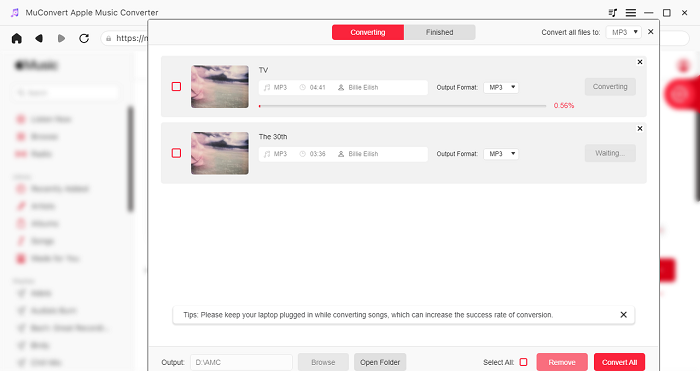 For large audible files or multiple conversion files, the efficiency is boosted to save time for users. The conversion maintains the original sound quality for the converted tracks as Apple Music: 256 Kbps, 44.1 kHz and allows for diverse output formats compatible with multiple devices. After the conversion, ID3 tags and metadata info such as title, artist, album, genre, album art is preserved so one can manage the files easily. The entire conversion process is fast, easy and more stable than online converters. In cases where problems occur, the support team is quick and responsible in dealing with the issues, leaving users satisfied.
Simple Ways to Convert M4B Audiobooks to MP3 Free
Way 1.Convert M4B to MP3 with VLC
VLC is a popular open-source media player. It can run on Windows, Mac OS X, iOS or Android. The advantage of using VLC media player to convert M4B Audiobooks to MP3 is that many people already have the program installed on their personal computers and therefore do not need to install another software. The steps to converting M4B Audiobooks to MP3 for free is as follows.
Step 1: Open VLC Media Player and click on "Media", then click on "Convert/Save".(Another shortcut is to press Ctrl+R)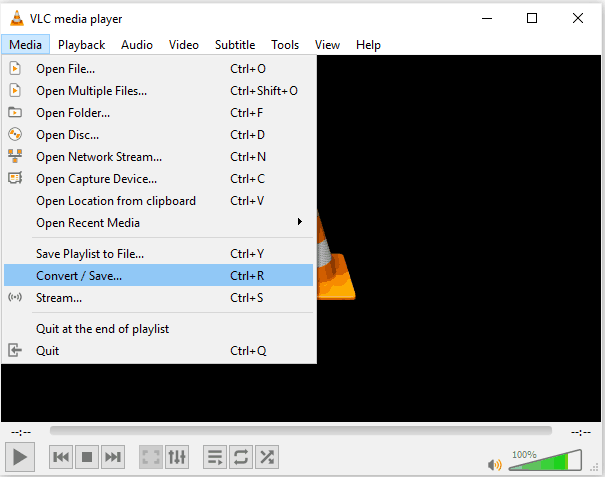 Step 2: Click on the "Add" icon and select the M4B file, then click on the "convert/save" icon.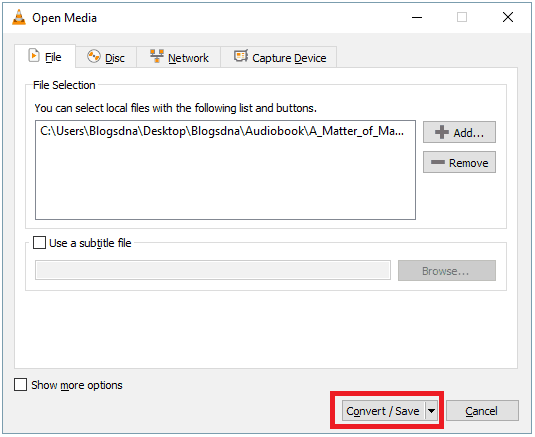 Step 3: Select "Audio-MP3" under profile and choose the destination for the converted file.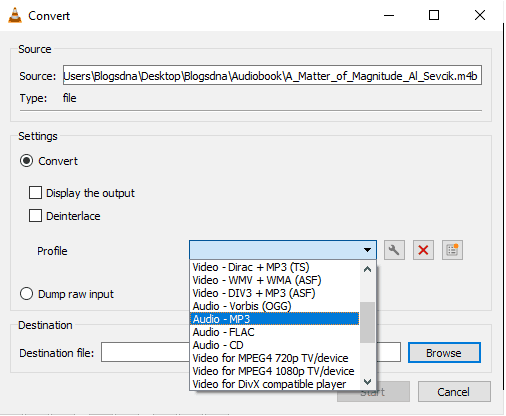 Step 4: Click on "start" and wait until the conversion is complete.
Way 2. Convert M4B to MP3 with iTunes
Users can convert M4B Audiobooks to MP3 directly in iTunes when the files are unprotected. It is a common choice for iOS users. The steps are listed below:
Step 1: Open iTunes and click on "Edit" then "Preferences" on Windows or "iTunes" then "preferences" on Mac.
Step 2: Click on "Import Settings" and choose "MP3 Encoder" on the right of "Import Using". Click on "OK".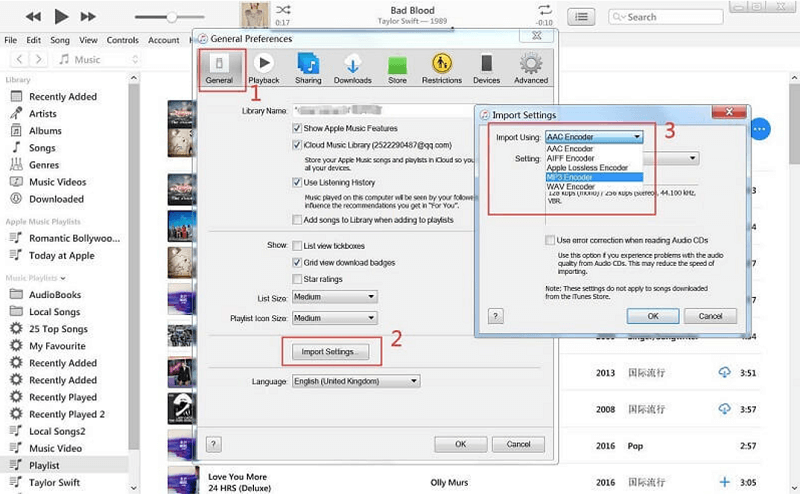 Step 3: Select the M4B file from the Audiobook album in the iTunes music library. Click on "File", "Convert" then "Create MP3 Version" and wait for the conversion to be complete.
Step by Step Guide on Converting M4B to MP3 Online
CloudConvert is a free online application to convert M4B Audiobooks to MP3. The conversion process is completed online so users don't need to download anything. While being free to use, some limitations are set. The tool allows for a maximum of five conversions a day, with two being simultaneous. The maximum capacity is 100MB for each conversion file, with a twenty-minute storage time. The conversion steps are listed below:
Step 1: Open the CloudConvert tool online. Click on "Select File" to upload the desired file.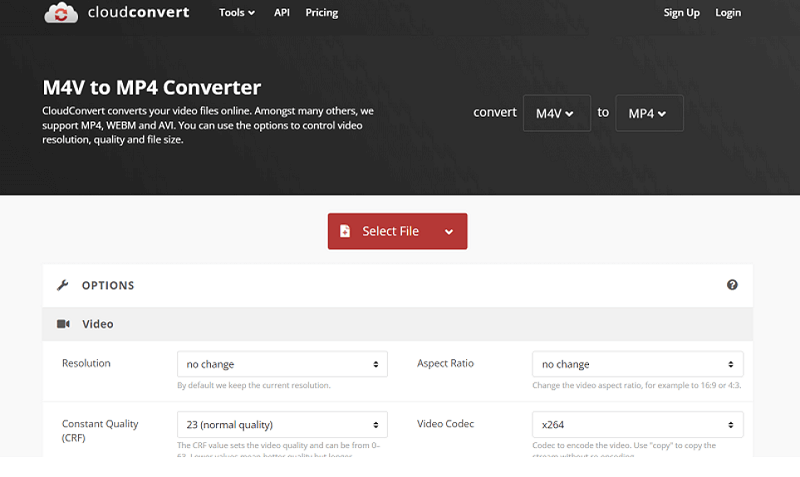 Step 2: For advanced settings such as Codec, Bitrate and Volume, go to "Options" and fill in the desired blanks.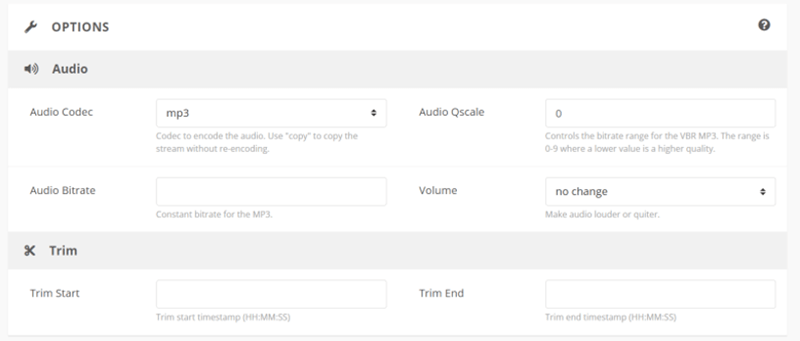 Step 3: Click "Convert" and wait for the file to be converted. When the conversion is completed, click on "Download" and save the file to your personal computer.
Compared to offline converters, online converter users do not need to install any software on their personal computers, saving storage and time. However, the size of the files converted online are often limited and the conversion speeds depend heavily on how strong the Wi-Fi signal is. The output quality of online converters is also poor compared to that of offline converters.
FAQs about Converting M4B Files to MP3 Free
How to convert M4B to MP3 with chapters?
If you want to convert the audiblebook by keeping its chapter, the ManiacTools Free M4B to MP3 Converter can help you. The steps to operate are quite easy. First, launch the software and click "Add Files". Then if your audiobook has chapters, you will see a message that asks you to split the chapters, you can click "YES" and choose MP3 as the final output format. And finally click "Convert", then you can get a MP3 audiobook with chapters.
Differences between M4B and MP3
The two audio formats, M4B and MP3, are different in various aspects. It is commonly known that Audiobooks and podcast files containing metadata such as chapter markers, images, and hyperlinks use the M4B extension, which is a part of MPEG-4 format used for video and audio storage. On the other hand, MP3 is defined as MPEG-1.
In addition, M4B files include bookmarking on supporting players whereas MP3 files do not. When users play the M4B file, the last listening spot where the listener left off at is automatically bookmarked. In comparison, every time users play an MP3 file, the file starts at the very beginning. For this reason, M4B is widely accepted by Audiobook listeners since Audiobooks are usually too long for listeners to finish in one go.
However, it must be noted that most iTunes Audiobooks are protected by DRM technology and cannot be played on other devices. In cases like these, the M4B files must be converted to MP3 for better compatibility.
How to manage your M4B audiobooks better?
To successfully manage M4B Audiobooks, here are two tips that will come in handy.
Tip 1: You can classify your Audiobooks according to their ID3 tags and metadata info such as artist, album, genre, etc.
Tip 2: If the Audiobooks are novels or speeches, you can then sort the files into folders classified by writer, novel type, speaker or theme.
By sorting M4B files into different folders, it becomes much more convenient to find the desired Audiobook.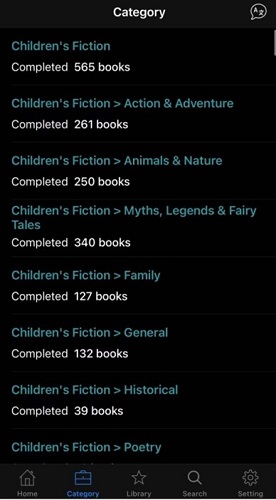 There are many ways to convert M4B Audiobooks to MP3 by using online converters, offline converters or built-in converters. Each converter has both benefits and drawbacks. If you are looking for a desktop converter that doesn't require extra downloads, try built-in converters such as the iTunes converter or the VLC converter. If you only wish to convert a few files, online converters such as CloudConvert may be your no.1 choice. For stable and high-quality conversion to convert Apple music, iTunes music and Audiobooks, try free downloading the MuConvert Audio Converter to batch convert.
Hope this article helps you select the suitable converter that meets all your needs!