Top 9 Ways to Convert M4A into MP3 on Windows/Mac
As an extension of the standard MPEG-4 audio, M4A is invented for preserving high-quality music and brings users with better music streaming experience. When Apple also adapts M4A to encode the songs provided on iTunes and iPods, M4A became much popular and with higher compatibility on media players than ever before.
However, as M4A is more popular for Mac devices, sometimes you may find it hard to play on Windows, Samsung, HTC, and other devices. As MP3 is the universally supported audio format, this blog will recommend you the top 9 ways to convert M4A to MP3 for playing the songs everywhere. Now, just follow me and take a look.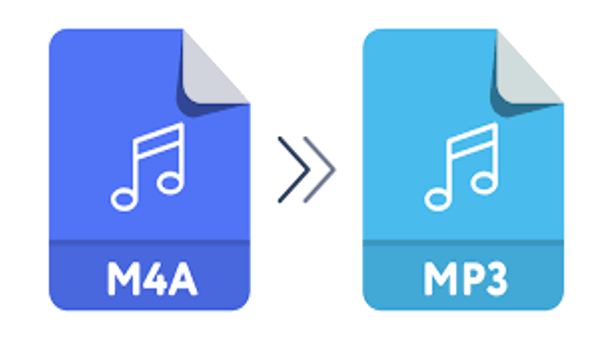 Best Way to Convert M4A to MP3 on Computer Without iTunes
For converting Apple Music or iTunes songs, here is the best software you can use replacing iTunes, which is MuConvert Apple Music Converter.
MuConvert Apple Music Converter provides advanced functionality to convert songs from Apple Music to MP3 and other mainstream audio formats to enable the music to be compatible on more devices and meida players, no matter the songs are encrypted or not. With 10X faster accelerated speed and lossless quality preserved, MuConvert Apple Music Converter will be the best pick to convert iTunes M4A to MP3.
Designed with an intuitive interface, you only require several easy steps to convert M4A to MP3 via MuConvert Apple Music Converter. Here is the brief guide provided for you as a reference.
The latest version of MuConvert Apple Music Converter has upgraded with a built-in Apple Music web player to give a more convenient music service. You won't require to have iTunes installed when converting protected Apple music anymore. If you still use the old one, you can either keep using it or update the old version to the latest one.
STEP 1. After installing MuConvert Apple Music Converter and launching the software, you are supposed to enter the Apple Web Player by signing in your Apple ID. As soon as you get into it successfully, you can choose the music you want to convert by directly dragging and dropping to the red "+" button.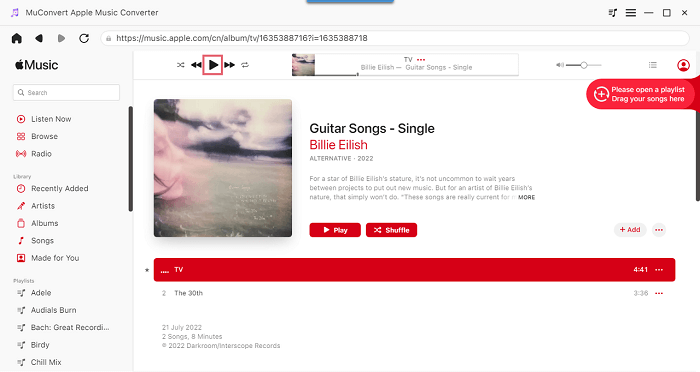 STEP 2. Configure the output parameters in "Advanced" under "Preferences" section. You are able to choose MP3 as the output format here directly. Additionally, it is available to adjust advanced settings such as the bitrate, and sample rate as you require.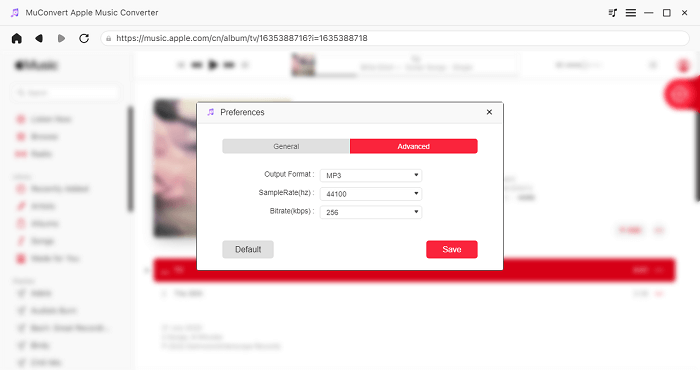 STEP 3. Finally, hit the "Convert" icon in the lower-right corner, and MuConvert Apple Music Converter will perform to convert the iTunes M4A to MP3 in no time. Just wait for the conversion to be completed successfully.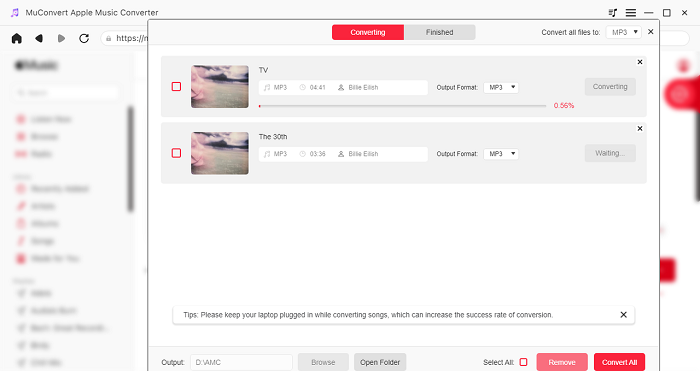 How do I Convert M4A Files into MP3 Using iTunes?
If iTunes is your commonly used software to stream and manage M4A songs, you are recommended to convert M4A files to MP3 via iTunes directly, as there provides such hidden feature to help process it. You just need to follow these simple steps to get it done:
STEP 1. Launch iTunes on your device and go to "Preferences" > "General".
STEP 2. Select "MP3 Encoder" under the "Import Using" drop-down menu. Hit the "OK" icon to apply the change.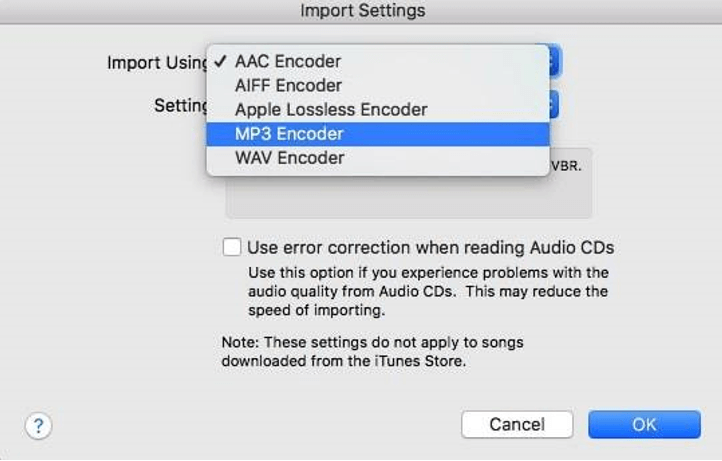 STEP 3. Now, you need to navigate to iTunes library and choose the M4P song you desire to convert to MP3 format.
STEP 4. After that, go to "File" > "Convert" > "Create MP3 version", and the song will be created an MP3 copy in iTunes library.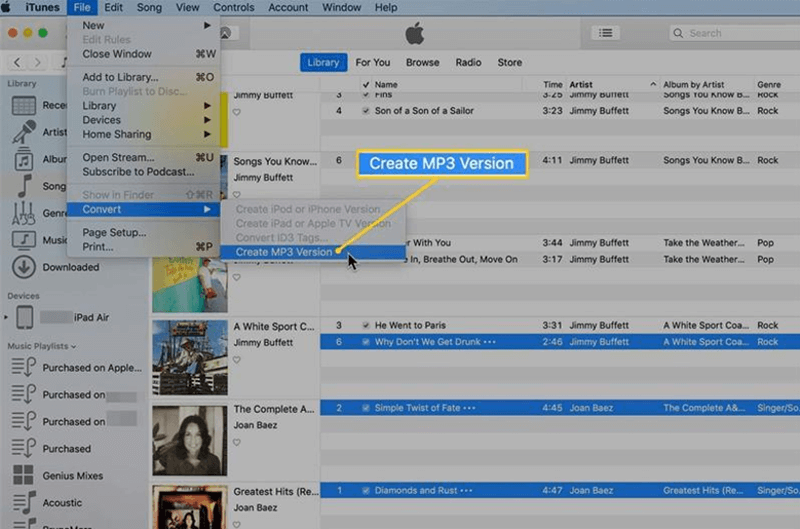 Disadvantages:
The converted MP3 files will only be saved in iTunes library.
The protected M4A songs will still be DRM encrypted.
How to Convert M4A to MP3 on Mac in Terminal (Command Line and FFmpeg)
For Mac users, using Terminal to batch convert M4A to MP3 is also a selectable option. However, beginners may find it complicated to follow. This method would be suitable for those who are working with computer programming languages. Here shows you the guide:
STEP 1. Firstly, you should install FFMPEG to your Mac at first, and also copy the batch script here for converting M4A files to MP3 in batch.
STEP 2. Now, you need to create two folders on Mac for storing the M4A and MP3 files separately.
STEP 3. Launch Terminal and type in the command line as the following image presents. Simply press the "Enter" key on your keyboard and the M4A files will directly be converted to MP3 format.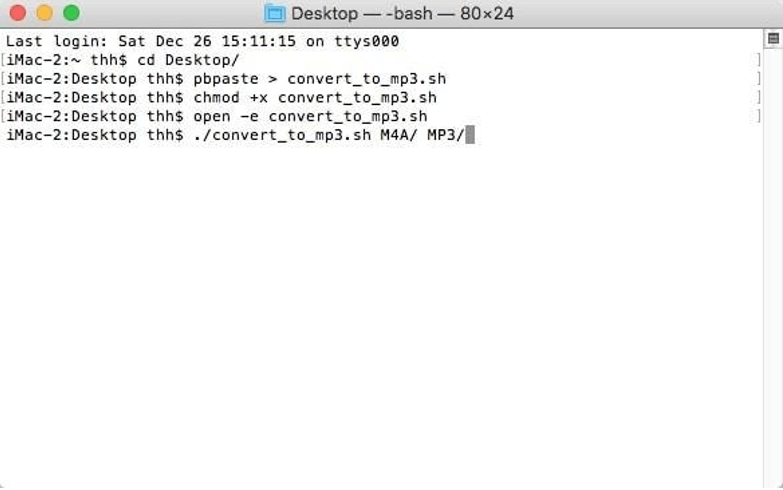 NOTE: If you desire to convert a single M4A file to MP3, copy and paste these commands for entering to Terminal:
ffmpeg -i input.m4a output.mp3
ffmpeg -i input.m4a -acodec libmp3lame output.mp3
ffmpeg -i input.m4a -f mp3 output.mp3
Disadvantages:
The operation is a bit difficult for beginners to grasp.
The M4A to MP3 conversion is slow, especially for converting a batch of files at once.
How to Turn M4A into MP3 via Freeware
For desktop users, these 3 freeware is also the ideal choices for managing the M4A to MP3 conversion. You don't even need to pay any cost for processing it.
Windows Media Player is a built-in media player for Windows systems. Actually, it provides the hidden format conversion feature that enables users to convert M4A to MP3. This is a no-paid functionality to use. You are able to follow this instruction to convert M4A to MP3 via Windows Media Player for free:
STEP 1. On Windows, open the M4A file you desire to convert via Windows Media Player.
STEP 2. Turn to "Menu" > "Organize".
STEP 3. Pull down the "Options" menu and hit the "Rip Music" selection.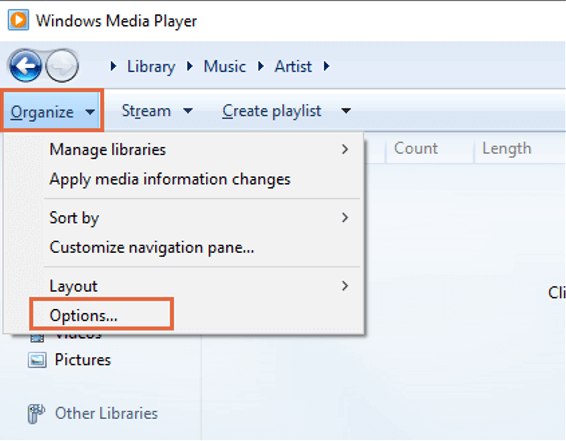 STEP 4. In the pop-up window, select the output folder and also MP3 as your output format.
STEP 5. Submit "OK" and the M4A file will be converted to MP3 on your Windows device.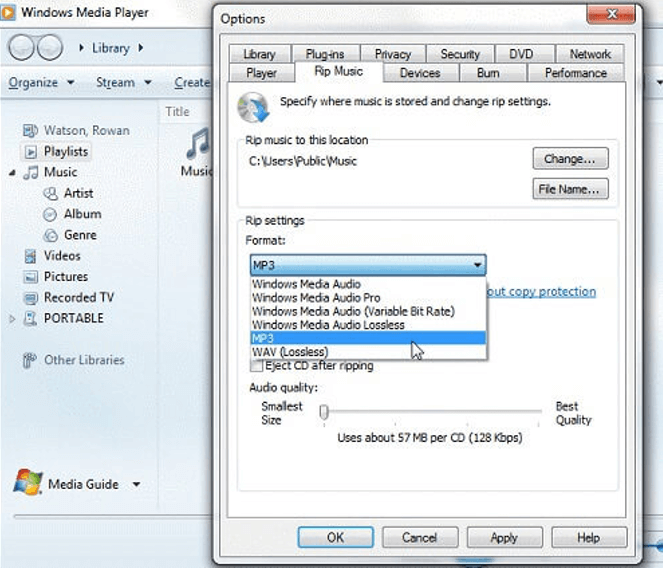 Another freeware you are able to try converting M4A to MP3 for free is AVS Audio Converter. Empowering the batch conversion feature, the software enables users to boost the efficiency even when there is a list to M4A files required to be converted. Additionally, there provides more output formats such as WMA, WAV, OGG, and so on, which meets most people's demands in processing the audio conversion.
This guide will briefly show you the way to convert M4A to MP3 via AVS Audio Converter:
STEP 1. Launch AVS Audio Converter and hit the "Add File" icon to import the M4A files you desire to convert.
STEP 2. Click the "MP3" option on the menu bar and select the quality you prefer to convert the files to.
STEP 3. Hit "Convert Now!" for starting to convert all M4A files to MP3 in no time.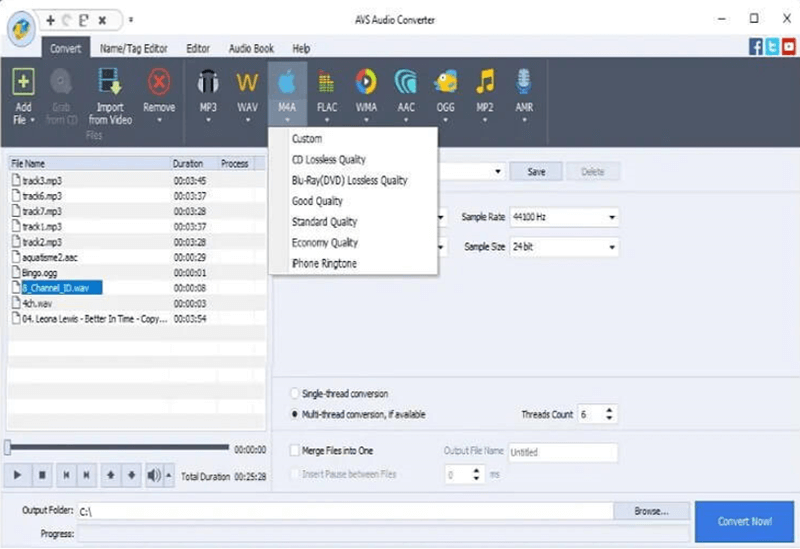 As a popular open-source freeware, Freemake Audio Converter provides an easy way to convert M4A to MP3 on desktops with the 100% free and secure functionality. It will keep the original sound quality without any compression, enabling users to have the same music streaming experience after the conversion. You will discover it the simplest way to use, and the operation process is showed below:
STEP 1. Install and open Freemake Audio Converter on your desktop.
STEP 2. Hit the "+Audio" icon to import the M4A tracks to the software, then click the "to MP3" button in the bottom menu.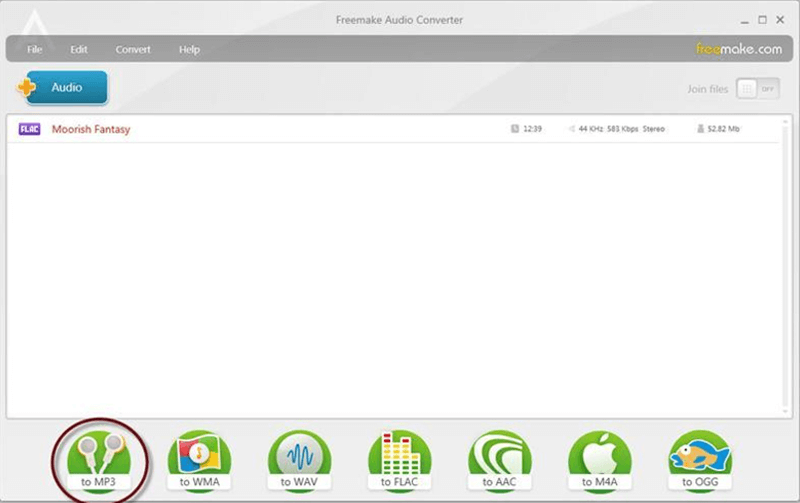 STEP 3. You are available to customize the output quality and select an output folder in the pop-up window.
STEP 4. When the settings are completed, start the conversion by hitting the "Convert" icon, and the M4A tracks will be converted to MP3 in no time.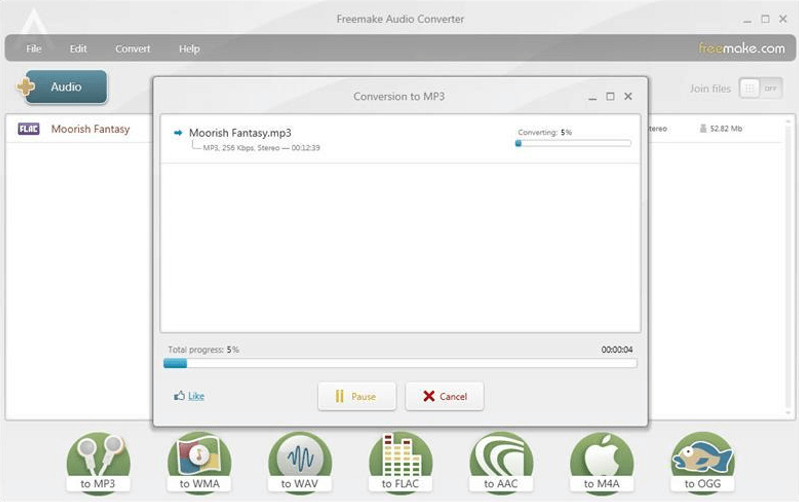 Disadvantage:
These freeware for desktops is not supported to convert protected files such as Apple Music, iTunes songs, and so on.
Converting M4A Audio Files to MP3 Online
Online M4A to MP3 converters also attract many users' attention for their convenience, high compatibility, and great security.
The process to use these online M4A to MP3 converters are similar. Users are only required to import the M4A files to the converter, make optional parameter settings, and the conversion can be easily processed.
Now, we would like to introduce the 3 reliable online options to help you convert M4A audio files to MP3 without software online.
CloudConvert M4A to MP3 Converter offers a clean interface without messy ads that would disturb the online conversion. With advanced parameter settings and the simple trimming functionality, users are able to get M4A files converted to MP3 online with enjoyable services. Follow this brief guide and convert M4A to MP3 via CloudConvert now:
STEP 1. In your web browser, navigate to CloudConvert M4A to MP3 Converter, and hit the "Select File" for importing the M4A tracks to the platform.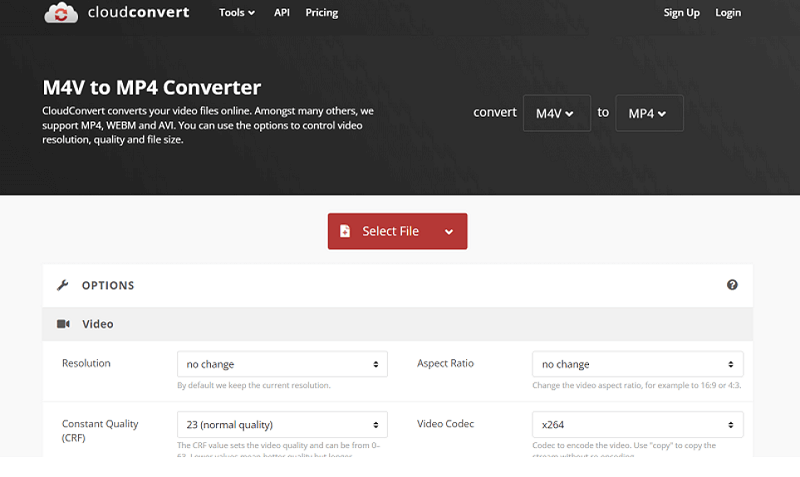 STEP 2. Turn down to adjust output options such as the codec, scale, bitrate and volume to convert the tracks.
STEP 3. Trim the audio if you need to by adding the starting and ending time.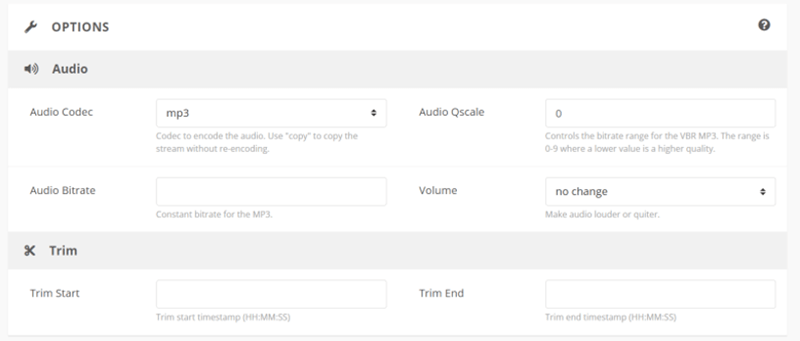 STEP 4. Start the conversion when the settings are done. Just a minute, you will be provided the "Download" icon to save the converted MP3 tracks offline.
The online M4A to MP3 Converter offered by Convertio is also a trustworthy tool to help convert M4A tracks to MP3 without software. Although there contain ads on the page, it won't disturb the user experience, and you are able to enjoy the speedy batch conversion offered by Convertio. Try this tool with the guided steps here:
STEP 1. Open a new tab and turn to Convertio M4A to MP3 Converter for choosing to upload the M4A files to it.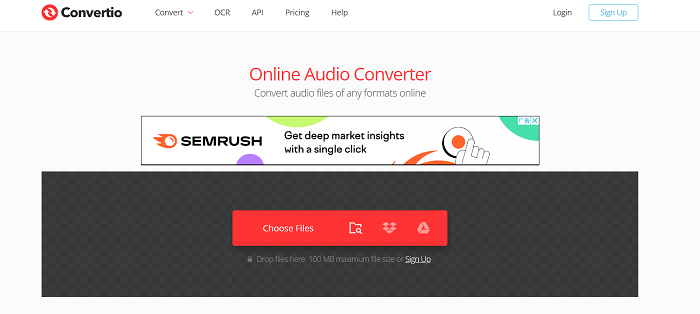 STEP 2. Scroll down and you are able to preset the parameters for converting the M4A tracks to.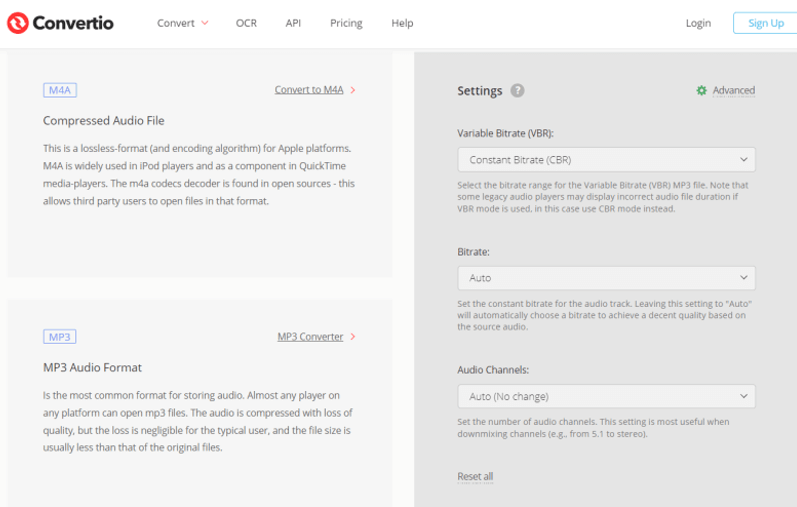 STEP 3. Start the conversion and wait for it to complete. Then you are able to download the converted MP3 files for saving offline.
To process a direct access to convert M4A to MP3 online, Zamzar should also be made in this list. The intuitive functionality provided by Zamzar brings users the hassle-free access to convert M4A tracks for free without extra software installed. You only require one-shot to get the M4A files converted via Zamzar:
STEP 1. After opening Zamzar M4A to MP3 converter in your browser, directly hit the "Add Files" icon to add the M4A tracks to the converter.
STEP 2. As the converter has selected MP3 as the output format for you, you are able to change by dropping down the menu as you desire.
STEP 3. Click the "Convert Now" icon and the conversion will start. When it completes, the converted MP3 will be provided for you to download for saving offline.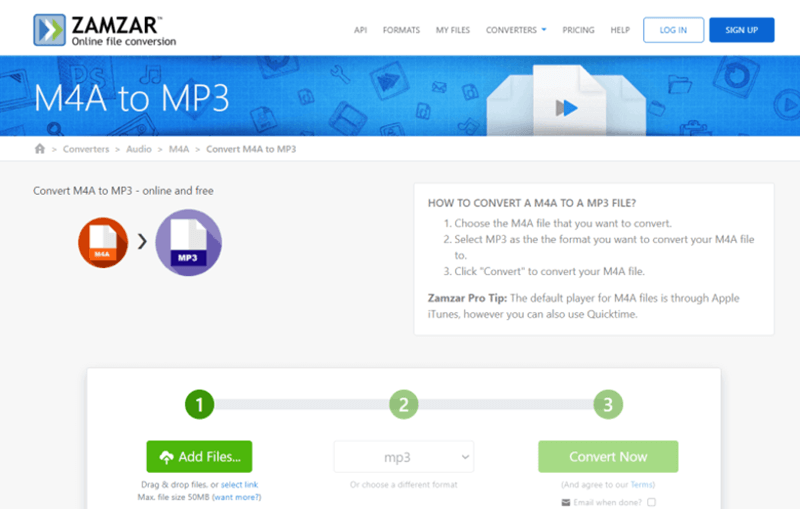 Disadvantages:
The online M4A to MP3 converters may be less stable than desktop software.
When expire the free trial limits each day, you still have to pay for using the online conversion services.
Users are required to sign up an account for unlocking the full features provided by these online converters.
Table Comparison of the Ways to Convert M4A to MP3
After going through these 9 ways to convert M4A to MP3, now we simply draw a conclusion on the comparison among them for you to better select the most suitable method for yourself to use:
| | | | | | |
| --- | --- | --- | --- | --- | --- |
| Methods | Software installation | Free trial | Easy-to-grasp | Protected files supported | Fast conversion speed |
| | √ | √ | √ | √ | √ |
| iTunes | √ | √ | √ | √ | √ |
| Terminal | √ | √ | × | × | × |
| Desktop freeware | √ | √ | √ | × | √ |
| Online converters | × | √ | √ | × | √ |
Now, have you gotten the best way for yourself to convert M4A to MP3? Share this ultimate guide with your friends if you also consider it helpful!