ViWizard Apple Music Converter (once named Tuneskit Apple Music Converter) is a popular software available for users to easily remove DRM from Apple Music and convert the tracks to DRM-free music files for streaming offline without using iTunes or Music app. However, if you are ready to get started with the software, you probably desire to know more about it before installing it. For example, how it performs to download Apple Music for me? What is the output quality and conversion speed? Will it be easy to operate?
Hence, in today's blog, the comprehensive review of ViWizard Apple Music Converter will lead you to go through a complete introduction to the software from all aspects you desire to know. Now, move down and start reading.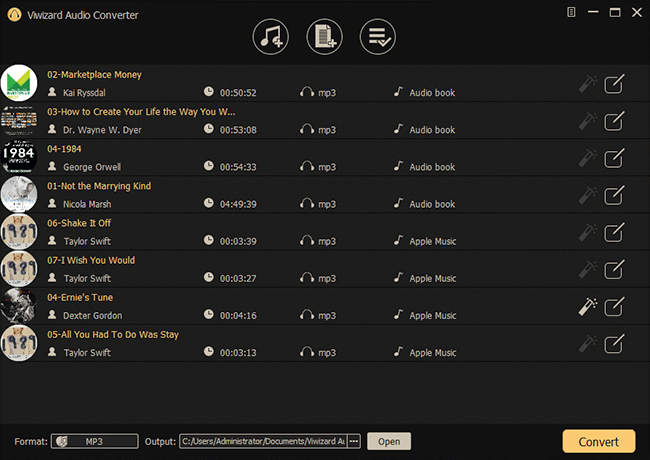 Overview of ViWizard Apple Music Converter
After changing its name from Tuneskit Apple Music Converter, the so-called ViWizard Apple Music Converter today has maintained the same design and functionality as the original version provided, which will keep on working smoothly to help you download Apple Music tracks and albums for streaming offline without being limited by Apple's FairPlay DRM encryption.
For example, you no longer have to keep the Apple Music downloads for playback within the Music app or with iTunes installed – the converted DRM-free local music files are available to be transferred to any device for streaming on all media players you have installed. Additionally, the offline music library downloaded through ViWizard Apple Music Converter is able to be preserved as long as you like, without worrying about expiration due to the cancellation of your Apple Music membership subscription.
Via ViWizard Apple Music Converter, the offline music streaming experience can be improved to be more flexible in the ways we like!
Detailed Review of ViWizard Apple Music Converter
The core functionality of ViWizard Apple Music Converter is surely to help rip DRM and download Apple Music songs for more convenient playback offline. But what makes the software out-performing? Now, let's also go through the key features of ViWizard Apple Music Converter and grasp what it can deliver to ensure a nice Apple Music downloading process as well as the quality-guaranteed outputs to us.
Ease of Use
ViWizard Apple Music Converter has employed the auto-loading feature after detecting the well-installed iTunes app on your computer. It will import all content saved in your iTunes library and process the conversion quickly for you. Hence, you are simply required to pre-install iTunes and log in to access the library first before starting Apple Music or iTunes songs download via the software.
Sound Quality
By giving full control to decide the output quality for Apple Music songs, the software allows you to customize the output parameters before the music conversion. Quality settings like the sample rate, bitrate, codec and channels are all available to be adjusted in requirements. You are able to define the streaming quality entirely according to your needs.
Output Format
To increase the music compatibility for making the streaming on all devices available, the most mainstream formats such as MP3, AAC, FLAC, WAV, M4B, and M4A are provided for exporting the files. After getting the DRM-free audio, you are able to transfer them for preservation without the Apple Music app anymore.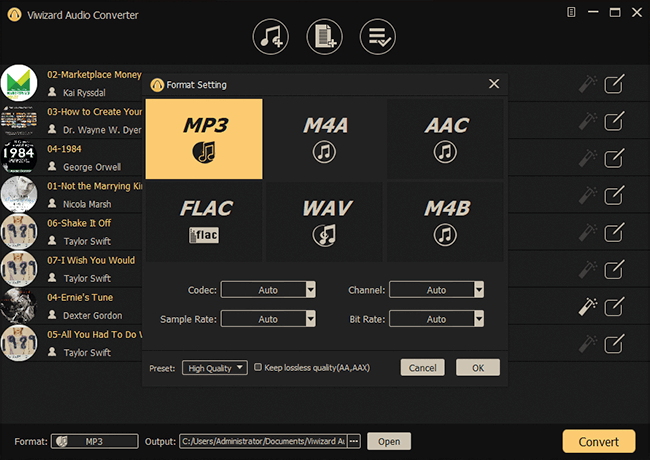 Download Speed
As for download efficiency, ViWizard Apple Music Converter has applied advanced multi-thread download tech to enable the batch download feature, letting you process multiple music conversions simultaneously without wasting time. While connecting to a stable network, the conversion speed can even reach 30X faster at max, greatly boosting efficiency.
Is ViWizard Apple Music Converter Free?
ViWizard Apple Music Converter provides a free trial for trying the music conversion feature, but here comes a limitation – it is only possible for you to convert the first 1/3 duration for each music file. This limit can only be removed by upgrading to its registered version. You are provided with 3 plans to select from:
Monthly License on 1 device: US$14.95
Quarterly License on 1 device: US$29.95
Single License on 1 device: US$69.95
For more details or to process the purchase, visit ViWizard online store here right away.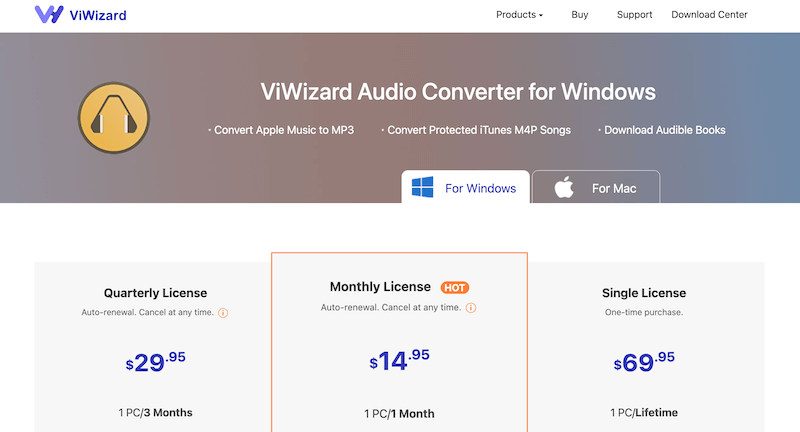 Alternative to ViWizard Apple Music Converter
Although ViWizard Apple Music Converter has delivered a nice experience of converting Apple Music and iTunes songs, some users still report that the software would frequently go into trouble syncing with the iTunes app, thus leading to failure in processing the music conversion.
It is obvious that the conversion success rate of ViWizard Apple Music Converter would highly depend on the connection with the iTunes app, as its content loading and converting process both require sync with iTunes to continue. When iTunes fails to work properly, the performance of the software would be pretty disappointing.
Hence, here recommends MuConvert Apple Music Converter as an alternative to ViWizard, which is able to remove such disadvantages and brings you a higher success rate in converting Apple Music to MP3 or other mainstream formats. MuConvert has embedded the official Apple Music web player inside the software, thus you are no longer required to install or connect with iTunes to process the music conversion, greatly increasing the efficiency and reducing conversion failure.
Meanwhile, MuConvert Apple Music Converter will preserve the original Apple lossless quality with up to 48kHz sample rate and 320kbps bitrate for outputting the tracks, enabling you the same quality-guaranteed experience in streaming them after downloading offline.
Now, grasp the way to convert Apple Music via MuConvert Apple Music Converter right away:
STEP 1. Once complete the installation, launch MuConvert Apple Music Converter and hit "Open the Apple web player" to open the web player. Complete the login via your Apple ID first.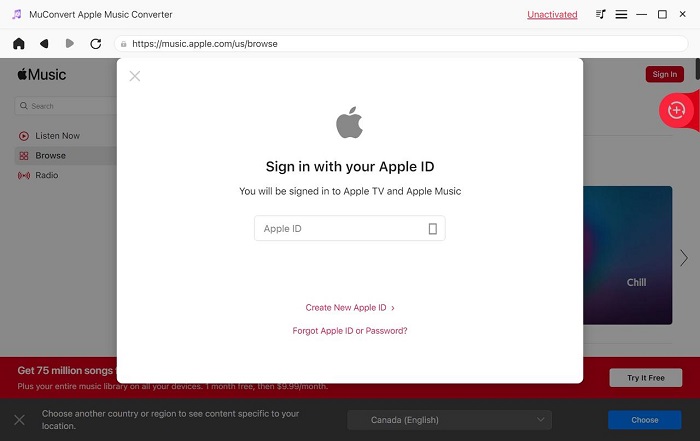 STEP 2. Then, you are able to use the web player for browsing the Apple Music tracks or albums you desire to download offline. Simply drag the items to the floating "+" icon for importing to the converting list.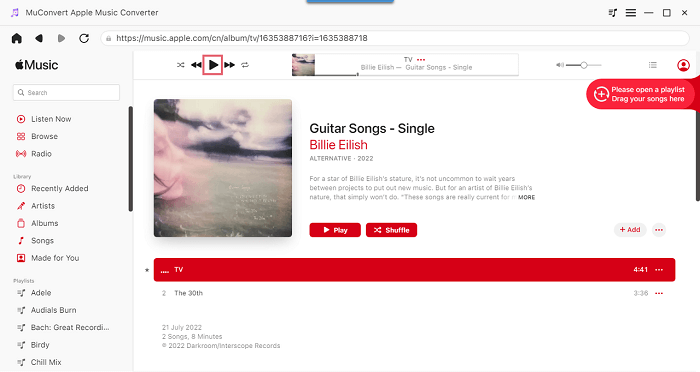 STEP 3. Now, navigate to "Menu" > "Preferences" > "Advanced" for customizing the output parameters such as the format, sample rate, and bitrate in requirements. Tap "Save" to apply the changes after making the selection.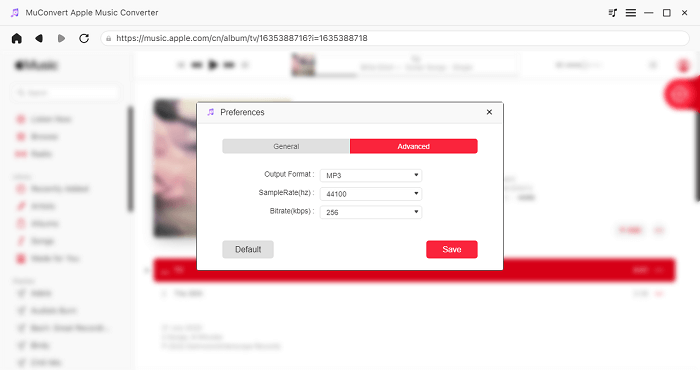 STEP 4. Give a go to the "Convert All" icon to process the batch download right away. MuConvert Apple Music Converter will complete the conversion for you quickly within a moment. Just wait patiently for it.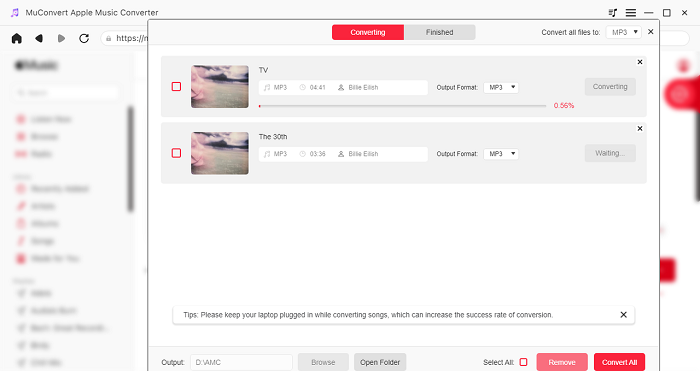 ViWizard Apple Music Converter delivers reliable help with its convenient operation, customized output settings, and fast conversion speed. But if you consider increasing stability and enjoying a higher success rate in downloading tracks from Apple Music, MuConvert Apple Music Converter will be the best alternative you should not miss. Just select your ideal pick to get started with the trial now!