Spotify Not Working: 7 Ways to Fix All Bugs Effectively
For many people, Spotify is a necessary app today, because they may need to play the music and podcast resources provided on Spotify every day to relax themselves or know about the latest news. As a result, it could make you mad when you find Spotify not working suddenly.
The Spotify not working issue could happen because of different reasons. In this article, they will be introduced and the correct solutions to solve Spotify not working happening from these reasons are also provided. Now, if you are also facing the condition when your Spotify fails to work properly, have a look and see if they can help.
Solution 1. Restart the Spotify App
When your Spotify app does not work properly, for example, the playback always sucks while playing a playlist, or the app is keeping crashing while using it, and so on. Such problems may happen because the background programming of the software has gone wrong.
The simplest way to deal with Spotify app not working properly as usual is to make the programs of the software run smoothly again. So just try closing up and restart Spotify app on your devices again. When the software is reopened now, it would work properly again.
Solution 2. Update the Spotify App
As we know the developers of Spotify would keep improving the software to make it provide better user experience to people. In the latest version, the known bugs would mostly be fixed. So, when your Spotify app is not working, check the app store to see whether there has a new version of Spotify launched. By updating the app to the latest version, some bugs would automatically be fixed, and the Spotify app may work for you now.
Solution 3. Log out and Back in
Sometimes Spotify may fail to respond because it could not recognize your account, especially when Spotify Premium users find the app is not working with those premium functions such as the shuffle playback, music skipping, or offline playback. Under such condition, the direct way to make Spotify work again is to log out your account and then sign in again. When Spotify can detect the account now, it may work as usual and the Spotify not working problem is successfully fixed.
Solution 4. Close Any Other Apps You're Not Using
If you are running many different apps in the background when your find Spotify not working on your device, you should also consider whether some other apps have caused the conflict to make your device fail to support your operation in Spotify. To fix this problem, just close all the other apps and check whether Spotify starts to work now. If yes, you need to make sure that you are not opening too many apps next time when you use Spotify to play music.
Solution 5. Check the Firewall isn't Blocking Spotify
On computers, the Spotify not working problem may happen because the firewall on the device mistakenly blocks Spotify's functions, so that it fails to work. By removing the firewall blocking towards Spotify, you can easily make the software work again. Here shows you how.
Step 1. After clicking the "Start" button on Windows and search for firewall to open it.
Step 2. Select "Windows Defender Firewall" and choose to "Allow an app or feature through Windows Defender Firewall".
Step 3. Go to "Change Settings" on the top of the app list, select "Change settings" and then select "Spotify Music" to be the "Allowed apps and features". After changing this firewall settings, you will find Spotify work again now on your Windows computer.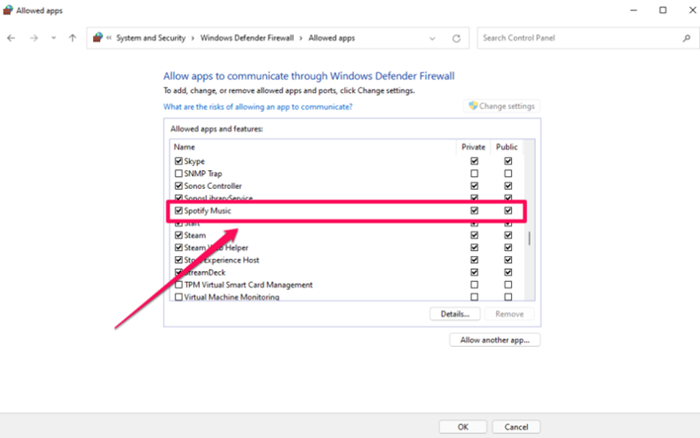 Step 1. Open "System Preferences" and choose the "Security & Privacy" option. You would need to enter the password to make sure you have the right to change the settings here.
Step 2. Select "Firewall" tab and click the "Firewall Options".
Step 3. In the new pop-up windows, select "Block all informing connections" and click "OK", then the Spotify app may be free from your firewall setting and now is workable again.
Solution 6. Reinstall the Spotify App
Another simple way to fix the problem when you find Spotify app not working at all, for example, it keeps crashing or loading all the time, the app flash back suddenly, the music playback function is not working properly, and so on, is to uninstall it and reinstall Spotify again. In most cases, the problems can all be fixed when the Spotify is installed again.
Online music streaming could easily meet the music playback error or Spotify app not working problems that stop you from having an enjoyable music playback experience. Therefore, it is recommended to overcome the Spotify not working issue by downloading the Spotify songs offline, so that you won't need to rely on Spotify app or the network connection to play the music.
To download Spotify Music for playback without Spotify app offline, MuConvert Spotify Music Converter is a reliable Spotify Converter you can use. It offers the fluent and highly efficient Spotify Music download function for users to save the music in common digital formats such as MP3, M4A, FLAC, and WAV. By getting these audio files, people can transfer them to any devices for playback without network connection anymore.
Key Features:
Uses the in-built web player to convert and download Spotify playlists directly
Supports all Spotify media such as the albums, playlists, and podcasts
Provides the best 320kbps quality to download Spotify songs in MP3, M4A, FLAC, or WAV format
Saves the ID3 tags and metadata information to organize music files offline conveniently
Supports to download Spotify music in the best quality without any loss
Provides 5X faster speed and also batch convert feature to save Spotify Music quickly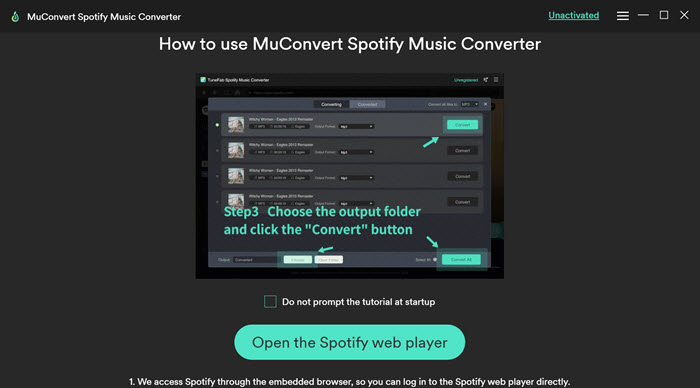 Step 1. Open MuConvert Spotify Music Converter and Sign in
When you have installed MuConvert Spotify Music Converter, open the software and enter the in-built Spotify Web Player to sign in your account. Then you can use the search function to find any Spotify songs or playlists you want to download offline.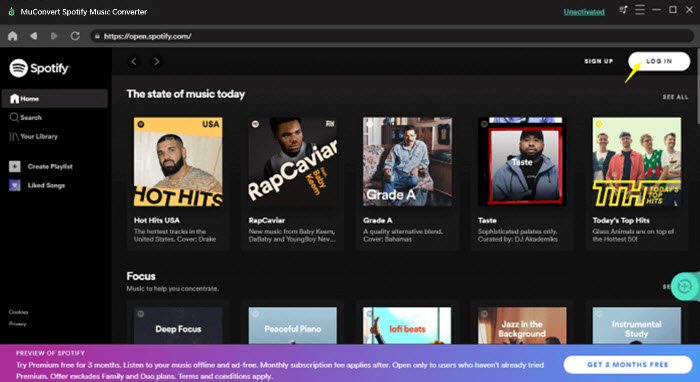 Step 2. Convert Spotify Songs or Playlists
After finding the songs or playlists you are going to download, directly drag them to the "+" icon and MuConvert Spotify Music Converter will directly analyze them for you.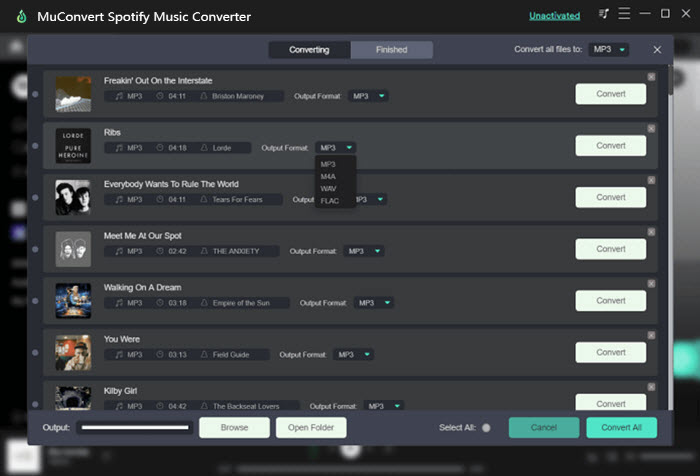 Step 3. Select Output Format to Download Spotify Songs
From the "Convert all files to" menu, you can select an output format to save the downloaded Spotify songs. MuConvert Spotify Music Converter provides 4 options to your now, including MP3, M4A, WAV, and FLAC. Just choose the format you need from the menu.
If you go to "Preferences" in the settings menu, you can also adjust the SampleRate and Bitrate under the "Advanced" tab.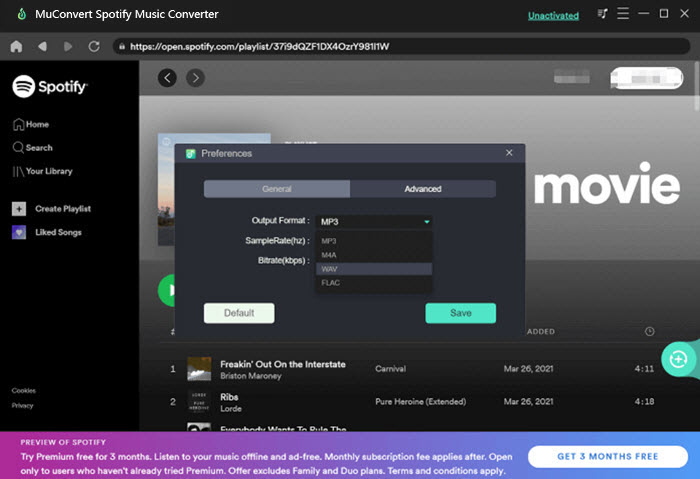 Step 4. Directly Download Spotify Songs Offline
Finally, directly press the "Convert All" button and start downloading the Spotify songs offline. After finishing the download process, you can find them and transfer to any devices for playback without network connection anymore.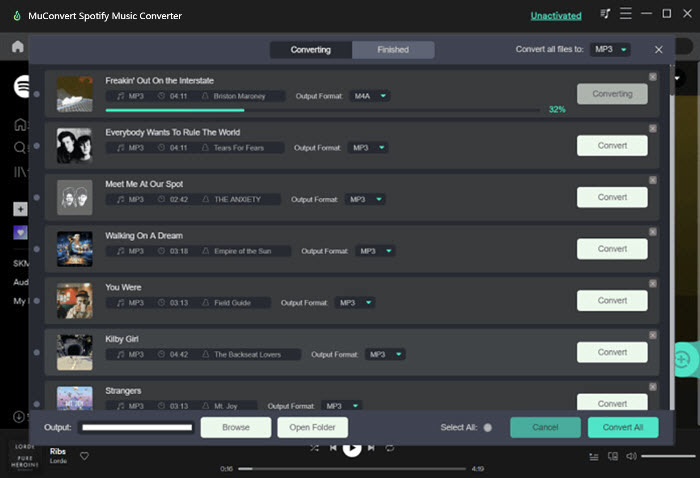 Spotify not working is a common condition that may have happened on many Spotify users. The above methods to solve the problems are mostly workable. And the provided best Spotify to MP3 converter to download Spotify songs offline for playback outside Spotify app can also help you avoid meeting the unexpected Spotify app issues. Therefore, choose to fix the problem or directly get the songs outside the app for playback based on your needs!